Why buying luxury property in France and Spain is a good investment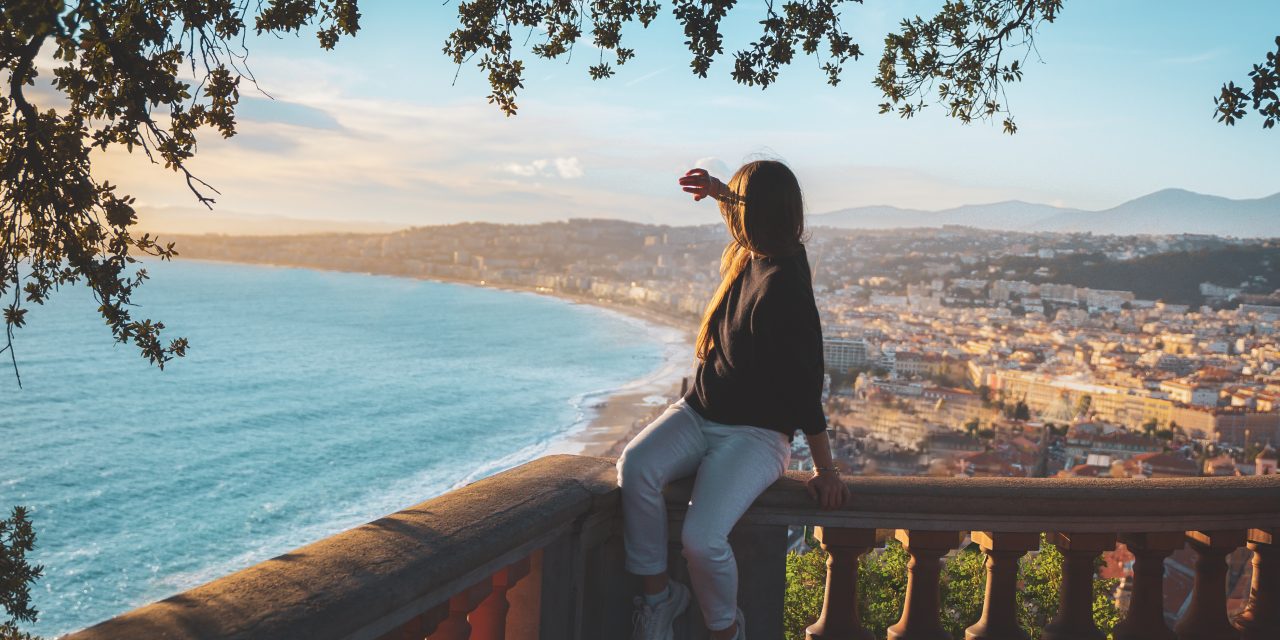 Why buying luxury property in France and Spain is a good investment
When Abode2 magazine recently caught up with Home Hunts' co-founder and director Tim Swannie, the company had just helped a client to secure a luxurious sea-view villa on the Riviera. This is one of many client purchases that have gone through so far this year – great news for the team and clients, because in 2022 there weren't enough French homes on the market to meet demand.
"We're already seeing an influx of great properties coming to market so far this year, even though there was a lack of luxury property available towards the end of 2022," said Tim. "As France emerged from the pandemic and travel restrictions eased, demand for luxury property outstripped supply in most areas we cover."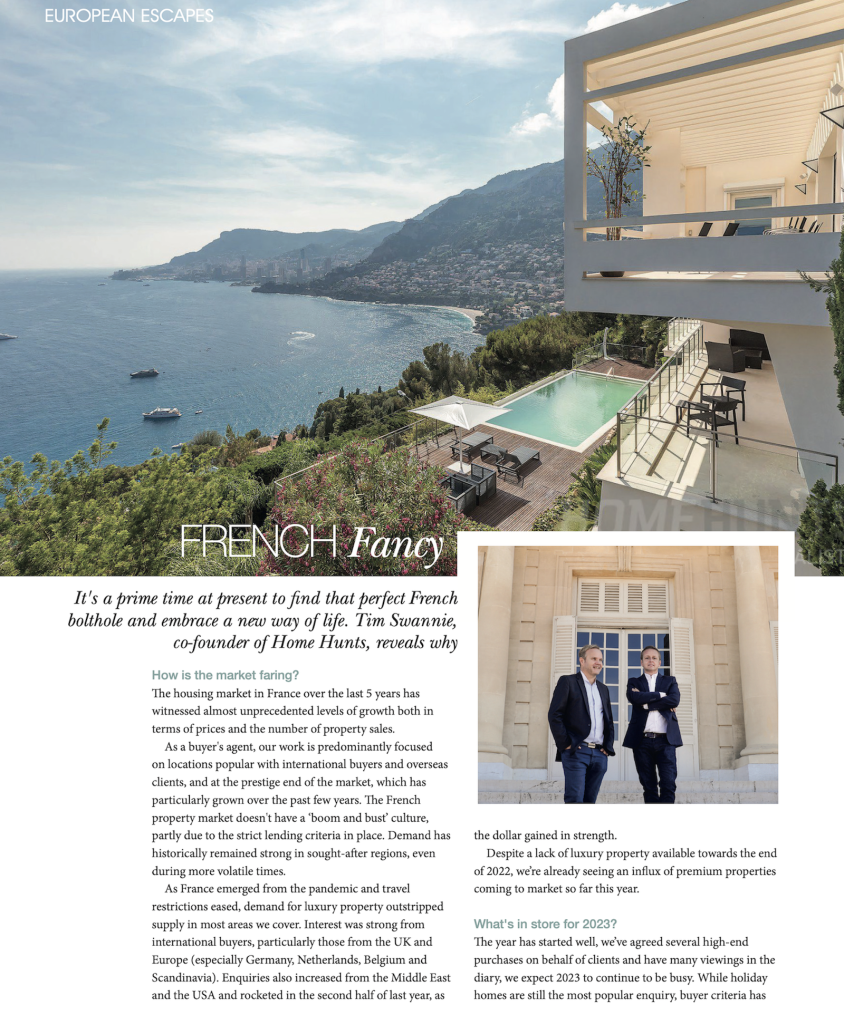 Fortunately, due to strict lending criteria, the French property market doesn't have a 'boom and bust' culture, so demand remains strong even in more volatile times. With supply and demand in balance once again, Home Hunts is in the groove of finding dream homes for all their high-end clients.
Who is buying property in France – and where?
Buyers from the UK and Europe, especially Germany, the Netherlands, Belgium and Scandinavia, have been the most active over the last year. However, enquiries from the Middle East and the USA have rocketed during the second half of 2022 as the dollar gained strength.
The French Riviera, where Home Hunts launched in 2005 is consistently topping the charts of most popular places to buy property in France. "The appeal of this area never fades and it's the same for Paris and Provence, where there has been significant interest in the properties of around €3m," said Tim. "The luxury market in the French Alps has also been busy, both in the ski resorts and around Lake Geneva and Lake Annecy."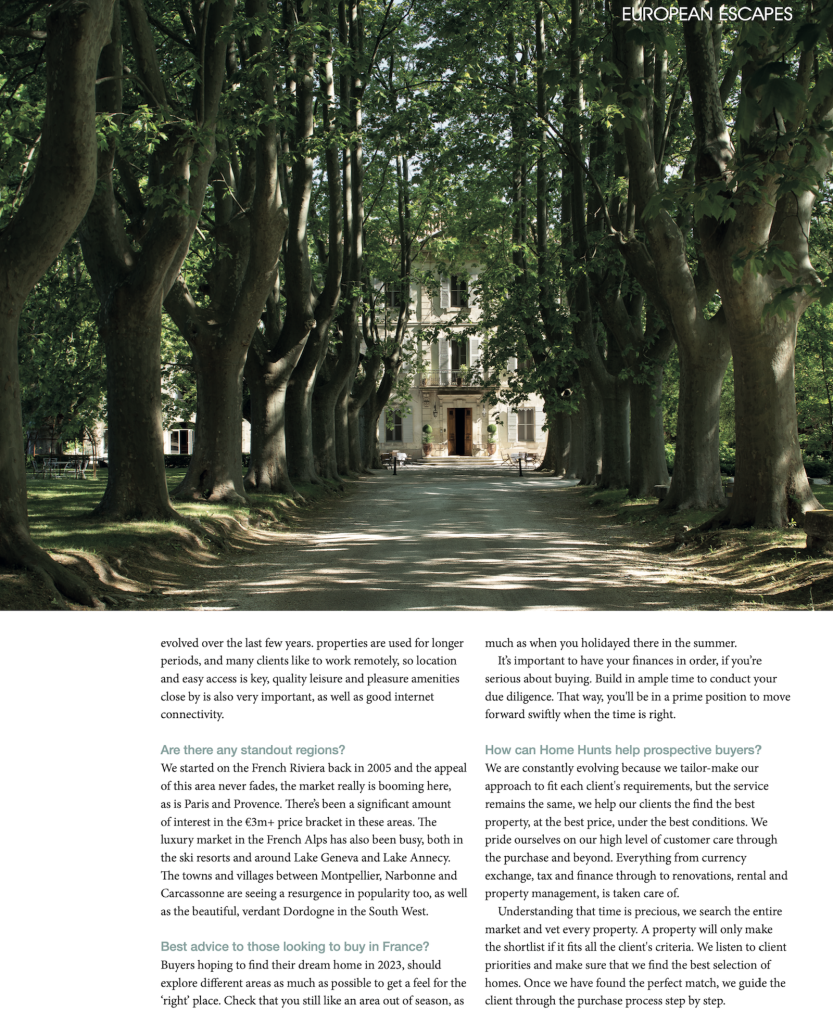 In Occitanie, villages between Montpellier, Narbonne and Carcassonne are seeing a resurgence in popularity, as is the verdant Dordogne and the Bordeaux area in the South West.
How to find your dream home in France
Buyers hoping to find their dream home in 2023, should explore as many different areas as possible to get a feel for the 'right' place. A village can be very different in winter compared to summer, so clients should check locations out of season and never just go with how it felt on holiday.
Tim says that having finances organised in advance is important, so it is possible to move quickly when you find that coup de coeur. "If you're serious about buying, build in ample time to conduct your due diligence," advised Tim. "That way, you'll be in a prime position to move forward swiftly when the time is right."
A bespoke buyer's agent service
As a buyer's agent, Home Hunts' goal is to find the best property at the best price for their clients. "We act solely on behalf of our clients and pride ourselves on our high level of customer care through the purchase and beyond," said Tim. "Everything from currency exchange, tax and finance through to renovations, rental and property management is taken care of."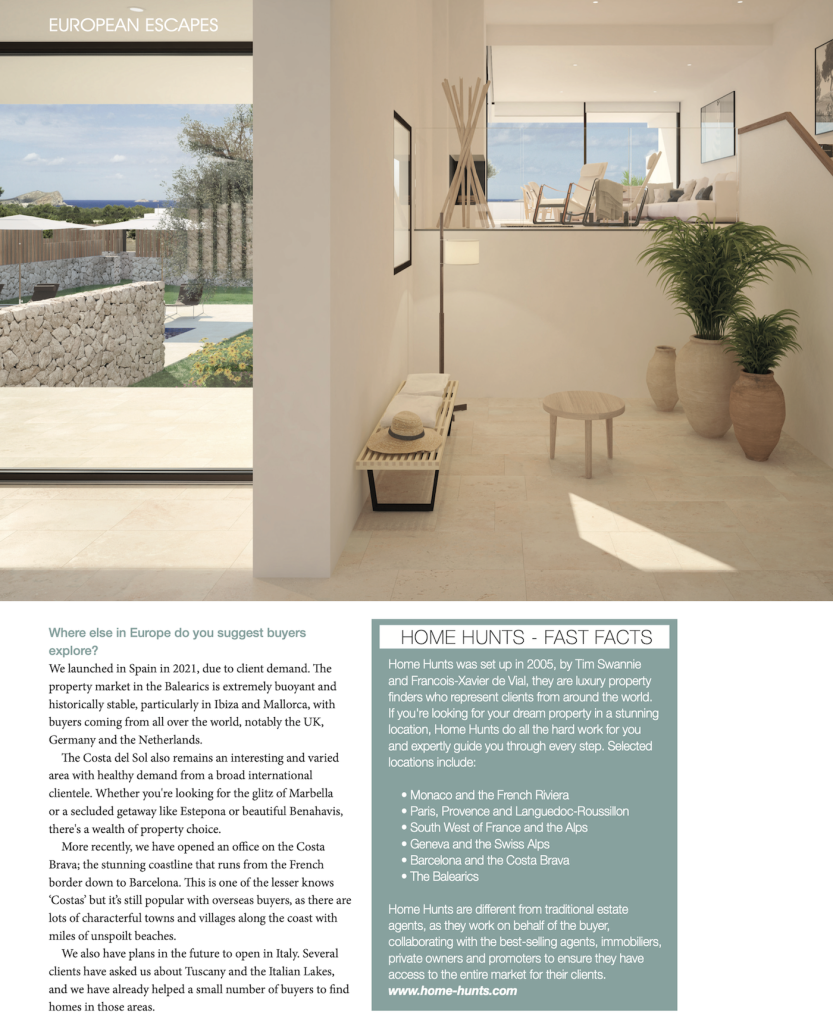 Home Hunts will search the entire market and visit each property before the client to make sure there won't be any surprises – anyone who has been property hunting in France will understand how incredibly time-saving this step is.
"A property will only make the shortlist if it fits all the client's criteria," explained Tim. "We listen to our client's priorities and make sure that we find the best selection of homes. Once we have found the perfect match, we guide the client through the purchase process step by step."
The best places to buy property in Spain
Home Hunts also helps buyers to find their ideal homes in Spain and after launching into the Spanish market in 2021 now has an office on the Costa Brava. This part of the coast runs from the French border down to Barcelona and is especially popular with Europeans and Brits looking for a holiday home with year-round sun.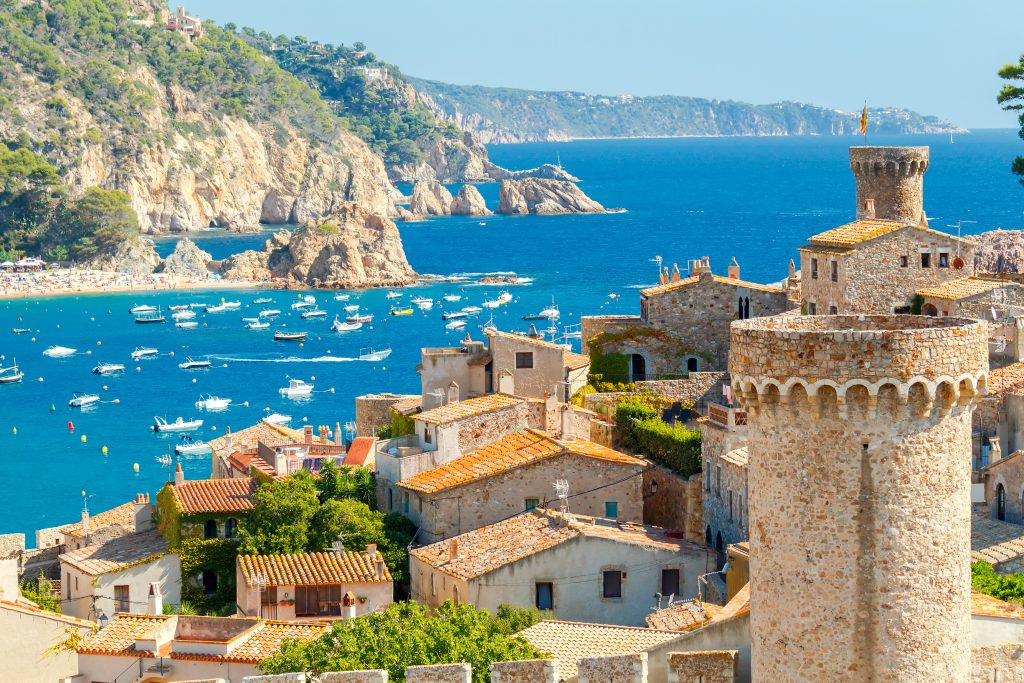 The property market in the Balearics is extremely buoyant at the moment and historically stable, particularly in Ibiza and Mallorca. "We have buyers coming from all over the world, notably the UK, Germany and the Netherlands," said Tim.
The Costa del Sol also remains an interesting and varied area with healthy demand from a broad international clientele. "Whether you're looking for the glitz of Marbella or a secluded getaway like Estepona or beautiful Benahavís, there's a wealth of property choice," he said.
With growing demand for Italian property from international clientele, Tim says that Home Hunts is hatching plans to expand into Italy in the future. "Several clients have asked us about Tuscany and the Italian Lakes and we have already helped a small number of buyers to find homes in those areas," he said.
If you are looking to buy property in France or Spain, or perhaps you just want to know more about the property market, check out www.home-hunts.com, or keep an eye on this page, but to discuss your criteria with a Home Hunts consultant, get in touch at info@home-hunts.com or +33 (0)970 44 66 43.
READ THE ARTICLE FROM ABODE2 BELOW –