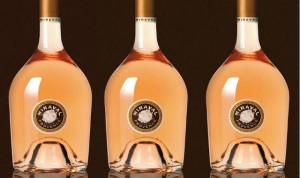 The first wine from Brad Pitt and Angelina Jolie's 1,000-acre vineyard in the Var, Château Miraval, recently went on sale. The wine, Château Miraval Côtes de Provence Rosé, is a joint venture between the couple and French winemaker Marc Perrin and it reportedly sold all 6,000 bottles within five hours of going on sale.
There was never much doubt that the wine would be snapped up toute de suite and become one of the most sought after rosés of the year. Not only had the chateau previously built up a loyal following for its wine, previously known as Pink Floyd, but with such high-profile names now attached to the venture, people everywhere are trying to get a taste.
And, if the expert verdict is anything to go by, it is an exceedingly good choice. According to Vanity Fair, MasterChef judge Joe Bastianich describes the wine as "very very very pretty", "real and acidic and firm" and "very serious".
France has seen an increasing number of international investments into its vineyards over the last few years and the figure is increasing. The Financial Times recently reported that in an average year 30 Bordeaux vineyards change hands – and in the past 30 months around two Chinese buyers per month have bought estates in this region.
Buyer's agents Home Hunts has found that interest from Asian buyers has increased considerably over the last 24 months.
"Wine companies in China especially are looking for vineyards in France," said Tim Swannie, the company's co-owner. "More often than not they already have an established business and wish to purchase a French flagship vineyard. It really is the right time too, as many of the European vineyards have come down in value over the past few years but the market is really strengthening now because of the international interest."
With attractive prices driving this interest from overseas buyers, one of the most popular locations for vineyard investment is Château Miraval's home of Provence.
Famous for spectacular rosés, reds and whites, Provence's vineyards are spread over approximately 200km in the departments of Bouches-du-Rhône, the Var and a little of the Alpes-Maritimes. It is France's biggest producer of AOC (appellation d'origine contrôlée) wines, creating over 170 million bottles, which makes up 6% of France's wine production each year. While the region is recognised most for its elegant rosé, it also produces powerful reds and light, delicate whites.
Home Hunts has an incredible selection of vineyards that are available for purchase on its website.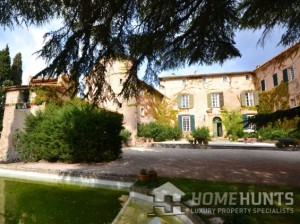 This 15th century chateau (HH-6080045), valued at €21 million, is located just 30 minutes from Marseille Airport. Set in the Bouches-du-Rhône in approximately 150 hectares of land, it comprises 40 hectares of vineyard for AOC label Coteaux d'Aix en Provence. A rare investment opportunity – as the 200,000 bottles that it produces each year is renowned for its white, rosé and red wines – it includes staff accommodation and a wine tasting room, and has been granted planting permission for a further five hectares.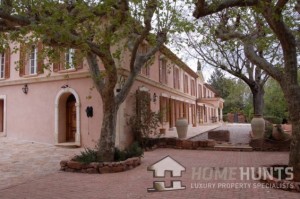 At €5.6 million, this wine growing estate (HH-6426741) in Le Cannet des Mures, in the Var, offers a vineyard of 25 hectares, including 14 hectares of AOC-labelled Côtes-de-Provence. With possible additional plantation rights, this refurbished bastide also offers a house, an apartment and a dovecote. It also includes a swimming pool, wine-producing cellar and excellent motorway access, making it a very interesting investment prospect.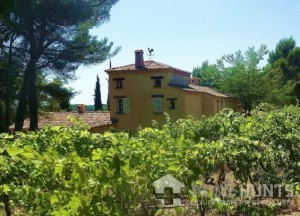 This Provencal vineyard property (HH-5891434), based in the commune of Flayosc, produces Côtes-de-Provence from its 16.1-acre vineyard. The property includes a 'bastidou', which has been enlarged into a master villa with two flats, a pool house, garages and horse boxes, and its sale would include the existing bottled inventory.
To find out the price of this Flayosc-based vineyard, or to obtain more details about other available wine estates in Provence, contact Home Hunts directly on 0033 970 446643 or visit our website – www.home-hunts.com