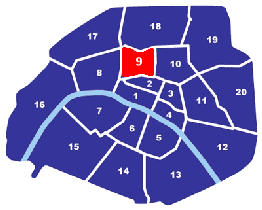 The butterfly-shaped 9th arrondissement of Paris is well-known for having retained its elegant 19th century Parisian ambiance. As one of the districts that was reshaped by Baron Haussmann – whose vision of Paris still lives on in much of central Paris – typical "Haussmannian" architecture, such as that in Place Saint Georges and Boulevard Haussmann, is all around.
Haussmann was commissioned by Napoleon III to transform Paris. Narrow streets gave way to wide boulevards, new bridges and public buildings – and he also oversaw the construction of the opera house Garnier Palace, which is one of the most famous in the world.
The 9th, known for being "le quartier des grands magasins", is undoubtedly the place for extravagant and luxury shopping – especially at Christmas. There are many upmarket department stores located in this area, including, perhaps the most famous of them all, Galeries Lafayette, which has its flagship store on Boulevard Haussmann.
With its legendary cabaret music hall, the Folies Bergère, and Olympia – where countless famous French and international music artists such as Édith Piaf, Pavarotti, the Beatles and the Rolling Stones have performed – the 9th has hosted some of the most memorable nights in music over the years. In 1962 Marlene Dietrich's Olympia show was broadcast to acclaim and, back in 1995, Jeff Buckley gave what he considered was his best performance of all time.
Several years ago the 9th arrondissement hit newspaper headlines when a 19th century apartment was unlocked for the first time in 70 years. According to reports, the owner, Mrs De Florian – described by some as "demimondaine" (used to describe women of this era living wild and wealthy lifestyles) – had fled to the South of France before the outbreak of the Second World War and never returned. When she died, aged 91, an untouched time capsule was waiting to be discovered.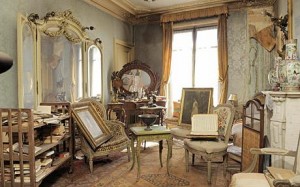 According to The Telegraph, one expert described it like "stumbling into the castle of Sleeping Beauty, where time had stood still since 1900". Inside, dust-covered turn-of-the-century antiques and belongings were found, along with a Boldini painting of her grandmother, French actress Marthe de Florian. It ended up selling for €2.1 million.
Paris has always been an art lovers' paradise. The lively and renowned Place Pigalle, which started off with painters' studios and literary cafés towards the end of the 1800s, can also be found in the 9th. Today it is full of restaurants, cafés and buzzing streets – the rest of the Pigalle district includes the Moulin Rouge and carries on across into the 18th arrondissement.
The 9th is both host and home to some of art and music's most famous names. Just south of Place Pigalle is Victor Massé, where Edgar Degas used to live, and also Avenue Frochot, which was home to Alexandre Dumas and Toulouse-Lautrec. But while the entertainment is lively and sometimes rambunctious, the streets are leafy and tranquil and offer elegant bourgeois properties in relaxing surroundings.
Home Hunts has a stunning selection of apartments available in the 9th arrondissement, such as this three-bedroom apartment (HH-6624731):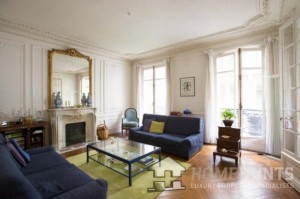 Located in a highly sought after private square. It features a spacious kitchen, garden views and Hungarian parquet floors, and at €1,270,000 offers buyers an excellent investment opportunity.
This elegantly renovated apartment :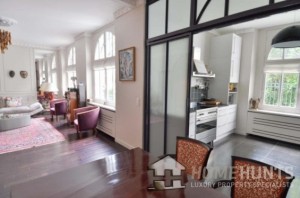 which offers four bedrooms, an office and a family room, along with two picture-perfect terraces for a little over €3 million, will never fail to make an impression.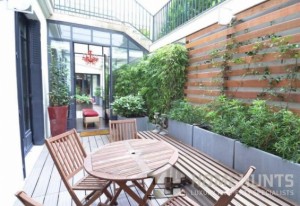 With an interior that marries the traditional and contemporary "French look", it has been designed to make luxurious and serene living part of everyday life.
For more information about these properties and the many more that Home Hunts can introduce you to, visit the website, or contact the team directly on 0033 970 44 66 43