Spotlight on Marseille: France's second Largest City is Back on the Radar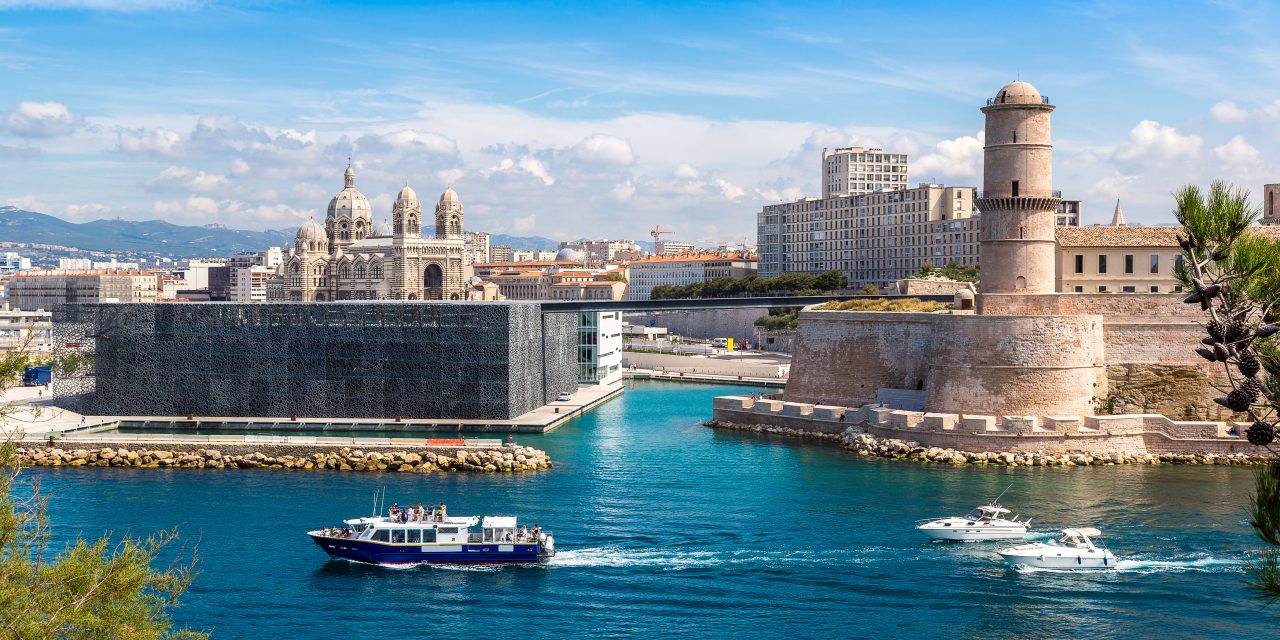 Marseille is here to stay! The lively, cosmopolitan city will charm you with its azure waters, its lively yacht-lined with port and its burgeoning city scene! Read more on the recent developments and progress in this legendary port city in the south of France…
When we say Marseille is back in the limelight, we are genuinely saying that it is really getting back on everyone's travel lists to visit and also to live in. From numerous urban developments and cultural projects slated for 2017 through 2018, this city, known as the oldest and one of the largest metropolis in France with 1.83 million inhabitants, is getting its fair share of attention. And rightfully so, as residents, local communities and territories under the Metropolis Aix-Marseille unite in making the region bright and welcoming to everyone all year round.
The current mayor of Marseille, Jean-Claude Gaudin, started heading the Metropolis Aix-Marseille Provence in 2016 and ever since, projects have been laid out in different parts in the region. The area of the Metropolis Aix-Marseille-Provence covers 6 territories that includes 92 communes who are all united in bringing out the best of their respective villages and towns to visitors and tourists who want to experience the new developments that have been in the process of creation in the region since 2013.

The 6 Territories under the Metropolis Aix-Marseille
Significant Developments in the Region – Current and Future
Cruise companies in Europe and from the US include Marseille as one of their stops in their luxury cruise itineraries and we are not surprised as the area where all these cruise ships dock offers a welcome respite to all their clients who step out of the cruise liners and promenade through the newly refurbished Fort Saint Jean located beside the stunning modern museum called MuCem, designed by Architect Rudy Ricciotti ( for guided architectural tours click here). The Terrasses du Port located also in the same area beside the MuCem, offers convenient luxury shopping to visitors and an increasing number of chic and modern restaurants are now starting to line up the La Joliette, a quarter once very unpopular with tourists in the past couple of years and is now considered one of Marseille's blooming chic spot.
American journalist and Editor-in-Chief Erin Tallman, who writes for successful Marseille-based online publication ArchiExpo E-Magazine, is a long-time resident of the city and she shared to us that the local government has really stepped up and reconstructed several areas and this makes a huge difference since she relocated from the USA in 2007.
For someone who has been living in Marseille for 10 years and counting, Tallman has seen the city evolve, loving every bit of her daily life, living in her small but charming property in Vallon des Auffes, an up and coming area located in the 7th district of Marseille, offering views of the sea and the Iles de Frioul and Ile d'If, a little island famous for being one of the settings of Alexandre Dumas' adventure novel The Count of Monte Cristo.
Chez Jeannot, a pizzeria and restaurant loved by locals for over 60 years is located in the Vallon des Auffes area and has recently refurbished their look and branding, becoming one of the popular places to visit besides the much-talked about seafood restaurant Chez Fonfon (which is famous for their bouillabaisse) and their mini tapas bar version called Viaghji de  Fonfon, all situated around the little port.
Tallman shares: "The city now boasts of cleaner streets, wider pedestrian walks where people can gather and mingle…mostly in the Vieux Port. There is the Stade Vélodrome which is being renovated to include a wider space to accommodate more people who are not only sports fanatics (the stadium is the headquarters for supporters of popular football club Olympique Marseillaise) but also to shoppers and visitors who will soon be regaled by the upcoming launch of the upmarket French retail mall, Galeries Lafayette in the area."
Truly these are just some of the significant developments in Marseille where once upon a time, stories of nuisance on the streets frightened away potential investments, visitors and foreigners looking for a place to call home in the region where property prices are still very attractive compared to neighboring areas that include the Var and the Riviera. Concerned efforts of the people in Marseille in taking care of their city is slowly showing a positive outcome at present, a domino effect that started in 2013 as Marseille became the European Capital of Culture and gained back its distinctive place as a prime destination to watch out for, inspiring all to make a change and clean up the city and the community for the betterment of all.
Marseille Area and its Coastal Villages Changes
With urban developments in the city of Marseille, people are starting to flock to the region and visitor turnout for neighboring towns and villages located on the coast has begun increasing. Outdoor markets continue to flourish on the little ports in these coastal villages and the selling activity peaks in summer where the best produce, Provencal wine, local delicacies and souvenirs are up for sale in colorful outdoor stalls laid out on the streets and ports on the coast.
Home Hunts Luxury Property Consultant, Brigitte Appert, recently shared that in the recent 2 years, she had clients from all over the world getting interested in buying property in the region surrounding Marseille.
Appert, an expert in searching for the best luxury properties, has been with Home Hunts for 4 years already and she is keen in pointing out that all her inquiries for luxury properties increased as projects were done and implemented in the area since 2013 when Marseille was awarded the European City of culture accolade, bringing forth growth in real estate buying in the region, not only from the French but mostly from British and German clients.
We interviewed Appert recently in her lovely Bastide home to know more about the people living in Marseille, types of clients buying properties and her recommended areas.
Recommended Properties in the Marseille Region:
Appert: My clients like medieval villages on top of a hill, they want to have a property where it is situated in a nice place and have a drink in a place nearby where they can go by walking. I recommend properties with a view in Cassis, it is small, everybody knows everybody but it is a very lovely and protected destination.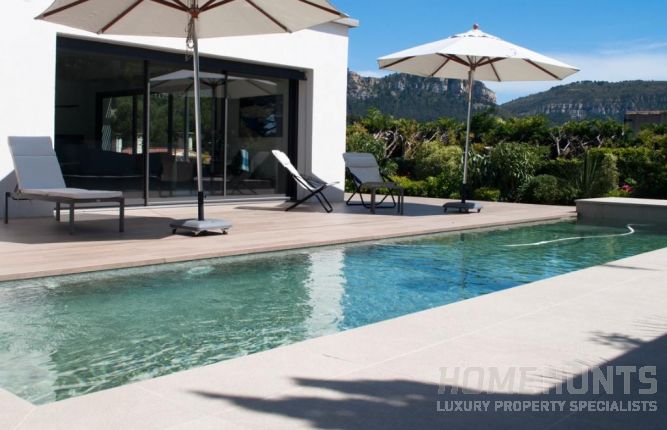 Modern villa on the cliffs of Cassis priced at 1,950,000 Euros. Click on link for more
Appert: La Ciotat is also interesting as it is extremely well developing, with magnificent views. Go a bit further on the hills and you will see pine trees surrounding you everywhere. La Ciotat is a very futuristic town, with its seaside port being recently renovated.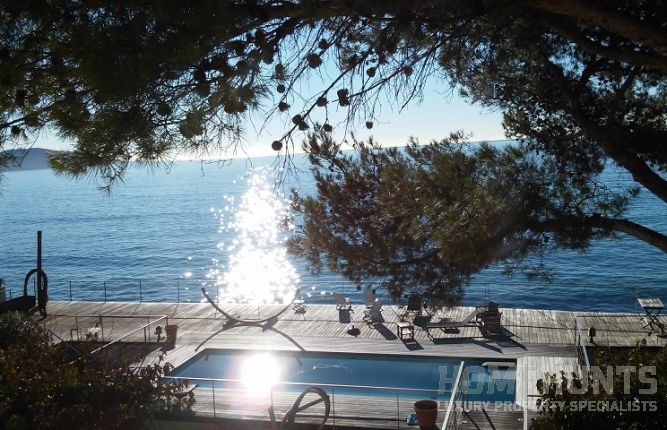 The sea views from this outstanding property in La Ciotat is a favorite among foreign buyers. Priced at 2,290,000 euros. Click here for more information
Appert: In Saint Cyr sur Mer, there is a small old port, and you can go by foot to the village and go to the biggest beach in the region which is located there. This location is top for sea view properties.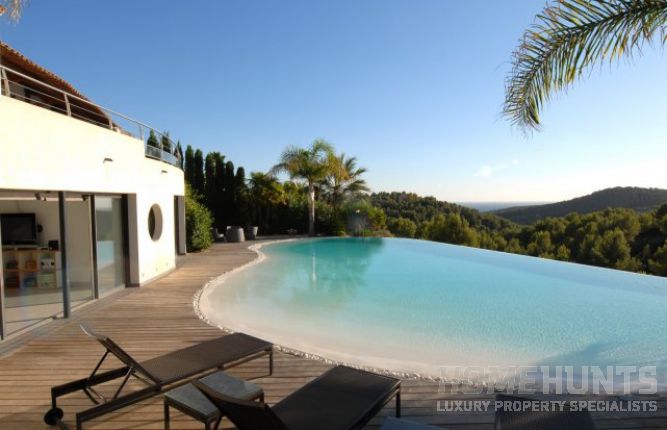 Reigning over the hills of Saint Cyr sur Mer is this prime villa. Price can be provided upon demand, click here for further details.
Appert: There are a lot of clients who prefer buying properties in Sanary Sur Mer also. It has an extremely nice old harbor, with very nice houses.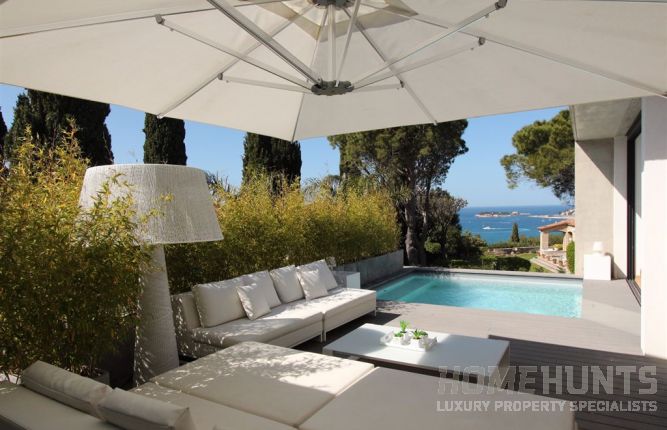 This magnificent modern property overlooking the bay of Bandol, in a highly regarded residential area of Sanary sur Mer is a top choice for luxury property buyers. Click here for more information.
But when it comes to the number one spot in the region for for buying property, hands down, Appert says "Marseille and the districts around its Vieux Port is the best".
The Best Properties in the Districts within the City of Marseille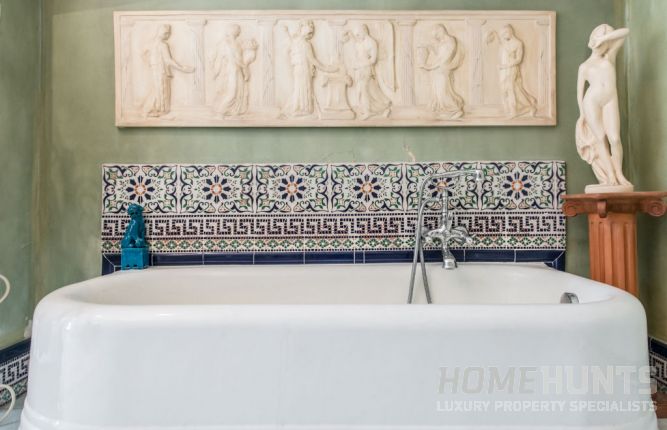 A beautiful bathroom in one of the prime properties located in the heart of Marseille. Click here for more information.
Appert recommends the 6th district, the Vieux Port and properties in Roucas Blanc with sea views to her clients who wants to get the best of both worlds – sea and easy city access.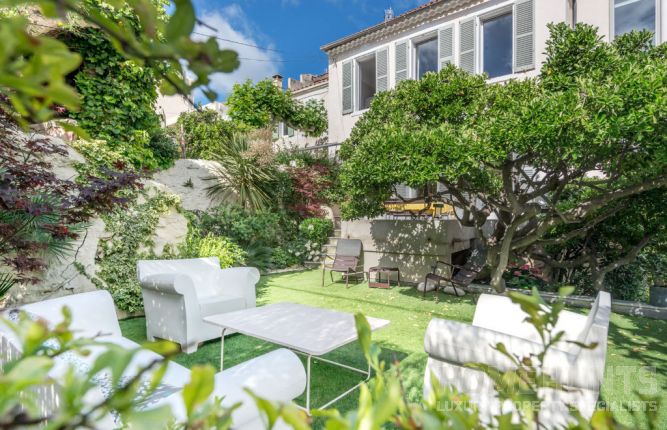 Beautiful property near Corniche Kennedy in Marseille priced at 1,650,000 euros. Click here for more information
Appert: I would also recommend the beginning of the 8th district around Prado with beautiful authentic 18th Century apartments.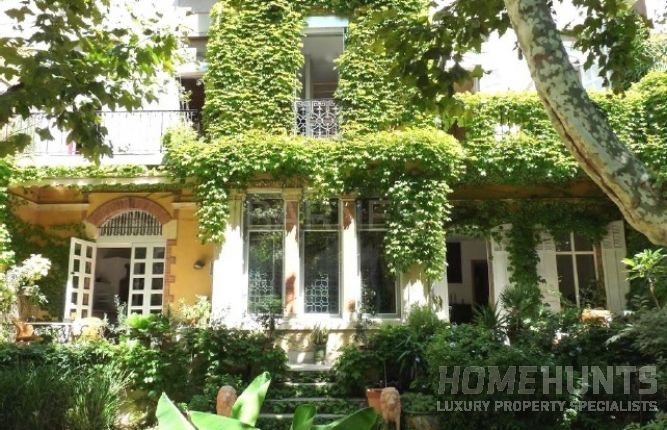 A dream property on the 8th district in Marseille priced at only 1,180,000 euros. Click here for more information
Appert: A good potential district is the Pointe Rouge area with very nice houses. A few homes are refurbishing right now. The L2 Rocade highway will make it easier to access this area in the future.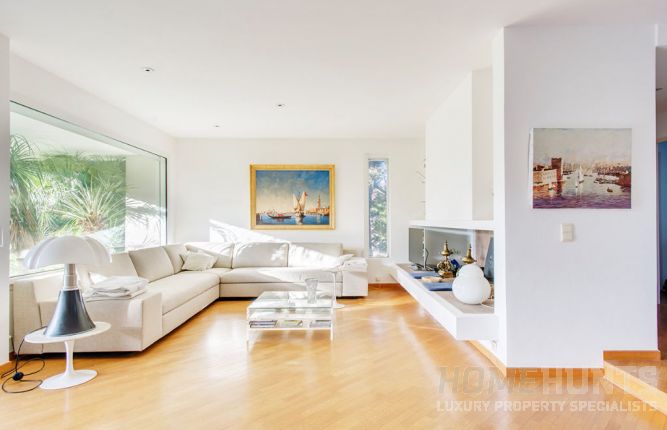 Beautiful modern interiors from a contemporary villa located not far from Point Rouge area. Priced at 1,354,000 euros. Click here for more information
The L2 Rocade route is an important development in Marseille that started since 2014 and it will connect the north of Marseille to the south without passing through the city center. It will ideally be done in 1-2 years and will bring a potential increase in the price of real estate properties along its way in the next couple of years as ease of access to properties is another key feature of a lot of property buyers.
So, if you are looking for the best properties with magnificent sea views near a city brimming with lots of events, activities and project developments slated all year round, we recommend the region of Marseille as a potential location for your next real estate investment or home purchase. You might be surprised in the next couple of years on the positive returns you will gain from choosing Marseille as your home base for property investments as this city continues its promise to everyone in getting better and brighter for future generations to benefit more of what it can offer as the reigning port capital in the south of France.
If you are looking for top properties in Marseille you can search through Home Hunts' portfolio at www.home-hunts.com
To discuss your specific needs and to find out more about locations offering the best investment opportunities, speak to a consultant directly on +33 (0)970 44 66 43