A stroke of genius – 7 elegant swimming pools that you can buy in France 
What makes a statement swimming pool? Show-stoppers are usually a harmonious blend of location, design and functionality, with the most spectacular offering sea views or dreamy horizons.
France's warm summer climate, diverse landscapes and exquisite coastlines make a sublime setting for exotic swimming pools. As a buyer's agent for luxury property in France (and Spain), Home Hunts has hundreds of pools for sale – but not all are created equal.
For buyers looking for French properties with stunning swimming pools, exploring this list will not only cause you to marvel over the most magical, but also help you decide what type of pool you want – and if your dream pool happens to be on this list, give the team a call and set up a viewing. 
Water masterpiece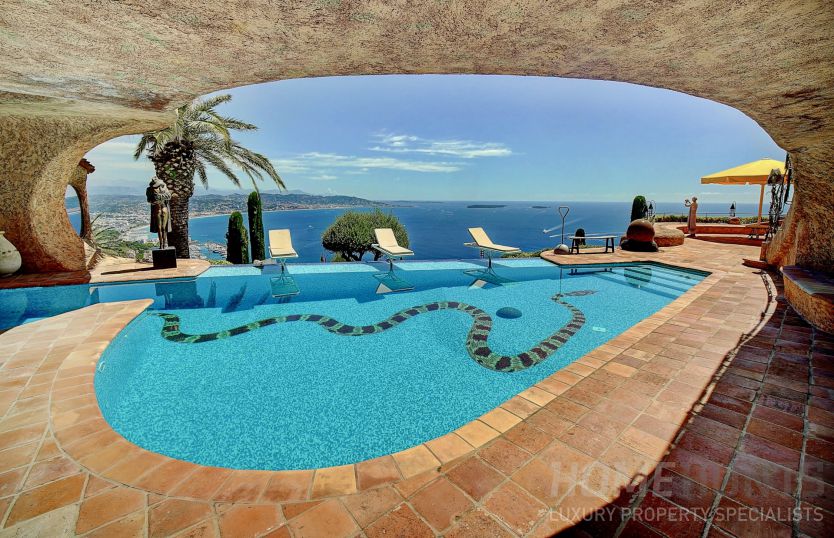 This spectacular architectural swimming pool (HH-14669130) is a magnificent work of art, as is the 13-bedroom property throughout. In a stroke of design mastery, the stone arch frames the azure pool, breathtaking sea views and terracotta terrace like a picture, brought to life by the mosaic-tiled snake on the pool floor.
Three sunbeds shimmer in the infinity space, providing the perfect way to sunbathe in serenity or be sociable with friends. Wellbeing is at the heart of this property as it also offers a gym, hammam, Jacuzzi, sauna and indoor pool with more Med panoramas. The property is located in Theoule-sur-Mer on the French Riviera and the price is available on application.
A stately swim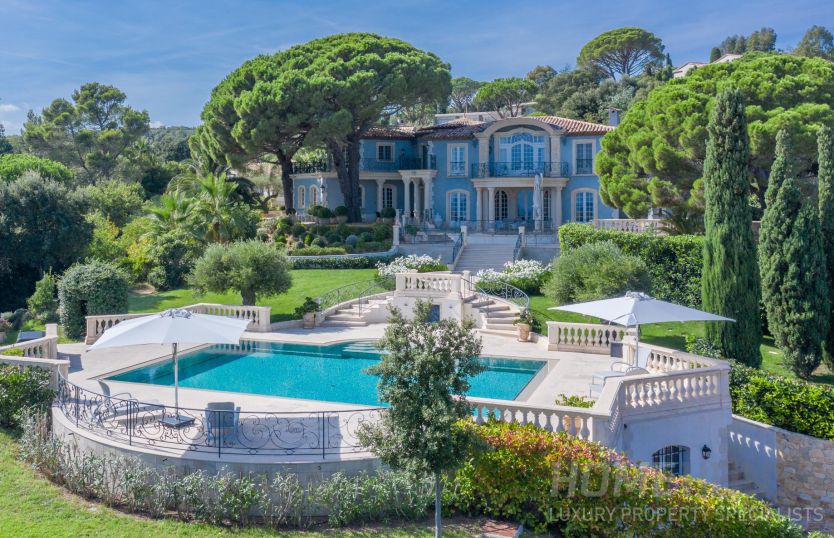 An 18th century beauty (HH-14094452) dominating the Golfe de Saint-Tropez, this stately swimming pool sits in symmetrical harmony to a six-bedroom estate just a stone's throw from the tennis court. Elegant, with Roman steps, this is a dream pool, offering awe-inspiring views amidst plush, landscaped grounds. The property is located in Grimaud, not far from a prestigious golf course and sandy beaches. Contact Home Hunts for price information.
Heaven sent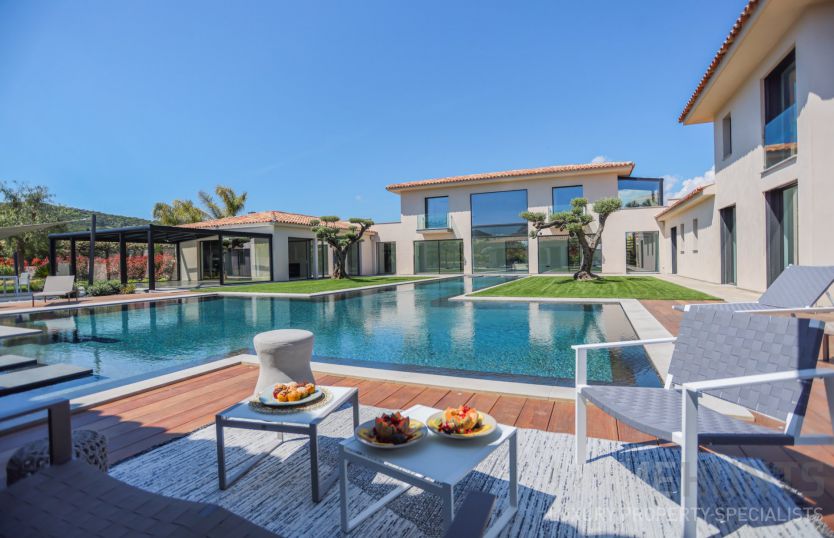 From above, this glorious lagoon-like swimming pool (HH-14511998) looks like a cross – fitting because the overall effect is heavenly. Set near the beaches of Saint Tropez in a modern villa, this impressive pool is as spacious as it is striking. Whether you're training and need to do some lengths, wish to entertain friends, or bathe in what feels like a blue lagoon, this pool hits the spot – and there is also a sauna for optimal wellbeing in the pool house. It is on the market for €12,500,000.
A refined refuge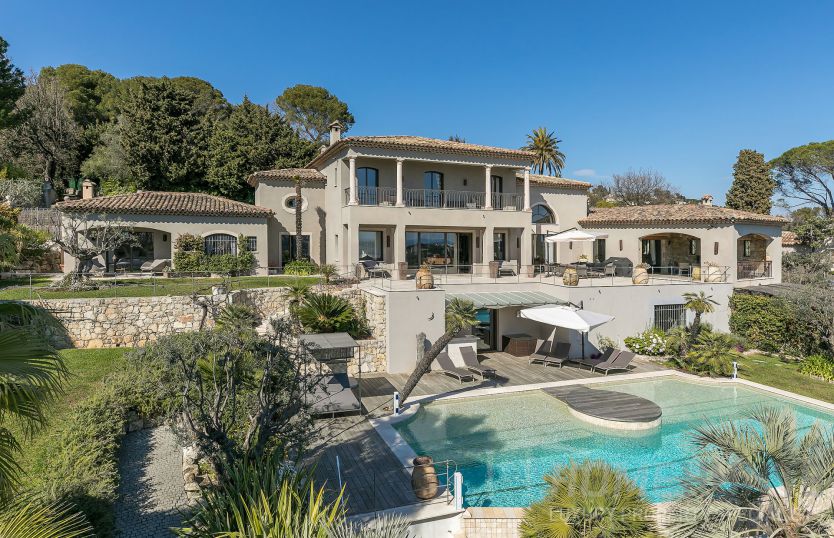 An oasis in Grasse (HH-13123770), one of the Riviera's up-and-coming towns, this swimming pool sets this property apart from others in the area. With the decking extending into the pool, enhancing sea views for sunbathers, it is an exquisite platform for resting, hanging out and for pure fun. The four bedrooms make this an ideal family home and wellness is a focus, as there is also a gym, hammam and Jacuzzi. At €6,950,000 this property makes a good investment for the right buyer.
Paradise in Provence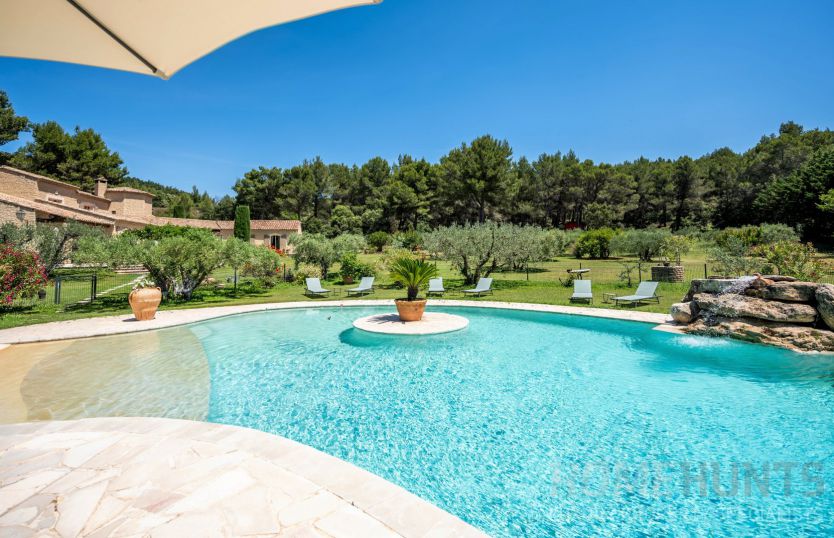 This could be the grounds of a luxury hotel, but instead this sublime swimming pool (HH-12434658) is part of a five-bedroom Provencal property in the Alpilles. Set in six hectares of landscape grounds, with olive trees and pines, this pool provides the pinnacle of peace and relaxation – there's even a rocky waterfall for sound therapy, cooling off and for play. At €3,490,000, it won't be on the market for long.
Casa par excellence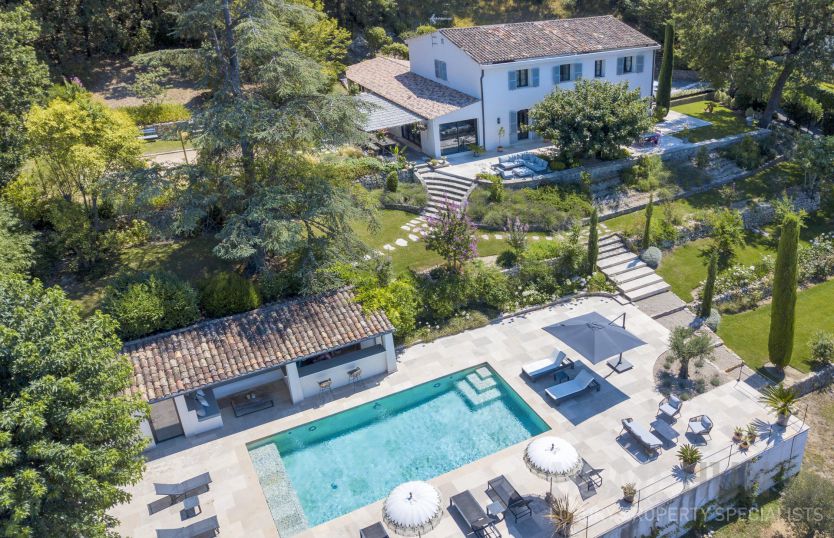 The combination of a vast tiled terrace, pool design (graduating shallow to deep with large paddling area for chilling, or children) and setting (by the house, but also in the middle of a  vibrant garden), makes this an exemplary swimming pool (HH-14891291). 
The inclusive design, bar area, sunbathing opportunities and shady, covered seating means the whole family, young to old, can spend all summer by the pool. Part of a four-bedroom home which has the air of a Spanish holiday resort, this property will keep residents smiling all year round. Located in Valbonne, it's priced at €2,650,000.
Sète for success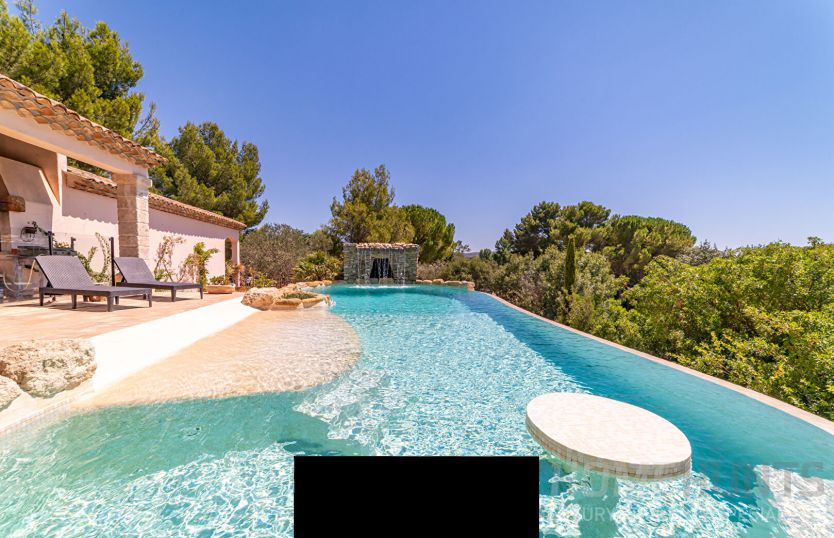 Incredible swimming pools can be found at all budgets if you look carefully enough. This exceptional property near Montpellier and Sète (HH-14633579), in Occitanie, prioritises wellness and design offering a salt water swimming pool with waterfall that could rival five-star spas. A phenomenal feature in this six-bedroom home, it also has an infinity edge and a see-through top-terrace barrier, ensuring safety without sacrificing views. An exciting property that must be seen as soon as possible, due to the alluring sale price of €1,090,000 price.
Have you fallen in love with any of these swimming pools? You can find more at www.home-hunts.com (tick the 'pool' feature box when you search), but to set up a viewing or to discuss your swimming pool criteria with a Home Hunts consultant, get in touch at info@home-hunts.com or +33 (0)970 44 66 43.