Looking for some fresh home design inspirations? Step inside some of the most luxurious villas and mansions on the French Riviera and discover some beautifully designed spaces to give you brand new ideas for your next home design project!
The French Riviera. Luxury, style and class comes into mind when hearing these 3 words in any conversation over coffee or dinner. This famous coast not only boasts of the best views of the Mediterranean Sea and a collection of the most luxurious hotels and top-billing restaurants but also the best design inspirations you can find in each villa or luxury penthouse, either designed by a famous interior designer or built by one of the leading architects in France.
From ultra-modern living rooms with the latest fittings to classic Bourgeois-style furnishing, we stepped inside some of the top properties in the area to showcase some of the best interior decorations to inspire you in your next home design project this coming Fall.
Here are some top home décor inspirations from the French Riviera for you to discover in each home living space:
Beaulieu sur Mer – Unique Objects in a Modern Office at Home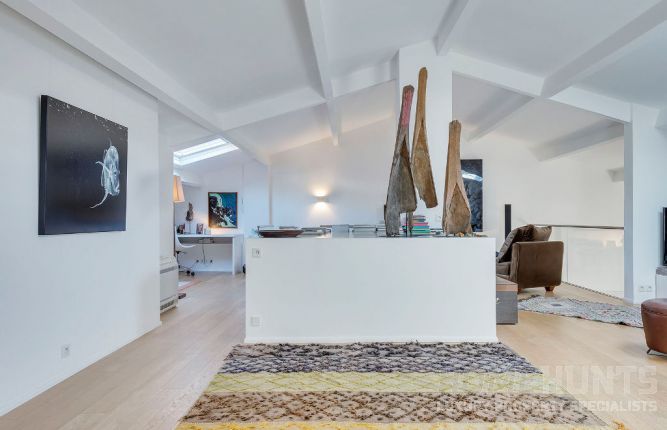 Immaculate bright and white, this duplex loft with a terrace is the result of the restructuring of a recent apartment in the heart of Beaulieu by an interior designer and photographer. With an interesting array of objects and driftwood sculptures, an otherwise boring office and research space becomes alive with the addition of interesting pieces that starts any conversation with clients and guests alike.
The spaces were designed according to the typology of a gallery-loft city. Organized as a duplex, the volumes are articulated in double level of level, where you will find in the center a staircase of polished concrete, traversed by aluminum and glass coming from the yachting industry. A traversing reception welcomes you in the foreground, with a kitchen, dining area and terrace in a line. The upper floor keeps the spirit of the loft, combining both a research space, reading room and the two independent bedrooms with their bathrooms. It is possible to create a third bedroom. A laundry room and two closed garages complete this exceptional home.
This prime Riviera villa is located right in the town center, close to the sea and the shops and 30 minutes from Nice Cote d'Azur airport. Priced at 1,180,000 Euros.
Nice – Mix and Match in the Reception Room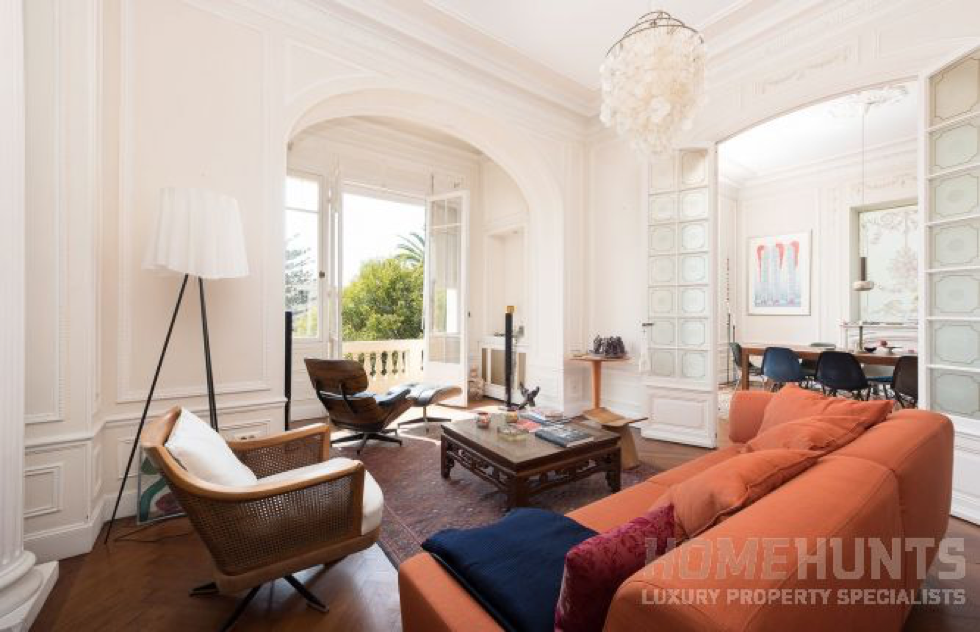 This magnificent and rare Belle Époque mansion in the heart of a family neighborhood of Nice has a beautiful reception room that opens to a balcony upon entering with a southern exposure. Vintage and antique furniture superimposed with some modern furnishings that perfectly executes a mix-and-match combination in a common space.
This magnificent building which has retained its charm and its volumes offers 291 m2 of living space. You will find on the ground floor next to the reception area the equipped kitchen and a guest toilet and on the first level, there are 4 bedrooms, of which 3 are suites, 2 shower rooms, 2 bathrooms, and a terrace.
At the second level, there is a large bedroom suite with a balcony and an outstanding solarium of 100 m2 with panoramic sea and city view.
To finish this journey of discovery, on the ground floor, the villa has a separate 3 room apartment with direct access to the swimming pool and the slightly sloping garden. The villa offers a large garage for 4 vehicles, a cellar and a laundry.
Close to the shops and the city center, shops, cafes, restaurants and beaches, it is priced at 1,169,000 Euros!
Cap D'Antibes – Bathing in Luxury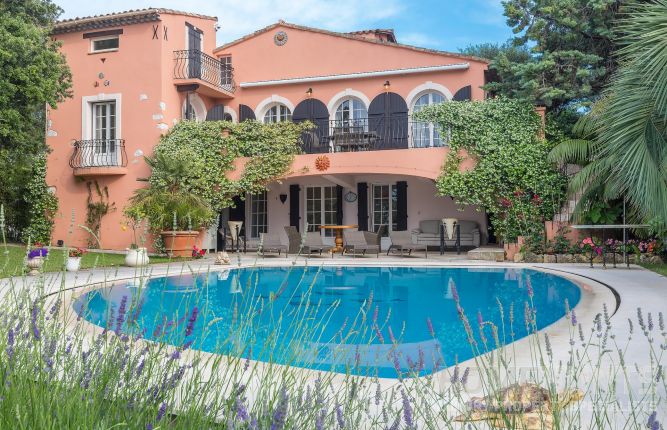 In the sought-after area of Cap d'Antibes jutting out into the Mediterranean Sea, you will find a charming Provencal villa, recently renovated and located on the west side of the Cap d' Antibes with its elevated sea view.
It is made up of an entrance, an equipped kitchen, a living room opening onto a terrace with sea view. The highlight of this villa is one of the master suites with a stunning and spacious bathroom that can easily be accessible and is interestingly situated in the middle of the room. The reception area leads out to a charming terrace with a great sea view.
A splendid garden landscaped with Mediterranean essences welcomes all who visit the villa with ample parking space for all guests. The price of this prime property we can disclose upon demand, contact us for more information!
Le Golfe Juan – Conversion of Space into a Movie Theater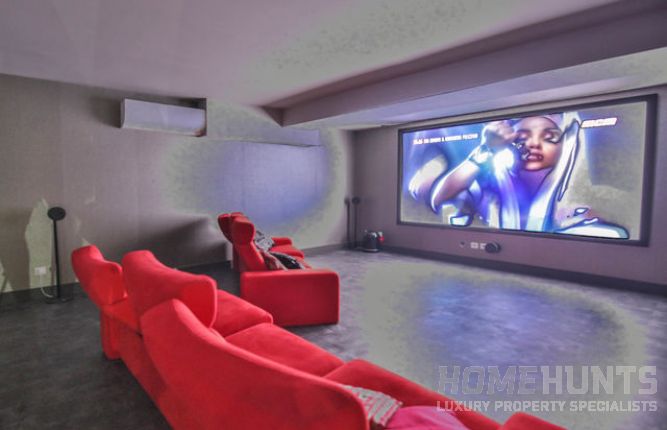 Are you thinking of what to do with an empty garage or space in your property? On the heights of Golfe Juan, this stunning Neo-Provencal villa will give you an idea on how to convert one of your ample spaces in your home – try converting it into your very own movie theatre!
This villa also has on its ground floor: entrance, guest toilet, living room, TV lounge, dining room, SieMatic kitchen and laundry room. The whole area overlooks a large terrace.
Upstairs, there are 2 bed rooms with en-suite shower room and a master bedroom with dressing room and complete bathroom all overlooking terrace.
Other than the very inviting home cinema of this villa, there is also an office, sauna and shower room, cellar, garage for two cars, boiler room, an en-suite bedroom with dressing room and shower room. Price can be disclosed upon demand. Contact us for more information! 
Cannes – Sleek Styling in the Bedroom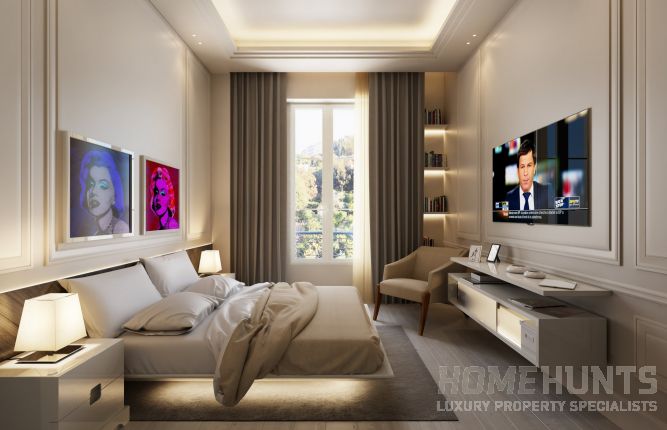 Let's head on to the bedroom and get some styling inspiration from one of the top penthouse properties in Cannes! Located on the top floor of a splendid Bourgeois style residence, this ultra-luxe property has 5 sleek and stylish bedrooms, all traversing each other and have overlooking views over the bay of Cannes and the sea. Soft lights fill every corner of the bedroom which can all be controlled depending on your preference for the brightness in the room and the latest high-end flat television set on the market is installed on the wall, appearing to look like a fixture from a top museum that gives much space and an added pizzazz to the room.
The apartment has an entrance, a light filled living/dining room, a fully equipped independent kitchen, an independent toilet, a master bedroom en-suite with bathroom and dressing room, an en-suite bedroom with shower room, a third bedroom en-suite with a bathroom. A terrace alongside the living room gives a wonderful view out over the Mediterranean with the super yachts and fishing boats bobbing by. All this luxury at a price we can share to you upon request.
Roquefort Les Pins – Country Style Chic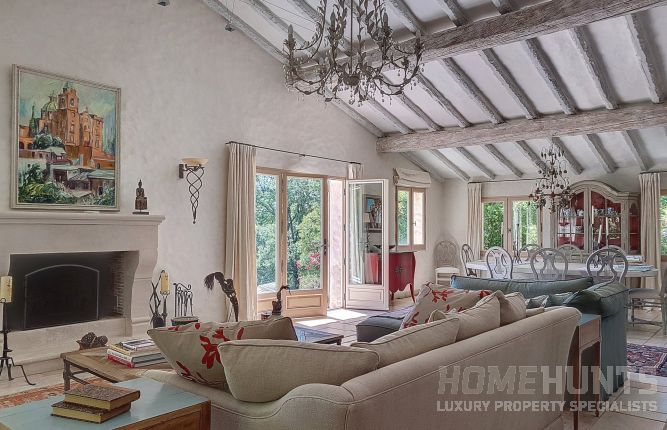 Are you a fan of country and shabby chic home styling? In the Riviera, there are villas that are masterfully designed to emanate that country chic style, like this superb family home, situated close to the charming village of Valbonne as a prime example.
The villa enjoys a lovely view of the surrounding countryside which extends as far as the sea in the distance. The villa and Annexes are located at the heart of wonderful up-lighted landscaped grounds of about 1 hectare.
The property consists of three important living areas: the family villa, the guest house and a leisure center. A beautiful swimming pool and a petanque court complete this exceptional property with delightful landscaped grounds of approximately 10000 m2, planted to lawns, with fruit trees and flowering shrubs. All this for the price of 1,975,000 Euros! 
Grasse – Chic Cooking in the Cuisine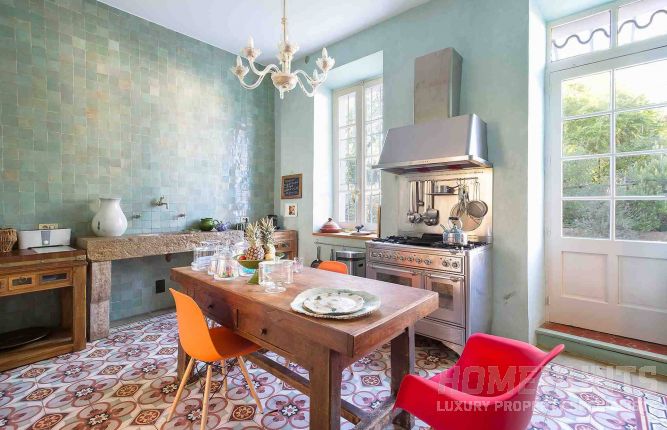 It is always a pleasure to cook in a beautifully crafted and fitted kitchen and this exceptional Bourgeois property built in 1850 has marvelously restored ancient walls and tiles, offering a harmonious space that provides priceless moments of cooking and dining for all.
The sublime mansion of 500 sqm is entirely renovated and offers high ceilings and frescos spread. On three levels, it proposes spacious reception rooms, 5 bedrooms and a large loft of approximately 50 sqm.
There is also a heated swimming pool, petanque court (a dedicated area for playing the famous sport of throwing steel balls on a sand pit in the south of France), horse pen, vegetable garden and fish ponds. We can disclose the price upon request.
All photos courtesy of Home Hunts and Pixabay
RELATED: Six of the Most Glamorous Villas for Sale on the French Riviera
If you are looking for prime properties on the French Riviera, we have our HH Luxury Property Specialists devoted to give you all the information you need. You can also search through Home Hunts' portfolio at www.home-hunts.com
To discuss your specific needs and to find out more about locations offering the best investment opportunities, speak to a consultant directly on +33 (0)970 44 66 4