These are six of the finest, most glamorous properties currently on the market on the Riviera
The fashionable seaside resorts, lively summer crowds and glorious local gastronomy of the Côte d'Azur has kept it a long-time favourite with holidaymakers and real estate investors.
In 2016, an impressive 11 million tourists visited this region with around one-quarter arriving by plane. This year, airport arrivals to the French Riviera are up 30% on last year. This increase is mostly credited to the #FeelCotedAzur advertising campaign, which promoted the region to bring in even more Brits, Germans and Dutch visitors.
With proximity to the Alps, where there are 15 ski resorts to choose from, this isn't just a summer holiday destination. Depending on what time of the year you come, you can ski in the morning and swim in the afternoon – a perfect location for year-round holidays. In fact, around 180,000 properties on the Riviera are second homes. Most owners choose property here so they can enhance their lifestyle as well benefit from a healthy annual rental yield.
If you are looking to buy property on the Côte d'Azur, here are six of the most glamourous villas currently for sale.
A touch of class in Theoule-sur-Mer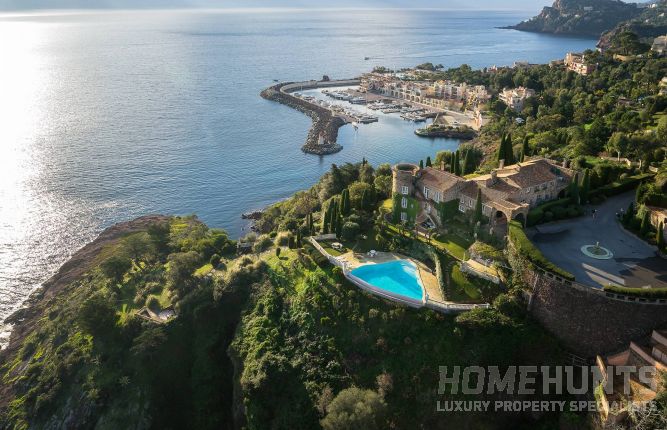 This eight-bedroom villa is something of a masterpiece (HH-11817042) and has the x-factor from every angle. It is located in Theoule-sur-Mer, about half-an-hour from Mandelieu Airport in Cannes.
A sprawling stone estate perched on the hills next to Theoule's port, which provides breath-taking views over the Mediterranean Sea, this is an extraordinary home.
From the natural stone walls to the uniquely-shaped swimming pool, exquisitely shady terrace and tall cypress trees in the manicured gardens, these are idyllic surroundings for summer on the Côte d'Azur.
Inside is just as impressive. High ceilings support a bright Provençal colour palette with a bohemian influence. There are also enormous arched windows, which make the bright blue sea part of the decor in many of the rooms.
Dream properties like this don't often come on the market, so interested buyers should organise a viewing as soon as possible.
Summer's a breeze at this home in Eze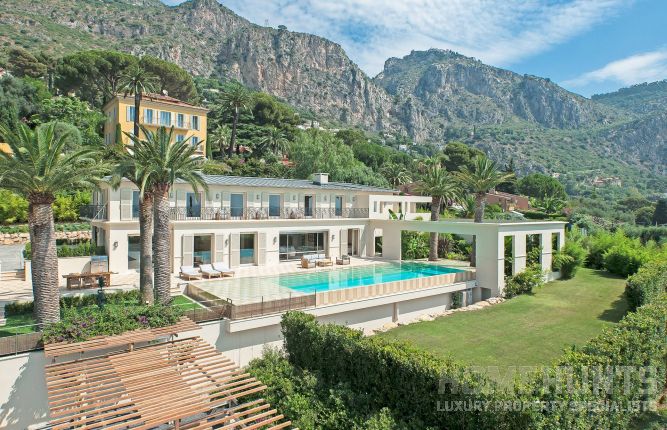 Eze is positioned between Nice and Monaco and this magnificent luxury property (HH-7663982) sits up in the hills bringing impressive panoramic views of the sparkling Mediterranean waters below.
There are two prime properties for sale here. One is the main house with six bedrooms, a home cinema, gym and hammam.
The other guest property has three bedrooms and its own swimming pool. There is also an independent apartment for staff.
Outside the straight architectural lines of the largest villa are a treat for the eyes. From the two-toned rectangular tiles of the beach-slope pool to the impressively long balcony along the length of the first floor, this property has been magnificently designed.
Inside, the perfect lines continue with classic neutral interiors and furnishings throughout.
Highlights include a glamorous marble bathroom, statement staircase with pretty wrought-iron balustrade and a dream kitchen, which combines stainless steel and wood for a luxurious finish.
The perfect holiday home in Villefranche-sur-Mer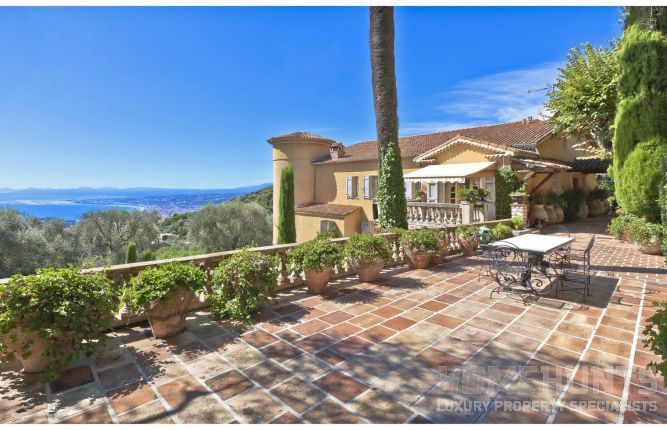 Glamorous properties in the charming village of Villefranche-sur-Mer are in high demand, so this stunning seven-bedroom property (HH-7184715) will likely be snapped up in a hurry.
Outside there is so much to admire. A gorgeous covered terrace that looks out over forested hills to the sea, an enormous mottled blue (heated) swimming pool, beautiful manicured lawns, an immaculate tennis court and swaying palm trees.
This home is luxurious and exotic with warm and welcoming interiors that make it the perfect summer house.
There is also a three-bedroom guest house and a caretaker's house on this 1.65-hectare plot, as well as a gym and a well-organised wine cellar.
A chic place to party in Cannes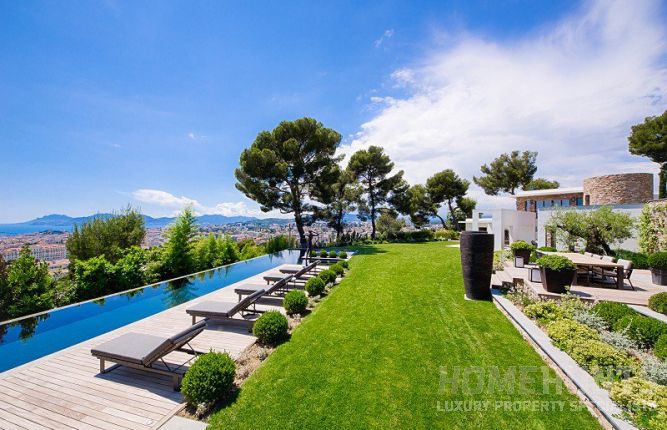 If you are familiar with the Lerins Islands off the coast of Cannes, you will appreciate the panorama that includes them from the verdant gardens and swimming pool of this chic, four-bedroom villa (HH-10344536).
Unusual yet glamorous in every way, the deep-decked terraces, generous balconies and 22-metre swimming pool make summer entertaining a delight.
Inside, natural tones are dashed with colour creating a calm and cheerful atmosphere. Rooms are open plan and bright and airy, and each is a beautiful space to spend time.
The property also includes a wine cellar, summer kitchen and a two-bedroom caretaker's house.
Grandiose and homely in Grasse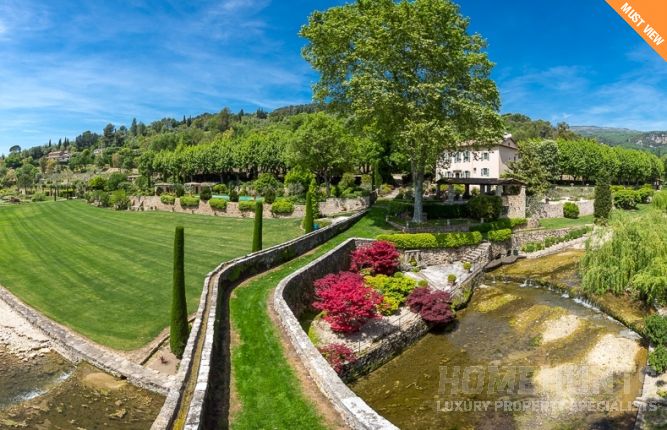 Grasse is recommended by Home Hunts as being one of the best places to buy on the Riviera. With millions of euros being invested into the centre, house prices are lower here than in its neighbouring towns, but are expected to increase over the next 12-24 months.
It's hard to imagine who this striking 17th century house (HH-11747437) in Grasse wouldn't appeal to. A glamorous country home, you enter by a plane tree-lined driveway that leads up to vast, elegant gardens, which have been expertly landscaped over the last twelve years to reach an extraordinary level of excellence.
Overall the grounds spread across 17 acres and comprise matured parkland, a large pond feature that's worthy of a Monet painting and a grand, heated swimming pool.
It has been entirely renovated inside with original beams, elegant features and decor choices that perfectly fuse grandiose and homely touches.
There is also a caretaker's house, a guest house, a gym and an outstanding wine cellar.
A must-see in magical Mougins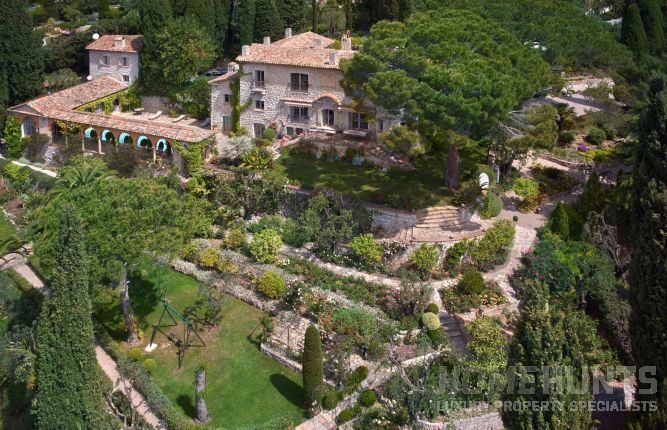 A medieval village renowned for its exceptional gastronomic restaurants, Mougins is one of the most sought-after places to live on the French Riviera.
This unique and luxurious property in Mougins (HH-10191879), a stone bastide built in 1850, is located within walking distance of the village, but also offers breath-taking views over the Mediterranean Sea.
There are copious numbers of glorious rose bushes and olive trees in the stunning mature garden. There is also a partly-shaded pool, which is bordered by arches reminiscent of the eye-catching Corinthian pillars in Paris's Monceau Park.
Inside is also a treat, with stunning spacious rooms peppered with bright colours and original beamed ceilings.
A property that won't be on the market for long, interested buyers should organise a viewing as soon as possible.
If you are looking to buy property on the French Riviera, you can search through Home Hunts' online portfolio at www.home-hunts.com. But to speak to a consultant about your specific needs, call +33 (0)970 44 66 43