As buyers cool off from investing in the world's most expensive cities, leisure hotspots, such as the French Riviera, are benefiting, particularly in light of France's attractive market conditions for real estate investment

According to a recent report from Savills, the French Riviera Residential Market, "ultra-prime markets in world cities are cooling following a period of sustained price rises" and the French Riviera's property market is set to benefit from this shift. While real estate investors have historically invested in city centres, it seems that now they are moving away from this focus. In addition, as new wealth comes out of Africa, Asia and the Middle East, the Riviera, known as a "safe haven" will attract more wealthy overseas buyers than ever before.
A unique time for the French Riviera property market
Savills' report goes on to explain that "an improving tax structure for non-domestic buyers and a weak euro puts prospective purchasers in a very strong position" and that "buyers may seek to move now to take advantages of a future market upswing."
While the Riviera has always been a popular choice with high net worth individuals (HNWIs), the improved tax structure for overseas buyers, the weak euro and low interest rates means that now is the time to buy.
"It is a unique time for the French Riviera property market because asking prices have dropped over the past few years," says Tim Swannie, Director of Home Hunts. "When you put that together with the low mortgage rates and the amazing exchange rates on offer, there has not been a better time to buy in more than ten years and savvy buyers are realising this."
Riviera sees sharp increase in sales
Throughout 2015, Home Hunts has seen an unprecedented number of buyers taking advantage of the current climate to buy property on the Riviera. Enquiries are up by 60% compared with 2014, which has led to a sharp increase in viewings, offers and sales.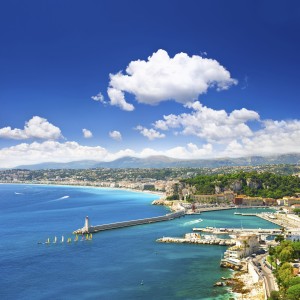 "The luxury property market on the French Riviera is really booming this year," says Tim. "We saw an increase in activity in 2014, but this year things have really taken off. The first six months of 2015 has been the busiest we have seen it since we started the company back in 2004."
Home Hunts is getting enquiries from all over the world and has found that there is a huge increase of interest from the UK and the US particularly because of the exchange rates with the euro. "We have also helped clients from many other countries to find properties so far this year," adds Swannie, "including Lebanon, Dubai, Russia, India, South Africa, Hungary, Holland, Belgium, Germany and all of the Scandinavian countries."
Where to buy property on the French Riviera
Riviera property is always in high demand. New resorts in other European countries lack its cultural and historic richness, as well as its long-held reputation of being the European playground for the rich and famous. The fact that land is restricted by planning laws means that only a handful of properties in the most sought after areas are available, keeping demand and prices high.
Riviera property hotspots
There are four distinct areas on the French Riviera that stand out for their popularity this year, as reported in Home Hunts' property insights brochure INSIDE FRANCE.
Valbonne and Mougins
The first of these is in and around Valbonne and Mougins, the latter being just a 15-minute drive from Cannes. "There are many good and reasonably priced restaurants in this area and the villages are lively all year round," says Tim. "It also has the best international schools and the European Silicon Valley."
"The enduring desirability of the Valbonne area, including villages such as Opio, Roquefort-les-Pins, Chateauneuf de Grasse and Le Rouret, provide a rural lifestyle combined with easy access to the coast within 20 minutes," he adds. "They have lovely restaurants, excellent local markets and the people are warm and friendly."
Villefranche-sur-Mer and Saint-Jean-Cap-Ferrat
Close to Monaco with incredible views, Villefranche-sur-Mer and Saint-Jean-Cap-Ferrat have also attracted a large share of enquiries and sales in 2014. "The bay of Villefranche has been voted many times as the most beautiful bay in Europe and Cap Ferrat is one of the world's most sought after, and expensive, addresses," says Swannie.
Savills reports that Saint-Jean-Cap-Ferrat has a population of 2,085 and 54% of its properties are second homes.
Cannes and Cap d'Antibes
Cannes and Cap d'Antibes, well known for their beaches, exclusivity and year-round activities, also continue to be highly popular with Home Hunts' clients. According to Savills' report, 40% of the properties in Cannes are second homes.
"Properties here have become a very good investment opportunity," he adds. "Rental yields are high, as with 300 days of sunshine, the Med at your feet and the Alps just behind, it really is a year-round destination."
Grasse – and its surrounding areas – is currently viewed as a good up-and-coming location to invest in by the Home Hunts team because it is not as expensive as other back country Riviera locations. "With the new dual carriageway that is going to be built, this area would certainly pick up in value in the future," says Tim, adding that properties on the Riviera as a whole have dropped by around 20% since 2008.
Saint Tropez
It is the unique atmosphere of Saint Tropez that has kept it as the most coveted location on the Riviera. With a small, exclusive population of 4,500, Savills reports that 62% of properties here are second homes. Saint-Tropez is famous the world over for its spectacular beaches, including Plage des Graniers, Plage des Salins and Plage de Pampelonne. The latter is the most popular and the most famous, as is its beach club Le Club 55 where stars such as Elton John and Hugh Jackman can be found.
Along with vibrancy and glamour, it also provides remarkable views of the stunning coastline, the Maures mountains and surrounding countryside, and offers beautifully-designed properties with sea views and waterside locations.
However, while the most exclusive properties are still finding buyers, it is the €1 to €5 million bracket that is currently proving to be the most popular with those looking to buy property in Saint Tropez.
To read more about opportunities in the French Riviera, check out the "Riviera" section of Home Hunts' online newsletter The Address, and Home Hunts' blog at www.home-hunts.com where you can also view properties for sale. To speak with a consultant directly about your specific investment requirements, call +33 (0)970 44 66 43.