When it comes to cities in France, there are many that stand out including Paris, Bordeaux, Nice, Marseille and Lyon. In the southwestern part of the country there is a city often overlooked. This city is Toulouse, a vibrant destination named as La Ville Rose for its distinctive brick red walls and pink stones showcased from different buildings and homes in and around the city. Today we focus our sights on Toulouse, a cosmopolitan melting-pot that is packed with art, culture, industry and architecture and the best French cuisine consisting of the most delectable sausages (Saucisse de Toulouse) and mouth-watering Foie Gras that is a real pride for each and every Toulousain.
The city center of Toulouse, compared to Paris, is small and walkable but this does not mean that there are a few sights and activities to do in such a small area as each corner and street is filled with charming stores, restaurants and covered markets that make you feel that you really are in an authentic French city sans the usual tourists that invade the bigger cities of Bordeaux and Lyon. It is like what a lot of people say, a smaller version of Paris, with cheaper prices and friendlier people that never ceases to amaze all who have the chance to visit the city and see smiles all around. The weather also counts as one of Toulouse's best draws as it has a relatively warmer climate than Paris in fall and winter.
We searched through our property portfolio and discovered some real gems and prime chateaux in Toulouse that are being offered at amazing prices. If you are looking for an excellent real estate investment in France, we do recommend looking in to these properties in Toulouse with attractive prices that will surely rise in the next couple of years as the city gets developed with new infrastructure in the center and an addition of a faster TGV train that will make travel time to Toulouse shorter, like the new TGV train in Bordeaux.
Here are some of the best chateaux and estates in Toulouse for you to view and choose from should you be looking for excellent real estate recommendations for your next smart property purchase!
A Showcase of Classic Chartreuse Architecture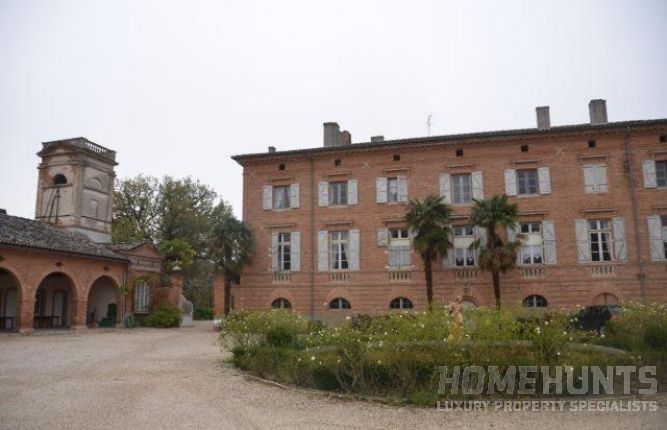 With over 35,000 m2 of land area at a great price of 1,470,000 Euros, this majestic Chateau situated 25 minutes from Toulouse is not to be missed! Ideally located just 5 minutes from the amenities, and an International Golf course, it has a beautiful domaine overlooking the river.
Boasting beautiful chartreuse architecture in its many outbuildings, the possibilities are endless in developing the whole area surrounding this castle. Nestled on a park within the grounds you will find a swimming pool, caretaker's house and a Salle de Reception (function room).
Classic Elegance in the Midst of a Century-Old Forest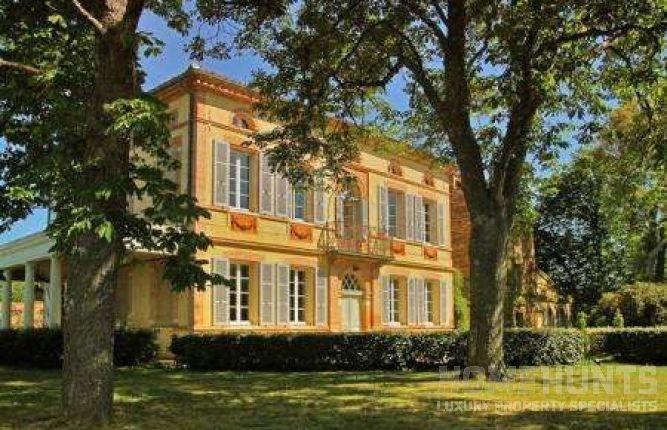 This very elegant, flamboyant and high quality Maison de Maitre on over 12 acres (5 hectares) of land and only 30 minutes from Toulouse airport could be the ideal place to be in the south of France! Many original features have been retained such as Italian murals, original tiles and cornicing. All modern comfort – such as internet connection, oil fired central heating, under floor heating in the salon, fitted ceiling spotlights and many more are available. It is in Haute Garonne, region Beaumont de Lomagne, 30 minutes from Toulouse international airport and an international school.
There are 3 bedrooms, 2 bathrooms and a separate 1-bedroom apartment in the loft space. It is truly a beautiful property in a tranquil location overlooking the attractive rural landscape. The ground floor comprises of an entrance, lounge with marble floor and fireplace, dining room with large fireplace and adjacent fully fitted kitchen with access to a covered terrace of 60 m2. On the first floor, there is the Master bedroom with en-suite bathroom (bath, 2 sinks, WC), 2 further bedrooms, shower room, W.C. On the second floor is the loft space, which is a complete apartment comprising of a living room, dining room, kitchenette, and sleeping area with shower room and WC.
It is in mint condition, renovated to high standards, with beautiful decoration retaining many of the original features. On the grounds of the property, there is a 15m x 3m saline swimming pool with colonial style pool house with inset clock and a 35m2 living space with vaulted arcade. The large terrace is enclosed by cast iron grills and the terrace ceiling is supported by elegant columns.
There is also a 60m2 brick pigeoneer that could be converted, and an attractive duck pond with a small island. The whole property is secured with an imposing electrically operated wrought iron gates that give access to the grounds which have been imaginatively landscaped and extend to 5 hectares (12.35 acres)! Amazingly, these go for the price of only 775,000 Euros!
Dream Castle for Ultimate Luxe Living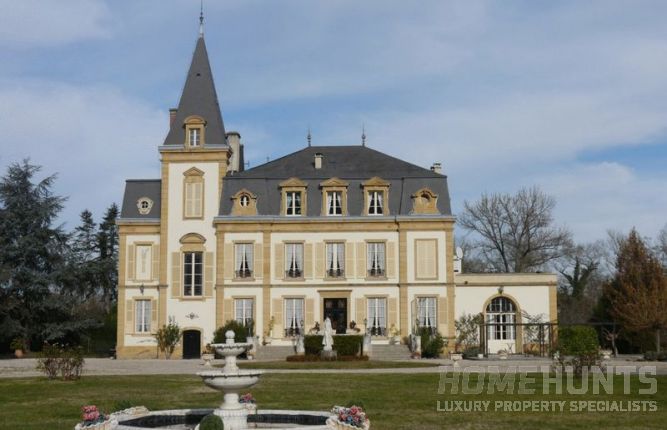 This beautiful 7-bedroom chateau has been recently restored and returned to its former glory. It has generously proportioned rooms and high ceilings and is priced at only 1,995,00 Euros!
The chateau sits in the middle of its park of nearly 5 hectares on the edge of a small village surrounded by the hills of the 'Petites Pyrenees'. Picturesque villages with a good selection of weekly markets and fine restaurants are nearby and Toulouse with its airport can be reached in just over half an hour.
We do recommend for you to contact us directly so you make get more information on each of these superb chateaux and estates on offer in Toulouse as now is the best time to purchase a castle or chateau at low prices. We would be glad to keep you updated on the rise of property prices in the Toulouse region after your purchase and our luxury property consultants will be there along the way from your purchase until you settle in and cater to your needs to help you live a dream life in your chosen castle!
RELATED: Why Now is the Time to Buy a French Chateau
If you are looking for chateaux and castles in France, or prime properties in Toulouse and south west of France, we have our HH Luxury Property Specialists devoted to give you all the information you need. You can also search through Home Hunts' portfolio at www.home-hunts.com
To discuss your specific needs and to find out more about locations offering the best investment opportunities, speak to a consultant directly on +33 (0)970 44 66 4