Come take a break over the weekend and discover the beauty of the French Alps through these lake view properties that are sure to warm your hearts and make you want to get one of your own!
This week marks the official beginning of autumn as the autumnal equinox arrives and brings with it a subtle crispness in the air.  In France, many people go to the French Alps for a cozy weekend during autumn and take in the fresh air while walking around Lake Annecy or the Lake Léman, both of which reflect images of some of the best properties, villas and hotels lining their banks.
A weekend in the French Alps is ideal if you want to take a quick break from the hustle and bustle of the city this Autumn, with numerous flights and train options at great prices. It is a good idea to spend 3 days in the Alps and enjoy the start of the autumn season from one of the rest houses and hotels surrounding the lake!
We feature today some of the top villas and properties with the best lake views and which are all great properties to invest in, should you be looking for a place to go to during weekends in the French Alps, not only during Autumn but all year round!
A Treasure in Tresserve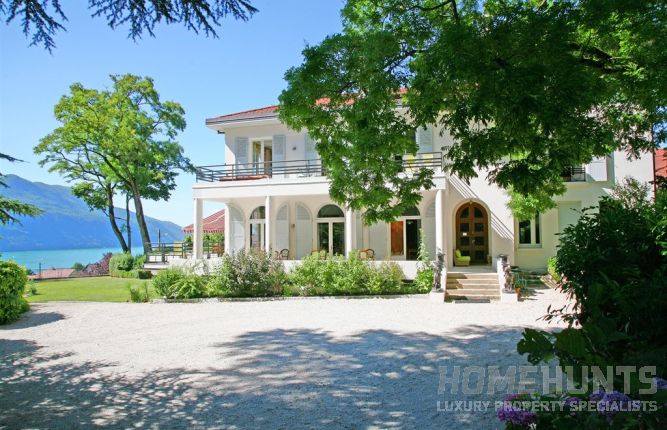 Situated near Aix Les Bains in a quality residential area overlooking lake Bourget, this exceptional property has large interior volumes, a quiet environment and an exceptional view!
Built in the 1930s, it has been recently renovated with high end materials and has kept its art deco style.
With 300 m2 living space, the layout includes 7 bedrooms, 5 of which are complete suites, double living room with fireplace and several windows opening onto the large terrace, 2 complete kitchens, a spa and a relaxation area.
The 8500 m2 gardens are entirely landscaped and include a private access road, 12 x 5 m swimming pool and belvedere with view. It also comes with a 50 m2 garage and it is close to amenities being near the TGV train station and an international school. If you choose to take the plane to reach the property, it is only 10 minutes from Chambery airport and 40 minutes from Geneva and Lyon international airports. Other highlights include is its proximity to ski resorts, Tresserves' Golf Course and Race Stadium! We can disclose the price of this prime property upon demand, contact us directly.
Veritable Luxury in Veyrier Du Lac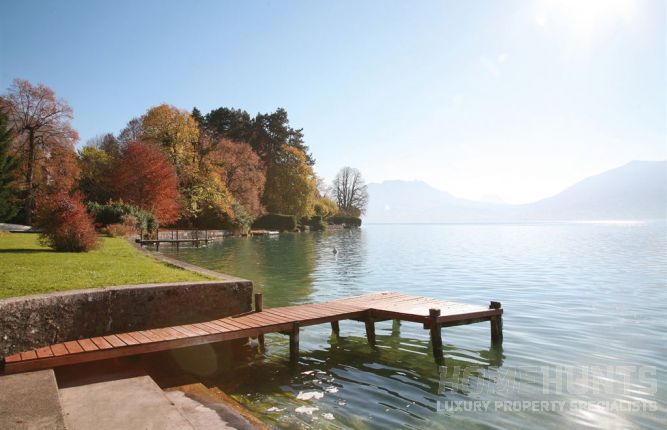 In a privileged lakefront location, this modern property lies in a quiet and secluded residential area. With its incredible vista, one can fully enjoy the lake thanks to a private pontoon and a mooring ring!
Counting approximately 210 m2 plus basement and double garage, the inner layout in half-floors includes 5 bedrooms, a fine living area opening onto terrace with view, and a vast kitchen with office. Thanks to its large openings, its interiors are illuminated with the high-ceiling rooms offering ample volumes.
The 2000 m2 landscaped garden houses a guest parking lot and a garage outbuilding. It is truly in an exceptional location close to amenities, at Annecy-le-Vieux's doors and 40 minutes from Geneva. Contact us for more details and to know its price.
A Crowning Glory in Evian Les Bains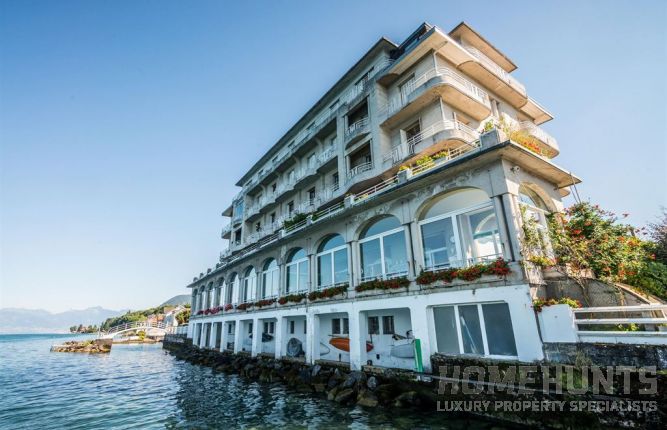 A privileged location for this panoramic lake view apartment of 270 m2 in a waterfront residence with a pool. It must be seen and visited to view and feel its timeless charm.
This vast property has been built to high specifications as there are 4 large bedrooms, 2 bathrooms, an impressive vast lake view living room with a dining area of 70 m2 with an open plan kitchen and breakfast bar, plus a winter garden veranda facing the lake, flooded with light.
As part of the sale there is a utility room, a cellar and parking spaces. It is priced at 985,000 Euros.
A Jewel on Top of Menthon Saint Bernard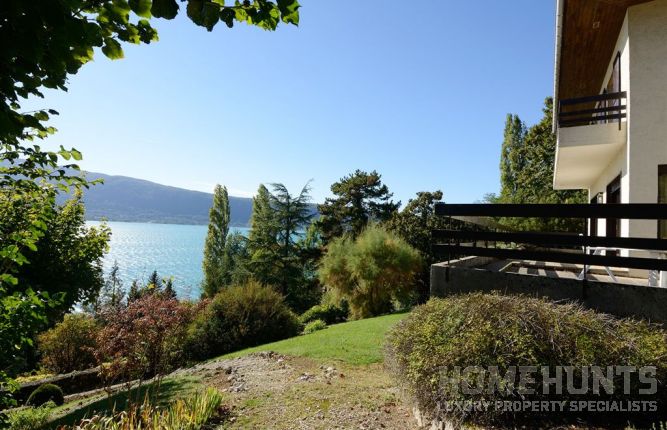 This waterfront property has a unique location with landscaped gardens and a panoramic view of the lake and Menthon Saint Bernard. Situated close to amenities, this property is ideally situated in a residential area near the beaches, tennis club and golf course.
The property has 300 m2 living space with 6 bedrooms, 3 bathrooms, living room with fireplace, dining room and fitted kitchen. The property includes a 45 m2 room on the last floor and a large room on the ground floor to be fitted.
The 4000 m2 gardens house a pontoon, boat garage, several terraces, car parking area and a double garage in outbuildings.
Located just 5 minutes from the village center of Menthon Saint Bernard and next to Veyrier du lac, the property is close to schools and amenities. It is only 25 minutes from La Clusaz ski resort and 45 minutes from Geneva Airport. The price of this prime property? We can disclose it upon demand.
Simple Yet Stunning Villa in Sciez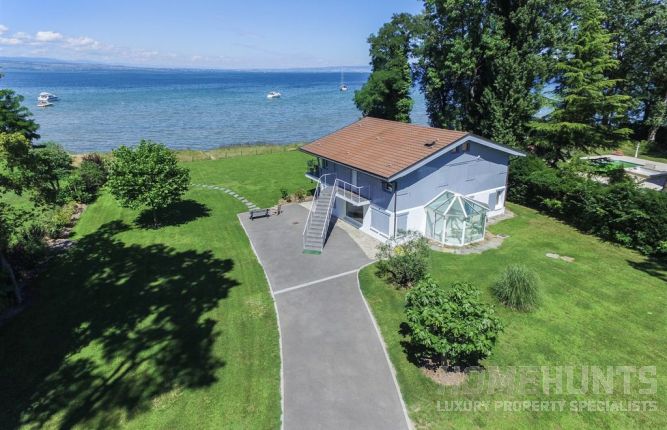 This contemporary waterfont villa located in a secure and exclusive domaine facing the Swiss Alps was built in 1970 and is situated between Geneva and Thonon. It is implanted on a plot with planning permission of nearly 3000m2. The living area is very bright, thanks to the bay windows oriented towards the lake. It is a perfect vacation home as it has 5 bedrooms 2 bathrooms, and a shower room that can accommodate groups or family staying in for the weekend!
There is a possibility of making an expansion and extension of the existing building should you wish to renovate the whole estate and make it into a profitable boutique hotel or B&B establishment overlooking the lake, one of the main aspects that a lot of vacationers and tourists look for whenever they visit the area. It is priced at 2,400,000 Euros.
With so many villas and chalets to choose from in the French Alps, it can be a challenge to find that perfect vacation house or home that you are dreaming of with that stunning lake view. Our luxury property consultants offer a VIP Bespoke Service with no charge at all to all who are interested in purchasing a lake view property in the French Alps that is sure to rise in value in the next couple of years. Contact us to get to know other properties that we have in our luxury property portfolio in and around the area of the French Alps!
RELATED: Splash Out in Lake Annecy for an Investment you can Holiday in All Year Round!
If you are looking to buy a property in the French Alps, you can view luxury properties in Home Hunts' online portfolio at www.home-hunts.com. To speak with a consultant about your specific needs call +33 (0)970 44 66 43