The Home Hunts team share some precious properties in the beautiful south west of France and some snippets of great property buying advice in this famous wine destination from one of our luxury buyer's agents based in the area.
For centuries, people have fallen in love with south west France. This area brings up images of slow rural life, ebbing with the rise and flow of the mighty Dordogne river and the sunrise that crowns the grand mountain range of the Pyrenees that, forms the southern French border with Spain.
Apart from the Landes, the rolling green countryside of Aquitaine as south west France is known is dotted with chateaux, vineyards, winding rivers, small country towns not to mention views that inspire many to visit this region. Prices of properties here are still relatively low too compared to other regions of France such as Provence.
Home Hunts' luxury real estate consultant, Rory Ramsden who lives in the south west, says that "Buyers come from all over the world to look for their dream property. We are currently working with clients from North and South America, Asia, South Africa and other parts of Europe" he went on to say that "British interest is very much exchange rate driven but I always recommend that clients from the UK (and elsewhere) seriously consider a back-to-back mortgage whereby they deposit their currency with a French bank, then take the equivalent in Euro by way of a mortgage. This allows them to go ahead and buy without committing more than 20% of the purchase price to Euros. When they judge that the time is right, they can pay off the mortgage although I always recommend that clients give due consideration to balancing their Euro assets and their Euro risks so that they are effectively self-liquidating."
Packed with history, heritage and some of the best known chateau vineyards in the world, here are a selection of some of the top properties in  south west France as chosen by the team of Home Hunts.
Glorious and Grand Chateau in St Andre De Cubzac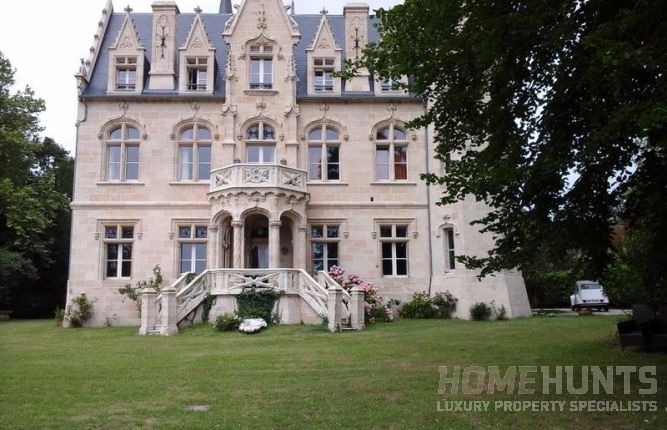 This magnificent 19th Century chateau (HH-10105996) which has been perfectly renovated, offers a spectacular view over the river in St Andre De Cubzac. This Violet le Duc style chateau has about 500m2 and is situated in the middle of a park of over one hectare enclosed by a stone wall giving absolute privacy.
Discover its reception rooms, ballroom, library, where you can live the Chateau life without compromising on ultra-modern comfort. It has an added underfloor heating under its oak and walnut floors that is laid out in its 5 bedrooms with en-suite bathrooms. A great investment as this chateau can be a potential bed & breakfast or even a top luxury hotel as you prefer it to be with its adjacent guest house with living room, lounge, 4 bedrooms, heated swimming pool, ad jacuzzi.
A rare and ideal property for lovers of period properties and high end modern luxuries, it is priced at € 3,495,000.
Vineyards and Luxuriance in Entre Deux Mers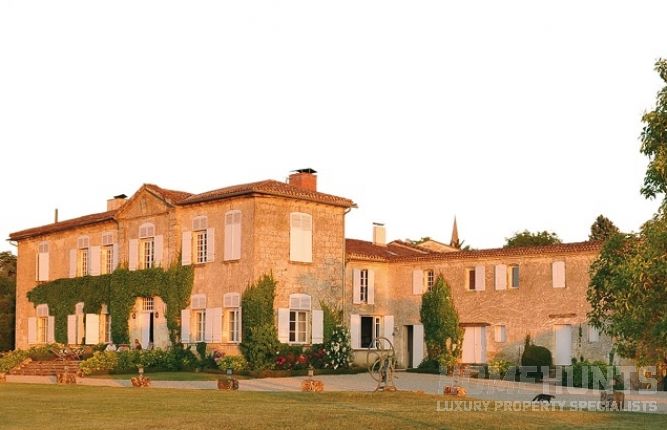 If you are looking for a luxurious chateau with 6.4 hectares of vineyards (HH-10056274) and 3 hectares of park and wood, very close to Bordeaux and with a panoramic view, then look no further as this exceptional property is exactly that new residence you are searching for.
This 17th century chateau combines sober lines and symmetry into a beautiful facade. On 2 levels, there is more than 500 m ² in a place where the original architectural detailing remains.
Reception halls, dining room and a cozy kitchen welcomes all daily and there are 5 en-suite bedrooms to accommodate a big family or guests visiting the region.
Running away in a line on either side of the main entrance to the chateau are the dependences. 3 have already been renovated to create individual houses. A stone barn remains for which a building permit to create a reception room for 168 people exists.
On the other side of this barn, there is a fully equipped caretaker's house. And beyond that, the old winery which is 250 m2 has been renovated to create superb accommodation in a contemporary style for you or your guests.
The living room comprises more than 100 sqm, with a huge kitchen and its vast counter that can be turned into a top restaurant headed by a chef of your preference, which opens onto the terrace and a magnificent view.
A jacuzzi on the upstairs terrace allows all to bathe at night admiring the lights of Bordeaux from a distance. Moving on to the grand finale, this estate has the best vines laid out in lines on the slope which falls away from the front of the chateau. The vinification takes place in the nearby co-operative so there is no need to worry about that if you don't want to. The chateau has its own registered label so you can serve your own red wines. All this luxuriance at a price of € 3,150,000.
St. Emilion's Hidden Pearl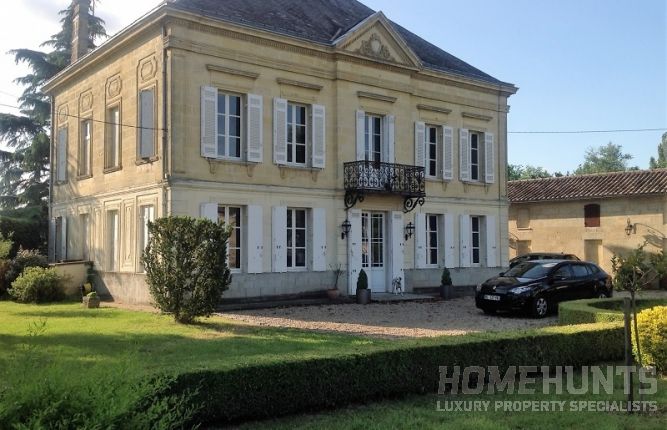 Ramsden shares, "When considering a vineyard investment, it is always important for clients to have a ready market for the wine they produce. This could be a network of specialist wine shops or a series of restaurants. Without these essential sales contacts, achieving an acceptable ROI (return of investment) can be difficult. Vineyard management and wine making expertise, as you would expect, is not hard to come by so I always recommend clients to think long and hard about sales and marketing before making a commitment."
"Buying a chateau takes careful consideration too. A medieval chateau was built for different times and for different purposes and may be hard to adapt to 21st century living. That said there are some wonderful 18th and 19th century chateaus for sale around the south west region. If they don't have a vineyard attached, they may well be surrounded by vines so you can have the best of all worlds."
"Clients are primarily looking for value so when they find it, be it a vineyard or a chateau, they give it serious consideration be it a lifestyle investment or a commercial acquisition." Ramsden concludes as we move on next to this rare and exclusive property (HH-10573050) which has a vineyard appellation Saint-Emilion Grand Cru with an area of 7 hectares of which 6.5 hectares are in production.
Grape varieties include 70 percent merlot and 30 percent cabernet franc with an average age of 30 to 35 years on a clay soil, gravel and sandy gravel. The density is 5,500 vines per hectare and the vineyard is in good condition and very well maintained.
A beautiful 19th century property with 300 sqm living area rests on the estate and it has retained its original features, fireplaces, carved ceilings and painted cement tiles. Each piece in the property is bright and spacious, with a living room, dining room with fireplaces, 5 bedrooms, bathroom and shower room.
The wines produced here are elegant, fruity, with strong character, powerful and complex. This fine wine producing property comes at a very special price of € 3,980,000, guaranteeing its lucky buyer a good return of investment in the next couple of years to come with its famous wines.
Timeless Estate in Beautiful Bordeaux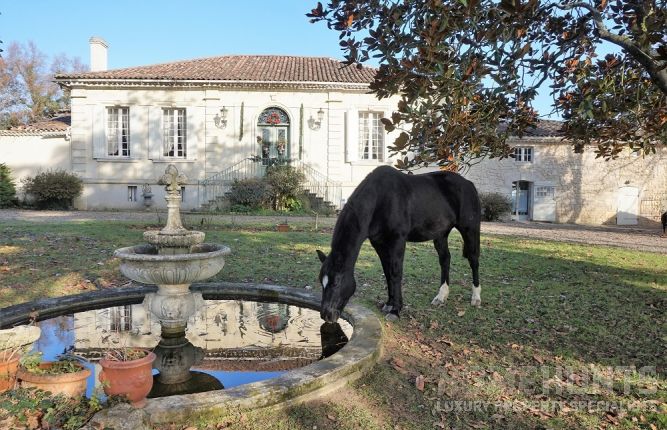 Ramsden's expertise and knowledge in the south west region includes his interesting observations: "The Bordeaux property scene is very much in demand! The new super high speed LGV train service starts operating in July this year putting Paris just 2 hours away and London 4 hours away. The city itself is a good investment. Property prices increased 6% in 2016 and the trend will continue. This is having a ripple effect on prices of properties within 60 minutes of the city center so Bordeaux and its environs are definitely somewhere any luxury property buyer should consider."
Clients looking for a vacation house close to the sea may immediately think of Cap Ferrat on the Cote d'Azur and Ramsden reveals "We have a well-kept secret here in the south west and that is Cap Ferret with two 'e's. This is the height of sophistication in the summer for families wishing to relax and have a good time amongst like-minded people well away from the crowds.  Definitely for those in the know only."
Following the advice of Ramsden, we conclude this article with this excellent chateau property in Bordeaux (HH-11075504) that we believe will be off the market very soon with all the great things happening and arriving in Bordeaux as Ramsden has shared.
This luxurious property has a vineyard and is located just 15 minutes from the Grand Theatre in the very heart of the city of Bordeaux. It has a chartreuse, maison d'hote and maison des vignes plus an exceptional view.
When the English finally relinquished control of the city, this property was the home of the Bishop of Bordeaux. Now an oasis of calm with 9.5 hectares of Premieres Cotes de Bordeaux vines (5.3 ha of Merlot, 4.4 ha of Cabernet Sauvignon) and space for horses, you approach the property up a lane to find 16 hectares of land sloping away on two sides of the plateau on which the buildings stand.
The key attraction to this property, apart from the vineyard, is the fact that it's on the doorstep of one of the most vibrant cities in France with excellent restaurants, theatre, shopping and a unique style. On the market for € 3,990,000, better to get it at this price before it's too late.
To look for more chateaux and vineyards in the south west of France, check out Home Hunts' properties for sale at www.home-hunts.com
To speak to a consultant about your specific needs and to find out more about the properties featured in this article, call +33 (0)970 44 66 43