Have you ever hiked on the coastal trails near Marseille? If you have, you are indeed lucky to know about the beautiful Côte Bleue! If you haven't visited this area, read on and discover more as we unravel the marvelous properties that are hidden there like encrusted gems in its famous rocky cliffs…

The Côte Bleue or Còsta Blava in the old Provencal Occitan tongue is part of Provence's southwestern coast of the Mediterranean Sea, clambering from Marseille's western edge, past small fishing towns until the Étang de Berre. The Parc Régional Marin de la Côte Bleue protects the marine-life-rich waters around the sandy cape which are dotted by the most beautiful villas and mansions designed and built either in modern and charming Provencal style.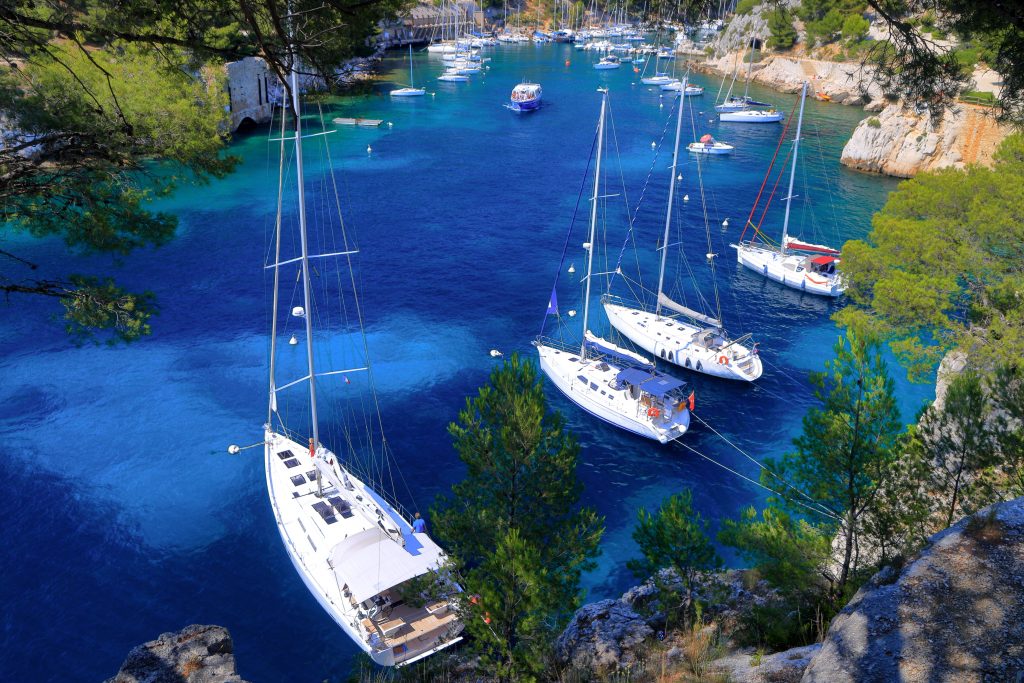 Famous for its precious trove of calanques, which compete with the famous ones between Marseille and Cassis, a trip to the Blue Coast gives anyone a chance to marvel at the rocky formations of Calanque de Niolon, 12km west of L'Estaque which in itself, is a little port town that has once lured artists like Renoir, Cézanne, Dufy and Braque. Today, L'Estaque has a handful of cafes and restaurants offering local specialties called chichi frégi (sugar-coated doughnuts) and panisses (chickpea-flour cakes)
A hike along the Blue Coast from Niolon is a lovely way to spend the day, passing by the tiny waterside Port du Redonne, then continuing on a narrow road climbing over to Les Figuières, then walking past Petit Méjean and the Grand Méjean, finishing with a stunning 2.1km-long coastal trail to Calanque de l'Érevine.
This area in Provence is truly blessed as it does not only boast of the best panoramic sea views and natural rock formations, but of a well-maintained and sought after community, living harmoniously with nature, with residents taking care of their environment and their marine-life rich waters. We invite you to discover this part of the south of France that is yet to be unraveled and appreciated…welcome to some of the best properties in Provence along the Côte Bleue!
Modern Class in Carry Le Rouet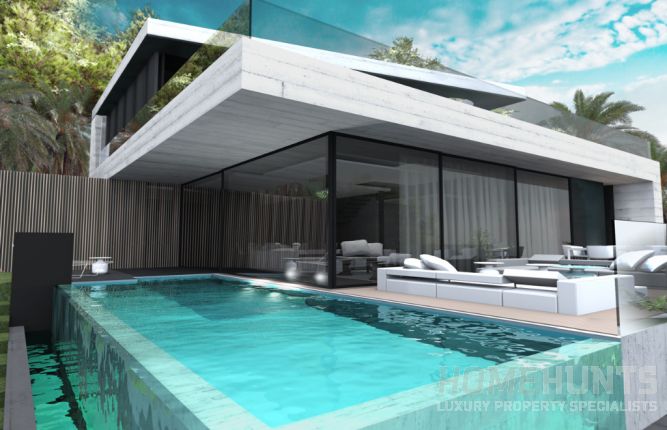 This marvelous modern villa (HH-10718727) benefits from a dominant position in a particularly privileged location in the center of Carry le Rouet. Comprising 260m2, this south facing property has been created by Stephane Torres and Francois Guglielmina, built in a style that offers panoramic views of the sea and the port.
Implanted on a plot of 837m2 and built with unique architecture combining contemporary and regional materials, this villa is set out over 3 levels of living space and garage level with lift access. The reception level has a large terrace and an infinity pool. Another level with two suites leads access to a garden. A final panoramic sea level boasts of a master bedroom with 40m2 and a majestic terrace.
The walls of facades, piers and elevation frames are finished in concrete. It is a few steps from the beach, creeks, and only 15 minutes from the Marseille-Provence International airport. It is priced at 1,980,000.
Provencal Charm in La Couronne Carro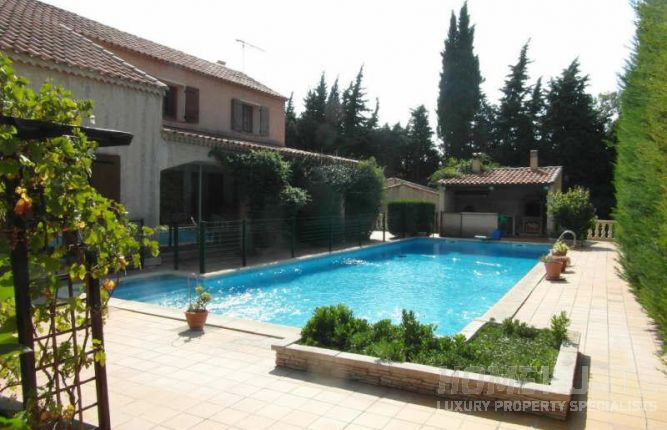 In the tranquil part of Martigues in La Couronne Carro, this sumptuous villa (HH-10388438) is located, offering 210m2 standing on a landscaped plot of 1,320m2 with a lovely pool area.
This haven of peace and quiet sits in a highly prized residential sitting, the property enjoys a light filled spacious 50m2 double height ceiling lounge and dining area with its feature open fireplace, a beautiful fully equipped kitchen with units and appliances leading out the veranda terrace.
There are 3 large bedrooms with plenty of wardrobes and 2 bathrooms. The swimming pool is fully secured and measures 15 x 6m, a perfect place for entertaining guests with a superb summer kitchen and pizza oven situated nearby. Attached to the villa is a 1 bedroom apartment fully equipped and ready to receive guests. For the price of UR 875 000, true bliss and tranquility in a wonderful setting are all yours.
Innovative and Contemporary Villa in Martigues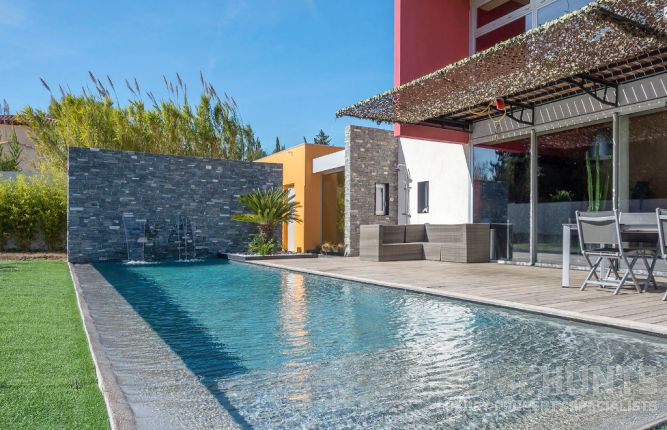 A crown between Sausset les Pins and Martigues, this villa of 190 m2 (HH-10896648) created upon a plot of 1,150 m2 built in 2010 is one of the masterpieces of architect Maurice Padovani.
Treated like a loft, this home is the result of a well-balanced and judicious mix of different materials consisting of raw concrete, brick, glass, MDF walls worked into a curtain effect and steel. Stark treatment to walls, floors and ceilings reinforces its ultra-contemporary character.
The villa consists of a large room full of glass living on its southern facade and open to the outside through a large wooden IPE terrace, featuring a cascade pool. This level is completed by an indoor heated pool, a beautiful kitchen island dressed all in black, as well as two bedrooms and a bathroom. The link with the floor is via a metal staircase that appears as an icon.
Upstairs, large windows favor the radiation of the sun in winter, protected in summer by an advanced concrete roof and louvered slats of cedar wood. The terrace-gallery effect is extended by the mezzanine office or playroom, according to the desire. Two bedrooms, a bathroom and a dressing room complete the sleeping area.
A garage and a cellar finalizes this exceptional architectural achievement which is amazingly priced at 790 000
A Corner of Paradise in Ensues La Redonne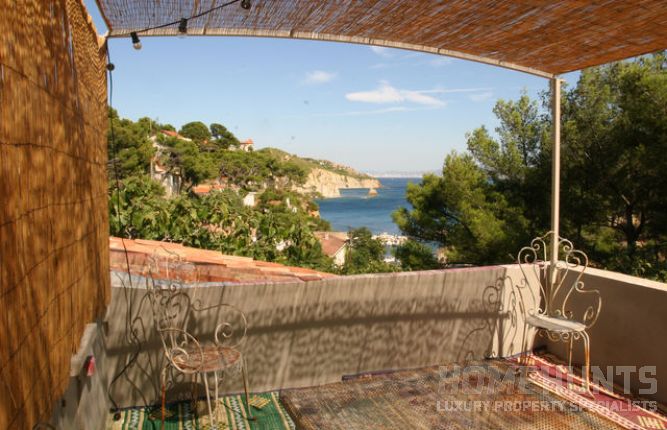 A true seaside seduction on the Blue Coast, this waterfront property (HH-10364648) is perfect for artists and/or families looking for an unusual place to live and watch the sea, well-hidden and out of sight. With shady terraces and 6 bedrooms, of which 4 are fully independent, just 15 minutes from the TGV station and airport, this home is truly a unique one.
Close to a small harbor and overlooking one of the few unspoiled creeks on the blue coast, it offers a beautiful pool and access to the sea from its varied terraced plot, making it a rare place indeed. Priced at 1 350 000 with your own private-beach access. 
Ocean View Allure and Luxury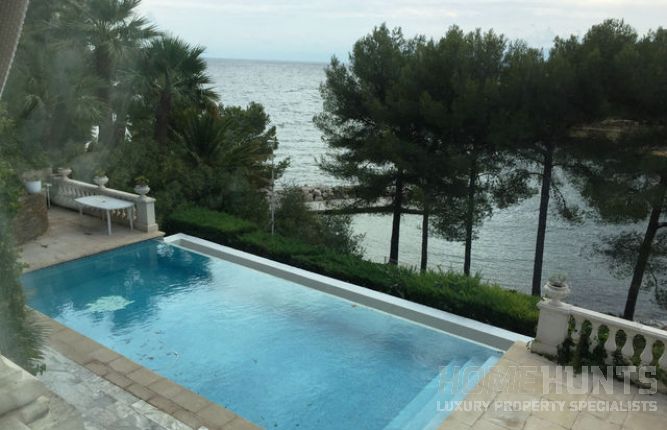 This exceptional waterfront luxury property (HH-10908669) located within a secure private domain is a rare gem well hidden away.
This charming home, behind electric gates, offers 360 m2 of well-presented interiors implanted on a fully landscaped plot of 1,100 m2 with a magnificent sea view and an infinity pool with a private access to the beach.
Its bright and airy living space includes a double reception room of 100 m2 leading out via large sliding windows to a terrace with breathtaking sea views! There is a kitchen with a dining space and there are 5 good sized bedrooms, 2 bathrooms, 2 shower rooms and a total of 4 toilets. It is fully fitted with air conditioning and an integrated alarm system.
Outside you can enjoy the summer kitchen, the perfect spot to entertain guests whilst admiring those sea views. Priced at 2 490 000, moments spent with friends and loved one in this magnificent villa are to be treasured.
If you are looking to buy property in the Marseille Area,  you can search through Home Hunts' portfolio at www.home-hunts.com
To discuss your specific needs and to find out more about locations offering the best investment opportunities, speak to a consultant directly on +33 (0)970 44 66 43