Property viewing by Helicopter – 
An article in The Telegraph puts the spotlight on the rising popularity of private jet and helicopter travel among the super rich and how important it has become for speedy property viewings – the writer interviewed Tim Swannie of Home Hunts to find out more…
If you have ever considered organising a day of property viewings with the help of a helicopter, then The Telegraph considers that you're part of a group of prime property investors who use this method to find a second home. When every second counts, travelling in this way can bring speed, comfort, style and increase productivity.
As road congestion continues to grow and city parking increases in complexity, private jet or helicopter travel is also fast becoming the preferred way to travel, for those who have the budget for it.
A property article in The Telegraph, featuring Home Hunts revealed how "private jet ownership is on the rise" with jet owners spending around "1% of their wealth on private aircrafts". It explains how Knight Frank's 2019 Wealth Report reports that the US is driving the trend with 67,000 flights from Teterboro airport taken in 2018, which is 12 miles from Manhattan.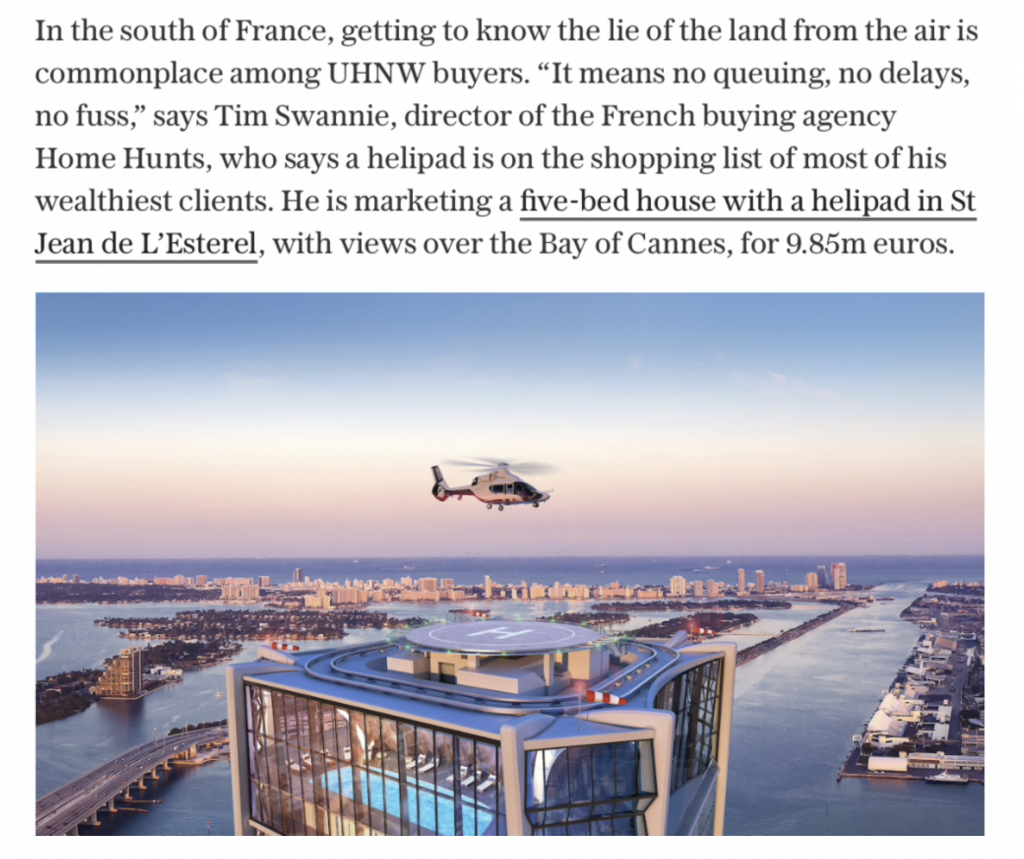 Tim Swannie, Director of Home Hunts explained to The Telegraph that it has become commonplace for clients to book property viewing by helicopter.
"It means no queuing, no delays, no fuss – and a helipad is on the shopping list of our wealthiest clients," he said. This stunning 11-bed waterfront home in Cannes features a helipad (HH-12473841). Tucked away in a verdant landscaped garden, it is located on the desirable Lerins Islands facing the Croisette. Also offering a private mooring in Ste Marguerite Harbour, this property is a luxurious haven which also includes a gym, hammam, home cinema and sauna.
As one of the most sought-after locations in France, the French Riviera with its private airport in Cannes provides easy access to those wishing to fly in privately for property viewings.
"One financier recently sent a friend to view six properties for him in one day, spread across the Riviera and Provence, so he chartered a helicopter," explained Tim. "When the buyer came to inspect in person, he landed his jet at Cannes private airport, saw the properties, snuck in lunch in a Provençal château, then was back in London by late afternoon."
Sometimes this means that viewings and purchase commitments can be tied up in a matter of hours. "The next day, he bought a villa in Cannes and a hunting domain near Aix-en-Provence," Tim told The Telegraph.
Although this is less common, some ultra-wealthy property owners use jet travel to move their belongings into their new home. "One couple were restoring a house on the French Riviera," Tim explained to The Telegraph. "They sent two planes loaded with antique furniture and art from Geneva and City Airport and we arranged the logistics in France."
Over in the US, South Florida's private jet travel has risen by 25% (as reported by ISG World's Miami Report) and the article comments that in Miami demand is so great for luxury property that having a private access point to the skies can set one home apart from the other.
It reports that at the Ritz-Carlton Residences, Miami Beach "offer Miami's first navigable marine helipad on Biscayne Bay". This enables investors to "view the property by air" and "residents to schedule helicopter shuttles through the concierge".
According to the article, taking private travel to a whole new futuristic level will soon be happening in Dubai where The Dorchester Residences will "create the first people-carrying drones" with Aston Martin.
If you are looking to buy a property in France with private airport or helipad access, search Home Hunts' property portfolio at www.home-hunts.com, but to discuss your criteria further speak to a consultant on +33 (0)970 44 66 43.