From abstract bedroom walls to sleek monochrome living spaces, these awe-inspiring interiors are worth shouting about
While these prime properties are in different areas of France, they all have something in common: design concepts that showcase the property, allowing its beauty and character to shine through.
Extraordinary grounds, light-filled rooms and beautiful views make these properties some of the very best that Home Hunts has in its portfolio for spring 2018.
Simply stunning in Saint-Tropez
A stunning 17th century mansion located in the centre of Ramatuelle village (HH-12213048) – an area famous for being home to the fine sands of Pampelonne Plage – the unique interiors of this property perfectly combine modern elegance with Provençal hues.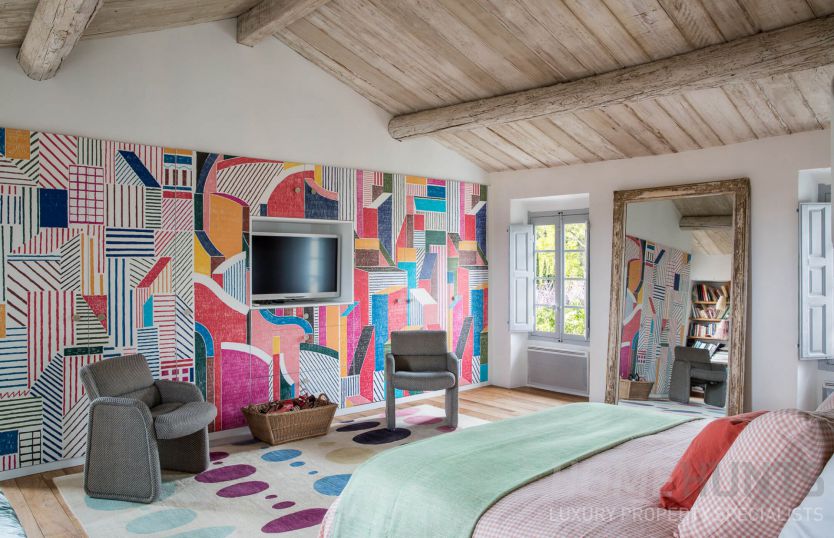 A soft, natural look, enhanced by the luminous Riviera light, bathes each room in this impressive six-bedroom house, which is on the market for €7,725,000.
From the abstract pink wall artwork in the main bedroom, which contrasts with neutral spiralling side lamps; to the leafy light prints in the dining area over the wooden table; and luxurious, fairy-tale blue walls and original fireplace in the living room, every space in this property is an enchanting delight.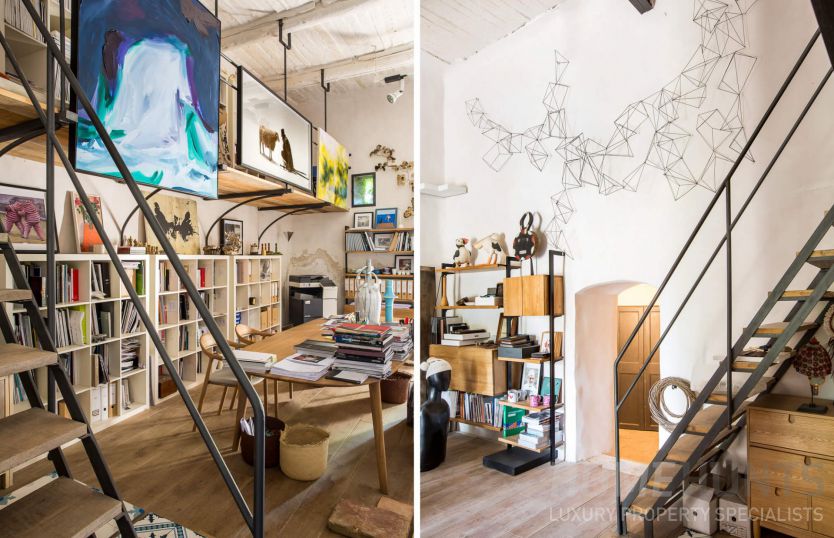 A masterpiece itself, the property fittingly comes with an art gallery, a shop and beautiful shady terraces, which provide a glorious setting for balmy al fresco nights.
An architectural achievement in Lake Geneva
In a little village called Grilly, this magnificent 11th century château (HH-10139034) is 10 minutes from Lake Geneva (Lac Leman) and 15 minutes from Geneva's international airport.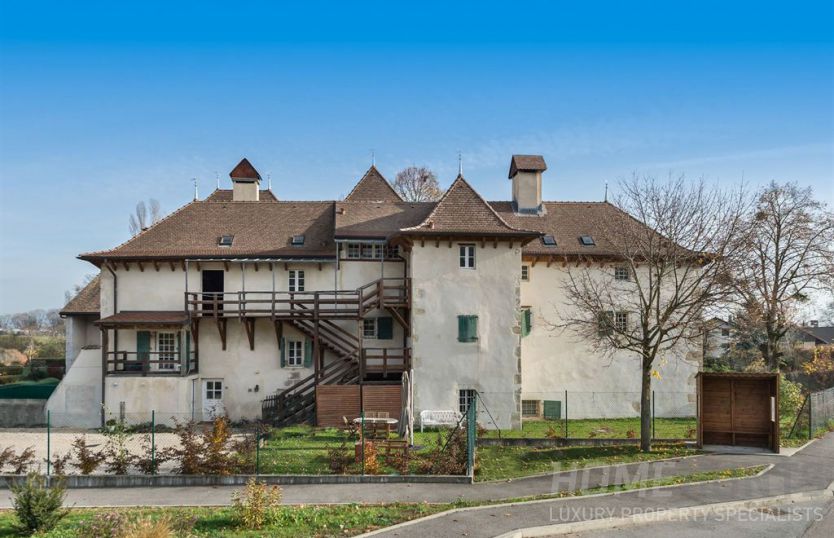 While the property looks charming from the outside, inside it is breathtaking. Renovated in 2009 and listed with the historic monuments association, the original architectural features and stylish interiors of this inspiring home combine to create a sophisticated, luxurious look.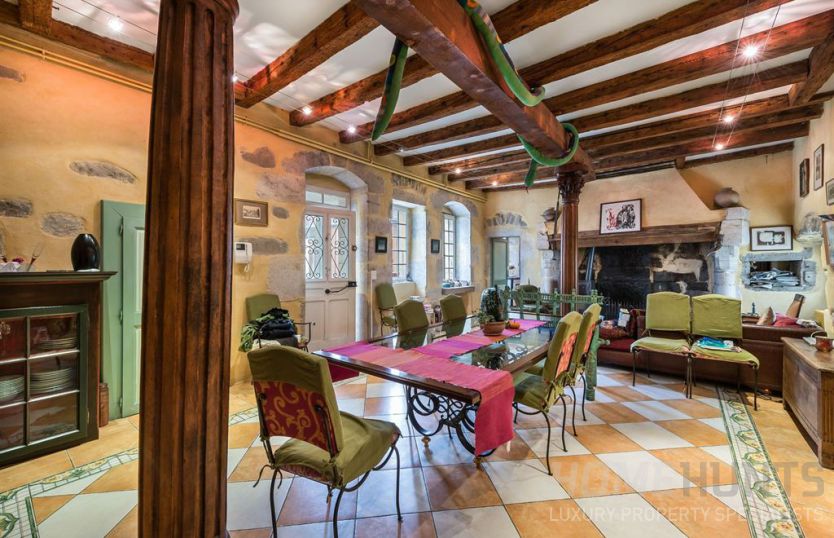 High beamed ceilings, majestic stone staircases and striking period floorings blend with stylish wrought iron furniture, chunky leather seating and splashes of bright colours to conjure up rooms of refined beauty.
On the market for €6,550,000, the price also includes several outbuildings and a caretaker's house.
Sleek and sensuous interiors in Cannes
If you are looking to buy a prestigious château in Cannes (HH-11817040), they don't come much more impressive than this nine-bedroom property in La Californie.
The exterior is simply stunning. Offering panoramic views of the Lérins Islands, a period orangerie overlooking the sea, a crystal-clear pool and an amphitheatre-style covered terrace, every single feature is exceptional.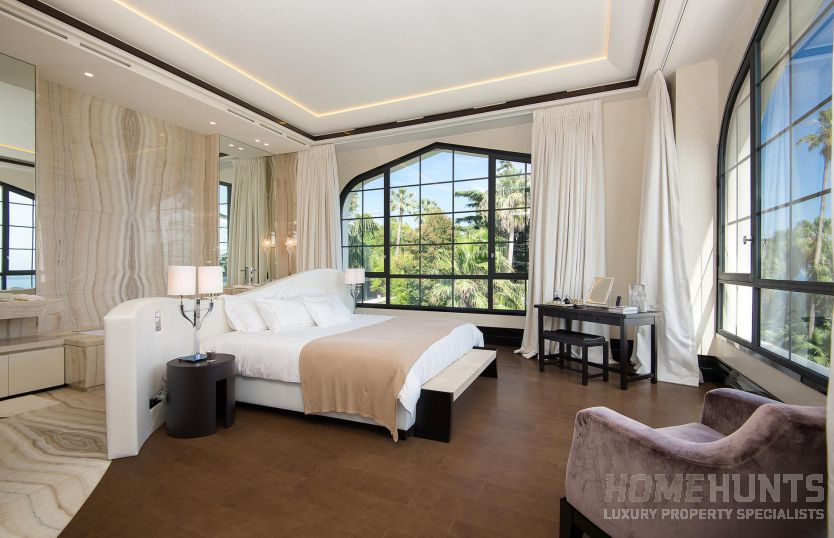 The perfection continues inside, with sparkling and luxurious contemporary, monochrome interiors that are occasionally broken up by an odd streak of colour. Sleek and shiny yet sensuous and bold, each room makes a style statement. Further highlights include a home cinema and a caretaker's apartment.
Provençal glamour abounds in Uzès
Nestled in the little village of Saint-Maximin, next door to Uzès, this extraordinary three-bedroom village house (HH-12213049) is an immaculately-styled Provençal home.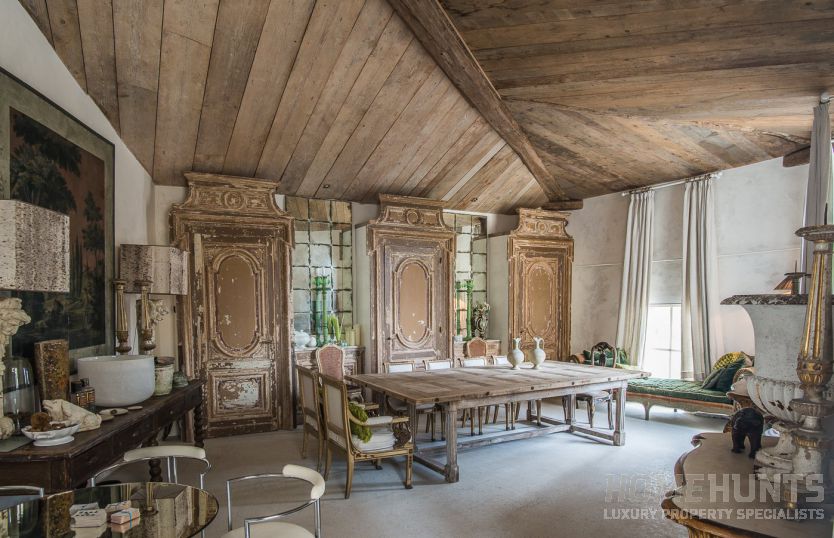 If you fall in love with the interiors of this property you're in luck because it is sold furnished and is on the market for €1,785,000. Walls are neutral colours, mostly white or original stone, tables are chunky muted wood and rustic or aged decorations – mirrors, rugs, vases and statues – add to the understated Provençal glamour.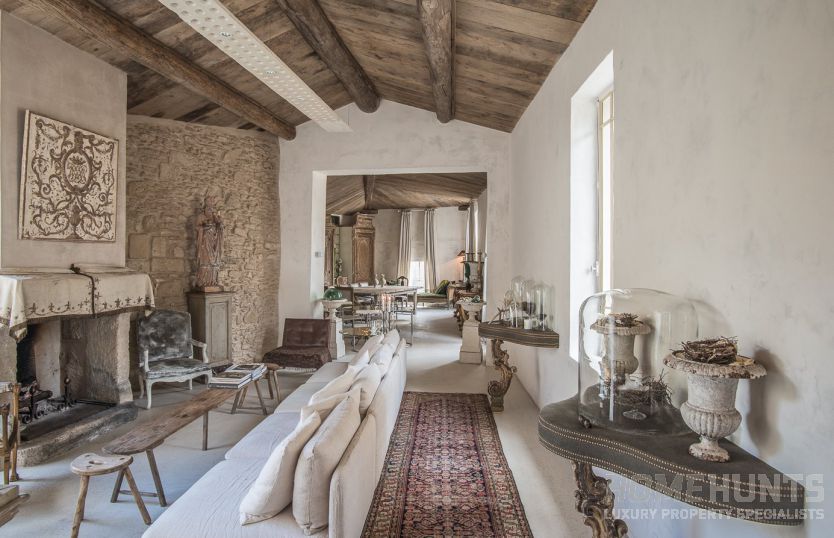 A single vase is positioned on the grey "béton" indoor pool, and original white and blue folk-art tiles make a stunning feature of the sink – these are just a few examples of the designer's attention to detail throughout the house. An exquisite inner courtyard and arched, stone covered terrace add to the charm.
Sumptuous spaces surprise in Cabriès
Not far from Cabriès (between Aix and Marseille) with its medieval streets and ancient houses, this dazzling 18th century bastide (HH-12221054) is set in four hectares of landscaped park with centuries-old trees, a rose garden and beautiful formal gardens.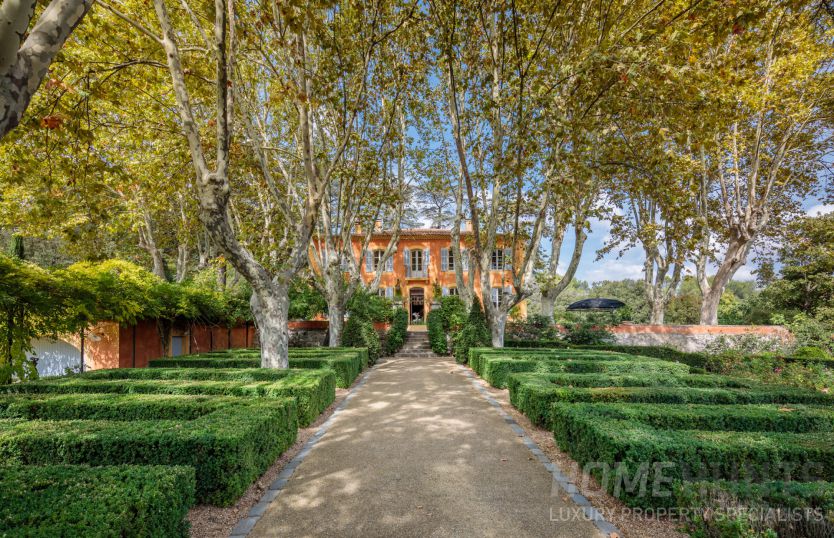 But that is only the start of the sumptuousness that abounds in this house. Spacious bedrooms that are styled with neutral linens and warm wooden floors strikingly contrast with bright common areas.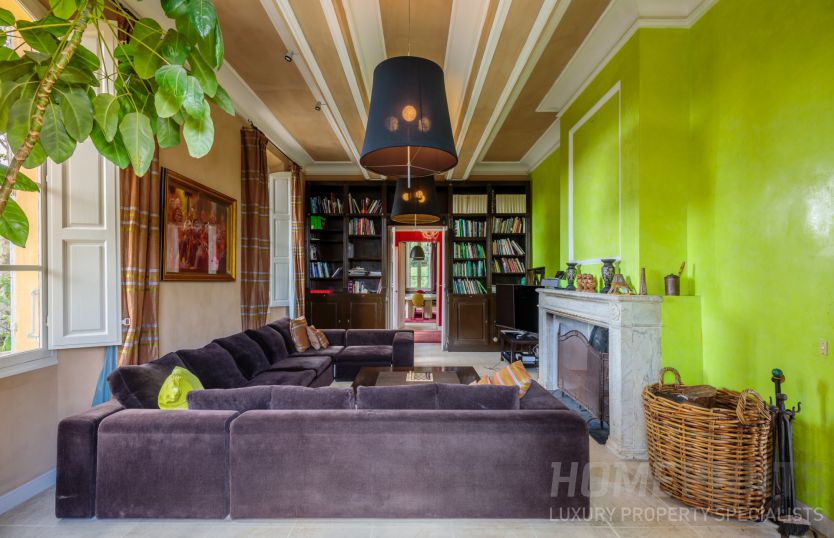 From the bold red space overlooking the verdant, symmetrical gardens, to the mustard-yellow landing walls that feature a red carpet and velvet armchair, these are simply delightful spaces.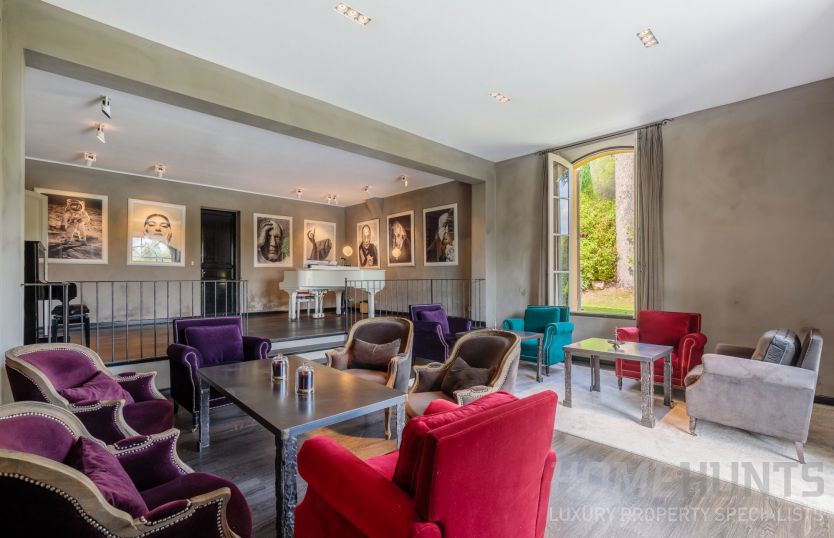 Peaceful, daring, elegant and styled with the utmost of taste, this property must be seen to be believed and is on the market for € 4,950,000.
If you are looking to buy a property in France, you can search for luxury homes here at www.home-hunts.com. But to speak to a property specialist about your own criteria, or to find out more about these properties, call +33 (0)970 44 66 43