Some of the best places to buy property in Paris, the world's number 1 destination
Paris, Charles Dickens' "most extraordinary place in the world", has been voted the number one destination in TripAdvisor's 2018 Travellers' Choice Awards. London came second, Rome was third and Crete and Barcelona took fourth and fifth place.
The TripAdvisor website lists 4,261 "Things to do" in Paris. In terms of landmarks the Eiffel Tower, Notre Dame Cathedral and the Louvre Museum are ranked as the top three places to visit.
Forever fashionable in the 4th
The fourth arrondissement, where Notre Dame is located, is one of the most popular places to buy property in Paris. Of course, the historic landmark of Notre Dame attracts millions of visitors each year, but the 4th is also home to the bustling Marais and Place des Vosges. Here, among the quaint cafes and restaurants, ancient architecture and atmospheric streets, is where many of Home Hunt's international buyers wish to buy.
"Sharing dinner with friends in Le Marais, people watching from the terrace of a café, attending a concert or taking a walk along the Seine, these enriching, simple pleasures are part of everyday life in Paris," says Hervé Levy, a Paris-based Home Hunts consultant.
Renowned for being a trendy location, there are often some rather special, quirky apartments on the market if you look hard enough.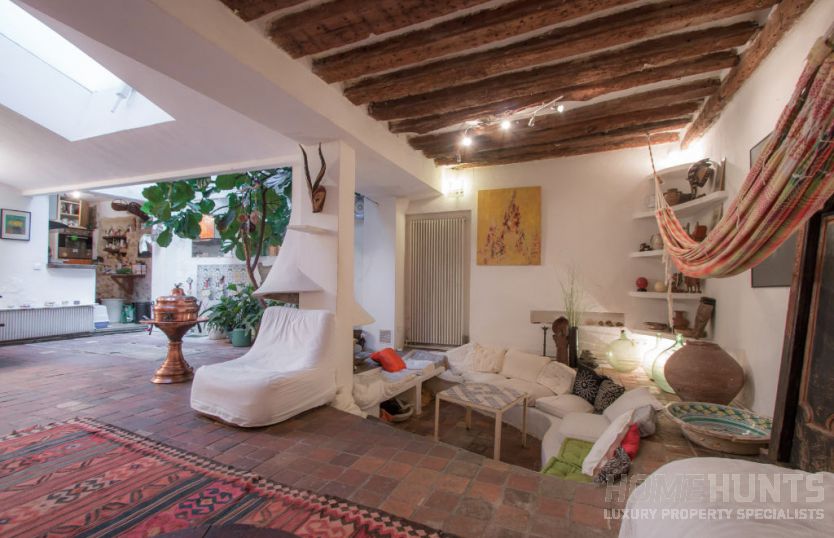 This exquisitely charming two-bedroom property can't be defined easily because it's absolutely unique. A former zoo area for keeping lions, this surprising property on Rue des Lions Saint-Paul (HH-12190816) is located just five minutes away from Place des Vosges. With a leafy courtyard, stone arches and delightfully unusual spaces, it on the market for €1,430,000.
Move in to magical Montmartre
Parisian food tours are extremely popular attractions with TripAdvisor reviewers. All over France, the patisseries, fromageries and speciality shops are enjoyed by those who live there on a daily basis and adored by the millions who visit. But there are certain neighbourhoods in Paris, which are usually guaranteed to enthral visitors, and Montmartre is one of them.
The Paris food tour of Montmartre is the leading food tour on the travel website. The tour guides whisk visitors off around the neighbourhood, so they can get to know it in the most enjoyable way. From sampling croissants in local boulangeries to exploring chic chocolateries and savouring cured sausages, the combination of fine restaurants, first-class wine and beautiful boutiques is, according to many of the reviews, a must for anyone visiting Paris.
But what if you could live there and have this on your doorstep every time you're in Paris?
Hervé says that Montmartre in the 18th is a coveted location for international buyers, partly because of the delightful neighbourhood and for its views over all Paris.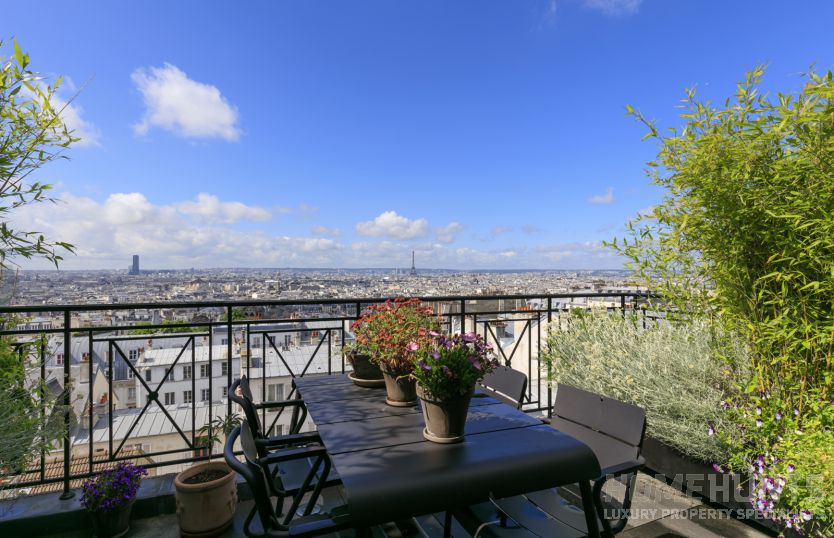 With a glorious panoramic view over Paris, as the Eiffel Tower takes centre stage crossing the horizon, this four-bedroom property is a luxurious jewel (HH-11954279) and about as prestigious as prime property gets in Paris. Perfectly positioned in the heart of Montmartre, yet on a quiet street so you can step back from the bustle, it is set across six floors and has a private elevator to reach each one. Highlights include a home cinema, a luxury-spa-like heated pool, spa and fitness room, and enough parking for three cars.
If you are looking to buy a property in Paris, visit www.home-hunts.com to view thousands of properties for sale. To discuss your specific criteria and the best places to buy in Paris, speak to a Home Hunts specialist today on +33 (0)970 44 66 43.