To some people, Paris means the Eiffel Tower or perhaps the Arc de Triomphe and its surrounding streets, however, for residents of the city of light, Paris means so much more.
Paris is divided across 20 different neighbourhoods, known as arrondissements, each offering something unique and interesting. If you are looking to invest in a luxury Paris property, what are the best locations to live in Paris?
We have put together a small list of must-dos and some of the best Paris apartments money can buy in five of the most popular arrondissements across the city.
First Arrondissement: The Louvre
The First arrondissement sits on the right bank of the Seine. It's close to the business district and is one of the oldest neighborhoods in Paris. Here are just a handful of ways to spend your days in the First district:
Explore the Les Halles underground shopping centre, originally the Paris food market.
Wander around the Jardin du Palais Royal, which has gardens and boutique shops.
Pay multiple visits to the Louvre, home to the Mona Lisa and more art than you can explore in a week. There are also lovely outdoor gardens, fountains and statues. Afterward, walk to the Place de la Concorde by way of the Jardin des Tuileries.
Stroll along Pont Neuf, the oldest bridge in Paris, which links the right and left banks of the Seine.
The Rue de Rivoli is lined with elegant boutiques. This is where you can experience Coco Chanel's Paris, including her first boutique and her home.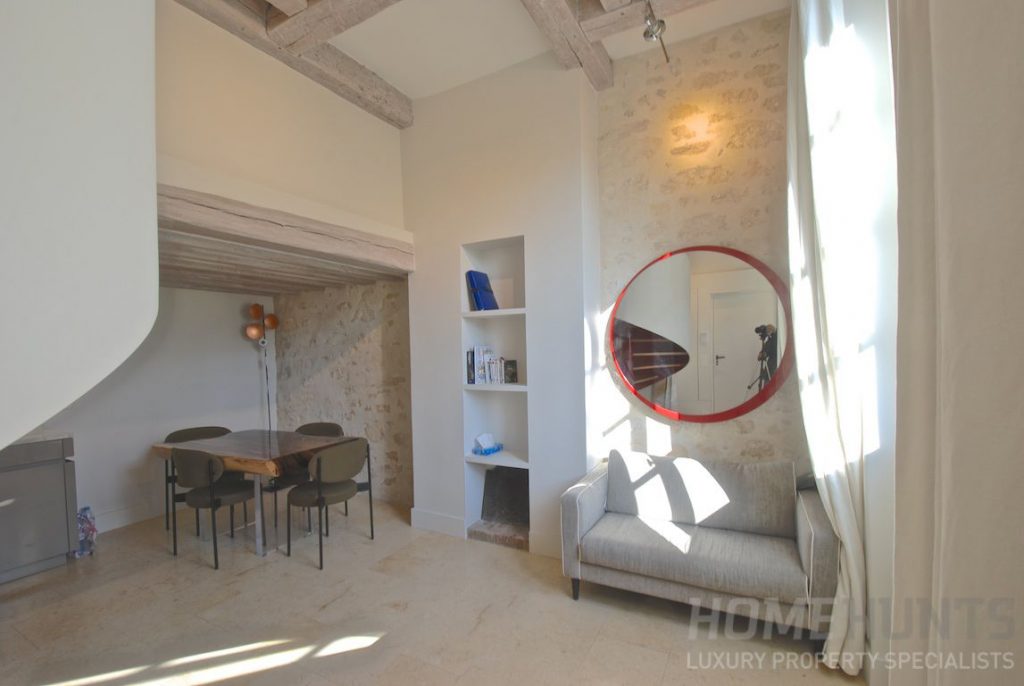 For those looking to invest in a slice of Parisian property in the first arrondissment, then this apartment is bright and sunny and located on the sought-after Place Dauphine with lovely views over the square. This duplex apartment has exposed beams and lots of charm along with a host of modern luxuries, as well as tall ceilings, a fireplace and lots of other features.
Fourth Arrondissement: Le Marais
Known for its narrow streets and vibrant nightlife, the Fourth, also called Le Marais, will give you a taste of Medieval Paris. Even though Napoleon III widened many of Paris' streets post-French Revolution to prevent barricades, Le Marais still has many pre-revolutionary streets and buildings.
Here are a few things you'll find in this bustling district of Paris:
Centre Pompidou, a modern building that displays modern art. It's also where you'll find the city's public library.
Ile de la Cité, where you'll find Notre Dame
Ile Saint-Louis, a natural space that's home to cafes and shops.
Place des Vosges, one of Paris' oldest squares.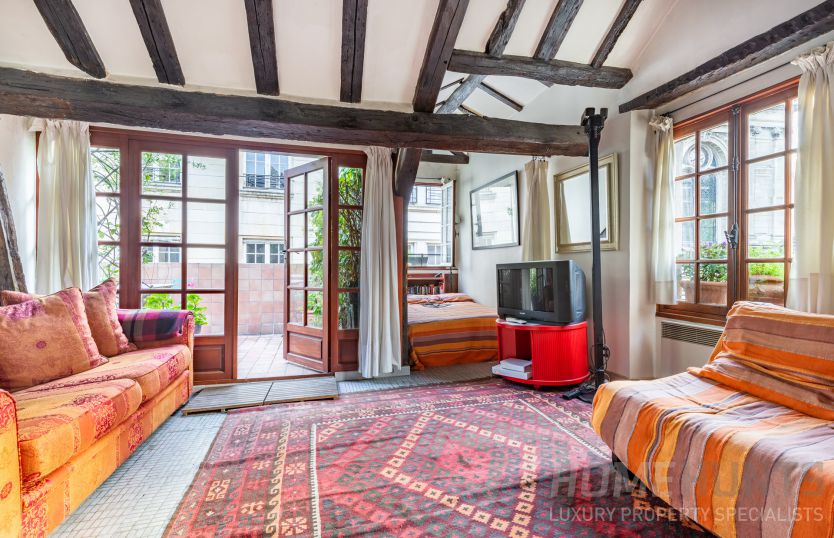 This two-bedroom apartment is a rare find in the heart of Le Marais, with accommodation over two floors, you need to be prepared to do some work but it is full of charm, has a private terrance and is near the metro station and shopping.
Sixth Arrondissement: Saint-Germain-des-Prés
The Sixth, also called Saint-Germain-des-Prés is on the Left bank of the Seine and has a cozy, neighbourhood vibe. In addition to chic cafes, galleries and nightclubs, the Sixth also has the Jardin du Luxembourg, the perfect spot for stroll or a picnic. This arrondissement is known for its classic Parisian feel, possibly because it's so artsy.
The Sixth is also the district for foodies, especially if you have a sweet tooth – there are an abundance of chocolate and pastry shops here. You'll also be near the Quartier de l'Odéon, with cinemas, theatres, shops and restaurants. Pay a visit to Église Saint-Sulpice, too, one of Paris' largest churches.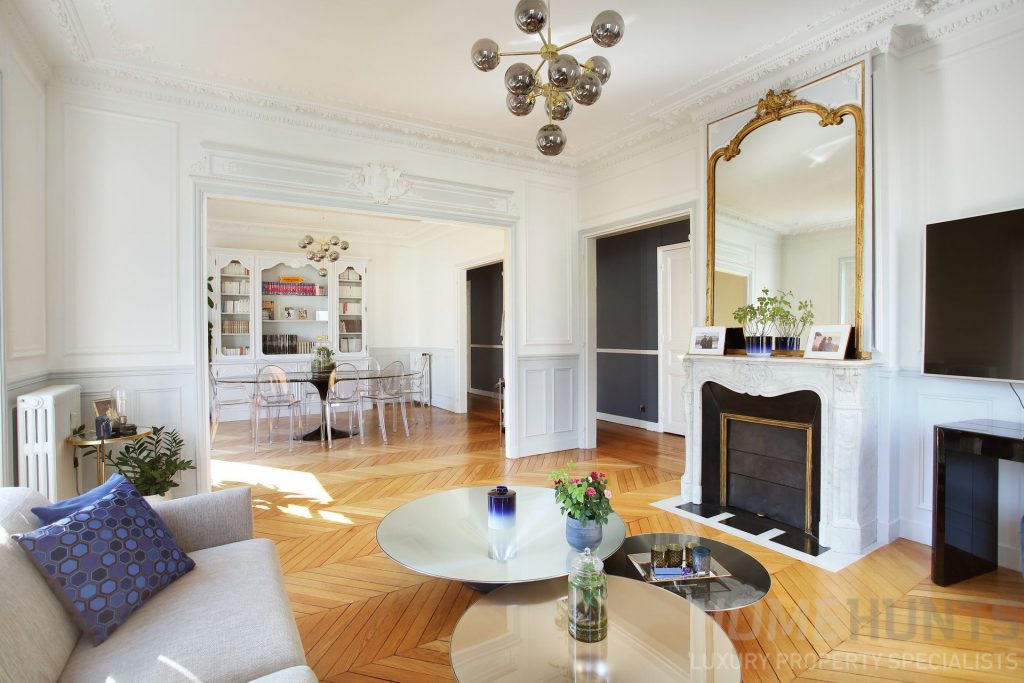 This spacious, four-bedroom apartment in the Sixth has been recently renovated to a really high standard. It is located on the third floor of a stone building (with lift) close to the Jardin du Luxembourg and several renowned schools.
Seventh Arrondissement: Eiffel Tower
 The Seventh is right in the heart of the action and close to the Eiffel Tower, making it perfect for Paris first-timers. Centrally located on the left bank of the Seine, this chic neighborhood has just about everything you think of when you think of Paris:
Champs de Mars, a huge green space and the perfect spot to relax with a view of the Eiffel Tower.
Les Invalides, where you'll find Napoléon's Tomb and where you can also learn about France's military history.
Musée d'Orsay and its large collection of impressionism, plus the Musée Rodin sculpture museum and the Musée du Quai Branly, with works from all over the world.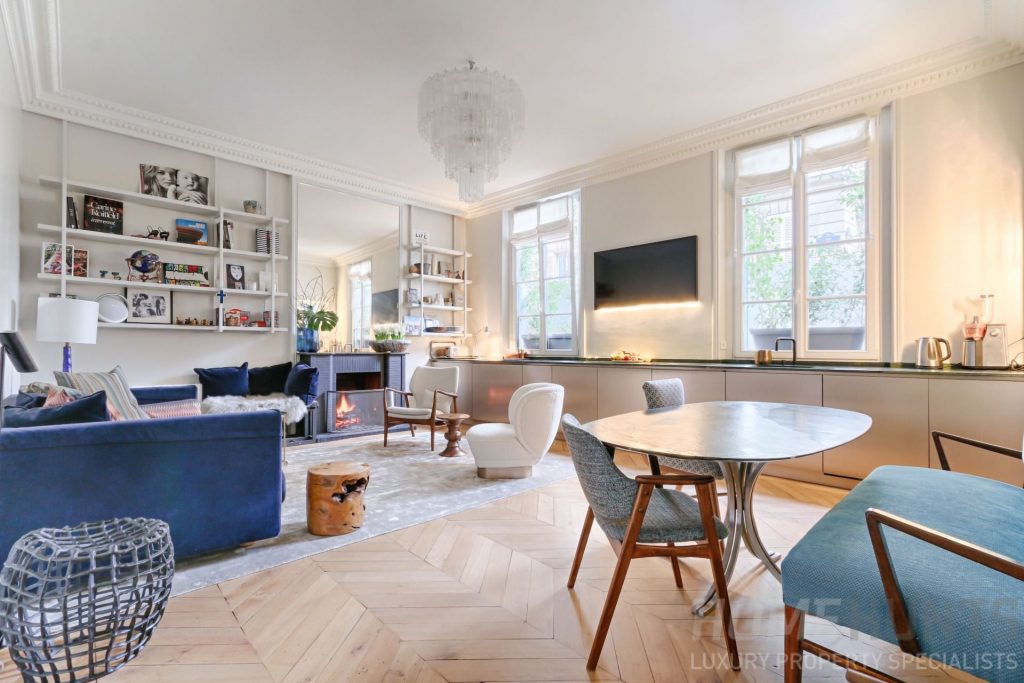 For those looking to settle in this prestigious area of Paris will find properties such as this luxury apartment, which is housed in a beautiful stone building from 1898. This charming home has large living areas; a bright living/dining room with custom, fitted kitchen, two bedrooms and a marble bathroom. It's retained many of its original elements while being newly renovated.
Eighth Arrondissement: Champs-Élysées
The posh Eighth arrondissement is located on the right bank of the Seine. The neighborhood boasts the best shopping in Paris along the Champs-Élysées, which runs from the Place de la Concorde (where Marie Antoinette was executed) to the Arc de Triomphe. Aside from boutiques and shops, you'll also find fine dining restaurants and movie theatres.
Here are three more experiences in the Eighth:
The Grand Palais has art exhibits year-round.
The Arc de Triomphe honors those who fought in the French Revolution and the Napoleonic Wars. Underneath is the Tomb of the Unknown Soldier, with an eternal flame overhead.
Visit the beautiful Parc Monceau on the Norther border of the 8th, originally built as a private garden for the Duke of Orléans in 1778.
Stroll along the Champs-Elysées, arguably the most famous street in the world. Some Parisian still call it "la plus belle avenue du monde". On the first Sunday of the month, the avenue is car free!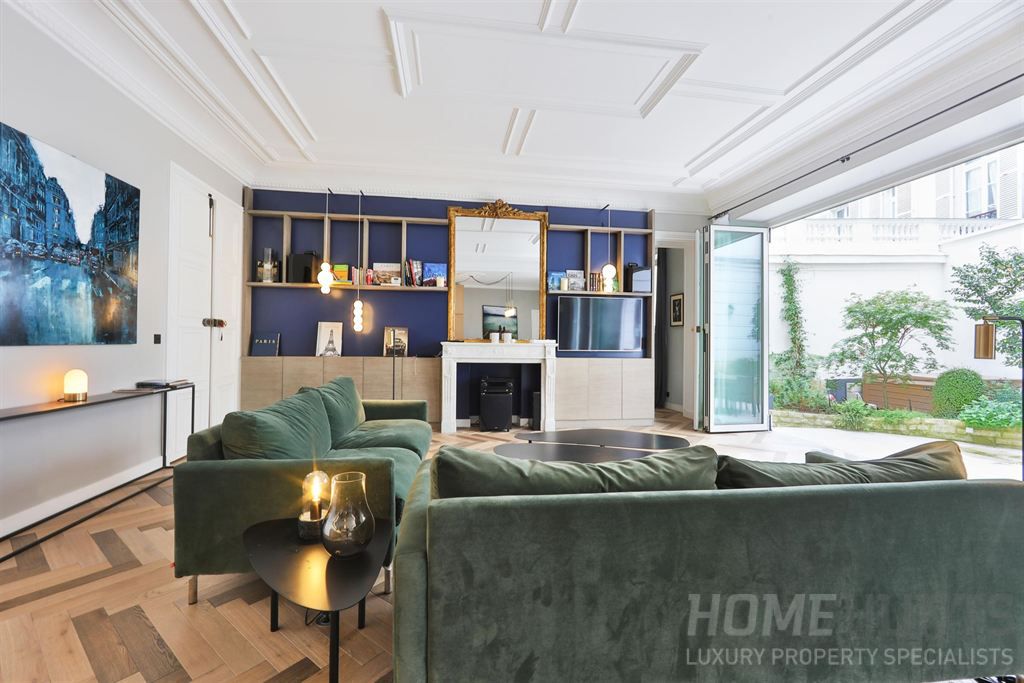 Property in the eighth arrondissement includes this unique garden apartment which has been beautifully renovated throughout and has five bedrooms, plus a 73 m2 garden with various plants and a jacuzzi.
Hopefully, this has helped to give you a flavour of some of the best locations to live in Paris. Should you wish to find out more about luxury property in Paris then contact us, we will be able to select luxury Paris apartments based on your specific search criteria.
Alternatively, search our website and its wide selection of luxury homes. You can also speak directly to one of our property consultants by calling +33 (0)970 44 66 43.