Five of our favourite luxury apartments in Paris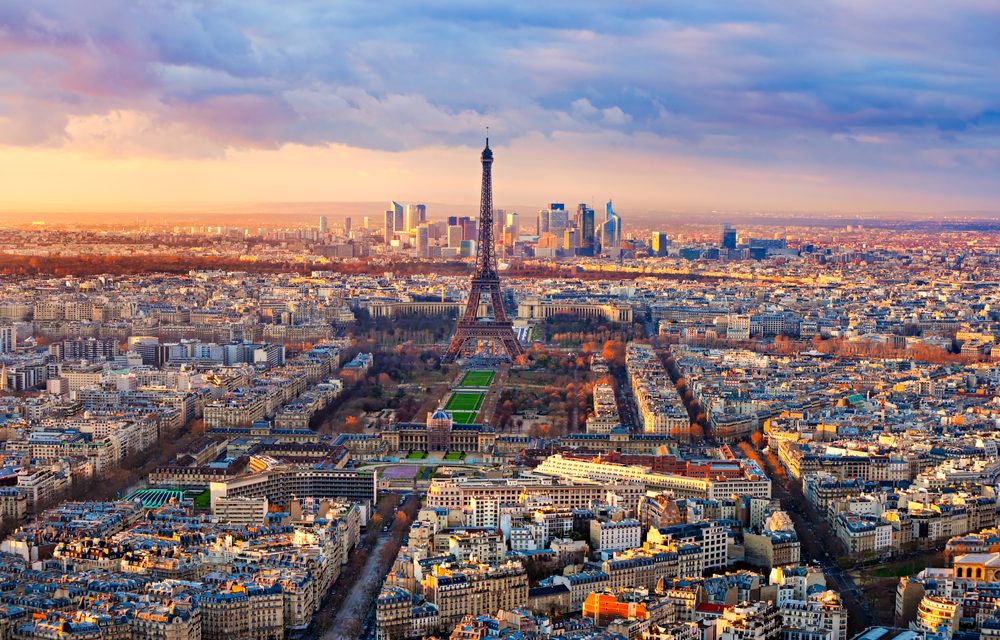 The city of light and love, Paris is a treasure trove containing some of the best luxury properties that anyone can dream of. From private houses, beautifully laid out in different levels, to classic and modern-styled apartments fitted with the latest designs and innovations in home technology, one can find that perfect haven to be cherished for generations to come.
The Home Hunts team have searched the streets of Paris, laid out in 21 grand arrondissements (districts), and we are delighted to discover and share to you some of the prime and luxurious apartments situated in the heart of our beloved French capital
Sublime Private Residence in the 8th District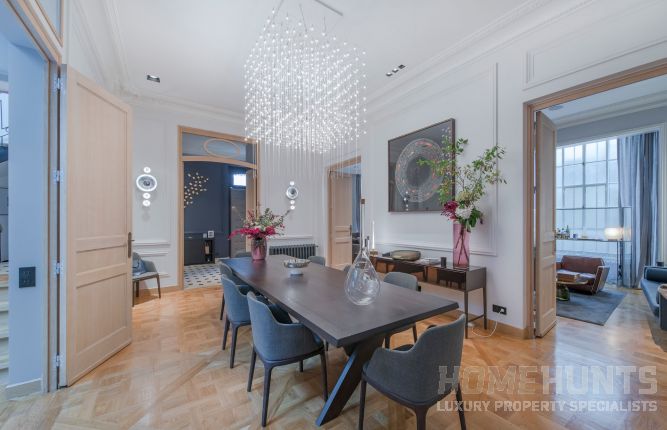 Two steps from l'Elyse, this sublime private house (HH-11124199) overlooks a lovely paved courtyard of a beautiful period building. Entirely renovated and furnished with materials of the highest quality, it has a surface of about 450 m2 and is distributed over 4 levels that are easily accessible with a private elevator.
On the ground floor is a vast entrance leading to a living room with a grand fireplace, a large dining room, a library, and a superb kitchen fully-equipped under a magnificent glazed ceiling. On the first floor, a master suite is spread with a marble bathroom and dressing room, with two bedrooms each.
On the 2nd floor, another master suite with a vast dressing room is fitted with made to measure units and a large marble bathroom.
Added to all this luxuriance is an indoor heated pool with counter-current system, a fitness room, a relaxing Hamman, and a home cinema room great for entertaining a big group of friends and loved ones.
Sleek and Modern Space in the upmarket 16th District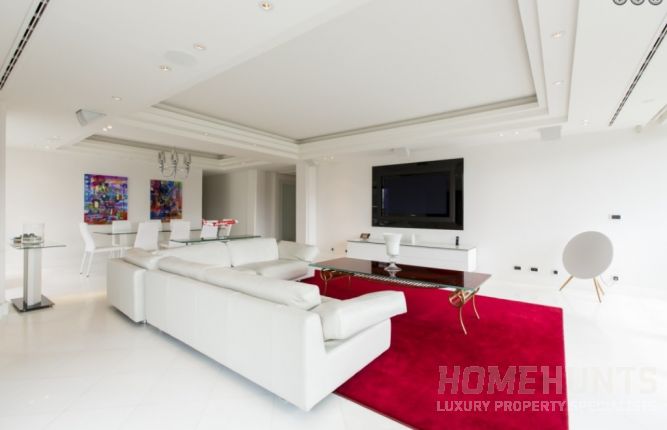 Ask anyone their ideal apartment or home in Paris, and most would say that they would love a view that includes the famous Eiffel Tower. This beautifully presented contemporary apartment (HH-7843936)  of 145m2 has that perfect view of the iconic symbol right before your eyes from its 42m2 lounge with large balconies. Located at the famous Avenue Foch, this property has a lot of space with two master bedrooms with their respective balconies and dressing rooms, separate equipped kitchen, and 3 toilets.
An additional feature of this luxurious haven is the built-in smart home technology system which makes daily living a breeze with controls easily changing the temperature and controlling the security of the property. A rare discovery in the 16th district, it is priced at €3,000,000.
Radiant Pearl in the Chic Les Marais District in the 3rd District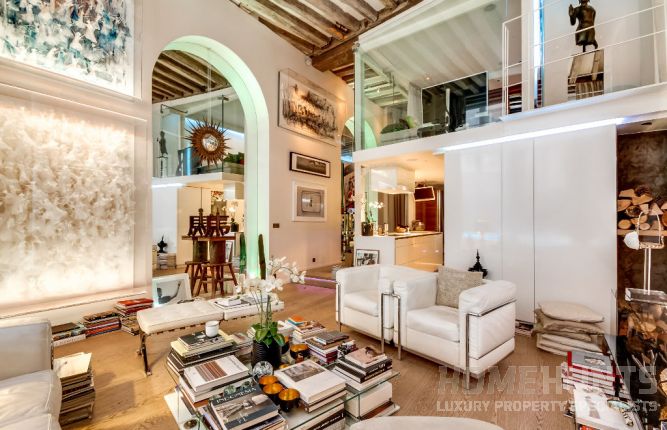 For art, fashion and fun, the hip crowd always come to the area of trendy Les Marais located in the 3rd district of Paris. Apartments here have started to increase in demand and prices have risen, with its proximity to the Louvre and to all the interesting cafes, bars and restaurants that dot the little streets leading towards the Marche Enfants Rouge, where brunch and Saturday shopping is always a delight for many Parisians.
Amidst all the activity and buzz in this area, this stunning two bedroomed ground floor property is located, in a historical 17th century building. This exceptional 130m2 apartment comprises of a reception room, dining room, fully fitted kitchen, 2 bedrooms, 2 bathrooms and a courtyard garden.
The property has many original features such as the beautiful parquet floor, fireplaces and many more. West-facing and filled with light, the apartment has been beautifully renovated and benefits from air conditioning and a home automation system. As it is situated in a very popular area, this property is a great investment with excellent potential rental returns of approximately €6,000 per month. Priced at €1,995,000 
Exclusive Luxury Penthouse Overlooking the Seine River in the 4th District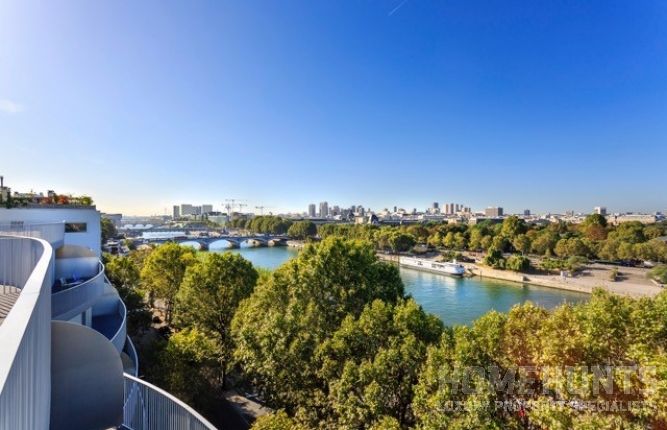 A view of the Seine River makes any property a top choice for luxury property buyers, and this spacious penthouse (HH-10785484) located in the 4th district is one of the prime selections, which offers the best views of the famous river and the skies of Paris.
Located on the 7th and top floor of a high standard contemporary residence, natural light and sunshine illuminates this luxury haven of 120m2. It opens upon a large 90 m2 terrace facing south where one can enjoy an exceptional view, not only of the Seine River, but also famous monuments of Paris that can be easily spotted from a great vantage point. A second private 140 m2 terrace on the roof is accessible via an inner staircase from the apartment. This is one of the best properties on the market this side of the capital and it is priced at €3,780,000.
Grand and Glorious Halls in the 8th District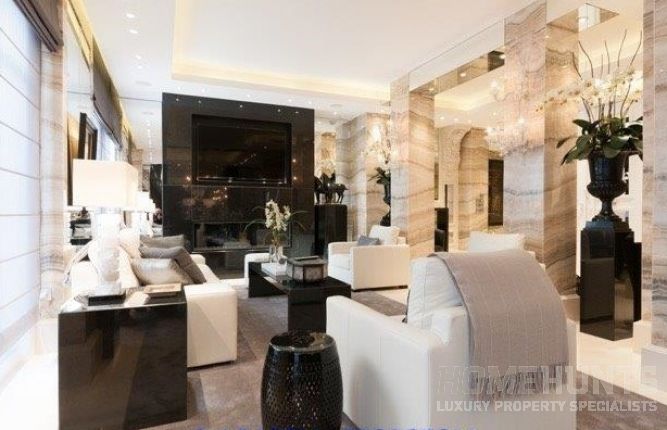 A couple of steps from the luxurious Four Seasons George V Paris Hotel, this prestigious apartment (HH-10565832) continues to attract a big number of high-end property buyers who opt for grand and classic properties in a stylish and very classy area like the 8th district in Paris.
Ideally situated on the 2nd floor of a Haussmann building with excellent high ceilings, the apartment has been entirely redone with top quality materials that include onyx and marble and offers an excellent floor plan, much like the suite of a palace. Fully furnished with designer furniture and a built-in smart home technology system, it is ready to welcome its new king and queen, with a concierge at-hand to insure you are secure and comfortable in your own palatial residence. Priced at €5,000,000