Our focus is back on Paris property and the ultra-luxurious mansions and villas that are hidden in the gardens and magnificent boulevards that this famous capital is known for. Come have a look at some of the best architect-designed properties…
The French elections is drawing near and debates have been broadcasted live on TV and online between all the Presidential candidates. All eyes are back to Paris and each one has their own bets for the next successor who will occupy the Élysée Palace, the Official Presidential Residence located in the heart of the capital. In line with this increasing news coverage on the Paris elections, we can't help but look at the newest ultra-prime properties that we have on showcase in our exclusive portfolio.
We have featured many apartments in our previous articles in different districts in Paris and now we would like to share to all some of the best villas, mansions and lofts that have been meticulously designed by architects and world-renowned architectural firms.
With prices increasing for properties everywhere in France, Paris gets the top billing, with a recent report from French Property News that 2.1% increase in the 3rd quarter of 2016 was seen in the prices of properties in the capital. Suffice it to say, any property purchase in Paris before the coming elections would be a wise move to make as it is estimated that the increase in the price per square meter, which is currently at an average of over €10,400 per square meter in majority of the districts, would continue to rise and reap in good investments for property buyers longing to have their dream villa or penthouse in one of the most luxurious and frequently visited destinations in the world.
Here are some of the top properties in the beloved city of Paris, designed, renovated and/or built by the best architects:
Ultra-Luxury Living in a Well-Designed Space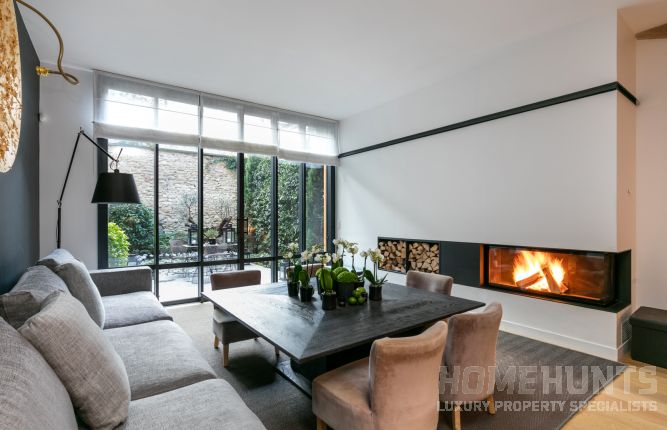 Ideally located next to shops and schools, this gorgeous 200 m2 (HH-11461146) architect-designed house with 3 stories and a garden is located in Passy in the 16th district of Paris. On the ground floor is the entrance and an impressive living room with an open-plan kitchen with access to a 32 m2 (344 sq. ft.) tree-filled garden.
On the 1st floor, the master bedroom is situated with a bathroom and a 2nd bedroom currently used as a family room.
On the 2nd floor, there are 2 bedrooms each with their own bathroom and one with a 6 m2 (65 sq. ft.) balcony.
At the last level, on the 3rd floor, a lovely 40 m2 (431 sq. ft.) rooftop terrace is situated, the best spot to entertain all guests coming to this luxury, modern-designed abode.There is also a basement with a large bedroom with a shower room, which can be perfect for an au pair or as a home cinema or play room). There is also a spacious laundry room and cellar. Priced at €4,200,000, this property is truly part of the cream of the crop of our properties in Paris.
Heavenly Masterpiece in Franqueville La Muette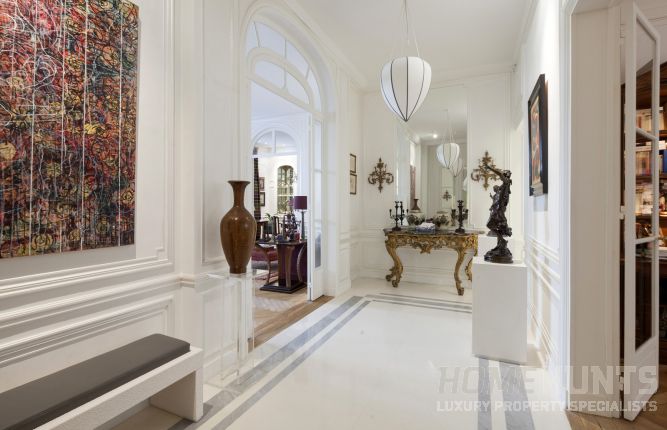 Located in a beautiful building dating from 1925, on the garden level with a 35 m2 garden, this 200 m2 apartment (HH-11461074) was designed by a major architect.
It features a large reception room with access to the garden, 2 bedrooms, an office and 3 bathrooms. You will love this stunning apartment's luxurious materials and tasteful design! Its remarkable location in a quiet area close to the Ranelagh Gardens is a top draw, and it is just 5 minutes from shops and public transport links. Priced at €2,960,000 
Stunning Mansion Built in Pure Luxury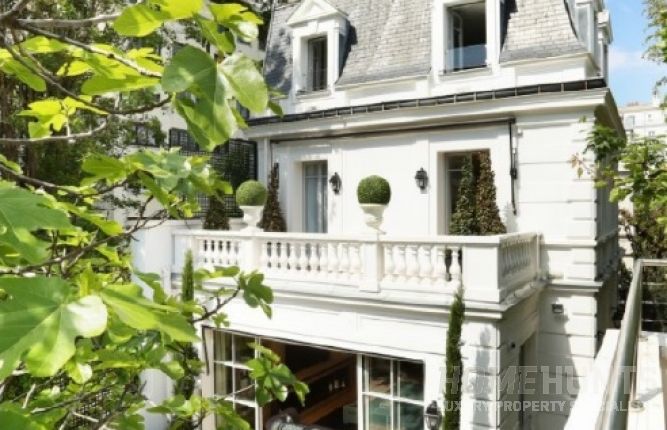 Another property close to the Ranelagh Gardens, this private mansion Napoleon III style, received a luxury renovation by an architect recently in 2016.
The garden landscaped with exceptional vegetation, as well as the main house, are protected from others. The ground floor has a living room and a dining room extended through the garden, and a tea kitchen. A pool with sky dome, a wellness area with sauna and steam room, and a billiard room make the mezzanine a second space of conviviality.
A spectacular aquarium completes this space with a lift serves all its 4 levels. On the first floor, the master bedroom with bathroom and dressing room is situated for the Lady, and a bathroom and dressing is reserved for the Monsieur, which opens onto a terrace of 15 m2. The second level is arranged in three rooms and a bathroom. In the garden, a beautiful dependence is converted into a guest house with living room, kitchen, bedroom, bathroom and terrace.
A prized crown that is set at a staggering price of €11,750,000, it is truly reserved for privileged luxury living and big families who will be guaranteed with continued peace of mind, serenity, and security with a home automation and a state-of-the-art security system.
Symmetry in a Divine Living Space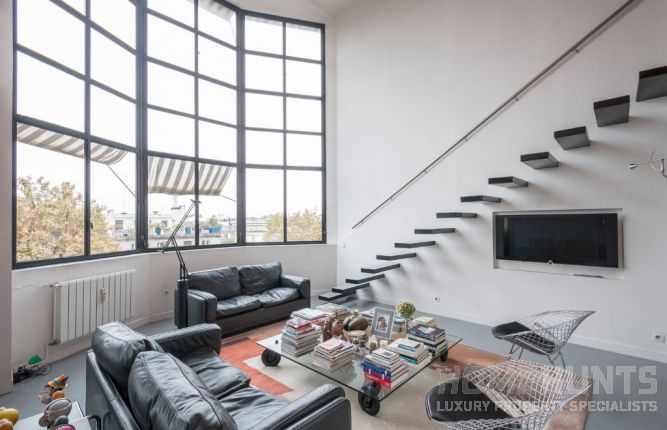 Another stunning property located in the 16th arrondissement, this architect-designed exceptional duplex of 178 m2 (HH-10905063)  was completely redesigned to benefit from the stunning views of the Bois de Boulogne which is located nearby.
Located in the 5th and 6th floors of an art deco building from the 1930, this property distributes a nice reception with 5.70 m high ceilings, an eat-in kitchen opening onto the living room, two bedrooms, with one currently being used as a study, a bathroom and a large master suite with bathroom bath.
Brightness and generous volume characterize this beautiful space. A cellar completes this property subject to condominium status which is priced at €2,250,000.
A Piece of History in the Heart of the City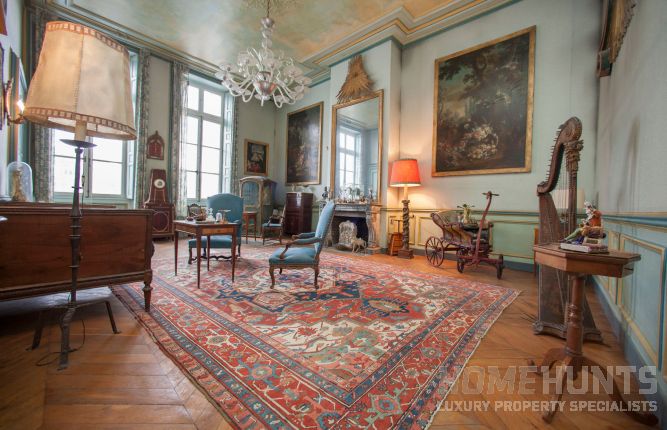 This period elegant apartment of 157 m2 (HH-11160330) is located in a beautiful 17th century private mansion, on Ile Saint Louis by the Seine. It was built by the "chief architect" of Louis XIV, Louis Le VAU.
The main staircase is registered as historical monuments. The large living room overlooking the dock has a ceiling height of about 5 m and has retained all its original features.
It also includes a dining room, 3 bedrooms, a loft and 3 bathrooms. Apart from a large lounge, left as is, this set has been completely restored in 2009. It comes with a private basement cellar. A rare find in Paris, with a price at €2,140,000 it is truly an amazing deal with the history and heritage that you purchase it with.
If you are looking to buy property in Paris, you can search through Home Hunts' portfolio at www.home-hunts.com
To discuss your specific needs and to find out more about locations offering the best investment opportunities, speak to a consultant directly on +33 (0)970 44 66 43