Ski season is at its peak this month and the Home Hunts Alpine team has rounded up some of the best value ski properties on the market, guaranteed to put you in the buying mood….
Always a top destination, the French Alps has been at the head of the list of any luxury property buyer, as reflected with property sales climbing in this prime ski area.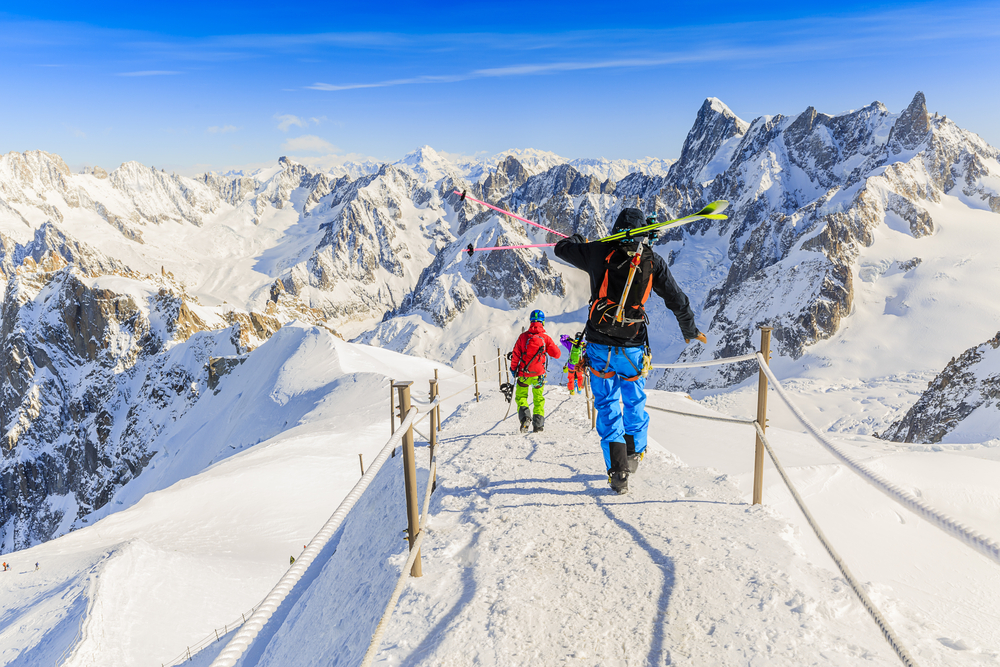 A good investment as a vacation house or a potential source of income through renting, ski properties are on an all-time high with people who want to make the most out of their hard-earned money and benefit from the comforts of a fabulous chalet or modern house, surrounded by great natural environment and breath-taking views of snow-capped mountains. In summer time, groups of visitors and tourists continue visiting the alps, with the beauty of lush greenery and floral fauna scattering the hills and valleys surrounding the region.
Presenting, the most stunning properties in the beautiful region of the alps in France:
Top Property 1:  Modern Architect-Designed Luxury Property in St Jean D'Arvey
Overlooking the Chambery valley and the surrounding national parks, this stunning 385 m2 house  (HH-11169879) is set on 3 levels offering a glorious feeling of light and space thanks to its fine contemporary architecture.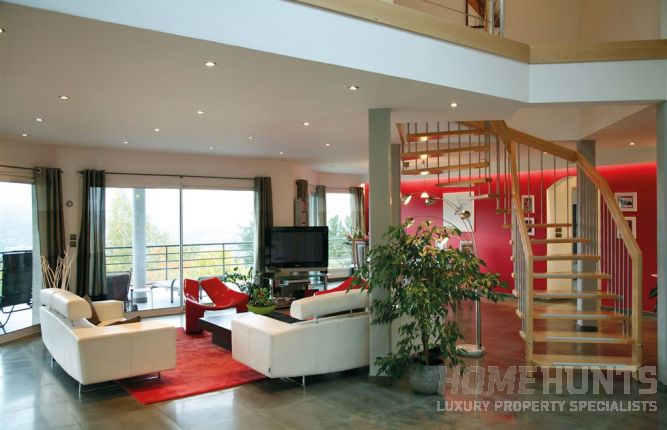 The lounge opens out on to a vast terrace overlooking the valley, boasting an idyllic panoramic view. With a total surface of more than 385 m2, this property has 4 bedrooms, and 3 shower rooms. In addition, the lower garden level is fitted out in to a semi-independent apartment with 2 additional bedrooms and a shower room. The completely enclosed park and landscaped area of about 1900 m2 hosts a vehicle shelter and a large parking lot.  Priced at €997,000, it's a rare gem in the market with its great design and contemporary style.
Top Property 2: Luxury and Modern Comfort in Thonon
With its proximity to the center of Thonon, this exceptional residence (HH-11140270) boasts of an elevator that makes you glide into each level with ease. A spacious 36 m2 terrace crowns this property, offering superb views of the greenery that surrounds the area.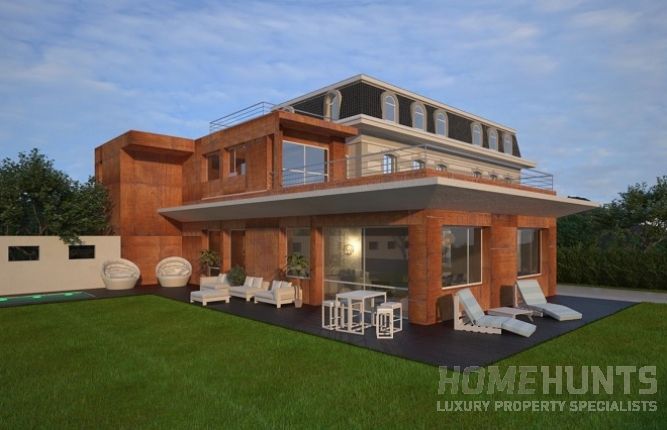 If you are a fan of open kitchens, this one has a vast space, graciously laid out in the property which includes 3 bedrooms, 3 bathrooms and 4 toilets. This house is built for ultra-modern living with luxurious finishes and a cellar for additional storage. This property is a steal at €539,800.
Top Property 3: Magnificent Views at Evian Les Bains
Evian Les Bains, a place we could all dream of when wanting to escape from the business of people and work. This apartment is truly a gift from heaven (HH-11140267) amidst a splendid landscape, providing instant Zen to all who step foot on its vast 68 m2 terrace, showcasing a magnificent lake view.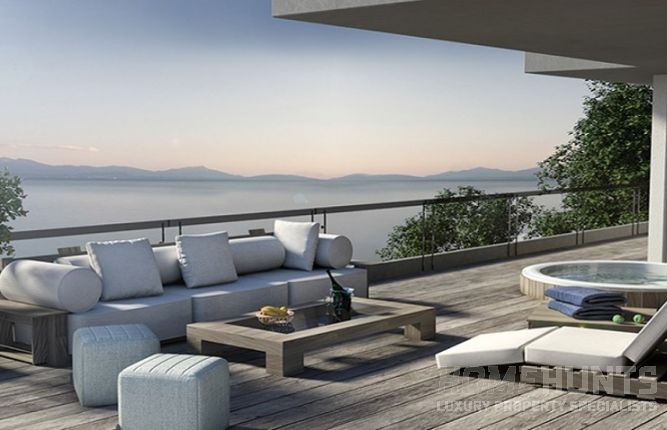 This luxurious apartment is 131.67 m2 big and includes 4 bedrooms, a vast open plan lounge, dining area and modern fitted kitchen of 57 m2. A walk on the 180 m2 garden just right outside the apartment creates that joy within for anyone who has the luxury of indulging in buying this haven. Top off the views with a glass of crisp white wine coming from the cellar that comes with this property, each moment is guaranteed to be divine. Priced at €815,000 
Top Property 4: Chalet on the Hills in Saint Paul en Chablais
Chalets have always been preferred by buyers who opt for traditionally constructed properties and this is one of the best properties (HH-11049038) located just 15 minutes from Evian.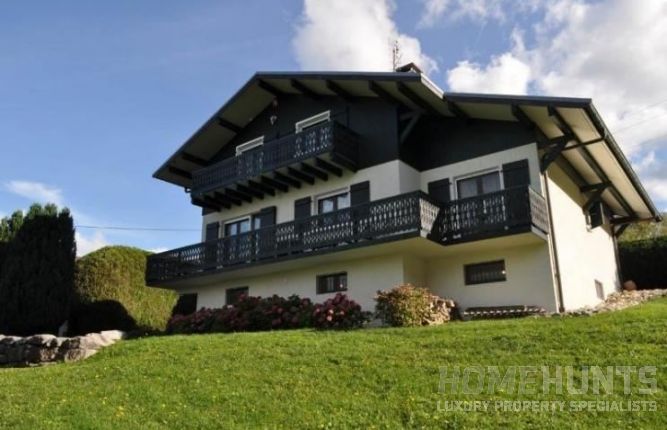 Situated on a fully enclosed 3091 m2 plot which is entirely landscaped, a lovely view of Lake Leman is one of the top attractions of this beautiful abode on a hill.
This chalet of 292 m2 contains 4 bedrooms, 2 bathrooms, an independent kitchen as well as a vast reception room of approximately 36 m2 with a mezzanine of 25 m2 overlooking it. Space and tranquility envelopes each one that steps into the lawns of this magnificent property in the rolling hills of Evian which is priced at €665,000.
Top Property 5: Luxury Haven in the Skies at Neuvecelle
Skies are not the limit for this splendid property (HH-11049035) , lording over great views in Neuvecelle. Situated in a strategic location close to shops, schools, transport links and a park, this modern home is sought-after by numerous luxury property buyers who needs all the conveniences and activities just right outside their doors, making daily living stylishly easy and effortless.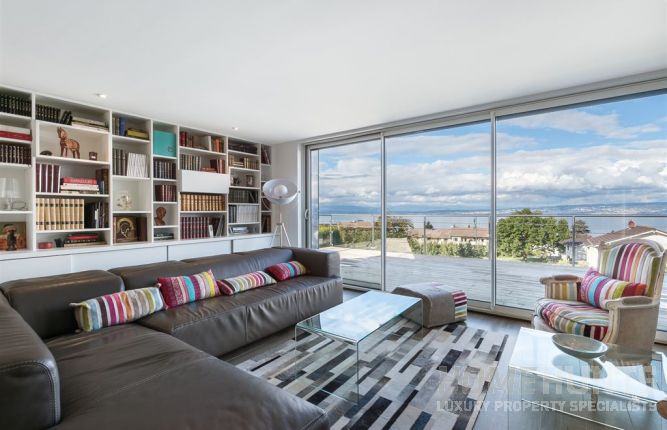 A beautifully well maintained modern villa with around 195 m2 of living space, it includes 3 bedrooms, a lake view living room with large sliding windows leading out to the terrace, and an open plan fitted kitchen.
Other than the spectacular lake views, it sits on a lovely plot with a parking area of 1249 m2, a vast space perfect for a big number of friends and loved ones to park and visit to take part in a lovely apero over sunset in front of the opera of colors circling the skies. Priced at €920,000.
If you are looking to buy property in The French Alps you can search through Home Hunts' portfolio at www.home-hunts.com.  To discuss your specific needs and to find out more about locations offering the best investment opportunities, speak to a consultant directly on +33 (0)970 44 66 4