For spectacular views and luxurious Alpine living, check out these three exquisite chalets currently for sale through Home Hunts
The French Alps are one of the most popular holiday destinations in the world, with around 55 million visitors each year experiencing the region's snow-capped peaks and pistes.
While buyers looking to invest in luxury property in the Alps often come to Home Hunts with a wide range of criteria, there are some common factors which most people include in their search for an Alpine chalet.
"Whether people decide to settle in somewhere like Annecy, for access to the lake in summer and slopes in winter, or in a ski resort such as Chamonix itself, a breath-taking view is one of the most common requirements," says Tim Swannie, Director of Home Hunts. "Outside space – whether a garden, terrace or balcony – to soak up the surroundings is also crucial for many, as is proximity to the airport and easy access to the slopes, so that regular weekend breaks are feasible."
Good snowfall, a long ski season and an increase in summer tourism from cyclists and hikers means that properties can be rented all year round.
"This additional revenue stream can help to cover the mortgage and maintenance costs of the property, while the owners enjoy all it has to offer throughout the rest of the year," adds Tim.
Magnificent Mont Blanc views in Chamonix                               
This immaculate five-bedroom chalet (HH-1202356) is located just five minutes away from Chamonix in a peaceful spot that offers breath-taking views of Mont Blanc. An idyllic setting for a ski chalet in the Alps, it has been luxuriously designed over three levels.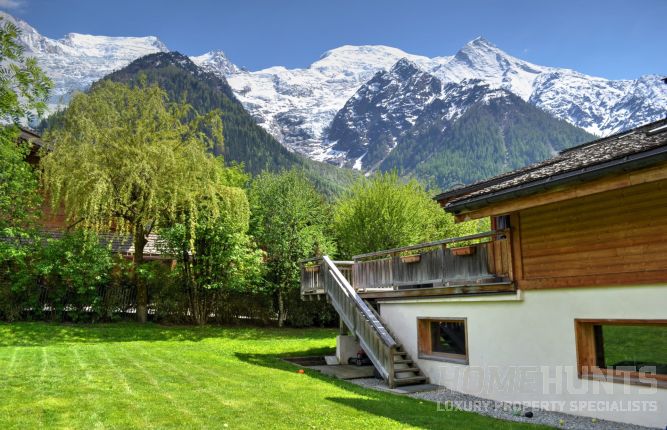 A modern interior, with wooden features that give it a traditional chalet feel, the open plan layout makes it a perfect place for entertaining. Highlights include a terrace and Jacuzzi, and the possibility of converting a mazot with a bedroom into an independent apartment, which could bring in additional rental yields and accommodate friends and family on holidays. There is also a carport, which can house up to four cars.
A sunny, spacious property with a leafy green garden that is surrounded by beautiful mountains, this chalet is priced at €1,725,000.
Annecy: a hotspot for year-round rental
Buyers are increasingly attracted to the Annecy area as its position on the lake and proximity to ski resorts means it has become a hotspot for year-round holidays.
While Chamonix and Megève can be reached in under 90 minutes, La Clusaz is one of the closet ski resorts. It forms part of the Lake Annecy Ski Resorts with Le Grand Bornand, Manigod and Saint Jean de Sixt.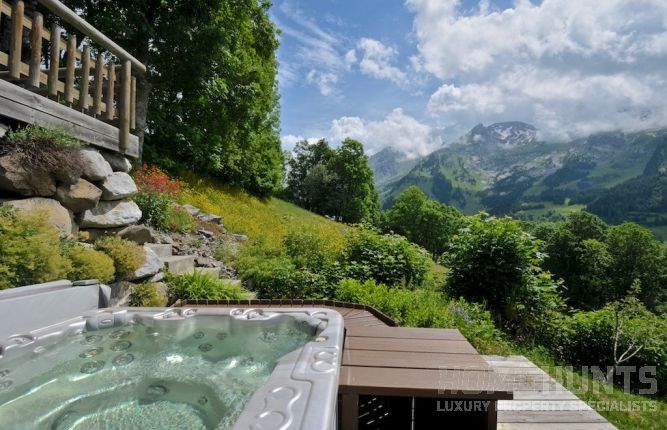 The remarkable mountain views from the outdoor Jacuzzi of this stunning four-bedroom chalet in La Clusaz (HH-10633165) are among the best in the area. The natural surroundings of the landscaped gardens, south-facing terrace and pale-blue spa water are the perfect setting to observe the splendour of the mountains.
A family home that has the possibility of bringing in a substantial income through holiday rental, interested buyers are urged to view this €1,365,000 property as soon as possible.
Ski in and out at Sainte–Foy
Just 200 metres from the pistes, this classic Tarentaise chalet (HH-9174545) offers striking views of the mountains from its south-westerly position. With a covered balcony and a spacious terrace built specifically to allow residents to take in the impressive panoramas, this is a stunning setting from which to relax and entertain.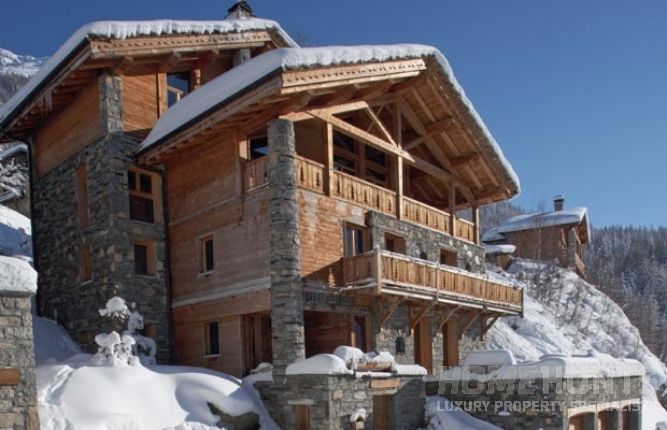 This charming, low-key resort in the in the Tarantaise valley is an excellent place to ski with family, especially children, and this eight-bedroom, luxurious property makes holidaying here a delight.
A vast property spread over four floors which includes full lift access, a sauna, Jacuzzi and open fireplace make it a relaxing and cosy place to stay. In fact, so many people think so that the current owners confirm it has an impressive turnover – thus a proven track record for successful rental in both summer and winter is already in place.
Further highlights include a wine cellar and a caretaker's apartment. At €1,999,995 this modern take on a traditional chalet offers an interesting investment prospect for the right buyer.
If you are looking to buy a property in the Alps, you can search for more chalets at www.home-hunts.com, but to speak directly with a consultant about your specific criteria, call +33 (0)970 44 66 43