Step inside some of the most beautiful and luxurious homes in the capital and get inspired on your next home design project this Winter!
Some people make the most out of the cold months of winter hibernating in their cozy homes and rearranging furniture and fixtures in different parts of the house. If you have your own interior design project coming up, check out these beautiful homes in Paris that may give you some design inspirations and have you transforming different parts of your house into visual delights that will wow your guests and family coming over during the Christmas holidays this coming December!
Classic and Modern Elegance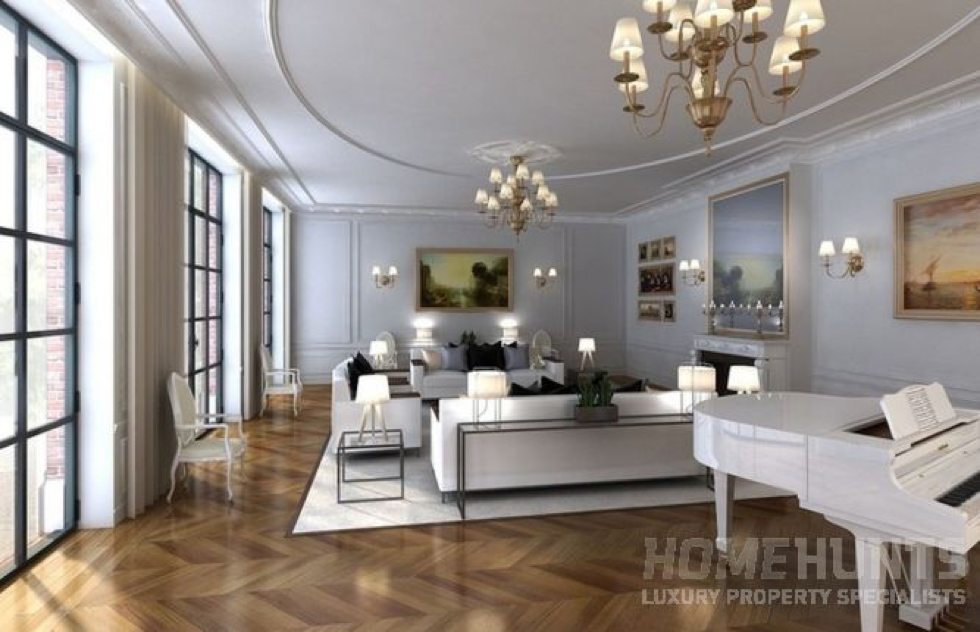 The interior of this luxurious Parisian home was designed by a renowned architect. Classic wooden parquet floors are highlighted with some high end white furnishings and an elegant grand piano that will surely make a good first impression with guests as they come in. If you have a lot of space in your reception or living area, fill it up with some modern chairs and canapes upholstered in classic white fabric and if you don't have space left for a grand piano, consider getting a vintage jukebox from one of the antique shops in your neighborhood to get some music flowing in your living room.
Mix Warm Colors with Fun Furnishing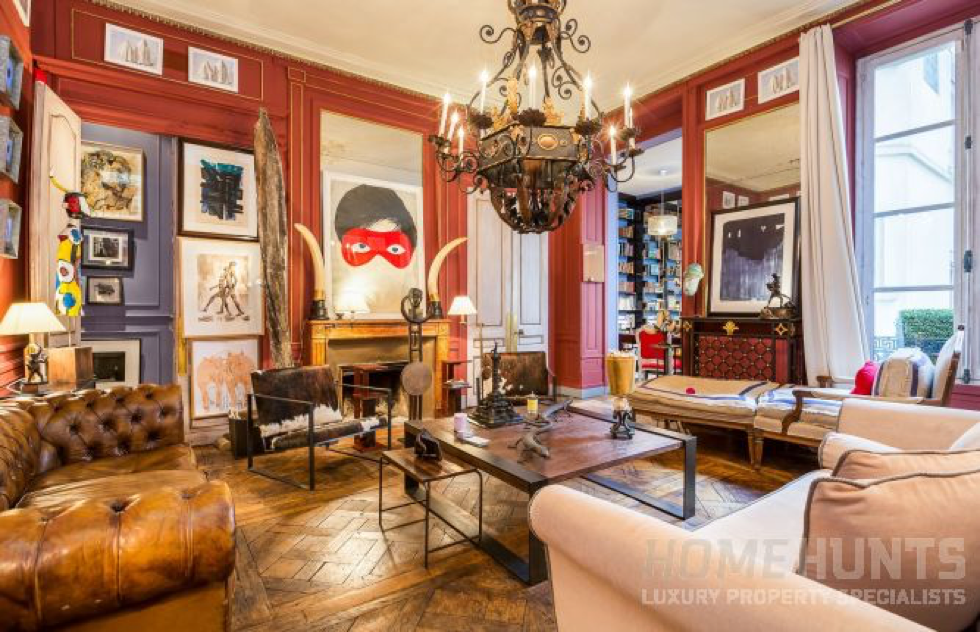 Winter calls for some warm colors like brown, red, orange and beige to create that cozy ambiance in any home. This quiet duplex apartment on the 6th district of Paris, located on the noble floor of an 18th century building, consists of an interesting sitting room with Versailles parquet floors, filled up with some unique tables and canapes in warm colors plus a medieval chandelier that would easily make any conversation with guests an interesting one. Go ahead and play with some of the furniture and tables in your home and mix them in a space to create that fun atmosphere with a cozy vibe. If you want to see the other rooms of this eclectic home in Paris, priced at 2,100,000 euros, click this link.
Illuminate Your Space and Bring in Some Light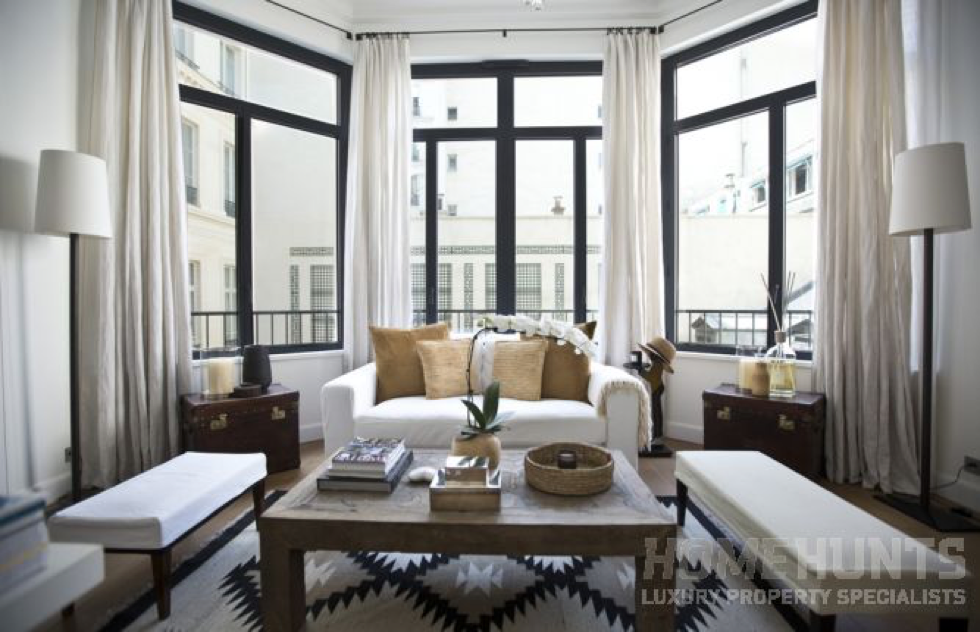 Space has always been an issue in Paris and a lot of people make the most out of small areas in their apartments with some bespoke furniture and shelves with exact measurements and size.
This fully renovated turnkey property, located on a quiet street near the National Assembly in the 7th district of Paris is one of those apartments that does not have much space but is beautifully presented in the way it has been decorated. With a mini canape and some upholstered benches, the living room can seem to be a big space with a choice of white fabrics and curtain arranged in an illuminated space that is brought upon by wide windows offering a lot of space and light. It does help if you have a small space with 10 foot ceilings like this property, and if you have low ceiling height in your home, consider opening-up the spaces by choosing glass partitions in between the living room and the kitchen or your petit library to have a flow of light and space all throughout your living premises.
Modern Upgrade with Some Key Art Pieces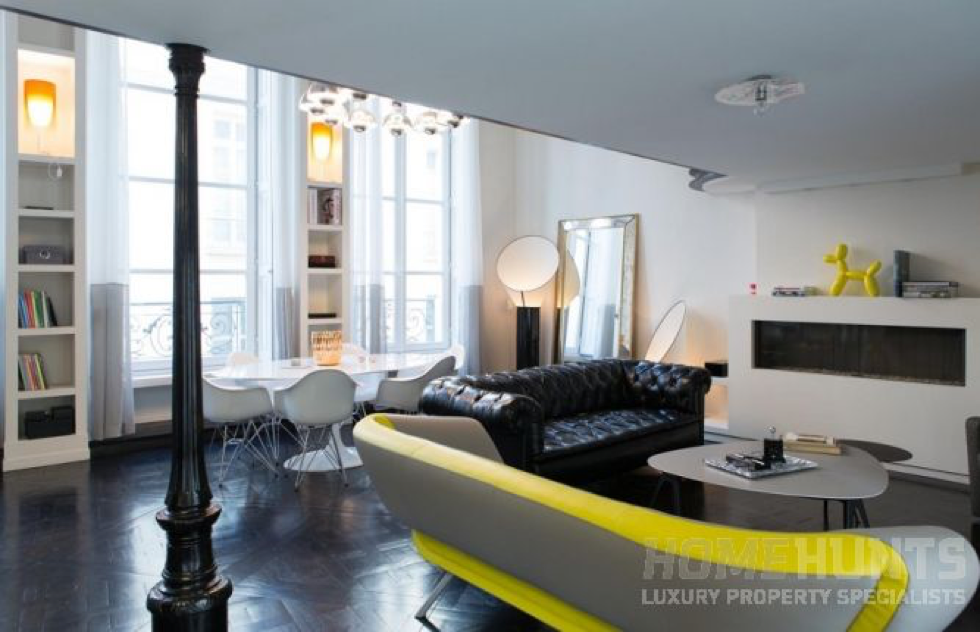 From Tom Dixon's golden vases to Phillipe Starck's cool centerpieces, we have a lot of modern and contemporary design objects to choose from to add some unique touches in our homes.
This sublime duplex apartment located on the noble floor of a beautiful 18th century building on Rue Bonaparte in the 6th district of Paris showcases a living area that not only boasts of some high-end designer pieces but also little objects like a Jeff Koon mini décor piece on its fireplace and some unique circular mirror lamps that makes an otherwise boring corner or fireplace a very interesting space to look at.
The property also has a pre-wired Bose audio system that makes it easy for the owners to play music and have it heard by all in every space in high definition sound and quality, perfect for entertaining guests over apéro or dinner during the coming holidays. Try fitting your space with some audio equipment that can be easily ordered online and start surfing for some super deals on art auction sites for that designer object to place on your coffee table or fireplace.
Get Out of the Norm with Modular Forms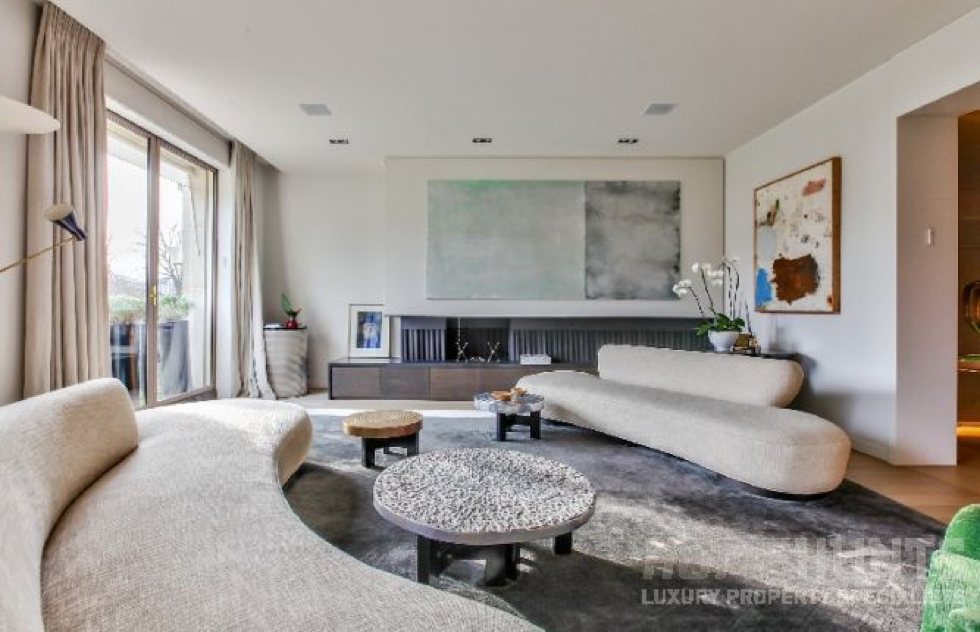 On the 16th district of Paris, this very nice apartment of 345 m2 with a splendid living room overlooking the Avenue Foch has spaces that are artfully designed with modular canapes and circular tables that are refreshing to look at. With every home always having the same old rectangular or sofa-bed canapes, the owners of this property chose sofas that are unique in shape to make the living room more interesting to look at and spend time in.
You can have your own custom made sofas made and choose fabric upholstery that you see fit for your home this winter by going to ArchiExpo Online or visit the nearest furniture maker in your own neighborhood. 
Add a Splash of Color and Prints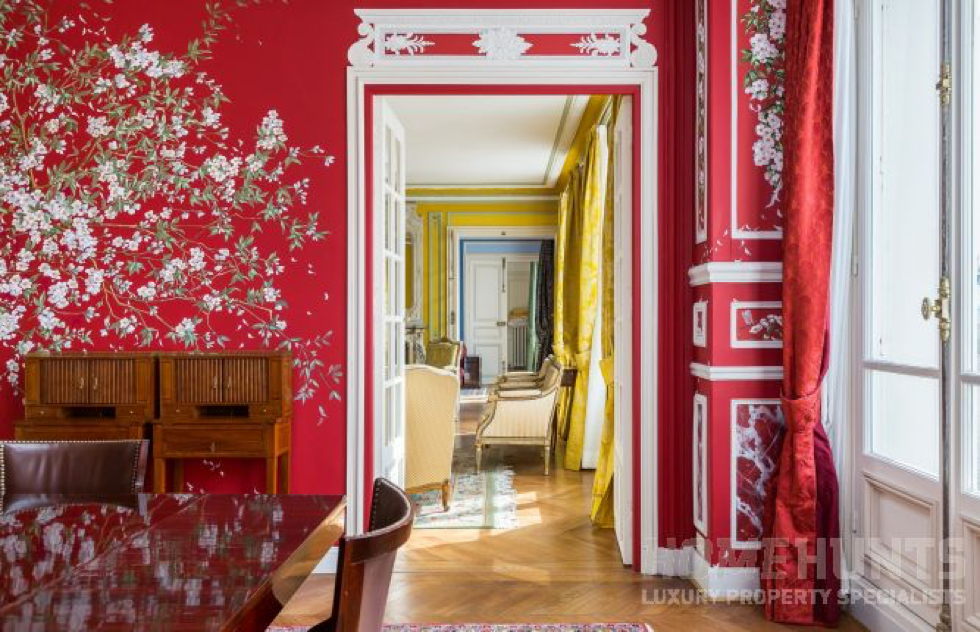 This elegant apartment in Paris on the entire 5th floor of a charming Haussmann building will surely inspire you to get your paint brushes or have you paying a visit to Le Bon Marche online or Liberty in London to get some wallpaper prints that will brighten up any space in your home during a gray winter.
Go ahead and liven up your home and don't be afraid to experiment with colors and wallpaper prints that can range from floral, classic, oriental and tropical, depending on your current taste and preference! Not ready to go all the way? Try out some adhesive-backed and removable wallpapers in one of your little rooms or bedrooms from Walls Need Love and see your space transform magically right before your very eyes!
Stylish and Chic in Pastel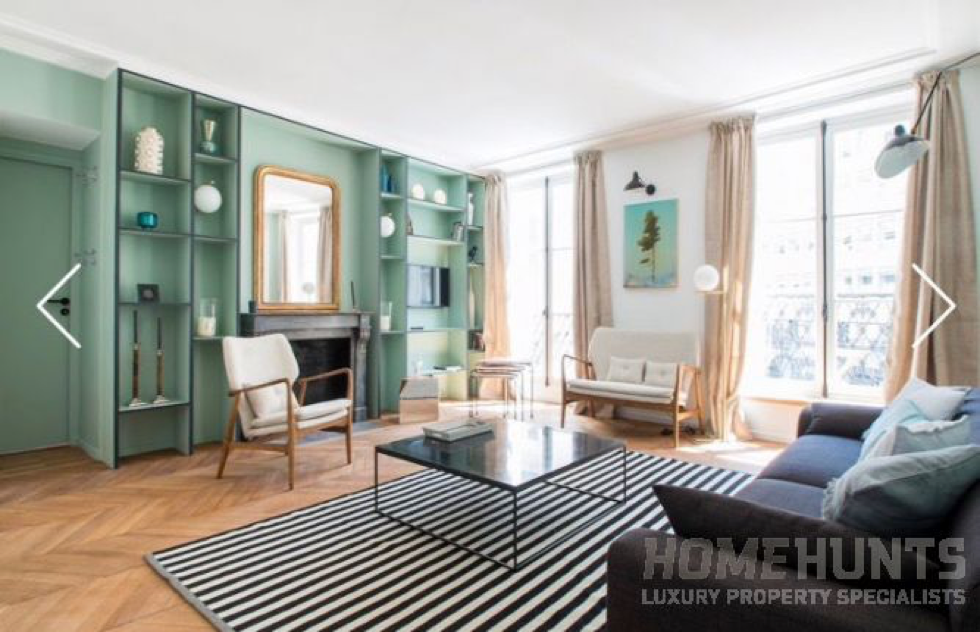 Pastel colors of soft pink, blue and olive green creates a light visual delight and applying these shades to the interiors of your home can be a good idea this winter.
Situated in the heart of the 8th arrondissement, near the Bristol Hotel, art galleries and all commodities, this lovely apartment blends in pastel colors in just the right amount in all its spaces all throughout the property.
Christmas parties would be a pleasure to host in this property as guests would have a lot of space to mill around, as the chairs and tables are situated in a way that each piece does not fill up much space. The secret to this configuration is to choose functional chairs that are not clumpy in size, placing them far apart from each other, even in corners or against the walls instead of a typical buffet table. What about your books, pictures and vases? If you are thinking where to put your lovely flowers and design objects without a buffet table in your living room, create some shelves stacked around the wall or fireplace and see how your décor objects are each highlighted and given its rightful place.
A Play with Shapes and Fluid Waves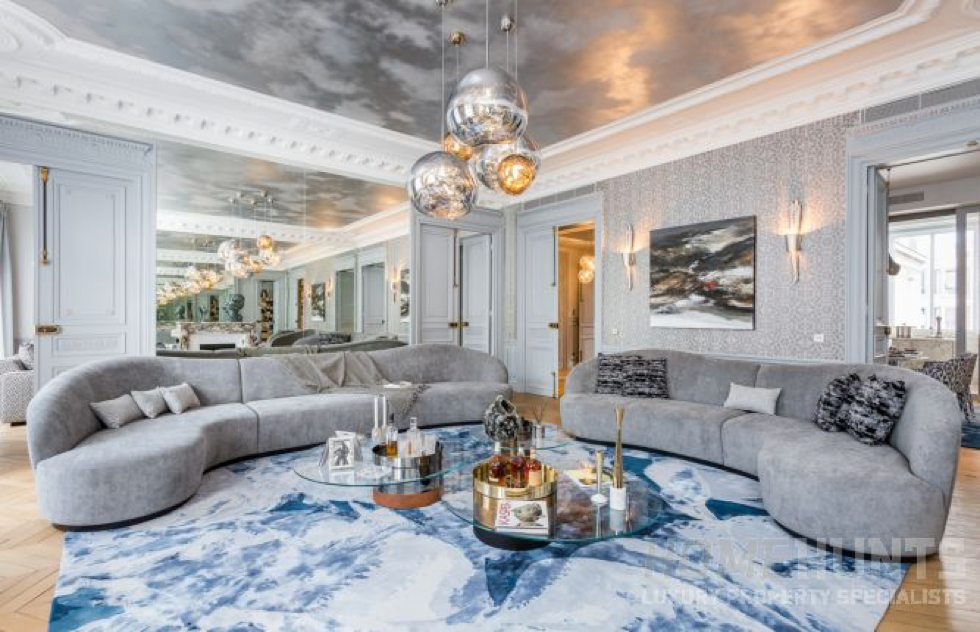 In a beautiful Haussmann building in the 8th district of Paris, this fully renovated apartment has been decorated by an internationally renowned interior designer and truly stands out with its unique choice of printed carpets and painted ceilings. The addition of a modern light centerpiece reflected on the floor to ceiling mirror on the walls further enhances the flow of shapes and fluid waves in the space, a welcome departure from the typical living room set-ups that we see in many homes.
Do you have any interior design ideas for the coming holiday season this December? Share them to us on our Official Facebook Page, we would love to see and read all about your interesting décor suggestions!
RELATED : Read more on where to buy properties in Paris
If you are looking for top properties in Paris you can search through Home Hunts' portfolio at www.home-hunts.com
To discuss your specific needs and to find out more about locations offering the best investment opportunities, speak to a consultant directly on +33 (0)970 44 66 43