Light up the fireplace and get all warm and cozy while reading all of our recommended home design ideas this winter from these beautiful villas and chalets in the French Alps!
It's that time of year again when we take out our comfortable quilts and heavy fabric curtains to warm up the interiors of our home this winter. From throw pillows upholstered in luxurious fur to unique lampshades that brighten up the corners of every room in the house, we looked in to some of the best villas and chalets in the French Alps to get some home décor inspirations to share to you all.
Whether you are a modern design fan or a country-style lover, we have all these ideas here for you to choose from. Go ahead and get inspired to decorate your home this winter!
 Industrial and Vintage Style in Harmony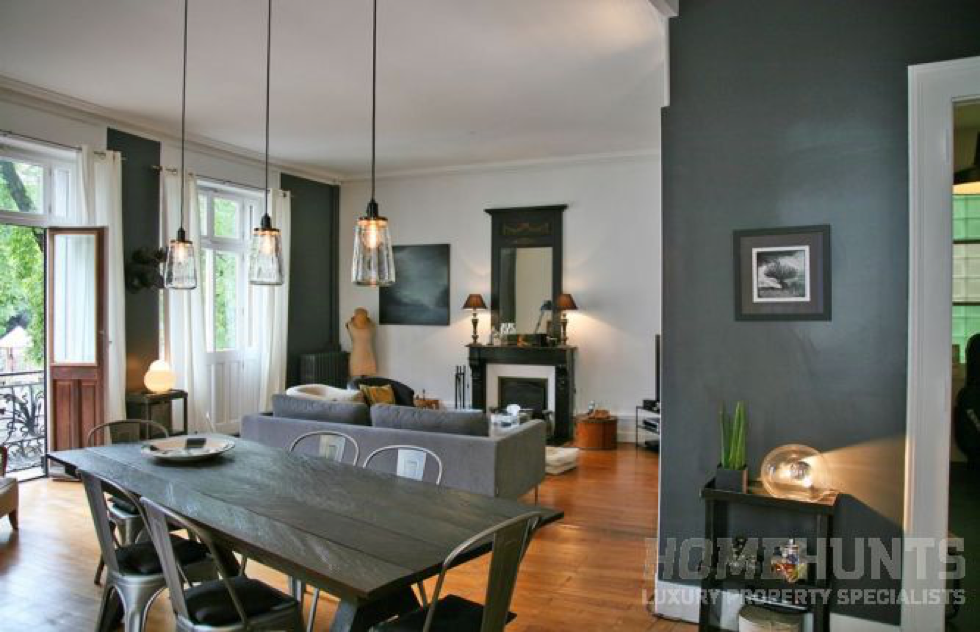 In the lovely town of Annecy, this beautiful apartment with character, priced at 990,000 Euros has its interiors well-designed in an industrial-vintage style.
With an exceptional situation in the heart of the town of Annecy, in a listed building, this charming property has a large living room with triple exposure that brings in some much-needed light in the space during the gray winter season. The walls painted in white and dark gray adds more volume as well, giving some dimension in the living room that is fitted with some industrial-type chairs around a wooden long table that matches perfectly with the colors of the interiors.
Blend Wooden Interiors with Nordic Furnishings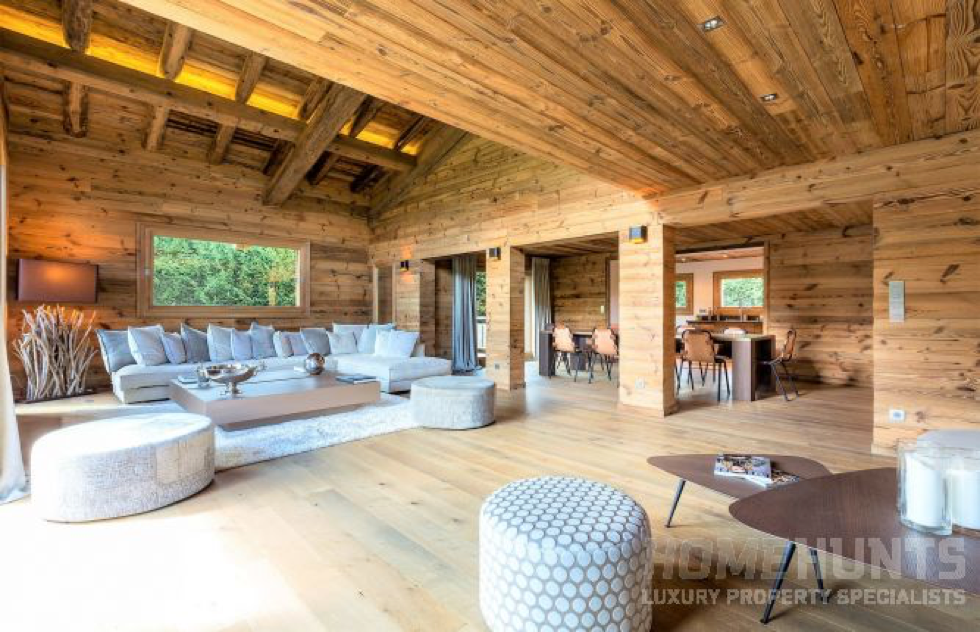 This wonderful chalet with an interior that looks like it has come straight from a glossy magazine is priced at 3,150,000 euros and is one of the chalets that has that perfect mix of wood and modern furnishings in harmony in a vast space with high cathedral ceilings.
If you have a chalet or a home that is fitted with wooden beams and walls all over, try furnishing the space with some contemporary furniture or some Nordic objects that will offset that tired cabin look in a traditional chalet made of timber and wood. Get to see some Scandinavian inspired chairs and tables from Nest.Co.Uk
Interiors that Bring out that Beautiful Era Spirit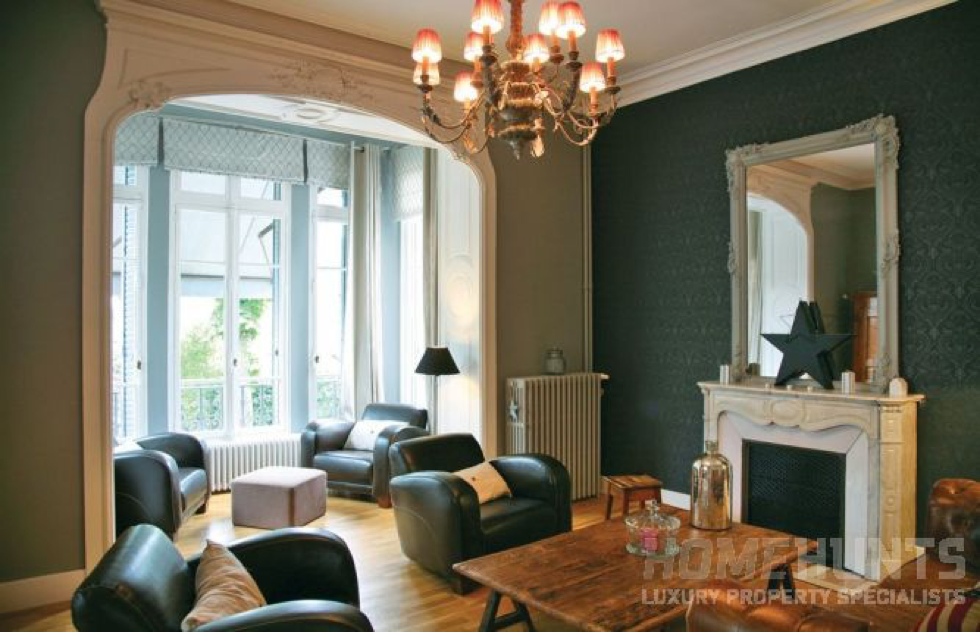 This elegant property is entirely redesigned while preserving its original charm. Priced at 1,590,000 euros it is renovated with high-end materials and attention to details. The harmony of the decoration choices has been carefully thought through with an authentic "beautiful era" spirit, associated with a rare living comfort.
Its reception room is filled with classic leather Art Deco chairs that fit perfectly with the warm tones of the wooden table and parquet floors and the beautifully framed fireplace, which is set in white marble to stand out.
if you want to highlight divisions in the areas in your home, try to separate adjoining spaces by changing the wall colors of each area like the walls of this property where the main reception is covered in gray shades and the extension room painted in light pastel blue. Crown your reception space with a beautiful chandelier that you can find in one of the vintage markets in your neighborhood or order one online that fits your preference!
Loft Living in Style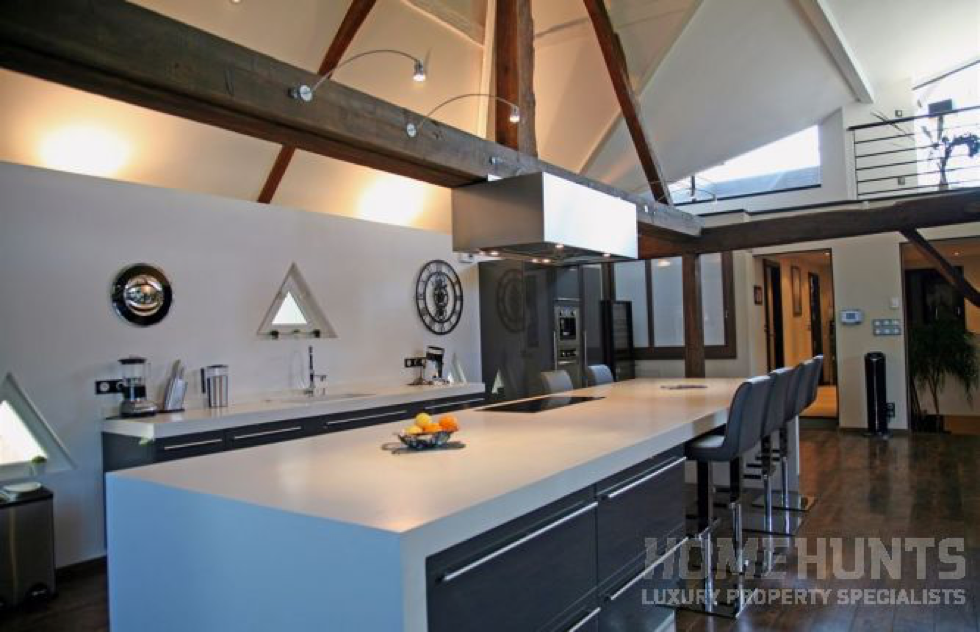 This loft type village house priced at 1,490,000 euros with pool is just 10 minutes from Annecy and 20 minutes from Geneva and has been completely renovated in the style of a modern loft.
The functional interior layout includes a large living room with fireplace of about 110 m2, kitchen with central island, 4 bedrooms, 4 bathrooms, a large gym and leisure facilities, a sauna, all of about 300 m2 of living space that exudes a modern ambiance amidst wooden beams that marvelously frames the whole space.
A simple loft design like this can be achieved by choosing some modern appliances and built-in fittings from some of the best brands like Gaggenau or Miele. If you have a limited budget, try out the newest kitchen showcase line from Ikea and transform you're your loft into a modern space that beats in style and substance.
Experiment with Some Floor-to-Ceiling Walls and Color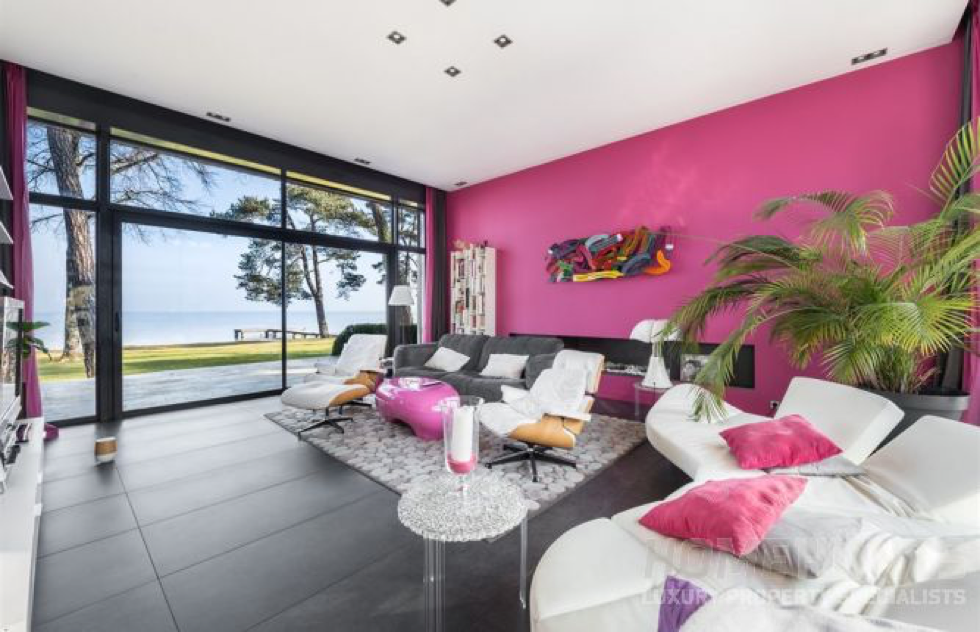 If you have a beautiful lake, mountain or garden outside your home, having wide sliding glass doors can offer you some superb views outside and get some light inside your home. This magnificent lakeside property located between Thonon and Geneva is a perfect example of a home that benefits from the stunning lake view outside with its floor to ceiling glass doors and walls, built by an architect, respecting the modern and contemporary feel of the property.
Another inspiring element in this home is the exotic plant that makes the living room space more interesting amidst a bright fuchsia wall that gives a pop of color and life to a space that receives a lot of guests and family daily.
Try and experimenting with different wall colors this winter like Grenadine, Maple Autumn and Marina. To give you some choices, here are the top trending colors from Pantone for Fall/Winter 2017.
 Chic and Refined Interior Styling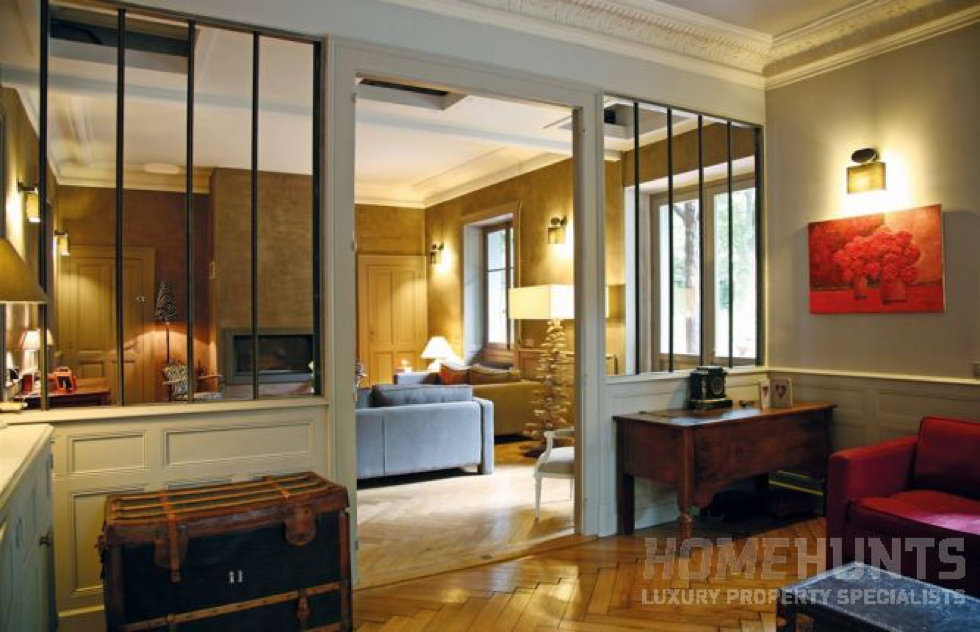 This historical 1953 Manor House located in the center of Aix-les-Bains has a unique charm in a quality residential area. It's a totally renovated property with large interior volumes and a refined interior decoration that is perfect for any Christmas gathering this December, with the addition of some wreathes and holiday décor on one of its buffet tables.
It benefits from numerous openings leading onto the gardens, and its high ceilings and an exterior balcony that surrounds the property. The chic and stylish look of this property can easily be channeled in your own home by adding some classic wooden chests as decoration in the reception area and some key lampshade pieces and fixtures that can be placed in various corners and areas. Goyard has some beautiful chest trunks that can be gorgeous to look at beside your fireplace or Christmas Tree this winter, and if you prefer a vintage leather and wood trunk like the one pictured in this villa, try your luck and visit the Marché aux Puces de Saint-Ouen in Paris or go to your nearest vintage shop.
RELATED: Spotlight on some of our Favorite Luxury Homes in Chamonix
If you are looking to buy a property in the French Alps, you can view luxury properties in Home Hunts' online portfolio at www.home-hunts.com. To speak with a consultant about your specific needs call +33 (0)970 44 66 43