More than 80 million people visit ski resorts in the French and Swiss Alps each year and demand for Alpine property is increasing reveals a new report from Knight Frank. But which are the best resorts for property investment and why are some performing better than others?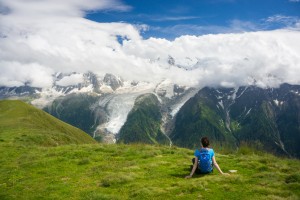 One you have decided to buy a property at a ski resort, choosing which one and where is not an easy task. For most it is important to have property that performs well on price and is less than two hours from an airport, but other criteria varies and can include the resort having good international schools, high altitude skiing and family-friendly pistes.
Top five ski resorts for price performance located in France
In terms of price performance, according to Knight Frank's analysis of 15 ski resorts across the French and Swiss Alps, the best performing prime ski chalets were Val d'Isère and Meribel where the price of a typical 4-5 bedroom chalet in each resort increased "by 5.8% and 4.5% respectively in the year to June". In third place was Chamonix (3.2%), followed by Courchevel 1550 (2.1%) and Courchevel 1650 (1.2%). The rest of the top ten comprised Villars, Gstaad, Courcheval 1850, Klosters and St Gervais.
As well as offering excellent high altitude skiing, Knight Frank explains that part of reason for Val d'Isère's strong appeal is due to the length of its ski season. Forming Espace Killy with Tignes, it offers some of the longest winter seasons and also summer glacier skiing.
Meribel is part of the Three Valleys and made up from ten different villages, and because of the efficient Teleseige du Golf lift the slopes are quickly and easily accessible. New residential developments in this resort have also attracted buyers to what is renowned as the world's largest ski domain.
"In Meribel's case, a combination of its location (in the heart of The Three Valleys) and its pricing explains its 4.5% increase year-on-year," states the report, adding that it provides better value than Courchevel 1850.
Prime prices highest in Courchevel 1850 and Gstaad
However, in "real price terms", Knight Frank confirms that the exclusive resorts of Courchevel 1850 and Gstaad come out on top, with "prime prices typically around €25,000 and CHF30,000 per square metre respectively". A prime ski chalet in Gstaad is, on this basis, four times the price of an equivalent property in the French resort of St Gervais.
Gstaad's popularity is due to its prestigious international boarding schools, all-level slopes and two-hour journey from the airport. St Gervais, on the other hand, is less than two hours from Geneva airport and located between Chamonix and Megève, meaning that it offers the best of both resorts, and is a "real dual season destination".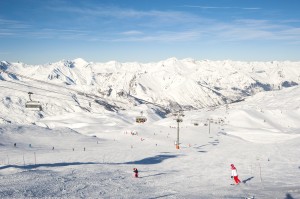 Year-round resorts more popular than ever
Year-round resorts are more popular than ever and Knight Frank reports that passenger numbers from Geneva and Lyon airports welcomed a million more passengers in May to October than they did during the winter season from November to April. Knight Frank refers to a "deliberate re-branding of the Alps as a summer destination" and observes that owners renting out property during the summer seem to prefer the mid-altitude resorts, such as Chamonix, Megève and Crans Montana, all of which are located within a two-hour drive of an airport.
Megève and Chamonix are also expected to see demand increase. Property sales in Megève during the first half of 2015 were double the sales for the whole of 2014, and Chamonix "has seen record prices achieved in price per square metre terms".
Increase in demand for permanent homes
The report also noted that as the number of international schools is increasing, as well as opportunities to do summer activities, such as hiking, cycling and events and festivals, some buyers are choosing to look for permanent homes rather than second homes. This offers greater choice in terms of properties, location and size.
Villars – renowned for its incredible Alpine views at 1,300m high – is also a good option for those searching for a year-round resort with excellent schools and it is also just 1.5 hours away from the airport. Summer sports, for adults and children, are available in abundance, as is hiking and golfing at Villars Golf Club.
Good deals available on the Swiss chalet market
While Switzerland provides a good long-term investment opportunity for buyers, as well as privacy and security, there is far more available property here now than four years ago and it is currently possible to strike a deal with vendors.
However, the introduction of "Lex Weber", which caps the number of homes in a Swiss commune at 20%, and the lack of information confirming how it works exactly, has led to a "subdued market" in the interim, says Knight Frank. Introduced in 2012, the details will be published in the next eight months, ending the uncertainty.
If you are interested in buying into the Alpine ski market in France or Switzerland, here are three ski chalet properties to help you with your Alpine property search.
Coup de Coeur in Chamonix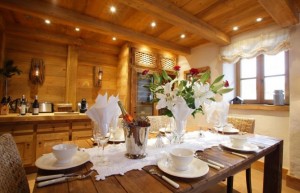 This beautiful modern Alpine apartment (HH-5866463) is positioned in the heart of Chamonix. It offers three spacious bedrooms, private parking, a balcony and stunning views of Mont Blanc. It is on the market for €1,690,000.
Exclusive location in Val d'Isère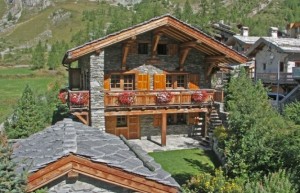 This exquisite four-bedroom chalet (HH-7356502) was built with impeccable attention to detail in 2006 by one of the village's top chalet builders as his personal home. It is situated in one of Val d'Isère's most exclusive areas, just minutes away from the pistes and village centre, and due to its south-facing position enjoys sunshine all day long. Further highlights include an indoor swimming pool, playroom and guest house. Priced at €4,350,000, this is an excellent opportunity to invest in a rare and special property.
Alpine panorama in Villars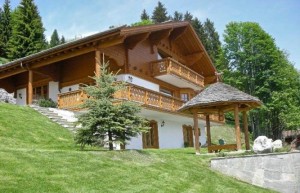 Located near Chesières, a few minutes from the centre of Villars, this luxurious four-bedroom ski chalet (HH-4901090) offers unrivalled views of the Alps which are absolutely breath-taking. Taking in the panorama of the southern Alps and the Les Diablerets glacier, the incredible scenery is available from almost every room. There is seemingly no end to the special features of this property, but the most luxurious include: a cinema room, gym, hammam, sauna and Jacuzzi. The price is available on application.
To search for Alpine properties in Home Hunts' portfolio, visit www.home-hunts.com, but to speak with a consultant directly about your criteria, call +33 (0)970 44 66 43.