Property in the French Alps
French Property News magazine just published an interesting article about the Morzine property market. Morzine is a beautiful resort in the French Alps which has a lot to offer for all of the family, all year round.
Fran Marcellin spent a long time researching the resort and the property market there for the article. As part of her research, Fran visited Morzine and spoke to locals and agents, including Home Hunts naturally. She spent time exploring this Alpine wonderland to find out why this is one of  the places to come if you are interested in property in the French Alps and why it is so much more than just a ski resort.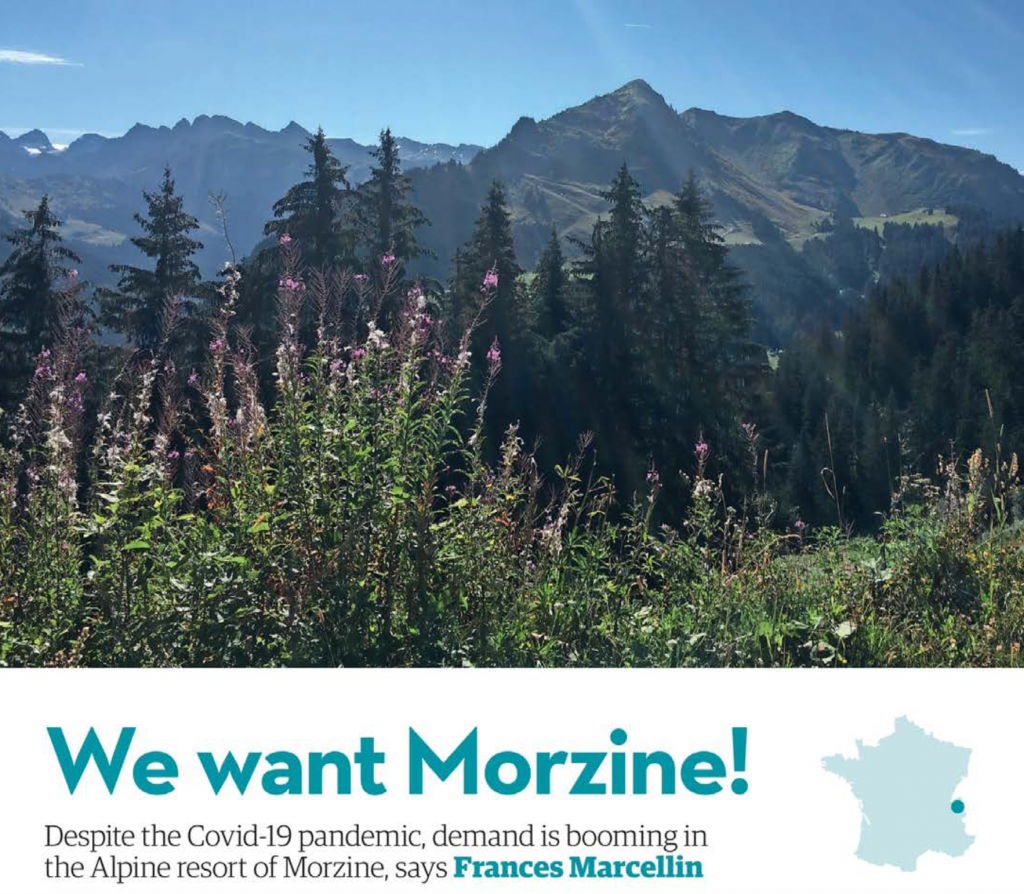 Morzine Property
The Morzine property market is booming in 2020. As Fran says in the article 'Morzine's increasing popularity and busy winter and summer seasons make it an excellent destination for holidays and year-round rental opportunities. But that's only part of the reason for this boom in the property market. Buyers' changing priorities due to the Covid-19 pandemic and, for UK buyers, the looming end of the Brexit transition period on 31 December, have converged to create unprecedented demand.'
One agency that was interviewed for the article said that they had sat down with the team in February, at the beginning of the pandemic to discuss whether they could stay afloat until Christmas, should there be no sales. What came next was a total surprise, they ended up breaking records with the number of sales they have achieved in 2020.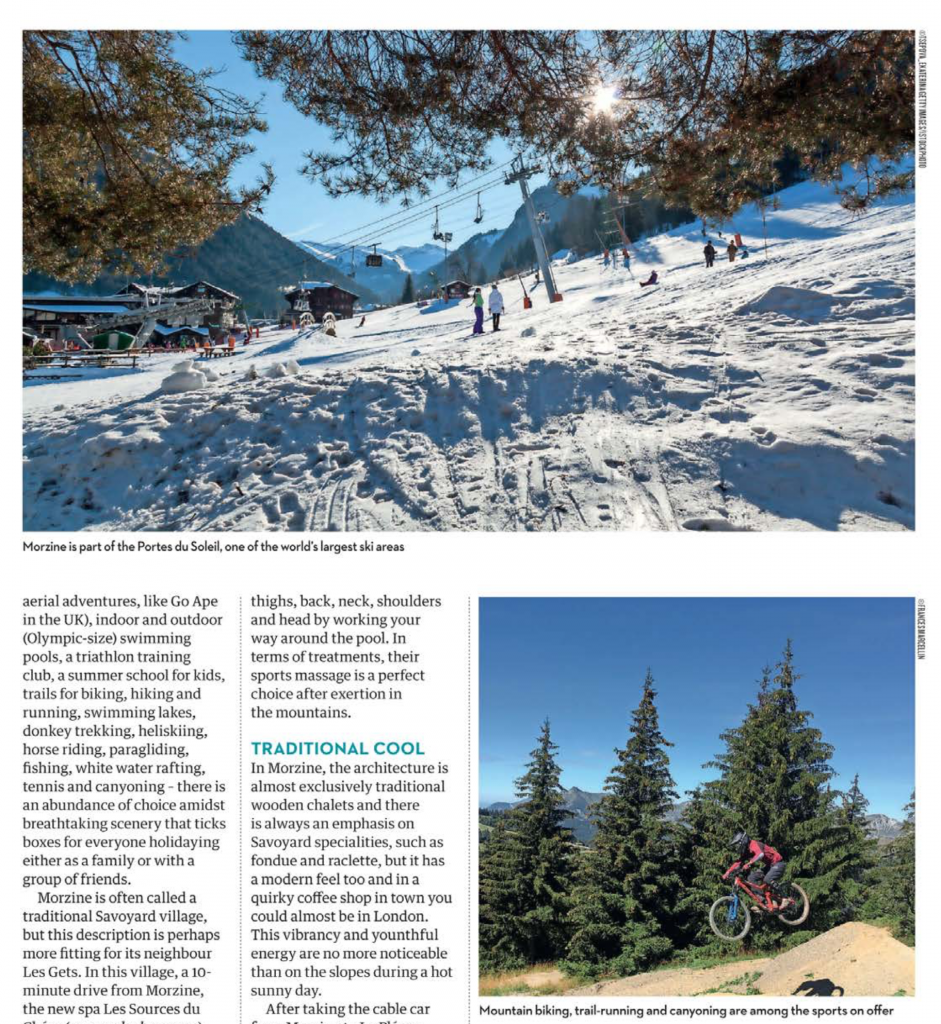 As well as talking about Morzine property market, the article also discovers what Morzine has to offer – 'Morzine, as the largest resort in the Portes du Soleil ski area, connects 15 resorts and 650km of slopes across France and Switzerland. It is renowned for being a popular winter destinations offering over 100km of pistes itself'
'Little more than an hour's drive from Geneva airport, Morzine can easily be reached for weekends of longer holidays. "It is closer to Geneva and the airport than many of the higher resorts and it is really picturesque with a great apres-ski scene," says Tim Swannie of Home Hunts. "The slopes of the Portes du Soleil are perfect for intermediate skiers and snowboarders which makes Morzine a very popular destination for families".
You can read the full article here and find out why the Morzine property market is so popular amongst those looking to buy property in the French Alps. There is lots of useful article information and interesting insights into why Morzine is so popular.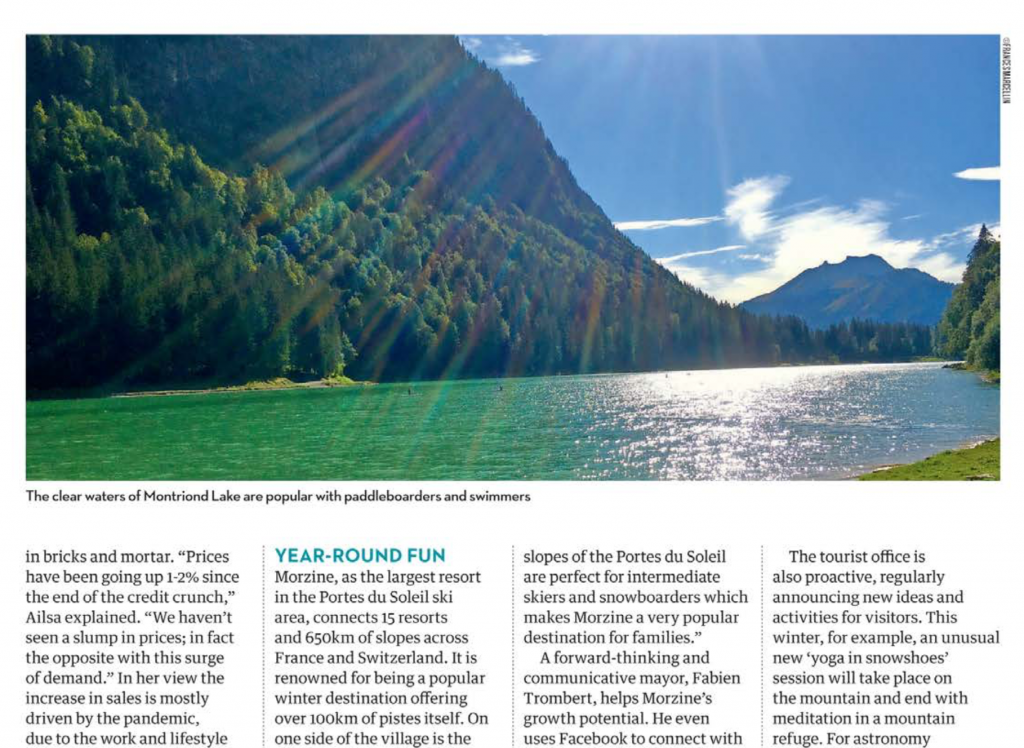 In terms of who is buying Morzine property, Fran spoke to a variety of agents and there is a wide range of people who buy in and around this wonderful resort. There are many family buyers who initially look for a holiday home to visit with their children, some of these buyers choose to move there permanently once the children have left home.  There are also many buyer's who go for the buy-to-let option , choosing to purchase new build apartments in the centre of town with easy access to the ski lifts and all facilities, that way you are guaranteed good rental return.
The article goes on to say 'Not everyone wants to buy in the centre of Morzine and there are several villages on the outskirts, such as St Jean d'Aulps, Montriond and Biot, which offer more space and better value for Monday. Tim at Home Hunts has noticed a particular increase in demand from buyers who live in cities such as Geneva, London and Paris who had spent their lockdown in apartments. "They are now buying their second home in a location where they have a garden and outside space" Read the full article here
Home Hunts are here to help you to find your French property. If you would like to speak to one of the team to discuss your needs or just to have a chat about the market, you can call us on +33 970 44 66 43 or send us a mail to info@home-hunts.com. If you just want to browse through thousands of beautiful French homes, visit our website at www.home-hunts.com or follow us on Facebook or Instagram.