While you can expect the sun to shine during the cooler months in France, it is important to be cosy inside as the temperature drops. Here are six stunning fireplaces that add warmth and beauty to your winter wonderland.
A recent article in the Daily Telegraph featured homes in France and the UK with open fires. One of the properties selected was from Home Hunts' online portfolio: an 18-bedroom Renaissance château in the Dordogne.
Sizzling in Sarlat-la-Canéda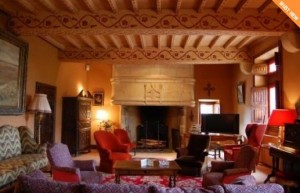 This incredible property in Sarlat-la-Canéda (HH-8679204), in the Périgord Noir, has open fireplaces in the kitchen, living room and most of the bedrooms, as well as a beautiful stone fireplace in the drawing room. But these are just the start of the original features that adorn this beautiful château.
Split over three levels, the property includes a charming traditional courtyard, wine cellar and wine tasting area, caretaker's house and several outbuildings. It also has a salt swimming pool that has been carefully designed around the walls in the grounds. An immaculate, large lawn and views over the local countryside and nearby river, make this an excellent potential wedding venue. The property is on the market for €3.6 million.
All fired up on the Riviera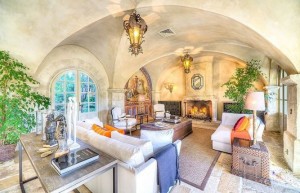 This exceptional château, which is located in La Colle-sur-Loup on the Riviera (HH-8757708), is arguably as close to perfection as a property in the South of France could get. It has been entirely renovated with class, style and with the utmost of taste, so that each of its magnificent rooms and 15 bedrooms offer beautiful, luxurious surroundings.
With much of this property from the 16th century, the original open fireplace in the living area is the focal point of this glorious room. Most of the other rooms, as well as the bedrooms, also have working fireplaces that bring both beauty and warmth. Further highlights include a gym, wine cellar, artist's studio and lake. The price is available on application.
A roaring renovation in the Lot-et-Garonne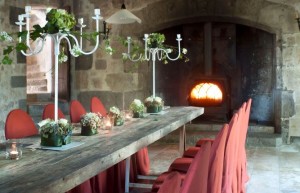 Located in the Lot-et-Garonne, it's difficult to choose a favourite fireplace out of all those that have been carefully preserved in this remarkable 13th century château (HH-6307488). Perfectly combining old, traditional features – such as wooden beams and staircases – with modern renovation work, this eight-bedroom property includes a wonderful working fireplace in the master bedroom and a stone fireplace in its medieval-style dining room.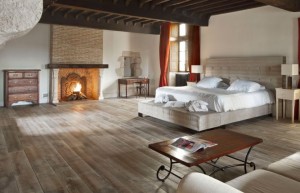 Set on nearly 20 hectares of land with views over the countryside, this is another property with considerable commercial potential. Just an hour from Bordeaux and Toulouse airports, it offers all the comforts required for a luxurious lifestyle, such as a Jacuzzi with a view, sauna, helipad and a heated outdoor swimming pool. Priced at €4,600,000, this is an excellent investment opportunity, which is currently rented out for weddings and events at €10,000 per week.
4) Hot property in Courchevel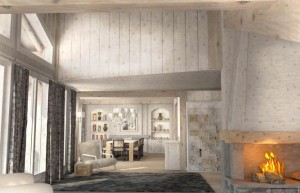 This impressive luxury chalet in Courchevel 1850 (HH-7138493) is nestled among pine trees for a feeling of total privacy, yet is also close to the centre of the town and slope access. The open fire in the living room of this property has been exquisitely designed and is enhanced beautifully against the property's cool, neutral interior design.
Luxurious throughout, this six-bedroom property is one of the most coveted in Courchevel, as it comes complete with a breath-taking indoor swimming pool with Jacuzzi, steam room, cinema room, ski room, gym, wine cellar, elevator and large terrace. A must-see property, the price is available on application.
Warm up in the heart of Cap Ferrat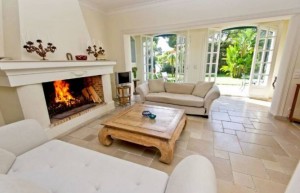 A splendid villa in Cap Ferrat (HH-9115159), this five-bedroom property is surrounded by lush manicured lawns and a large swimming pool. Full of light, its classical style sets off the big and beautiful open fireplace in the spacious living room and there is also an impressive fireplace in the master bedroom suite, which also has a private terrace.
On the ground floor there is an office and guardian's apartment and a large terrace that makes a wonderful spot for entertaining, especially as it is right in the heart of Cap Ferrat. The price is available on application.
With a panoramic sea view, this fantastic five-bedroom property in Nice (HH-8465068) may have a classical exterior, but its interiors are sleek, ultra-modern and minimal. Even the fireplace is state-of-the-art, running along the width of the stylish bar area, which is located off the living room.
The property is also fitness friendly, as there is a large swimming pool with pool house outside and a gym, and has a two-bedroom guest apartment and an independent studio. The price is available on application.
To search for properties in Home Hunts' portfolio, visit www.home-hunts.com, but to speak with a consultant directly about your criteria, call +33 (0)970 44 66 43.