Property in Provence
There is a great article in today's Sunday Times which focuses on the picturesque and popular area of Les Alpilles in Provence. The article is entitled 'Where to buy property in Les Alpilles, Provence' and goes on to say 'As the Brexit deadline approaches, those in the know are fleeing to the cosmopolitan hotspot in the south of France, writes Hugh Graham'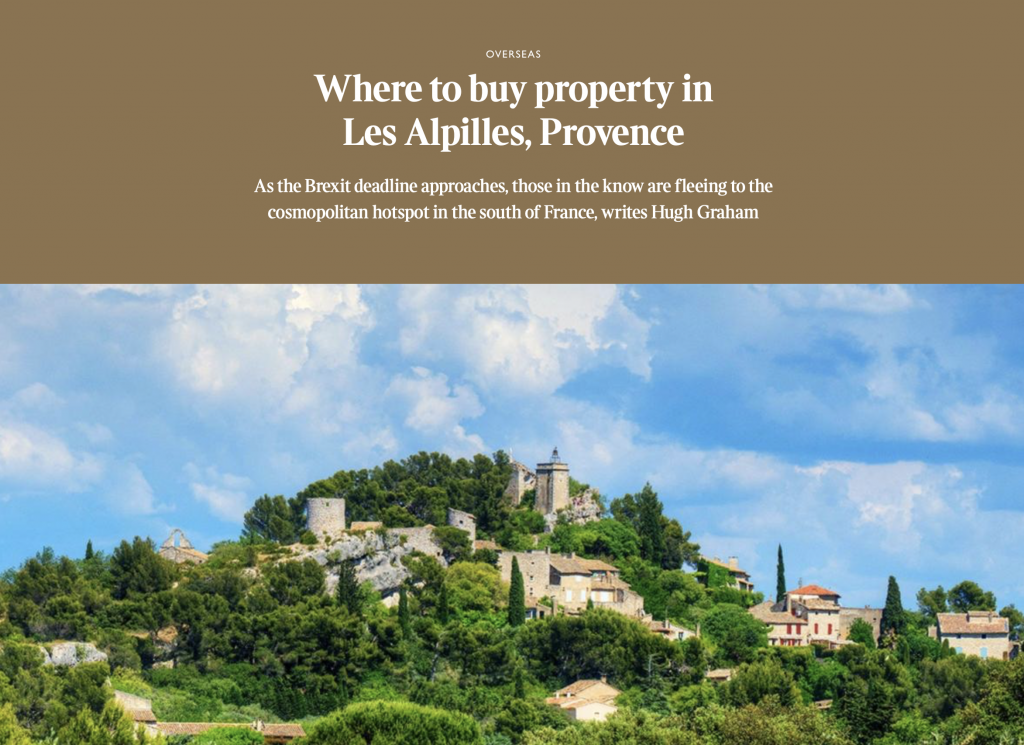 The article is a result of several conversations between the Sunday Times and Home Hunts' Provence Manager Nicola Christinger. Nicola is quoted several times along with a number of Home Hunts clients, it really gives a nice feel for this captivating area.
Click here to read on the Sunday Times website although it is behind a paywall so you can read below:

A Year in Provence, the 1989 bestseller, inspired thousands of Brits to swap the 9 to 5 for an ancient farmhouse surrounded by olive groves, lavender fields and vineyards. But the dream may soon slip away: as the Brexit transition deadline approaches on December 31, Francophiles are scrambling to establish residency so they can retain EU rights to remain for longer than 90 days at a time.
In Provence there has been a "mad rush" to buy property, according to Nicola Christinger, manager of Home Hunts, a search agency. But not in the Luberon, the region made famous by Peter Mayle's book. That area may be the stronghold of British second-home owners, but it is dead in the winter. The new Provençal enclave for full-time expats is Les Alpilles — a craggy, little-known mountain range with a cluster of medieval villages about an hour northwest of Marseilles.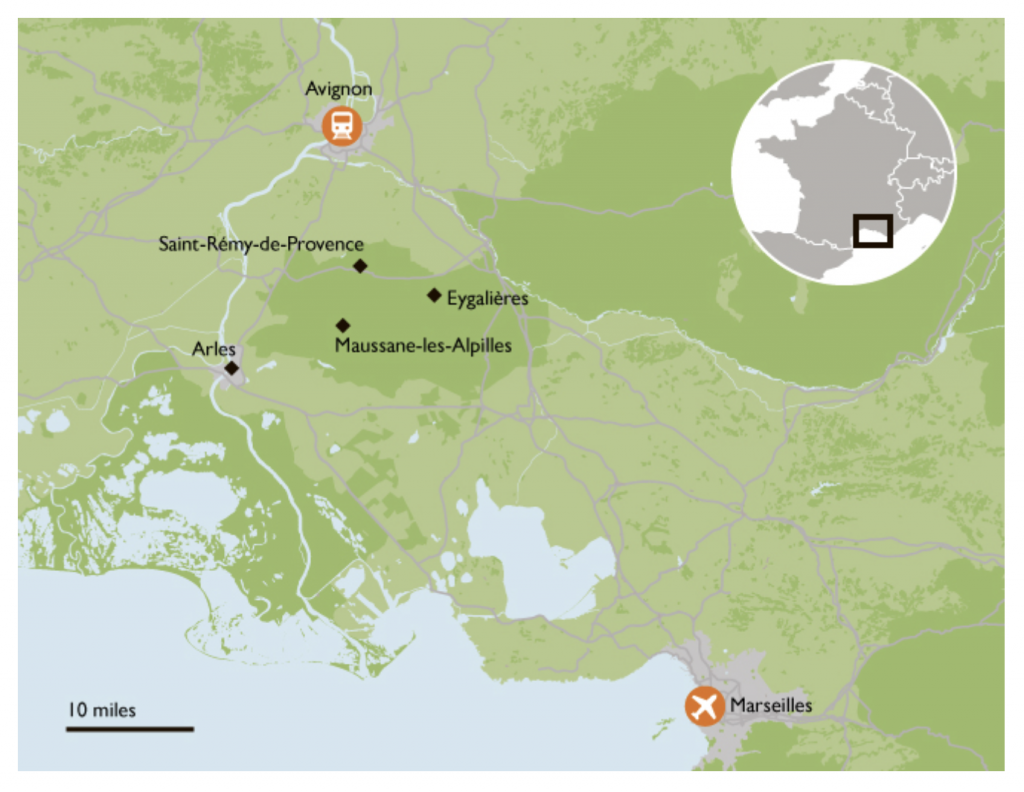 The "golden triangle" — yes, there is one here too — is between Eygalières, Saint-Rémy-de-Provence and Maussane-les-Alpilles, a dinner-party circuit for an affluent international crowd, but particularly Remain-leaning Brits, the most famous of which, the actor Hugh Grant, bought a home in the area a few years ago. "He walks around and nobody bothers him," says Christinger, who likens the villages in the Alpilles to the Cotswolds in terms of charm and demographics: a four-bedroom village home would start at €1 million, but costs more like €2.5 million with a couple of acres. "Unlike some parts of France, which are populated only by Brits, Eygalières has a cosmopolitan mix," says Jeffrey McCall, 62, a retired brand consultant and former Londoner who paid over €1 million for a four-bedroom 15th-century maison de maître he and his husband have since renovated.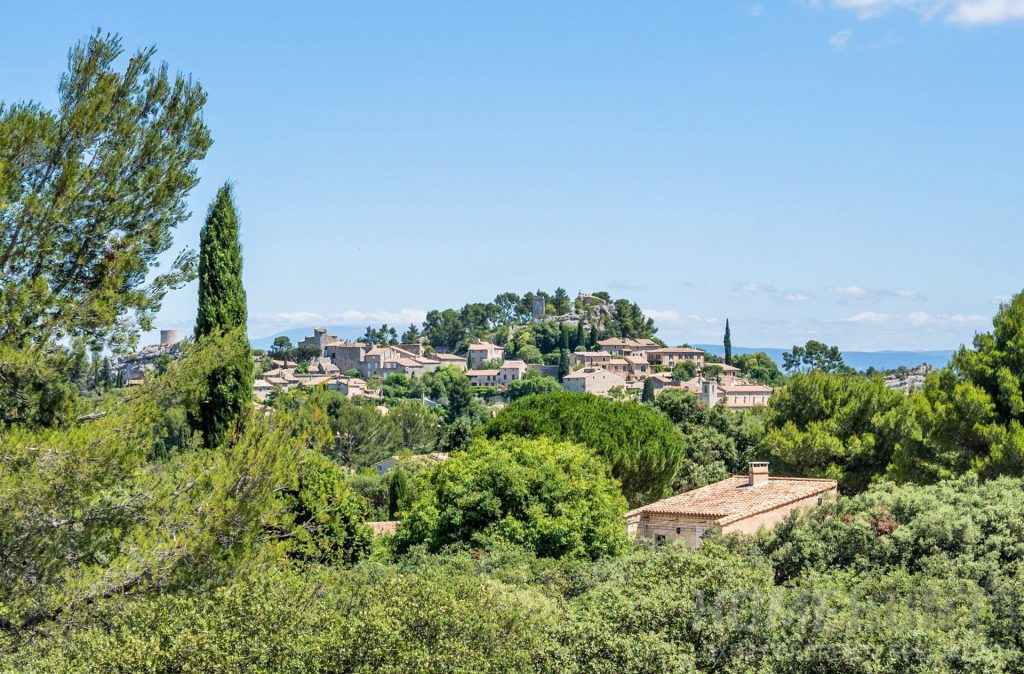 "We have a lovely group of friends, French and expats: British, Canadian, Australian, American, Belgian and German. Brexit is a big topic of conversation here. I'd say all of our friends are Remainers except for one."
McCall specifically requested a village with a school, so it would have year-round life. Other perks: they are a short walk from a boulangerie, a newsagent and a Michelin-starred restaurant, for when they are not sitting by their pool.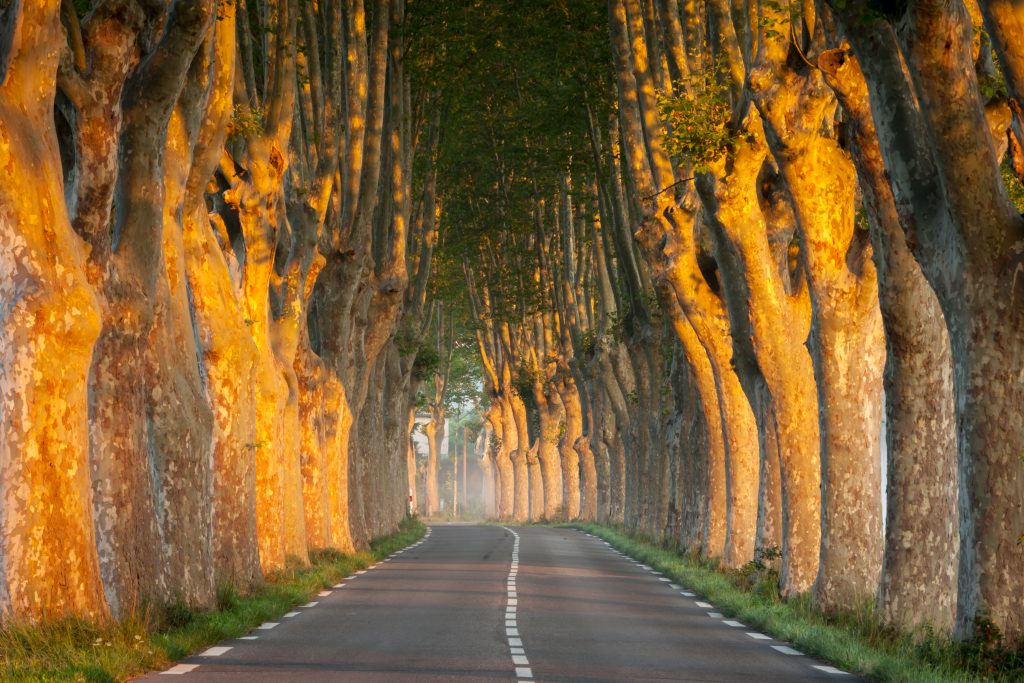 So is Lorraine Goble, an interior designer, 60, who moved to Saint-Rémy-de-Provence from Gloucestershire in 2017. She and her husband, a financier, paid €1.4 million for a five-bedroom farmhouse with a pool in two and a half acres, and spent two years doing it up.
"We had been looking in the Luberon for 15 years with a view to retiring there, but when we visited friends in Saint-Rémy we had a lightbulb moment. It is buzzing all year round. It is very cultural. It has a Roman influence, there are Van Gogh walks, there is every kind of class: tap dancing, bongo playing, karate, kung fu. There is a cinema that shows international films. You could eat in a different restaurant every night of the week. There are individual shops, no chains, including a fabulous bookshop. Every morning we go and get bread and croissants and sit in the sunshine. We go to the market every Wednesday and have coffee with friends."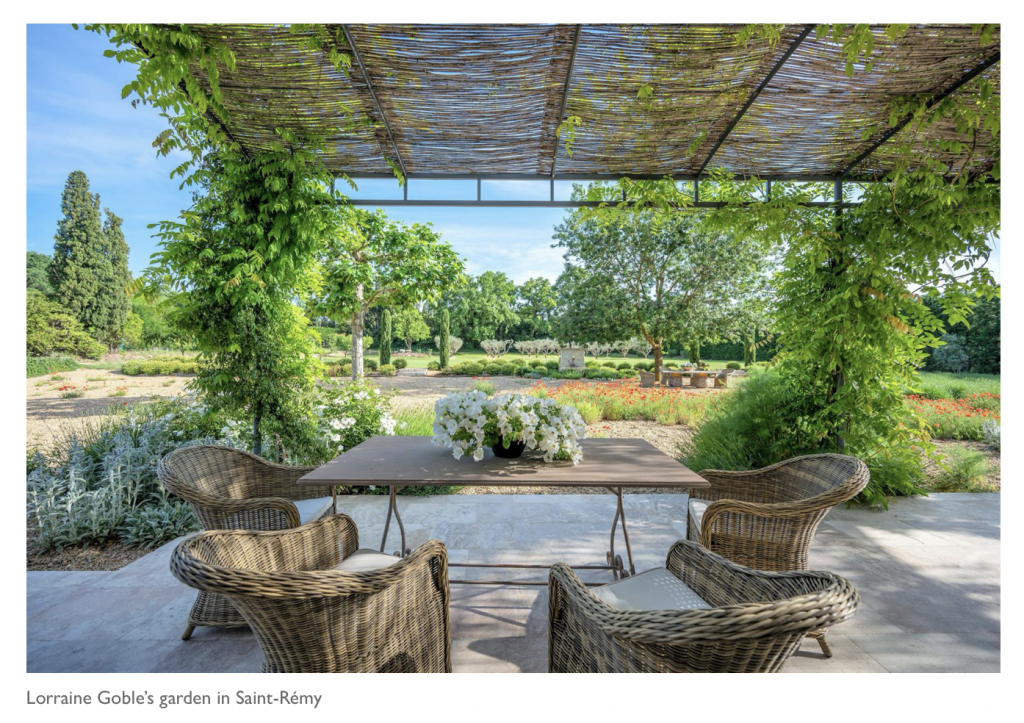 Additional cultural pursuits are available in nearby Arles or Avignon, but Goble spends a lot of time pottering in the garden. "I have white roses, a field of lavender, an olive grove, wisteria, cistus, Russian sage, oleander and a little orchard. Nearby there are apricot and almond orchards. There are lots of types of tomatoes. Simple salads are so colourful. In summer we have a light meal and salad, a lot of fish and goat's cheese. In the winter we have lamb and hearty Provençal stews. People sit around in restaurants playing cards. The French appreciate the expats for helping the local economy."
Indeed, Lissie Templeton says the greatest asset of the golden triangle is the "supportive local community. All the villages are within 15 minutes of each other, and we just hop on electric bikes and go to see friends in the next village. It is very social." Templeton, 60, a property manager, moved here with her husband in 1999 from London. Now divorced, they sold their house in 2013 and her husband returned to the UK, but Templeton stayed on. "I find it difficult to go back to the UK. The pull of the Alpilles is too strong. It is utterly beguiling." She is renting a three-bedroom 18th-century village house with terracotta floors and two sitting rooms in Maussane-les-Alpilles. "It is sweet and cosy."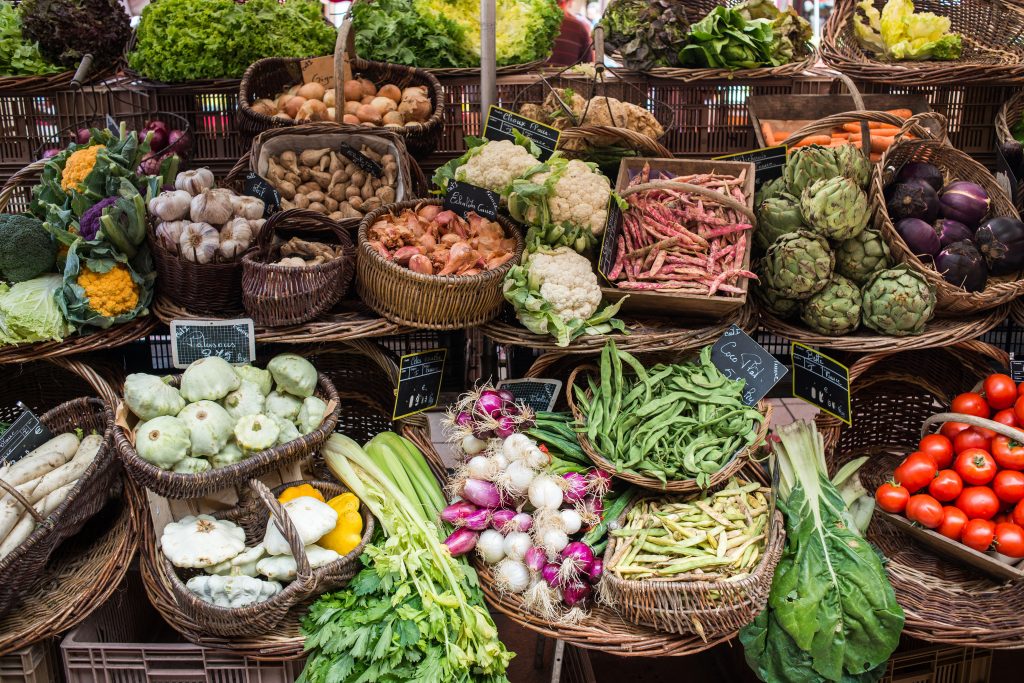 It is a deliciously middle-class existence: Maussane has three boulangeries, a fishmonger, a cheese specialist, a wine merchant and a butcher where people discuss recipes in the queue. "The greengrocer, Jardin des Alpilles, we call it Fortnum and Mason, it is tremendous. Here you shop on a daily basis. If you move here, you have to have a Nigel Slater cookbook: you can't read it without popping out to buy something you need. Everything here grows locally."
Perhaps that's why the chef Heston Blumenthal also moved to the Alpilles — he relocated to Eygalières in 2018 and frequents the Friday market there. Summers are hot, but winters are generally mild. "We had snow in 2003 and 2009, but I have sat outside for Christmas lunch in just a T-shirt with cashmere draped over my shoulder. But living here is not just about sitting on the terrace drinking rosé and looking at the hills. There is so much more than that."
Property in Provence
The article also includes beautiful property in Provence, two of which are properties from Home Hunts: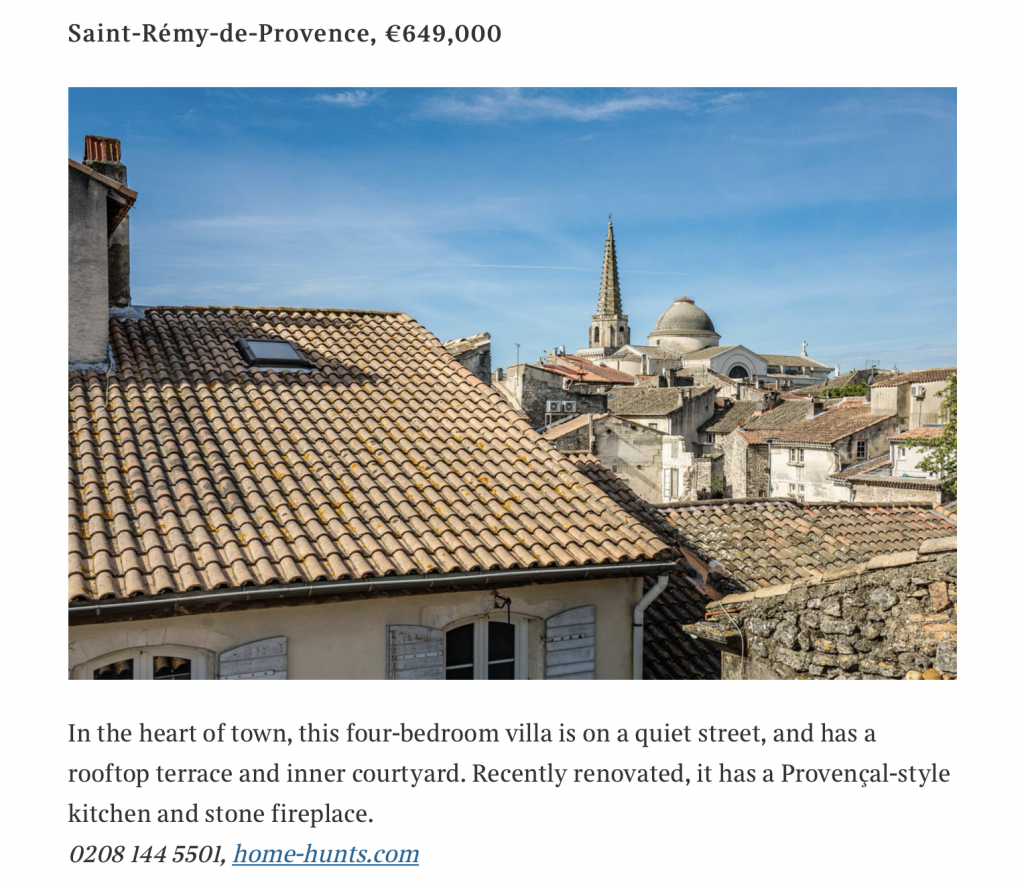 Click here to see more details of the pretty property above, in the heart of Saint Remy de Provence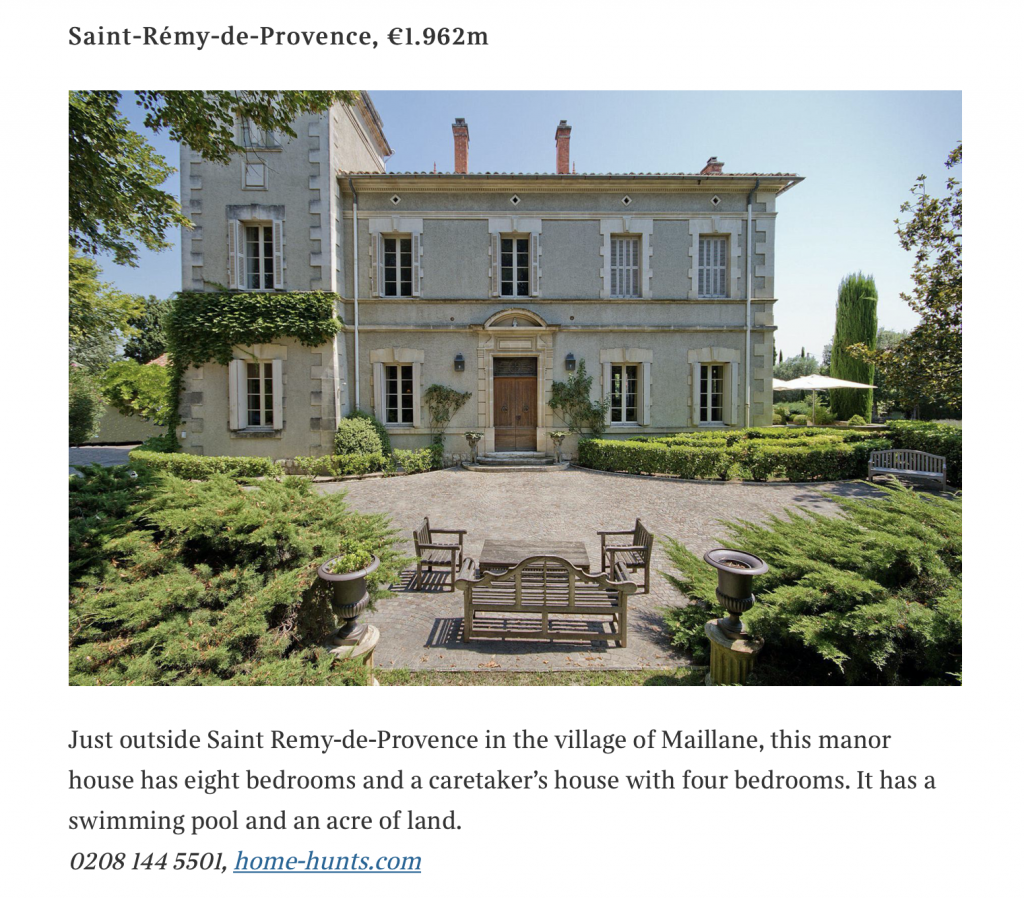 For more information on this stunning property just outside Saint Remy, click here
If you are interested in finding out more about property in Provence or elsewhere across France, feel free to call the office on +33 970 44 66 43, email us at info@home-hunts.com or search through thousands of french properties for sale on our website – www.home-hunts.com