Luxurious, tasteful, unique and with good investment potential – these five homes for sale in Nice have been handpicked by Home Hunts to take your prime property search up a level
If you are looking to buy property in a coastal city on the French Riviera, one of the best locations for investment is Nice. This is a city with a unique style and personality, embracing a cosmopolitan culture that attracts people from all over the world.
Nice is the perfect choice for international investors looking for glamour and atmosphere during summer holidays, or seeking a new lifestyle with a permanent move. With its famous pebbly beach, a yachting marina, Mediterranean coastline and a thriving arts scene, the events calendar is packed all year round.
And with Nice airport on the doorstep providing connections to international locations twelve months of the year, it ticks the practical boxes as well as the more idealistic ones.
Home Hunts' 2019 property insights report Inside France, featured Nice as ideal for those seeking an investment in a lively coastal city. "The work on public transportation in the area brings enormous benefits to buyers and for a property's rental potential," said Tim Swannie, Director of Home Hunts. "They are just finishing the tram that will link up Nice airport and the city, and this has really helped to increase interest in the area. You can literally land at the airport and walk out straight on to a tram and be downtown in ten minutes or so."
Architectural beauty
Designed by French architect Marcel Biasini in 1798, this is a unique and special property (HH-12779569) that when renovated will once again glow with its original splendour.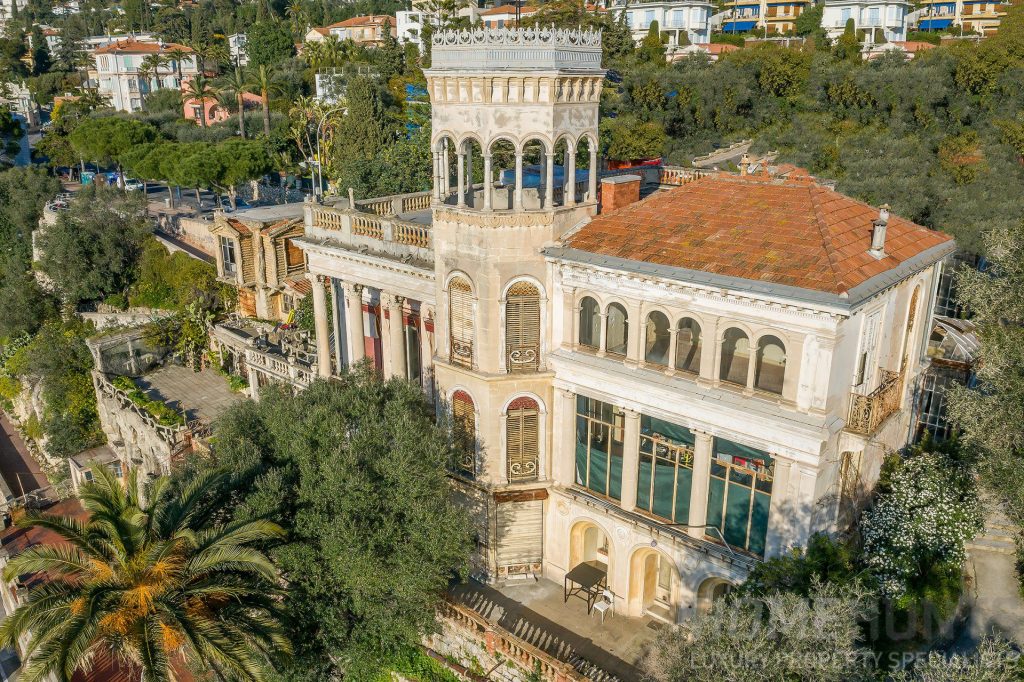 From the majestic columned balcony overlooking the Mediterranean Sea, to the decadent interiors and intricate ceiling artwork, a house like this is a rare find on the coastline that is waiting for the right owner to bring her to life again.
It is possible to build a pool into the rocks as well as a south-facing interior pool, so it could be an ideal project for someone who loves entertaining and spending summers in one of the French Riviera's most exciting cities. Planning permission has been granted for the site, so interested buyers should get in touch as soon as possible. It is on the market for €7,900,000.
Dare to dream
This glorious modern four-bedroom villa (HH-12776084) has so much to offer a family searching for a holiday home in Nice or even a permanent residence as it is well equipped to serve both criteria.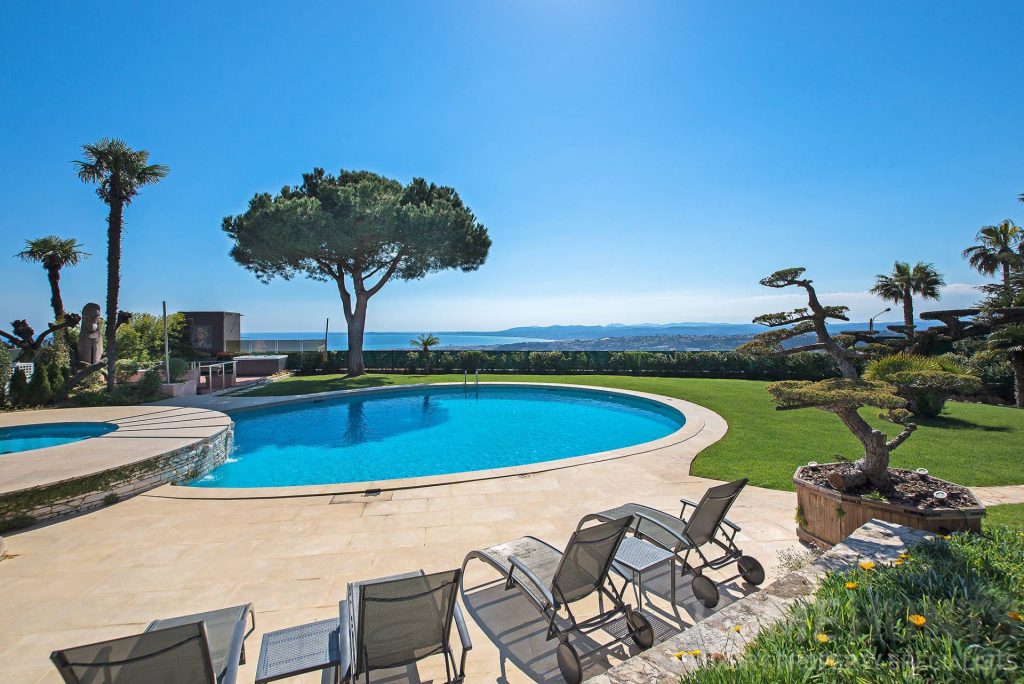 Located in a residential area, but with panoramic views of the sea, the gardens with its tall palm trees, manicured lawns, large terrace with covered dining table, heated swimming pool and Jacuzzi make the optimal set up for summer entertainment. Indoors, the deluxe surroundings extend throughout with beautifully-styled modern spaces that include a billiards room and a cinema.
With an independent studio and gym, a deluxe lifestyle awaits in this property.
Heart to heart
A stunning mansion in the centre of Nice (HH-12562974), at the heart of a magnificent park with views over the park, sea and city, this property is full of sunshine and charm.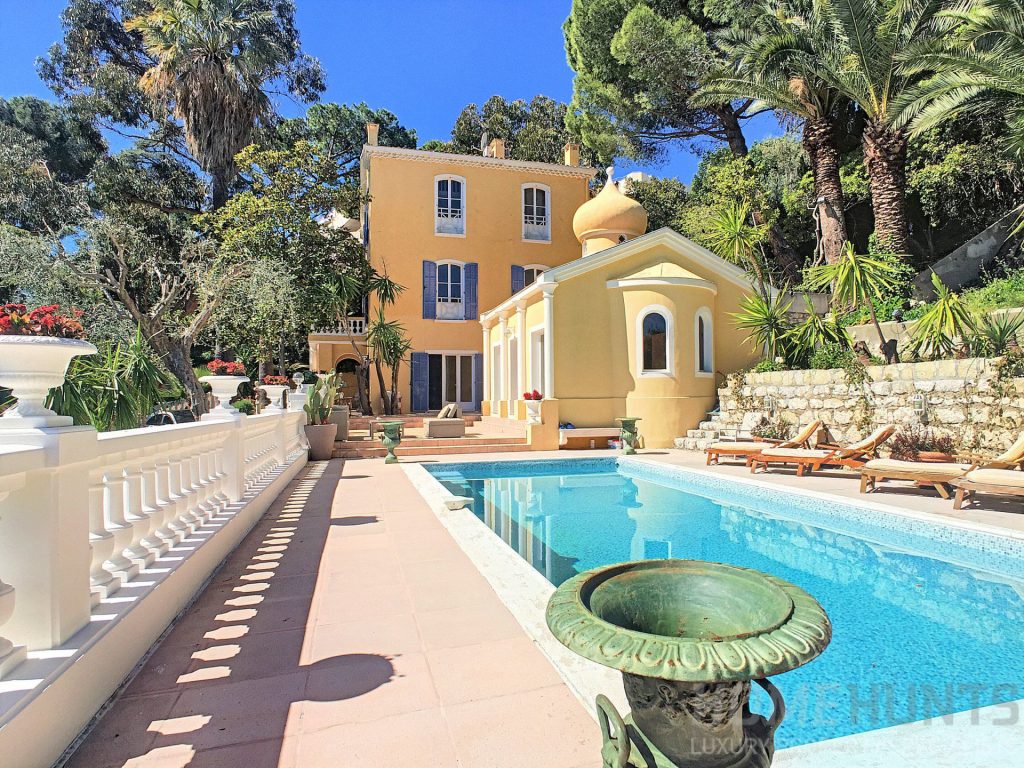 Outdoors is a delight. From the heated pool to the terrace, the tall palms and pretty chapel which houses a hamman, spa and shower, every aspect is deftly designed to make summer days and evenings as pleasurable as possible.
Inside, the light-filled, spacious rooms make this property a pleasure to be inside as well as outside.
Live with your "pieds dans l'eau"
Two-bedroom waterfront properties that are as close to the sea as this one are a rarity – and this spectacular property (HH-12825544) truly embodies the concept of "pieds dans l'eau" (feet in the water). If you love to hear the lapping of the waves and want direct access down to the water's edge from your own home then this this stunning home a must-see.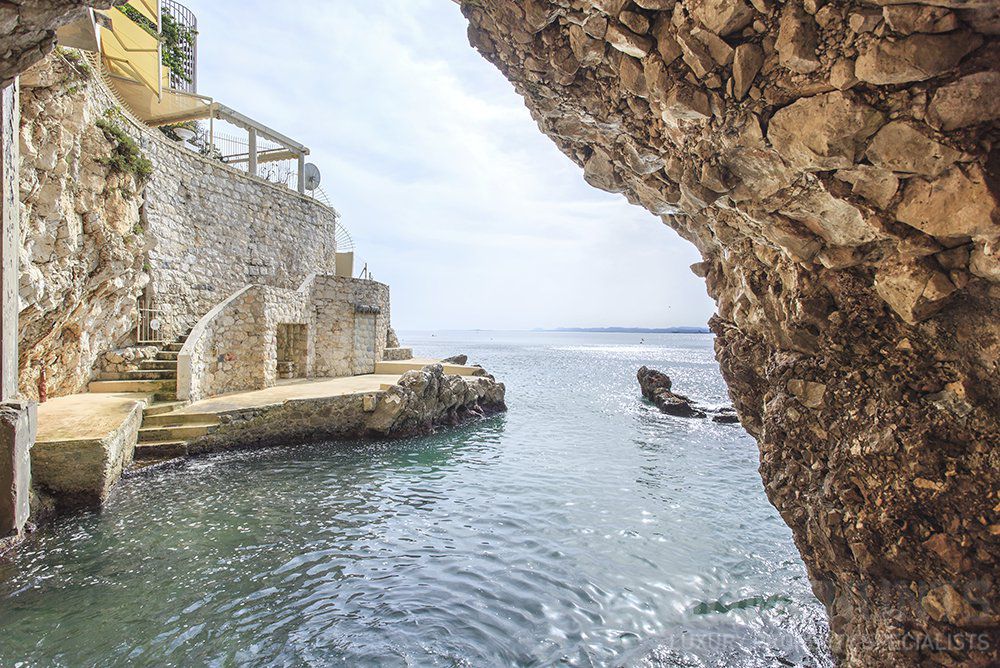 This apartment boasts an abundance of natural light and is set over an entire floor with varying levels of external features leading down to the sea. A wrap-around terrace means you can enjoy the views from every angle.
A B&B to change your life
The French Riviera is one of the most visited destinations in France and this striking high-end B&B is in an excellent location, overlooking Place Massena, to attract visitors who like the finer things in life.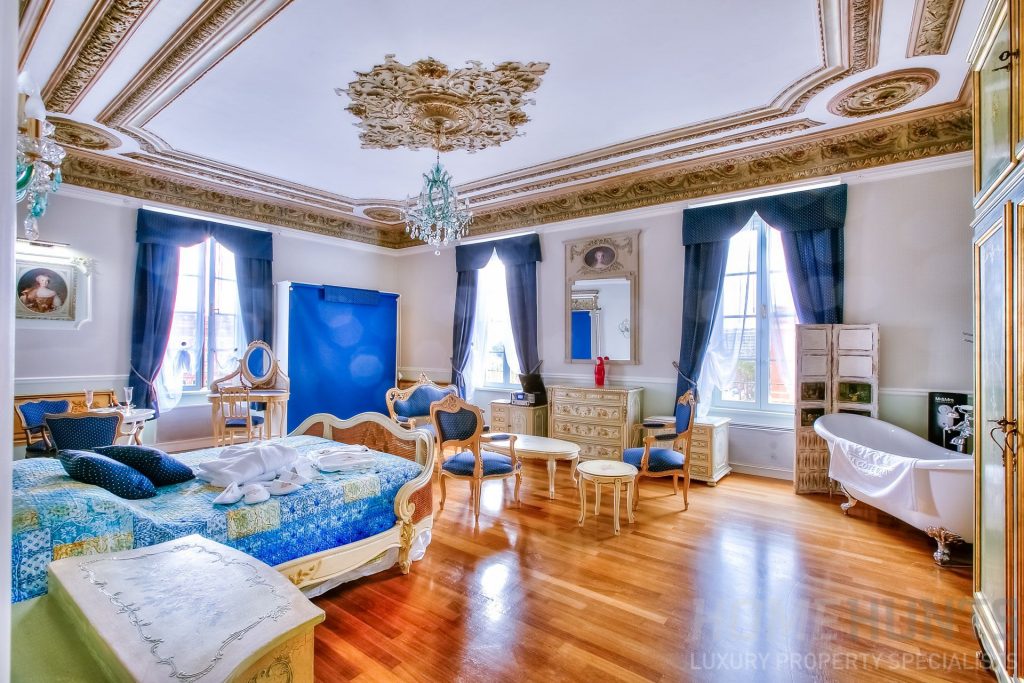 This striking property is Venetian in style and each room provides guests with a large living area, bed, in-built stylish kitchen and bathroom.
If you are seeking an income or are looking to change your life, this unusual and luxurious B&B provides a way to live and work in one of the most sought-after cities on the Côte d'Azur.
Home Hunts are buyer's agents, we are here to help you to find your dream properties for sale in Nice and throughout France. If you would like to speak to one of the team to discuss your needs or just to have a chat about the market, you can call us on +33 970 44 66 43 or send us a mail to info@home-hunts.com. If you just want to browse through thousands of beautiful French homes, visit our website at www.home-hunts.com  keep up to date with our latest news at www.home-hunts.net or follow us on Facebook or Instagram.