The Home Hunts Team checked out the Salone Internazionale del Mobile, happening now in Milan and found these trending designs and collaborations that will surely inspire you for your next home design project!
With every property purchase, one of the first things that comes to mind is the design and furnishings that will occupy your beautiful new home. We go to design magazines and watch home interior programmes to get some inspirations,  one of the best references that we would recommend in getting major home design inspiration is to visit the Salone Internazionale del Mobile, one of the biggest and most sought-after design exhibitions in the world which is happening this week in chic Milan, Italy.
The exhibition this year is divided into three areas: Classic, Design and xLux, with the latter dedicated to timeless luxury reworked with a contemporary touch.
Thousands of designers, architects, interior design wizards and home furnishing brands gather at this very exclusive event and Home Hunts is covering the top trending designers, collaborations and designs this week at this exclusive fair. We have divided the section into different home areas for you to easily see the most innovative design and collaborations that will surely get you inspired in starting or continuing your home design project this year and look at some of the properties that we have in our portfolio that possess all these top design trends and furnishings.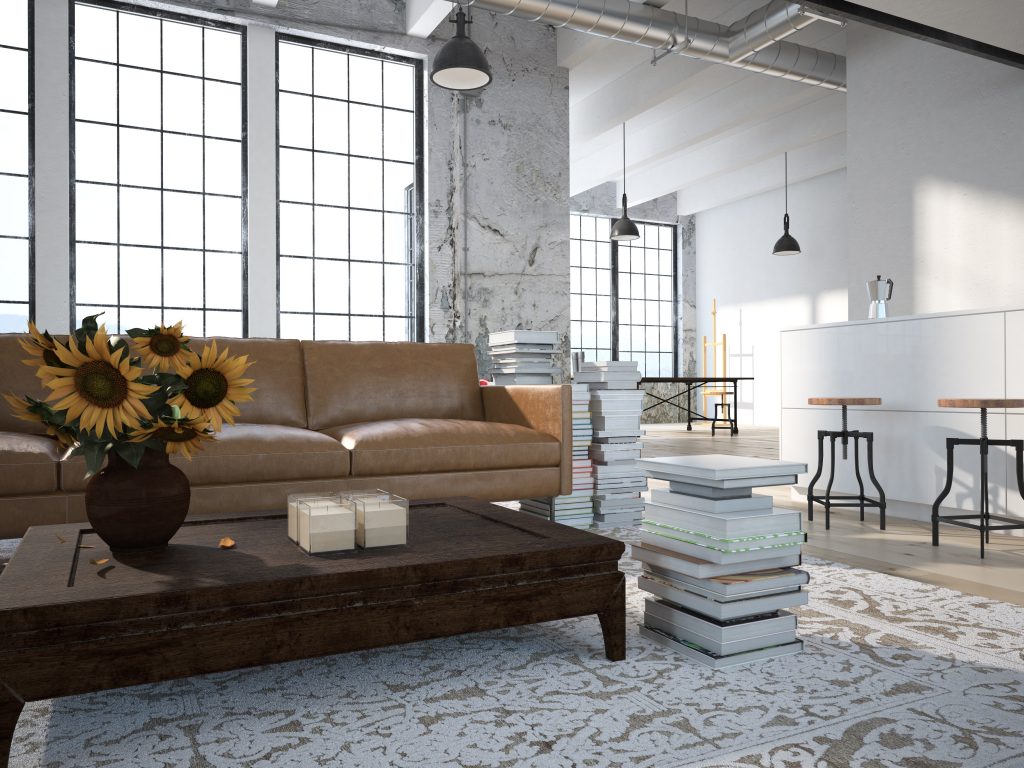 Whimsical Design Inspiration for Kitchens
Jamie Hayon has collaborated with luxury marble table top makers, Caesarstone and has launched the collection called Stone Age Folk this week at the Salone Internazionale del Mobile. Presented in the collection are table tops, doors and closets that exhibit the signature playful style that Hayon has been known for with his past projects with famous furniture brand Fritz & Hansen and many more.
Marble table tops for kitchens is always the top luxury choice for anyone looking to spice up the cooking arena with a sleek look that compliments a fully functional kitchen. Caesarstone offers the best marble table tops in different forms and prints and with Hayon's latest play on their one-of-a-kind marble stone panels, a bit of fun with print and innovative waves on your kitchen table tops would be a fabulous change to an otherwise plain setting.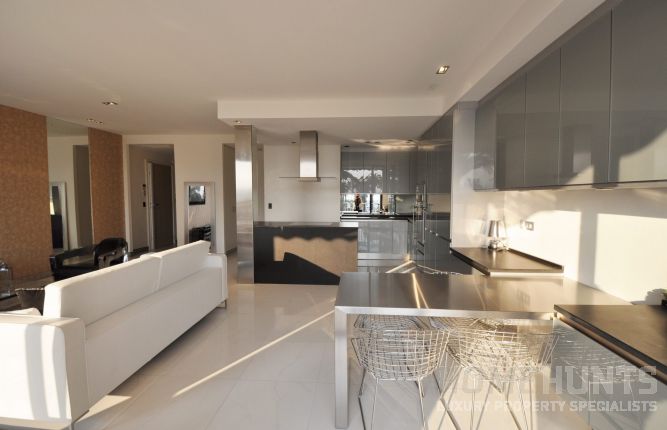 Here is a property from Cannes (HH-11464024) in our portfolio that showcases a beautiful play with black marble cut in the form of waves set on a wood panel amidst a steel background below to inspire you for your next kitchen design project. Priced at  €2,270,000  this property is truly a great deal with its ultra-high modern furnishing and top class design.
Sleek and Stylish Living Room
Trending right now in design circles everywhere is the collaboration between sought-after British Designer, Tom Dixon and popular furniture powerhouse Ikea. Yes, we did not see this coming with two of the biggest names in furniture design coming together and showcasing the latest collection of sofas and chairs at this year's Salone Internazionale del Mobile in Milan.
Ikea took over a 3,500-square-meter (roughly 37,000-square-foot) former warehouse in Milan's Lambrate district this year to present their collection, highlighting the modular Delaktig sofa by Tom Dixon. We see this sofa as a cool addition to any modern living room, accented with glass or an oval marble top side table with veins in diverse colors, a design trend that is building up now.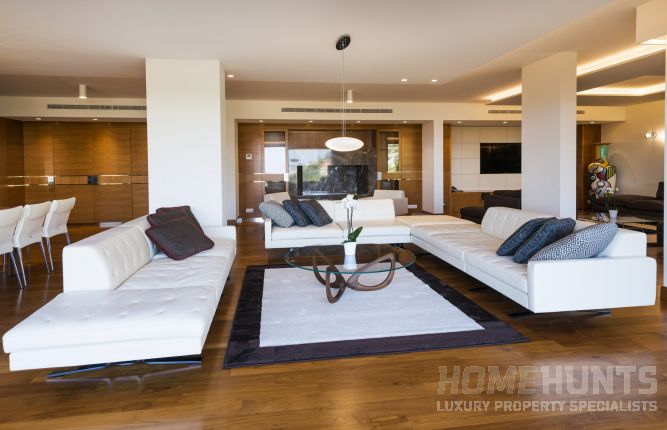 Above is one of our properties located in Villefranche Sur Mer (HH-11020247 ) that can inspire you for a beautiful modern layout crowned by your next sofa purchase from one of your favorite modern furniture design suppliers.
Elements in Modern Dining
Beyond Tom Dixon with Ikea and Jamie Hayon with Caesarstone, we see numerous design collaborations all over the place at this year's Salon Del Mobile, giving us more to appreciate and choose from and inspire us in our home design projects. There's also the latest of collection of Vitra to look forward to with the Softshell Side Chair by designers Ronan and Erwan Bouroullec who are based in Paris.
Ideally modern chairs would look great with long wooden or glass tables big enough to sit 8 to 10 persons for a great dining experience in properties that offer a lot of space for them to be fully appreciated, like this property below (HH-11454858) located above Cap Ferrat which has all the space that benefits a lot of light and that superb panoramic view of the Mediterranean sea.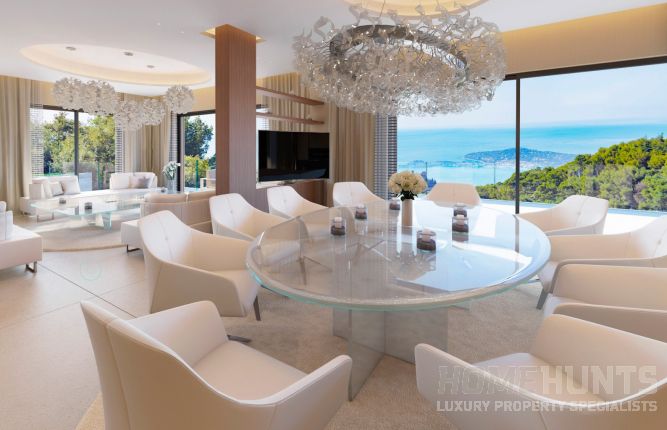 Hidden Surprise in the Bedroom
A door that's hidden from sight is one of the many trends in home design that we have seen, with a door that looks like a plaster or another one in different timber-framed designs. As an integral part of the wall, doors have rarely been given much attention with its material and color and just like curtains, they can set the stage for a pleasant surprise in the bedroom.
One of our properties in the 17th district of Paris is right on the hidden door design trend, with its master bedroom beautifully presented, just try looking for the door at the image below which is cleverly designed to be a part of the walls of the bedroom. Priced at €2,200,000 this luxury property in Paris (HH-11461256) is a great deal for its impeccably designed interiors.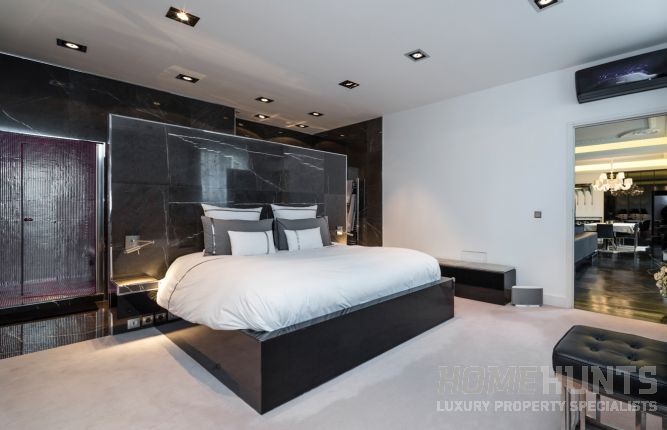 Simplicity Continues to Dictate Style in Bathrooms
Scandinavian designs have been on the radar for the longest time and we see the design trend of minimalist pieces from Nordic designers still invading our rooms and most especially, bathrooms, with one of our properties in Eze (HH-11454848) pictured below, showcasing simple Scandinavian modern design.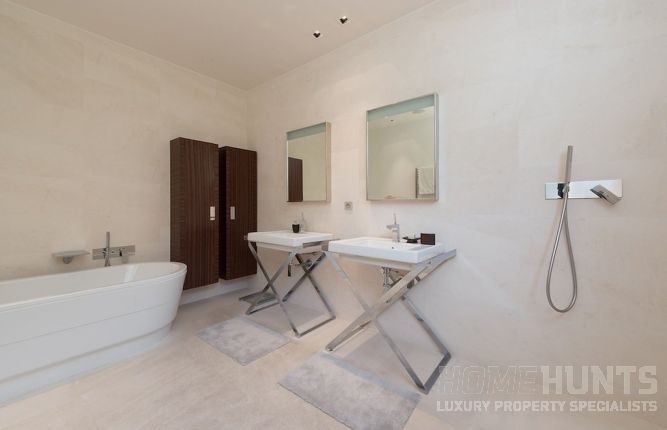 If you are looking to buy property in France, you can search through Home Hunts' portfolio at www.home-hunts.com
To discuss your specific needs and to find out more about locations offering the best investment opportunities, speak to a consultant directly on +33 (0)970 44 66 43