There is now a new and unique way to view the City of Light and it comes in the form of the Airship Paris. Following years of planning to create a new-generation airship – plus two years to actually make the vessel, which is 75 metres long (the same length as an Airbus A380) – the first flights finally took place in July 2013.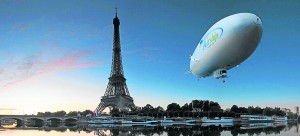 Flying at an altitude of 300 metres, passengers are able to experience panoramic views of the city – by a vessel that is powered by three engines and helium bags – and four routes are offered in total. The first is to La Roche Guyon Castle, which also takes in Villette Castle (where The DaVinci Code was filmed) and the stunning Villarceaux. The second goes to the Palace of Versailles via the iconic area of Cergy-Pontoise. Domaine de Chantilly is the third destination – where the incredible Mery-sur-Oise Castle can be viewed en route – and the fourth is called Baptême and is the initial first flight trip covering the castles of Vigny and Théméricourt, as well as the surrounding Parisien countryside. Flights cost €450 and last one hour, or there is the option of a 'Royal Flight' which lasts 1.5 hours and costs €650.
The Paris Airship's base is at Pontoise – Cormeilles Aerodrome (known as Paris – Pontoise Airport), which has two runways and lies about 7km north-west of Pontoise in the Val-d'Oise department. For those who need to fly in and out of Paris on tight schedules – and want to avoid some of the constraints from bigger airports, even Le Bourget – this little airport has many companies offering private jet charters and a fast and effective VIP travel service.
Ameridair Handling and Handling Partners are two of the fixed-based operators (FBOs) at the airport, both offering VIP facilities, complete discretion and direct private car access to aircraft. The airport is open 24/7, so flying in and out of Paris could not be easier.
Journeys into the city can be done in 45 minutes by private car or taxi, but having a property that offers good access to the airport is useful, especially for those regularly doing business in Paris.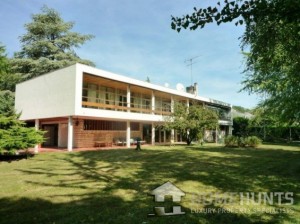 Home Hunts has many properties offering fast access to the airport – and this unusual villa (HH-6045819), in Pontoise, is one of the most unique. Actually based in Pontoise, this stunning property designed by Swedish architect Sten Samuelson in 1962 is a six-bedroom home that even offers a staff apartment. Set over two floors, with a large terrace, sauna and beautiful parental suite, this property is very competitively priced at €1,370,000.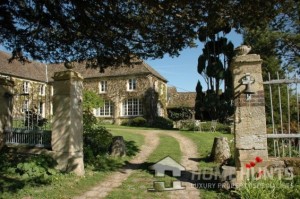 Just a twenty minute drive from Paris – Pontoise Airport and 50km from Paris itself, this charming country house (HH-4776937), with its grand entrance and traditional look could be a coup de coeur on first glance. The property is priced at €1,360,000 and offers beautiful views of the surrounding countryside.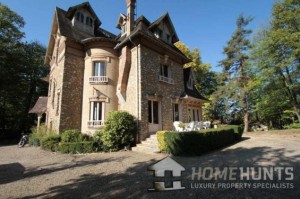 An exclusive bourgeois manor house (HH-6168335), located 20km from Paris and 30km from Pontoise, this grand property is surrounded by 1.3 hectares of wooded parkland. Bursting with character and period features, this six-bedroom home also has an outbuilding which could further extend the already-generous living space. It is priced at €1,415,000.
For more information about these properties, or others that are well located for good access to both Paris and Paris – Pontoise Airport, visit the website at www.home-hunts.com or contact Home Hunts' French office directly on +33 (0)970 44 66 43.