Home Hunts has just released the second edition of INSIDE FRANCE this week, this report shares the company's knowledge and gives an insight into France's luxury property market.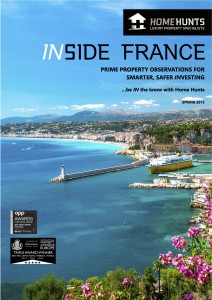 CLICK HERE TO DOWNLOAD – HOME HUNTS INSIDE FRANCE REPORT – SPRING 2015
INSIDE FRANCE is produced to offer French property buyers the chance to make informed decisions about property investment in France. Home Hunts receives around 600 property enquiries per month and the website (www.home-hunts.com) attains more than 350,000 hits on a monthly basis.
This insightful report brings together information about the prime property markets on the French Riviera, Provence, Languedoc Roussillon, Aquitaine, Paris and the Alps – Just some of the locations where Home Hunts team of property specialists are based. Home Hunts are an award winning, luxury property specialist with a team of more than 30 property experts based in France. HH take care of international clients and help them to find their dream home or investment property in France.
INSIDE FRANCE brings you information about the property hotspots in France, who is buying in each area, which price ranges are most popular, which property types are most searched for and other information specific to each region. Also included in the report is some news from the Financial world as well as specific information regarding the vineyard market.  Vineyard sales has been a real area of growth for Home Hunts in recent years, so much so that they are launching a specific department later this month dedicated to French vineyards.
Home Hunts was started in 2005 by Francois-Xavier de Vial and Tim Swannie and has slowly grown over the past decade to become a leading force in the luxury French property market. Francois, Tim and their award winning team work with clients from all over the globe and as it says in the report, they strongly believe that there has never been a better time to buy French property !

Property prices in France have dropped over the past few years, when you combine this with incredibly low interest rates and amazing exchange rate deals it really makes unique buying conditions. "We are perfectly placed to help people locate their dream properties and we focus on bringing clients what they want," says Francois-Xavier de Vial, Director of Home Hunts. "As a buyer's agent, we are in touch with all estate agents in France, and our team makes it their mission to ensure they cover the entire French market for our clients."
Home Hunts expects confidence in the market to continue growing throughout 2015 as price flexibility continues. In addition, with the general elections coming up in 2017 and a change of government expected, many buyers are already looking for properties with this in mind.
"We are already being contacted by developers and investors who are looking to take advantage of current market conditions in order to reap the rewards in a couple of years' time," says Tim Swannie. "We will continue to hone our skills and source properties that meet our clients' criteria. We want to ensure that 2015 is the year of the deal."
CLICK HERE TO DOWNLOAD – HOME HUNTS INSIDE FRANCE REPORT – SPRING 2015