If you need interior design ideas to create your own inspiring study space, or you are looking to buy a property in France that has one ready to be enjoyed, check out these five properties hand-picked by the Home Hunts team
A recent article in the Financial Times featured some inspiring study spaces in properties for sale in prime locations around the world. Perhaps the most eye-catching of them all, an exquisite apartment in Paris, is on the market with Home Hunts.
A perfect pad in Paris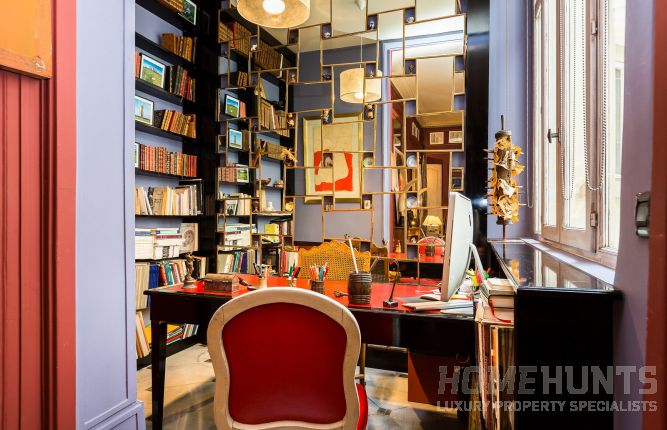 As shown in the FT, this two-bedroom duplex department (HH-11985405) is designed to perfection and is located on the noble floor of an 18th century building. All the areas in this property have been stylishly designed, from the grand mezzanine to the sumptuous living room. Yet perhaps the most attractive is the study. "A mirrored wall and bright hues make the apartment's study a quirky, if diminutive, space," reported the FT.
Located in one of the most sought-after areas in the 6th arrondissement, the apartment is on the market for €2.1 million.
Palm trees and a private beach in Provence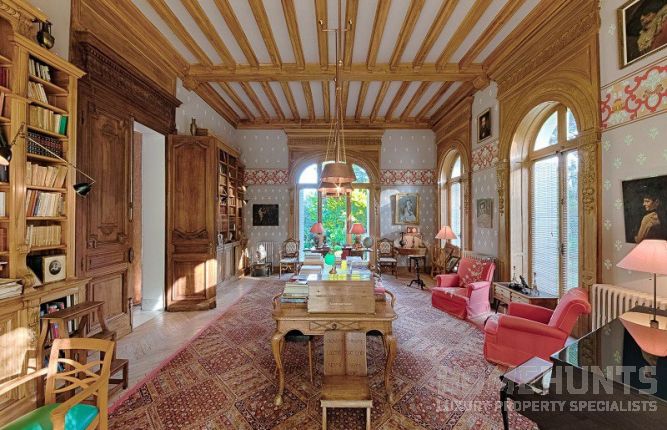 Provence has been a creative hub for thousands of artists, filmmakers and literati over the years. This luxurious Belle Epoque property (HH-1037432) – one of the most beautiful on the Provence coast – has a library and study area that can only be found in dream homes.
With high ceilings and original beams, original arched windows and sophisticated interiors that pair antiques with both colourful and muted textiles, this room is comfortable and creative – a space you wouldn't want to leave in a hurry.
The rest of the property is also spectacular. Multiple statement staircases, an enormous kitchen area, spacious rooms at every turn and a landscaped garden with palm trees and swimming pool. Just to top it off, it also comes with private beach access to its own little cove.
Hidden from sight, this waterfront property is a real gem – the price is available on application.
The best of both worlds in Bordeaux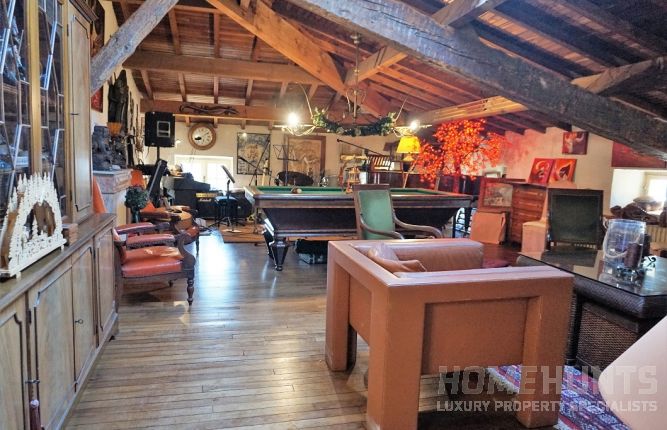 Prices in Bordeaux have risen by around 10% over the last couple of years as more Parisians take advantage of the two-hour TGV journey between the two cities.
A perfect candidate for a permanent home – or a luxurious second property – this charming château and vineyard (HH-11075504) is conveniently situated just 12km from the centre of Bordeaux.
Set in 16 hectares of land, which includes 9.5 hectares of Premieres Côtes de Bordeaux vines (5.3 hectares of Merlot and 4.4 hectares of Cabernet Sauvignon) and space for horses, this remarkable property is equally glorious inside.
Traditional décor mixed with myriad original features, from beams to stone walls and fountains make this home a charming choice. The inspiring study space takes the form of a combined office, music area and games room. Desk space, shelves of books and an eclectic mixture of belongings and decorations make this a cosy place to catch up with a project. It is priced at €3,990,000.
A rare find on the Riviera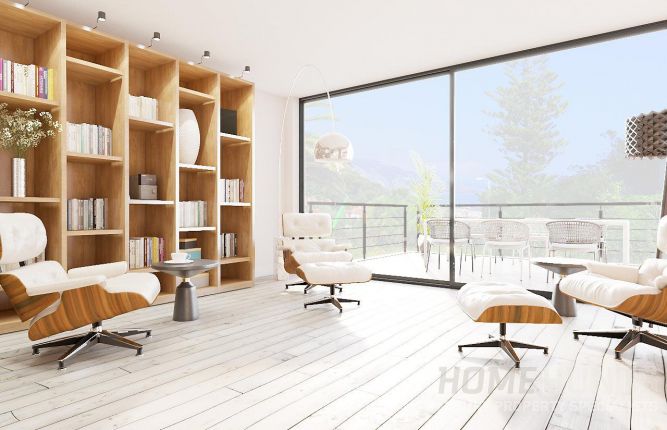 How about a new, contemporary property in a quiet residential area of Roquebrune-Cap-Martin, which is 15 minutes from Monaco? With six bedrooms, a gym, a hammam, a stunning rooftop pool and terrace plus a lush Mediterranean garden, this rare find is a peaceful place (HH-11707159) to relax and entertain.
The interior design is second to none. White and neutral tones fill the rooms that are flooded with light and the relaxing library area is no exception. With floor-to-ceiling windows, a roof terrace with sensational views and comfortable well-spaced seating, this is a special property that should be viewed as soon as possible by interested buyers.
A masterpiece in Montpellier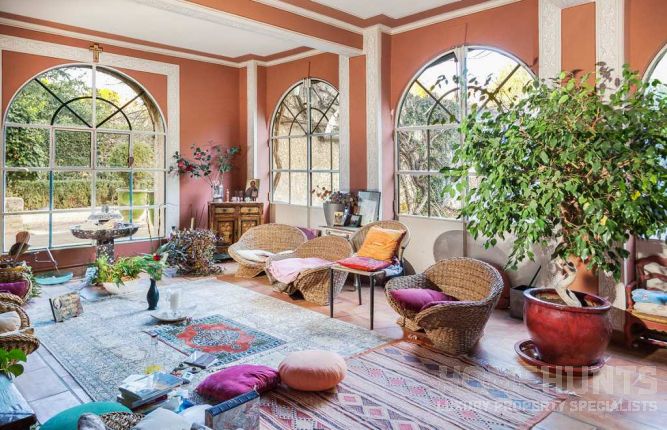 Victor Hugo was most famous for writing Les Misérables, in 1862, and The Hunchback of Notre-Dame, in 1831. This charming six-bedroom country house (HH-11900730) is confirmed to be the former property of Victor Hugo's family.
Located between Montpellier and Nimes, ten minutes from the sea and 20 minutes from the airport, this magical mansion, with its tree-lined driveway, water-lily pond (befitting of a Monet painting) and orangery, has been built in the centre of 2 hectares of parkland. There is also a private swimming pool.
Each room inside is spacious and intricately decorated, but the best room of all is the summer room. A place for study, quiet contemplation or the most convivial of occasions, its tall arched windows and décor make it one of the most popular rooms in the house. A bargain at €1,370 000
You can find out more about these properties at www.home-hunts.com where you can also search for other luxury properties in France. To discuss your property criteria with a Home Hunts consultant and get bespoke advice, call +33 (0)970 44 66 43