Looking to buy a unique luxury property in France with exceptional design features? Here are eight hand-picked suggestions from Home Hunts' prime property portfolio
Home Hunts are specialists in finding luxury properties for our international clients, we currently showcase around five thousand French properties for sale at www.home-hunts.com although, in reality, we cover the entire market throughout the areas we cover. Properties start at around €500,000 in some areas of South West France and around 1 million Euros on the Riviera, Paris, Alps and some others areas but the most prestigious and expensive homes soar upwards of €50 million. If you are looking to buy a property in France, it makes sense to work expert buyer's agents to make sure you get the best advice and the best choice!
From historic châteaux to sprawling waterfront villas and hilltop estates, Home Hunts offers an immensely broad selection of property types for sale in the most sought-after locations in France.
Here is a quick tour around the country of eight of the most magnificent properties for sale in France.
Paris – 4th arrondissement
A private mansion built in 1892, Parisian properties don't get much more prestigious than this. Hidden from view, this exceptional seven-bedroom house (HH-11816422) in the 4th arrondissement has four levels all serviced by an inside elevator.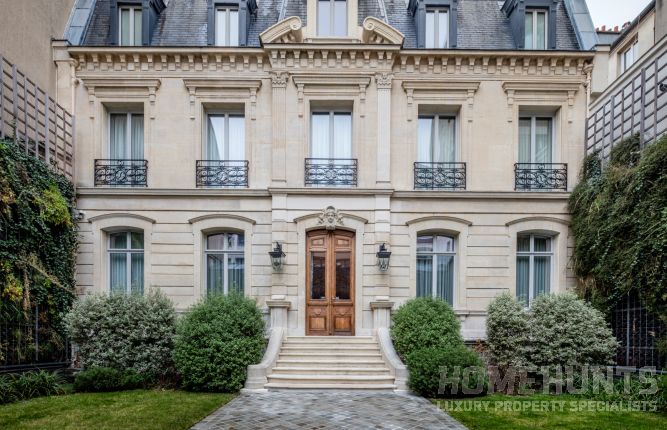 There are certain aspects of this property which make it nothing short of spectacular: a cathedral-style library on the top floor; a basement featuring a large indoor pool with Roman columns, a hammam and fitness room; and a car elevator, which means you can park three cars under the courtyard.
Théoule-sur-Mer, next door to Cannes
An old fishing village not far from the Lérins Islands, Théoule sur Mer is in high demand. There are plenty of luxury properties for sale here, but the unique architecture of this sumptous "Couelle" property (HH-11051949) will astound and amaze in every room.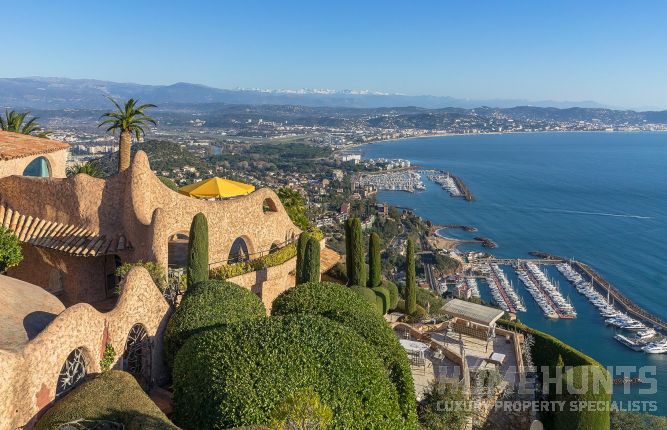 Outside the 360-degree mountain and sea view is simply breath-taking. The curves of the terraces and azure-blue pool with bright green tropical palm trees – and infinity pool sunbeds – are a masterclass in design. The indoor pool and sea vista, the room volumes and shapes, and the luxury features, such as the home cinema and Jacuzzi, this property is like nothing else on earth.
Saint-Tropez
This remarkable seven-bedroom, hacienda-style estate (HH-11944338) between Saint-Tropez and Pampelonne beach would make the perfect place to live or spend holiday time.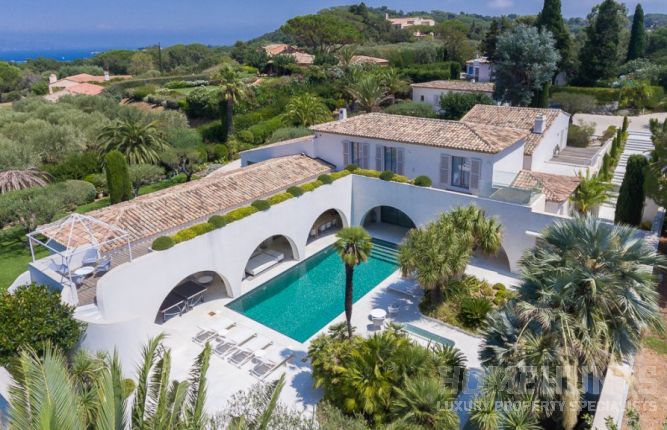 From the rippling water of the courtyard swimming pool, which is surrounded by generous, covered terraces, to the tennis court and heated Jacuzzi, this property is the epitome of luxury.
Poitou Charentes
Between Périgord and Limousin, in some of France's most beautiful countryside, lies this beguiling 12th and 15th century château (HH-9448890). From the tops of its crenelated towers to the base of its fortified walls, this property has history, tradition and romance cemented into every stone.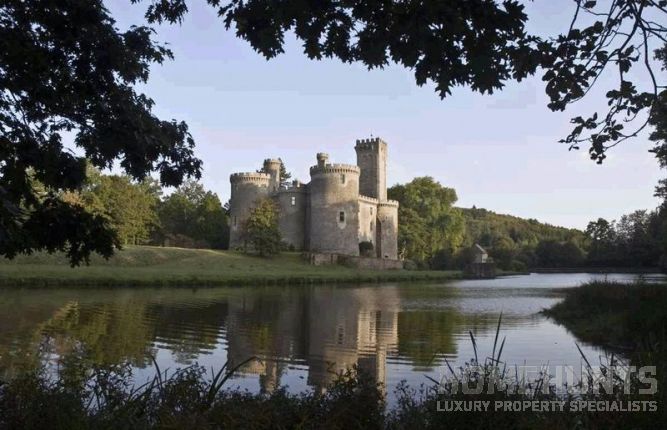 Inside has been luxuriously yet traditionally decorated, even with underfloor heating and a lavish home cinema. Exquisite features are everywhere in this property, from the Harry Potter-style library, to the billiard room and dining hall, making it a spectacular venue for weddings or events. It would also make an excellent hotel as it is set on 165 hectares of land with four lakes, a river and wells.
Lorgues – Var
Nestled in a 40-hectare estate, this is an exceptional 15-bedroom domaine (HH-10876999) in the heart of Provence, just 15km from Lorgues. Standing on a south-facing plateau the views of the rolling countryside are simply stunning.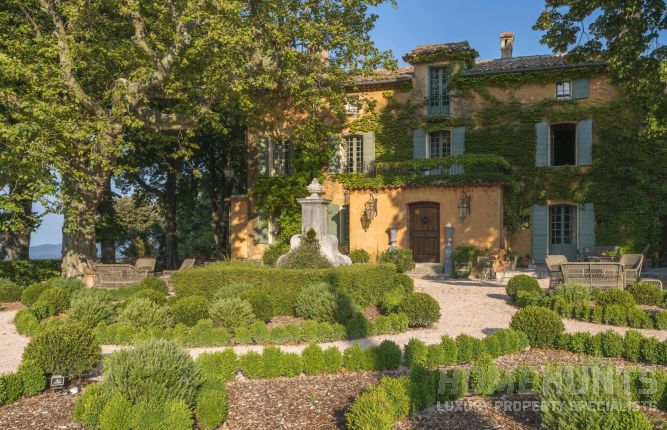 There are so many sublime features that come with this property. Outside the formal, often sunlit garden is a joyous creation, as is the large swimming pool and its lush surroundings. All over the grounds there are pines and truffle oaks, an olive grove (with a healthy annual harvest), a waterfall, a fountain and ponds. To top it all off, there is also stables, a spa area and a tennis court.
Montpellier
A château nestled on 165 hectares of land, this uniquely-elegant property (HH-11124133) lies in glorious countryside just 30 minutes from Montpellier airport. With 61 hectares of vines planted mainly in AOP Coteaux du Languedoc, this property lends itself very well to high-end oenotourism.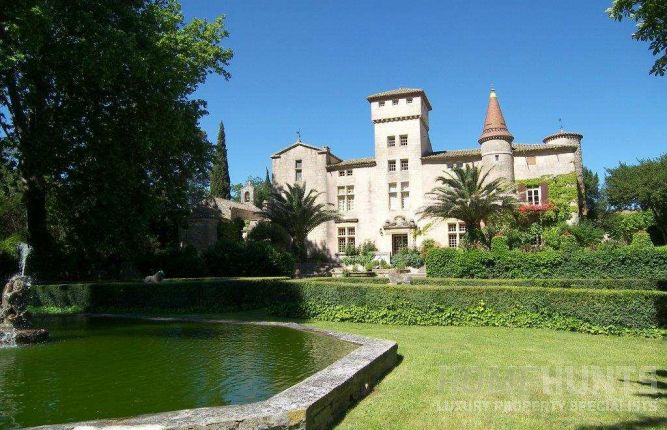 From the elegant living room with the grand piano to the arched stone walls of the living room, this property has been immaculately renovated to the highest standards. There are many stand-out features to this lavish home, including a 9th century chapel, a glorious swimming pool, a house for employees (with its own pool) and outbuildings, including a wine cellar, tasting room and meeting room.
Paris – Montmartre
Montmartre is one of the most sought-after locations in Paris to own property. This sumptuous four-bedroom mansion (HH-11816422), in the heart of the 18th arrondissement, is certainly a prestigious option. Set over six floors, it has an elevator serving every level, each with a spectacular layout.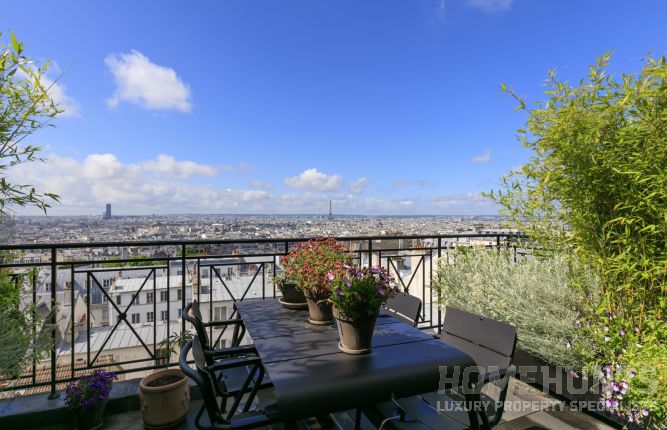 A children's floor with playroom; magnificent terraces with views across Paris; an underground-level home cinema and a pool with steam room and fitness area – these are just some of the luxurious features to indulge in at this elegant Parisian home.
Thonon-les-Bains, Lake Geneva
The spa resort of Thonon-les-Bains is renowned for the sensational views of Lake Leman (Lake Geneva) from its hilltop gardens. Investing in this magnificent, eye-catching property (HH-10146807), however, would provide a waterfront position, not far from the town centre, with uninterrupted views of the lake and a private pontoon for your boat mooring on the lake.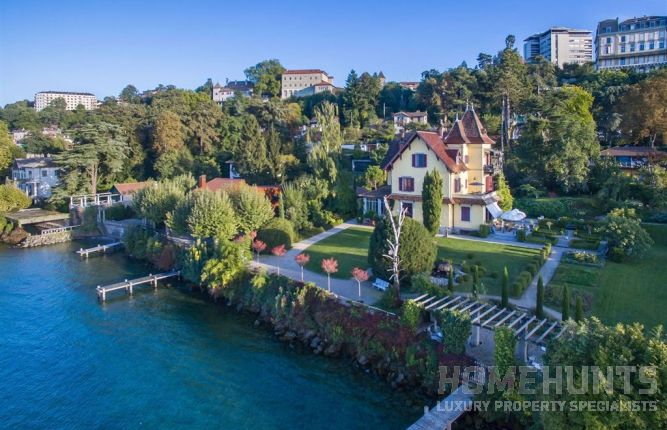 Every room in this house been delicately and immaculately designed, and outside the attention to detail is equally impressive. From the bandstand-style terrace covering to the orangery and manicured gardens, this is a rare opportunity to snap up a unique property on one of the most popular lakeside locations in the world.
To find out more about any of these luxury properties visit www.home-hunts.com, but to discuss your personal property criteria with a knowledgeable expert, call a Home Hunts consultant on +33 (0)970 44 66 43.