With 2014's Cannes Film Festival underway, one hotel guaranteed to be hosting Hollywood royalty is the chic and glamorous Hotel du Cap-Eden-Roc. Since the opening of the Villa Soleil in 1870 (by Hippolyte de Villemessant, founder of Le Figaro, for writers seeking inspiration), and then the creation of the Eden-Roc pavilion by hotelier Antoine Sella in 1914, this iconic hotel has accommodated the world's global elite, and witnessed their secrets, scandals and romances.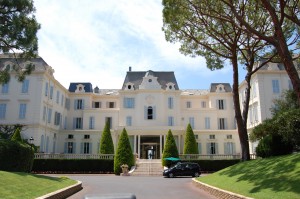 From Marlene Dietrich to Madonna and Brad Pitt and Angelina Jolie – who like to stay in the villas for $12,000 per night – this hotel has been desired by the stars since it first opened its doors.
The hotel served as the inspiration for reveller, globetrotter and writer F Scott Fitzgerald's Hôtel des Etrangers in Tender Is the Night, where he described it as "a summer resort of notable and fashionable people". The Kennedy family vacationed here in 1938 (when JKF was 21) and during the fifties one of Picasso's regular visits saw him design a new menu for the restaurant.
A peek at the hotel's guestbook reveals that some of the most famous and celebrated stars have sipped on the hotel's emblematic cocktail Le Bellini (fresh peaches and champagne) and dined al fresco in the paradise that is the Eden-hoc restaurant, which overlooks the Lérins Islands.
Publicist Peggy Siegal, who first attended the film festival with Richard Gere 25 years ago, told The Hollywood Reporter (THR) that walking into the hotel is like "entering fairyland".
"You get billionaires, showbiz people and everyone dressed to the nines; it's like one big Vogue spread come to life," she told THR. And Harvey Weinstein – famously ruthless and the producer of some of the most acclaimed movies in the world, such as Shakespeare in Love – gushed to THR that it's "one of the most beautiful places he's ever seen".
Elizabeth Taylor and Richard Burton must have thought so too, when they first conducted a love affair here as they also chose to honeymoon at the hotel once they were married.
And with so much beauty around it makes sense that romance should follow. "I had the most romantic times of my life there," producer Robert Evans, 83, told THR. He spent summers at the hotel while he was married to Ali MacGraw. "It was impossibly glamorous. Everyone who was there – not just Ali but [David] Niven, Taylor, Burton, Johnny Hallyday – everyone was a star."
With so much attention from such a grand range of visitors it isn't surprising the hotel also comes with its fair share of scandals. Those in the know say that former General Manager Jean-Claude Irondelle (now 85 and accused of embezzling a million dollars in cash from the till) contributed to this. Throwing people out and reprimanding guests – no matter who they were – were part and parcel of staying at the hotel for the best part of 50 years. In 1998, for example, Kate Moss smashed up her room because she was told not to wear a bikini in the hallways of the hotel.
These days, however, since 2006, the hotel is run by Philippe Perd, who is just keen to focus on the hotel's deluxe offerings and meeting the needs of its guests. "We're all about luxurious simplicity and discretion," he told THR. "Our guests like the old-world European traditions, they respect them."
For information about properties available in Cannes, Antibes and the surrounding areas, visit Home Hunts' website at www.home-hunts.com or contact the French office directly on: +33 (0)970 44 66 43