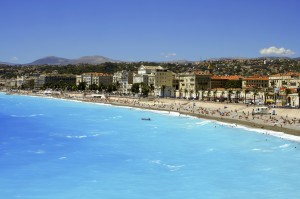 Despite austerity measures continuing to play out and pacify the might of the Eurozone debt crisis, France's prime property market has proved itself to be stable and appears to be thriving once again.
Interest in French real estate up by 50%
Prime market enquiries and sales throughout January – which is traditionally Home Hunts' quietest month of the year – have increased by almost 50% in some areas when compared with last year reports Home Hunts. Furthermore, throughout 2013 the company received a record number of visits from overseas buyers who have been attracted by the favourable interest rates being offered by French banks.
Having analysed data from consultants all over the country, the areas that have emerged as the most sought after in France are Paris, the south west, the Alps, Provence, Languedoc and the Riviera.
"In January, we agreed 11 sales over €1 million, including sales in Saint Tropez, Provence, The Alps, Paris and the Riviera," says Tim Swannie, Director of award winning luxury property specialists Home Hunts. "As we speak, we also have six outstanding offers which are being negotiated."
Capital gains tax benefits attract buyers' attention
"Clients are certainly looking for good value at present, the recent changes to the capital gains tax threshold for non-residents from 30 to 22 years has given certain owners an extra incentive to be slightly more flexible with their prices if they are going to save money on tax," says Tim. "Ultimately it can be a win-win situation for both the buyer and the seller – and many of our overseas buyers are realising this."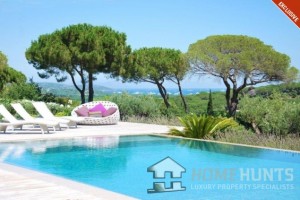 The current 25% reduction on properties sold before 31 August 2014 is also encouraging transactions and that, combined with the pre-existing lower prices in the Riviera, has also tempted buyers from all over the world to expand their real estate portfolio in the Côte d'Azur.
Home Hunts' insights reveals Riviera hotspots
Home Hunts' research shows that the four areas generating the most amount of interest on the Riviera throughout 2013 were: Cap d'Antibes, Saint Jean Cap Ferrat, Valbonne and Saint Tropez.
1)    Cap d'Antibes
In Cap d'Antibes, 42% of enquiries were in the €1m – €5m price range, 35% in the €5m – €15m bracket and 22% in the €15m and above. Buyers were reported to be predominantly British, many of them UK expats, then Russian, Middle Eastern and Scandinavian.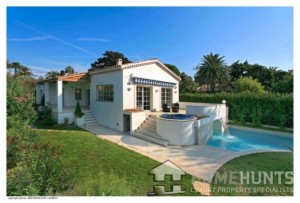 As the most number of enquiries for the Cap d'Antibes area are in the €1m – €5m price bracket, it is properties like this original Provencal villa (HH-5429787), which is in a highly sought after position, that are generating the most interest.
This particular residence has landscaped gardens, a terrace with dominant views, a highly attractive swimming pool and a terrace-side Jacuzzi. The villa's interiors are second to none: light, bright and modern it has been created with luxury in mind.
2)   Saint Jean Cap Ferrat
As far as Saint Jean Cap Ferrat goes, it is a fairly close call when it comes to the most popular price bracket for buyer enquiries. The €1m – €5m gained 37% share, 31% was taken by the €5m – €15m bracket and the €15m+ took 32% share.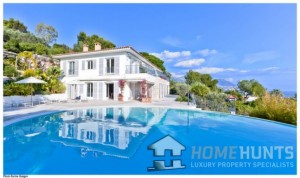 From Home Hunts' data, it is evident that properties such as this striking seven-bedroom villa (HH-6975496), which is located near the Grand Hotel of Cap Ferrat, are in demand from high net worth individuals looking for competitive price tags on a prime real estate investment. Offering intimacy, security, sea view and spacious interiors, this villa is an exceptionally stunning asset.
In terms of buyers, what really stood out is that most investing in this area already owned two or three other properties around the world. Nationality-wise it was Russian, Middle Eastern and British buyers that completed the most sales.
3)    Valbonne
In Valbonne, just 18% of buyer activity was in the under €1m category, with 9% in the €5m – €15m price bracket. The most popular price range was €1m – €5m which received 73% of interest. Nationalities of buyers were largely British, Dutch, Swedish and Danish.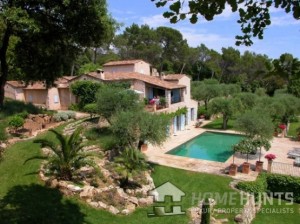 With most buyers seeking properties in the €1m – €5m price range, sun-soaked residences comparable to this seven-bedroom country estate (HH-5066609) are in in high demand. Located right on the doorstep and set in 2.5 hectares of olive groves, this calibre of property is considered to be a wise addition to any real estate portfolio. With a stylish pool, tropezian-style terrace and both sea and countryside views, this property is attractively priced at €2,650,000.
4)   Saint Tropez
Forever glamorous and always a prime property hot spot, Saint Tropez received a greater concentration of enquiries in the €5m to €15m price range, 47%, than the other price brackets, although the €1m – €5m range isn't far behind at 41%. The €15m and above category attracted just 12% of enquiries. Buyers' nationalities were mainly Russian, British, Norwegian, Swiss and Middle Eastern.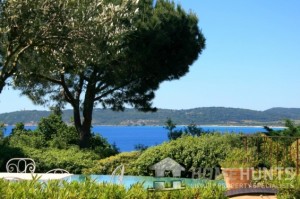 Properties are highly coveted in this legendary destination and those with sea views, such as this charming five-bedroom house (HH-7138433) overlooking Pampelonne bay, are no longer languishing on the market. A sparkling swimming pool that looks out to sea and a tranquil position are just two of the many highlights that this splendid property has to offer.
For Home Hunts, a successful 2013 and a strong start to 2014, is signalling the start of a buoyant year, that could confirm France's longstanding position as stable and thriving prime property marketplace.
"The French property market is different to many of its neighbours, it has never been a boom and bust market," says Tim. "In addition to safe haven areas, France offers highly attractive lifestyle and business opportunities – and now that Hollande's political line is changing, interest in France is likely to be boosted even further this year."
To find out more about real estate investment opportunities on the Riviera, visit www.home-hunts.com, and to speak with a Home Hunts' consultant, call the French office on +33 (0)970 44 66 43.