Now one of the most sought-after locations to own property in France, Lake Annecy, and its surrounding villages, offer excellent investment opportunities as well as being picture-postcard perfect for year-round holidays
A recent article in The Times, featuring Home Hunts, focused on Lake Annecy and the surrounding areas, noting that this "affluent little strip between the peaks of the Massif des Bauges and the Thônes valley is worth a stop".
Featured in this year's Inside France, Home Hunts' luxury property insights report, Annecy has become one of the most sought-after locations by overseas buyers. A beautiful and romantic town, its position on the lake with proximity to ski resorts makes it a real year-round destination.
Perfect for business and pleasure
"The eastern shores of the lake are the most desirable, as properties here have the sun for longer during the day, but interest is rising on the west side as prices are slightly lower and properties offer stunning views of the sun setting over the mountains," says Victoria Meneely-Holt, Home Hunts' Alps consultant.
The "cleanest lake in Europe" attracts nearly three million visitors a year. Healthy outdoor activities, such as swimming, water-skiing, biking and running, can be enjoyed at the lake all summer long. In winter time the Lake Annecy Ski Resorts nearby provide all kinds of things to do, from the regular ice skating, showshoeing and skiing, to the more unusual pony sledging and extreme paragliding-ski.
While many of the home owners commute into Geneva (where the salaries can be three times more than those in Annecy), buyers are increasingly looking for second home properties in Annecy. With so many tourists, rental yields can be high and real estate makes for a good investment as it is always in demand with a limited supply of properties and land for sale.
"Since Annecy was chosen to represent France in their bid for the 2018 Winter Olympics [which they lost], a lot has been spent to improve infrastructure in the area, such as transport, access to ski resorts and also property investment," explained Tim Swannie, Director of Home Hunts, to The Times.
Renovate your dream villa on the "Veyrier Riviera"?
Out of town villages such as Veyrier-du-Lac, Talloires and Menthon-Saint-Bernard are getting attention, and the "Veyrier Riviera" is highly popular with British and French buyers.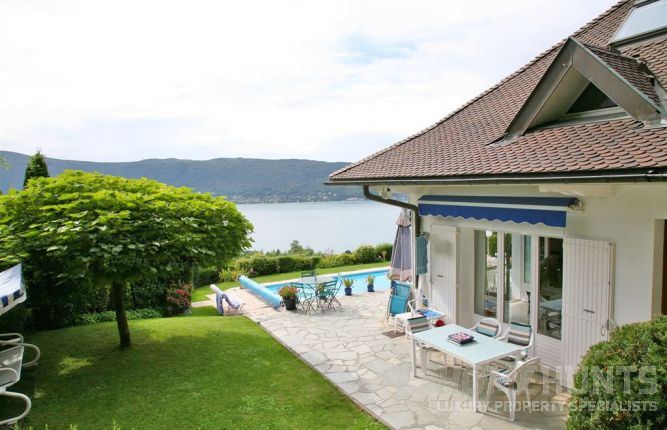 Chalet-style homes start at around €1.2 million for a property that isn't on the waterfront, but €2 million can clinch a property in need of renovation with its own waterfront mooring.
This glorious five-bedroom villa (HH-11847720) is a good example of what €2 million can buy in this area. Built onto a hillside the elevated position of this property means that breath-taking views of the lake and mountains can be enjoyed from the garden and terrace, as well as the pretty, heated swimming pool.
The talk of Talloires
Talloires is an exquisite village on the shores of Lake Annecy, renowned for hosting famously creative types such as Mark Twain and Paul Cezanne in the Abbaye de Talloires hotel. As the article in The Times explains, Talloires is a beautiful area and a wonderful environment for children to grow up, but in terms of property it suggests that better value for money can be found by investing in the hamlets behind Talloires itself, towards the Col de la Forclaz.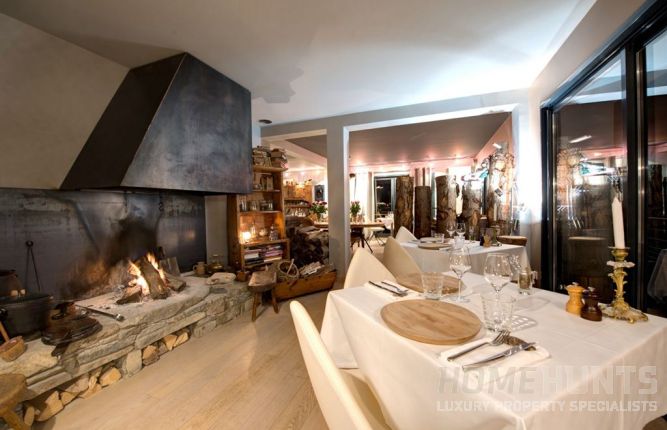 Lake-side properties on the east side are the most sought after, but this ultra-stylish villa (HH-11169883), just set back from the lake, shows just how stunning the views can be from Talloires. Featuring five bedrooms, a sauna, hammam, pool and Jacuzzi, this property has been designed to provide residents with a sublimely luxurious lifestyle.
An indoor pool means swimming is possible all year round and for golf enthusiasts it is in a dream location at just five minutes away from the golf club at Talloires. This property is on the market for €2,520,000.
If you are looking to buy a property in Annecy, you can view luxury properties in Home Hunts' online portfolio at www.home-hunts.com. To speak with a consultant about your specific needs call +33 (0)970 44 66 43