5 of our favourite sea view homes on the French Riviera
What could be better than relaxing in your sun-drenched infinity pool overlooking an azure blue seascape? Finding a Mediterranean property with a spectacular sea view is the ultimate goal for many of our clients – and fortunately we know exactly where to find the most outstanding vistas on the coastline.
If you are looking to buy a property in France with a captivating coastal panorama, kick-start your search by exploring these five must-see homes along the Riviera.
Magical Villefranche-sur-Mer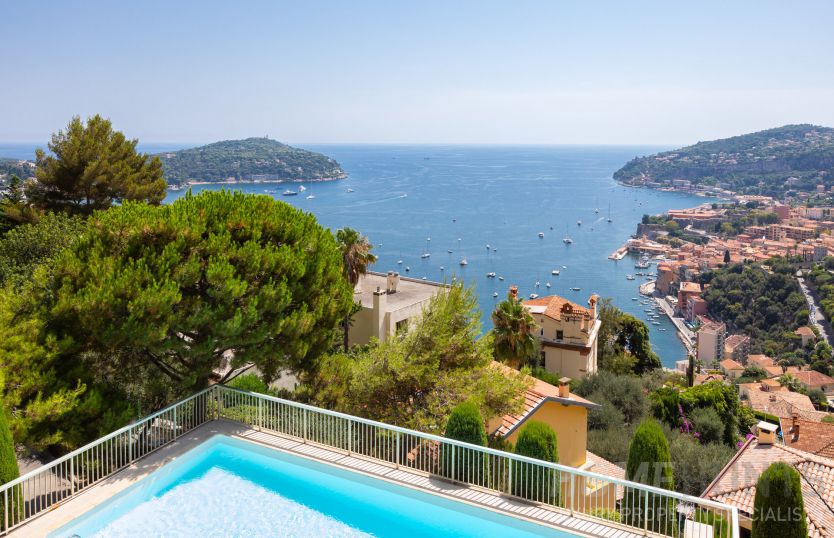 It is difficult to imagine a prettier view than that of the bay in Villefranche-sur-Mer and Cap Ferrat and this beautiful, modern two-bedroom apartment (HH-13642059) offers just that from a spacious balcony. It can also be enjoyed from the bedrooms, lounge and swimming pool.
The property's excellent position also means that beaches, shops and bars are just down the road. Priced at €1,450,000, this gorgeous apartment is a must-view and would work as a holiday or permanent home.
Breath-taking Théoule-sur-Mer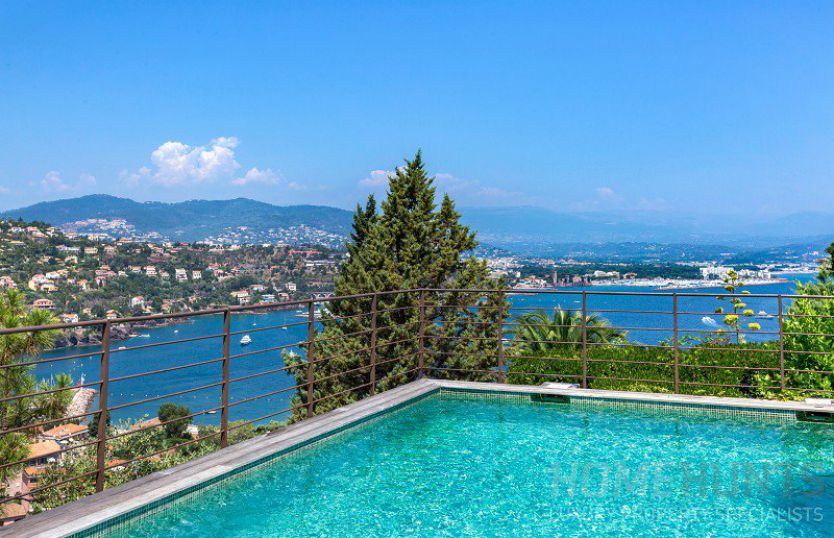 The charming village of Théoule-sur-Mer – with its popular Plage de Magellan and beach restaurant of the same name – is positioned at the foot of the Estérel mountains.
An area renowned for its glorious light, this impressive five-bedroom property (HH-10677994) has been designed to make the most of the sunshine and the views. The bright, airy open-plan living area is a wonderful space, but most spectacular of all is the master bedroom with floor-to-ceiling windows that showcase the view of the Mediterranean Sea, Théoule's hills and the Bay of Cannes.
Perhaps the best place to enjoy this awe-inspiring view is from the glittering infinity pool, but there are plenty of special spots to choose from at this superb property, which also features a Jacuzzi and rooftop terrace.
Perfectly positioned in Beausoleil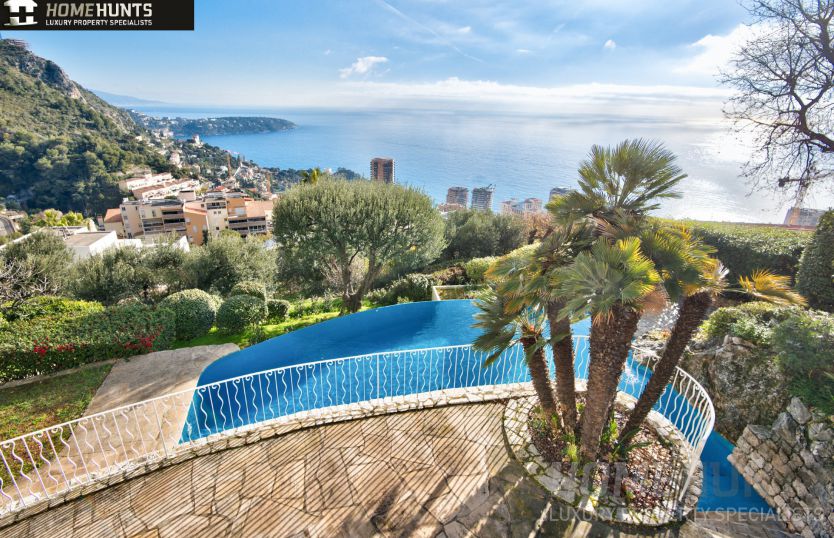 This magnificent four-bedroom villa (HH-13872110) is located in Beausoleil, a French commune just above Monaco. Its exceptional location means that the property provides panoramic views not only over the Mediterranean Sea and its beautiful bays, but also over Monaco itself.
A spacious four-bedroom home set over two levels, this contemporary property is a must-see at €2,900,000 – and so is the view, especially from the arc-shaped infinity pool.
Dreamy days in Sainte-Maxime
The location of this luxurious four-bedroom villa (HH-14058557) couldn't be more perfect, especially for families. Not only is it opposite the soft sands of La Nartelle beach – which is renowned for its unrivalled setting and for being one of the best beaches for children – it also provides mesmerising views across La Nartelle plage and is walking distance from some of the most highly-rated restaurants in the area. Le WYC, Prao and the stunning La Voile are all close by, as is the local jet ski and flyboarding station.
The outstanding design of this contemporary property, combined with the light-filled rooms and L-shaped infinity pool make it a standout residence in Sainte-Maxime.
Gorgeous Grimaud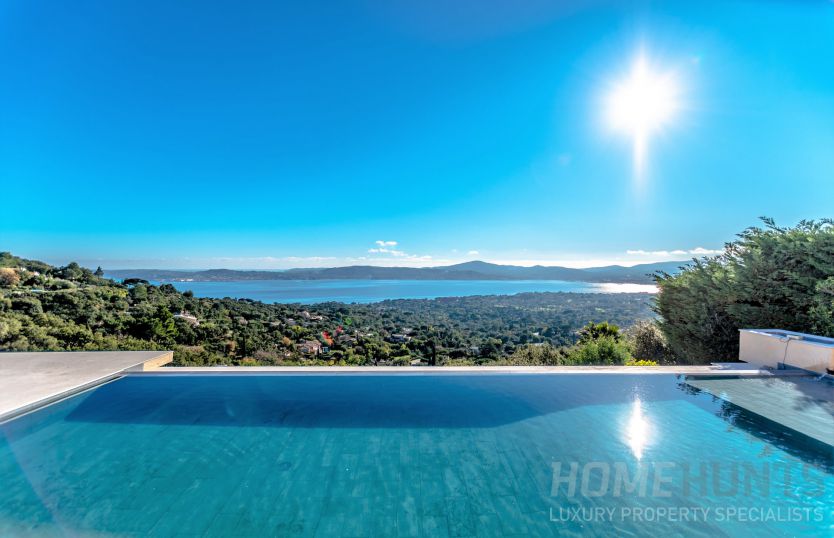 Buyers of this magnificent five-bedroom villa (HH-13376248) would become owners of one of the most stylish and sophisticated villas along this coastline. Located in Beauvallon, a district in Grimaud, which also has its own 18-hole golf course, the level of luxury offered by this property, along with its privileged views, are hard to beat.
Searing blue skies, the horizon's hills hovering above the seascape, and lush green surroundings are seen from almost every angle of this magnificent villa – although they are possibly most impressive from the striking infinity pool.
As if that wasn't enough, there are also landscaped gardens, a home gym, hammam and tennis court.
Buyers interested in viewing the property should visit as soon as possible as at €5,400,000 it won't be on the market for long.
To find out more information about these sea view homes on the French Riviera or to search for more properties along the Côte d'Azur coastline, visit www.home-hunts.com, but to speak to a Home Hunts consultant about your specific criteria, call +33 (0)970 44 66 43.
Follow our latest news at www.home-hunts.net or keep up to date with us on Facebook or Instagram.