Need a child-friendly Riviera property that is minutes from the beach? Here are five hand-picked suggestions from the Home Hunts team…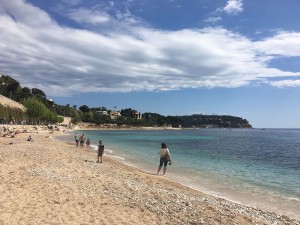 With more than 100 kilometres of coastlines and beaches, the French Riviera is one of the most popular locations in France welcoming more than 10 million visitors each year. It also hosts more than 50% of the world's superyacht fleet, sea lovers keen to exclusively explore the area's clear, mottled-blue waters, beautiful bays and breath-taking islands, such as the Îles de Lérins and the Île de Porquerolles.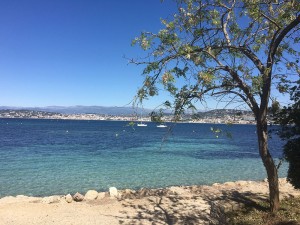 While even the most popular beaches on the Côte d'Azur's are uncrowded during the warm spring weather, the summer season is a little busier. Living in a property near the beach can help you avoid the traffic and means you can get there quickly and easily. Here is a selection of family homes that are close to some of the best beaches on the Côte d'Azur.
Tickled pink in Villefranche-sur-Mer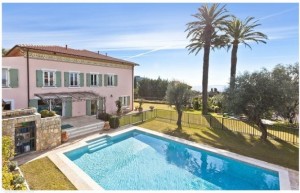 A simply stunning five-bedroom property, with landscaped grounds and sea view, this home is an excellent choice for those with young children. With a beautiful swimming pool, which is completely enclosed, playground and flat garden, it offers a wonderful environment for families to relax together during the vacations.
Just 30 minutes from the airport and ten minutes from the pretty beach at Villefranche-sur-Mer, its location in a quiet, residential location is hard to beat. The price is available on application.
Luxury villa in Cannes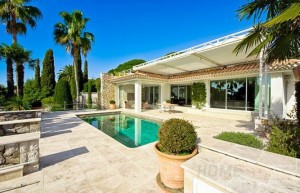 Just minutes from the coveted Croisette, where endless golden sandy beaches meet the Mediterranean Sea, this sensational four-bedroom contemporary villa offers both luxury and practicality. The swimming pool, games room and home cinema make it a good choice for families with children, but the gym and wine cellar also mean that the adults are well catered for too. A roof terrace with incredible views and a one-bedroom apartment for friends or staff are two further fantastic features that this property has to offer. The price is available on application.
Holiday heaven in Théoule-sur-Mer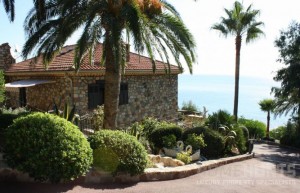 A quiet village with picture-perfect beaches – one of which is bordered by a charming château – Théoule-sur-Mer is one of the most sought-after locations to buy property on the Riviera. This four-bedroom family home has a special ambiance and, with its numerous terraces, swimming pool area and exquisitely-designed garden, offers an interesting environment for children to explore.
Inside, there is a playroom and television room, and a one-bedroom apartment is also available for visitors, as well as a sauna and shower. The price is available on application.
Stunning sea views in Saint-Raphaël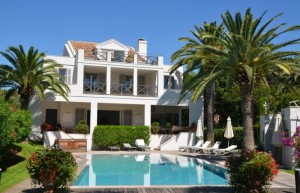 Saint-Raphaël and Fréjus lie next door to each other and combined offer seemingly never-ending strips of sandy beaches alongside the buzzing seaside walkway. Those fortunate enough to own waterfront properties in this area, such as this beautifully-presented six-bedroom house, will be able to fully appreciate the beauty of this coastal location, as well as being just minutes from some of the most attractive beaches on the Riviera.
Wide and expansive terraces, a charming swimming pool, barbecue and lush gardens mean that al fresco entertaining here is nothing but pleasure. In addition, a heated Jacuzzi, carefully-planned exterior lighting, guest apartment and caretaker's flat make this must-view property.
To view more properties on the French Riviera, visit www.home-hunts.com, but to speak with a Home Hunts consultant directly about your criteria, call +33 (0)970 44 66 43