Home Hunts' exceptional buyer's agent service has seen it recognised by eprivateclient as one of the top 25 buyer's agents in the UK
Home Hunts has been selected as one of eprivateclient's Top 25 Residential Property Buyers. The accolade is a result of the website's survey of a wide variety of residential property buyers who acquire prestigious property for high-net-worth and ultra-high-net-worth clients.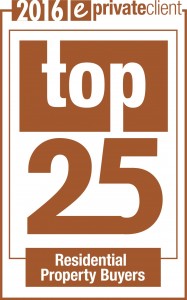 eprivateclient, one of leading sites and news services for private client practitioners (including residential property buyers, lawyers and accountants) in the UK, carry out extensive research in order to compile this exclusive analysis. After collecting data on areas such as number of directors, number of buyers, number of staff, fee structure, fee income and the company selling policy, the top 25 firms are selected and the six key areas are published on the company's website, which can be accessed here.
According to the publisher, the top 25 has seen a rise in fee income of 87% over 2015, rising to £58.95 million. Explaining that this averages £2.6 million per firm – with the highest recorded at £8 million and the lowest at £220,000 – the team also note that where data is not accessible, publisher's estimates were made.
"After a successful 2015, where sales are at an all-time high and up 60% on the previous year, we are thrilled to receive this accolade from eprivateclient," says Tim Swannie, Director of Home Hunts. "We pride ourselves on providing our clients with a high level of support during the buying process and are delighted to be selected as one of the top 25 property buyers in such a competitive market."
Home Hunts was founded in 2004 by Tim Swannie and Francois-Xavier de Vial. François, a Frenchman, and Tim, originally from Harrogate in the UK, have a true "entente cordial" working relationship and have earned themselves an enviable reputation in the luxury property market in London, France, Monaco, Geneva and New York.
With offices in Mayfair, Manhattan and Marseille, and with more than 40 consultants, the company is well placed to help high-net-worth buyers find any type of luxury property, from penthouse "pied-à-terres" to lucrative development opportunities and off-market transactions, particularly in central London, Paris and the French Riviera.
Home Hunts works with all of the best agents, builders and private owners, and has a portfolio of high-class property which is unmatched. Its clientele includes Hollywood A-listers, sports celebrities, rock stars, pop icons, hedge fund managers, corporate investors and the cash-rich time poor that need a hassle-free solution to house hunting and property buying. Buyers to date mainly come from the UK, America, Scandinavia, Switzerland, Russia, the Middle East and China.
If you are looking for luxury property in the UK, France, or any of the locations that Home Hunts covers, you can start your search at www.home-hunts.com. To speak to a consultant directly about your specific real estate needs and off-market opportunities, call +33 (0)970 44 66 43