Home Hunts' Tim Swannie spoke to Country Life about what the Luberon can offer buyers nearly 30 years after Peter Mayle wrote "A Year in Provence"
Country Life ran a story, featuring Home Hunts, that looked at whether the lifestyle Peter Mayle so fondly wrote about in A Year in Provence can still be a reality.
Mayle sadly passed away this year, but the legendary novel he wrote in 1987 about his experience in Provence restoring an old farmhouse, became a worldwide bestseller.
It caused many Brits to up sticks and move from the UK to France and today the cultural legacy of the book still seems to inform people's view of what a slower, more authentic life in Provence could be like.
"Time passed in a haze of well-being; long, slow almost torpid days when it was so enjoyable to be alive that nothing else mattered," he wrote.
The dream of a rural idyll that is away from the stresses and strains of the rat race still moves many to buy in France, Tim Swannie, director at Home Hunts, told Country Life.
"Clients often mention 'A Year in Provence' – our most recent example was a Scottish businessman," he says. "The lady of the house read the book five years ago and insisted that her husband follow suit. The family had their first holiday in the area a year later. They're now hooked and looking to upsize from their current property to an estate."
Tim explained to Country Life that that the Provençal landscape hasn't changed much since Mayle's book was published. "The wonderful valleys, mountains, vineyards and lavender fields are all still the same, but there are more restaurants and shops to cater for the increase in visitors," he explains.
As the market has picked up, the article says agents tend to agree that the Luberon and its pretty villages are more popular than they have ever been.
The article goes on to explain how there is a "golden triangle" of demand between Gordes, Bonnieux, Lacoste, Ménerbes (where Peter Mayle lived) and Oppède.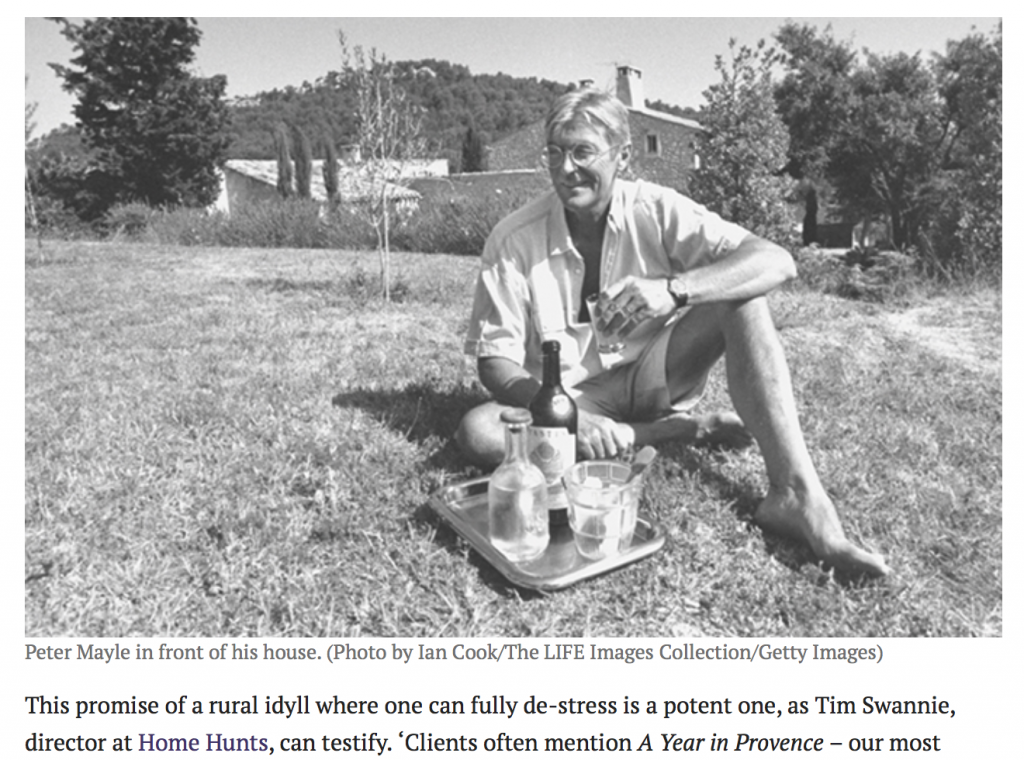 One thing that has changed, is that the majority of buyers aren't looking for renovation projects any more.
"We are seeing more and more clients looking for properties that have already been restored to a high standard, with top quality materials and modern conveniences so that they can enjoy their new life or holiday straight away," says Tim.
"From automatic watering in the garden to home cinema rooms, immaculate decor, fast broadband and heated swimming pools, these are the types of features that our clients are looking to use straight away and not implement themselves after the sale."
People will always come to the Luberon for the "Year in Provence" lifestyle. Tim adds: "The Luberon is all about pottering around the local markets, shops and vineyards, enjoying a long, delicious, liquid lunch and then relaxing by the pool – which, despite some changes in the area over the years, the Luberon is more than able to provide."
If you are looking to buy a property in Provence, visit www.home-hunts.comto view an impressive collection of luxury properties for sale. If you feel ready to speak to a Home Hunts' consultant about your property requirements, call +33 (0)970 44 66 43.