Swaying palm trees, pristine lawns and flowering pergolas, what makes your ideal summer home garden?
Everyone has their own idea and criteria for what would make an idyllic garden, but in Home Hunts' experience there are common desires that make up the overall vision for a dream exterior.
Tall leafy palms, a landscaped garden, Med-style plants, an immaculate lawn and elegant terraces blooming with flowers and framed by climbing plants such as soft-hued wisteria or vibrant bougainvillea – these are some of the features which are often on clients' wish lists.
Out of all the luxurious properties on sale at www.home-hunts.com, here is a selection of homes with the most idyllic gardens.
Close to perfection in Cannes
From the tip of the tallest tree down to each and every manicured blade of grass, the garden of this stunning Belle Epoque-style property in La Californie (HH-11182287) is about as close to perfection as you can get. The unspoilt sea views from the vast sunbathing terrace are breathtaking and the pool is bordered by elegant potted shrubs and verdant mature foliage offering dappled shade.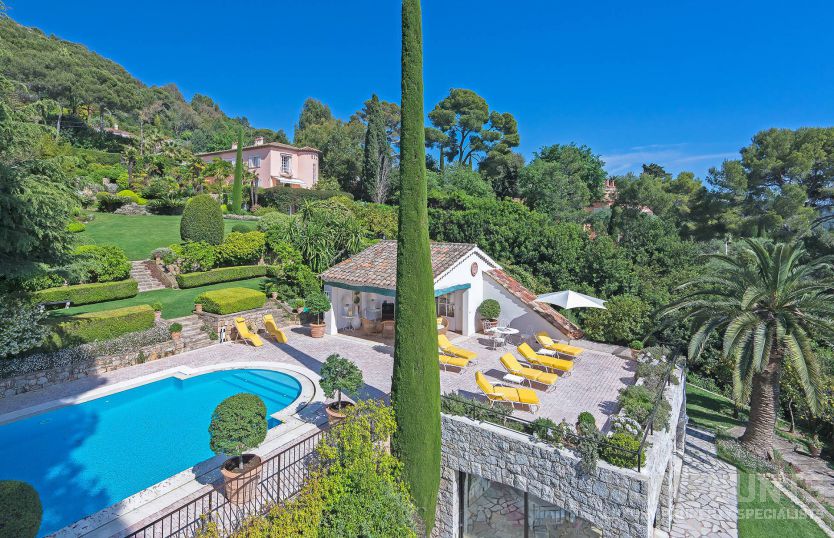 Flowering stone steps lead down to a large, beautifully-kept lawn where green hues and palm trees are abundant, and a sweeping driveway with flowerbeds, filled with beautiful shrubs and tall trees, provide an impressive welcome for guests every single time.
Ancient glory in Avignon
The ancient city of Avignon is a historic wonder and it's a fitting location for this beautifully-renovated 18th century bastide (HH-11621692). A commercial vineyard that includes Vin de France and AOP Ventoux, the property is nestled in a wooded park, which also offers plenty of olive trees.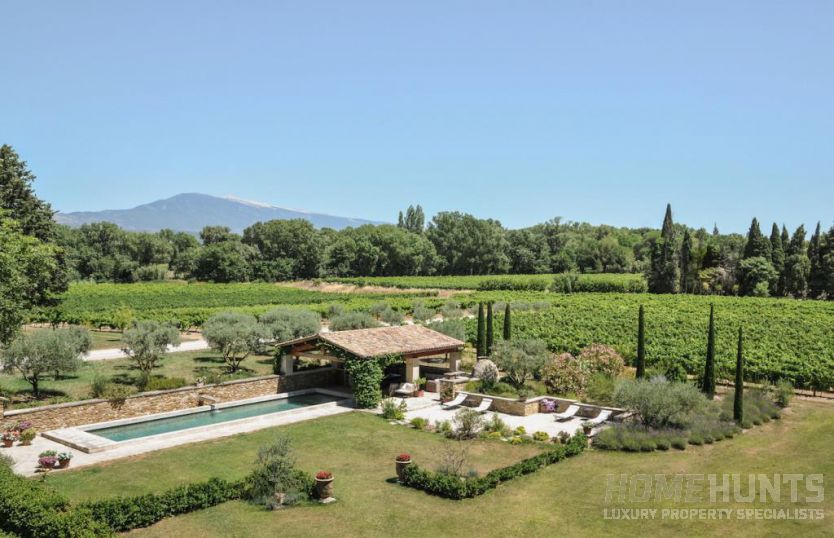 One of the most spectacular aspects of this property is the driveway. With tall plane trees bordering the entrance road all the way up to the house, you can own one of France's most iconic countryside images.
A more formal garden, fitting of a grand country house, has been landscaped into the grounds with a pretty pond and tables and chairs for al-fresco dining, and the understated swimming pool area looks out over the olive trees and luscious vines.
The green Grasse of home
Built in 1895 and named after the princess Marie-Françoise Romaine de Savoie and her husband the prince Louis de Bourbon-Parme, this exquisite eight-bedroom house (HH-9481596) in Grasse has been visited by many of the aristocracy. There are so many features that make this garden special. The rose-covered pergola, which looks out with symmetrical perfection over the sparkling blue pool and across to the glorious blooming, arched columns of the covered terrace, is just one of them.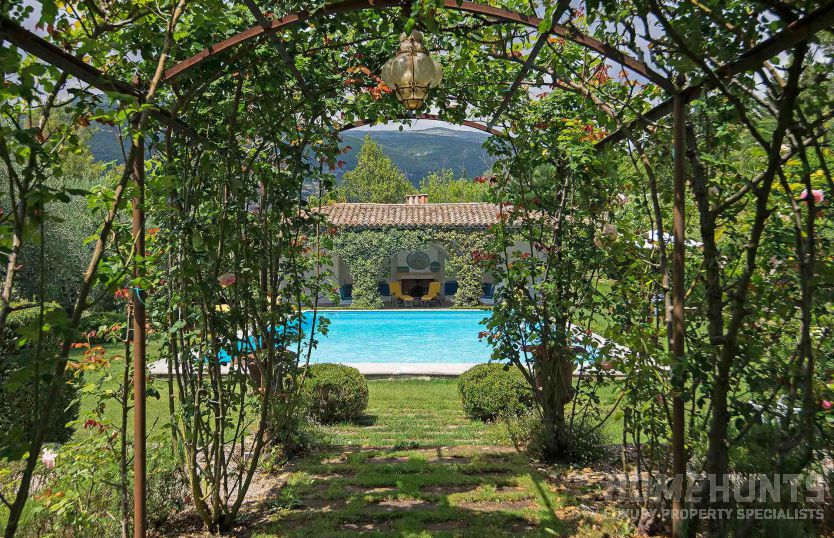 The hundreds of shades of green, the contrast between formal trees, tall palms and enthusiastic shrubs makes this a garden for romance, while the long, smooth lawn is a good spot for a hosting a summer crowd or some afternoon fun. With more shady terraces and pathways leading to leafy sunbathing and dining spots, this garden has been created with ultimate relaxation and enjoyment in mind.
Magical Mougins
It isn't often that you see garden palms as large as the ones in this idyllic garden, but the entire house, garden, pool package of this property is bold and beautiful (HH-10580809). With arches a theme throughout the house and garden, the plentiful straight trunks of young palms and the spiky foliage provide a magnificent contrast.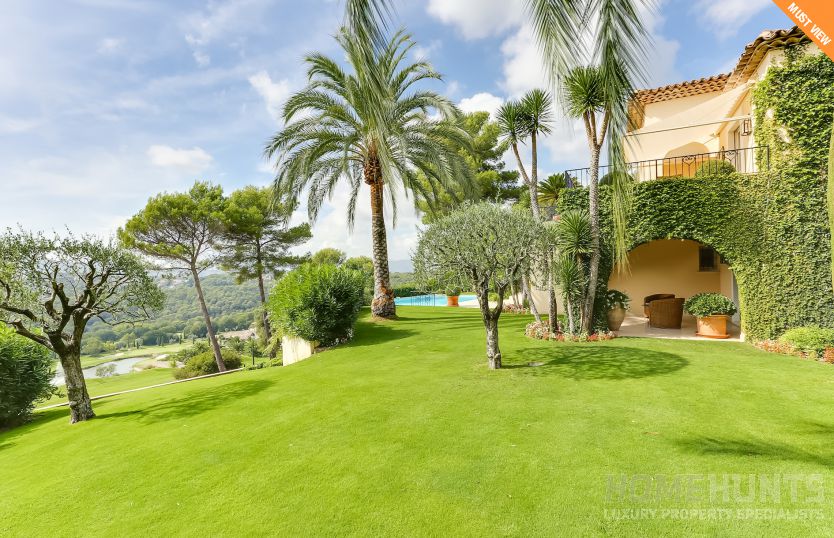 With the immaculate bright green lawn and sizeable square pool creating a stunning focal point, the palm trees and view over distant mountain ranges creates a garden you will never want to leave.
Aix hits the spot in Provence
One of the most impressive features of the garden of this striking Aix-en-Provence property (HH-12255805) is the formal design around the pond and water fountain, which you approach from the driveway entrance amidst more than a dozen eye-catching cypress trees. This symmetrical stunner is viewable from the living areas of the house and the roof terrace.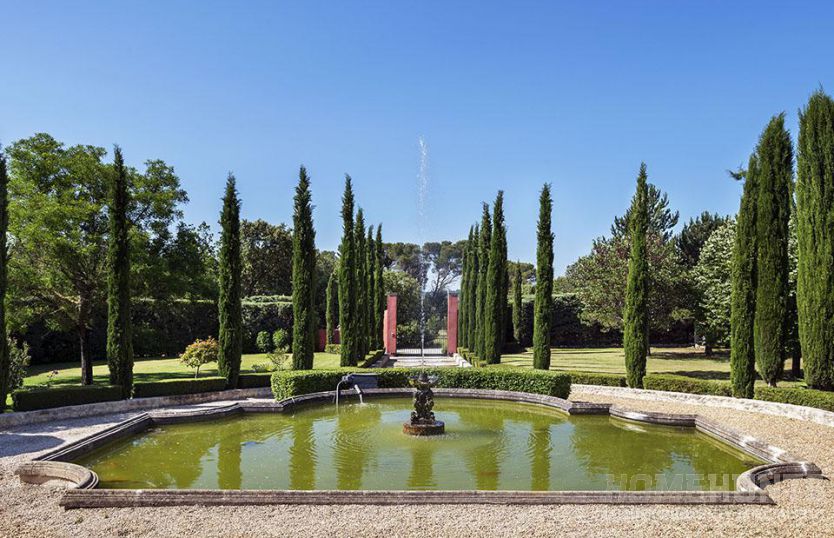 The large pool and terrace area is another which has been carefully designed, so that the stone flooring, water and trees and shrubs complement each other to create a calm and relaxing environment.
Further afield, the expansive lawn and tall trees is a stunning setting for a cosy Canadian wood cabin, which acts a delightful guest house.
If you are looking to buy property in France you can search through thousands of luxury properties at www.home-hunts.com, but to speak to a consultant about your specific criteria, call +33 (0)970 44 66 43.