The spotlight is shining on the undiscovered rural beauty spot of The Tarn region in south west France as "The Hundred-Foot Journey" film, based on the best-selling novel by Richard C. Morais was recently released in the UK. Starring Academy Award-winner Helen Mirren, and directed by Oscar nominee Lasse Hallström (Director of Chocolat).
Scenes for the film have been shot in both France and India and La Durantie, the historical belle époque style chateau in The Tarn, has been used as the film set for a Michelin-starred French restaurant, run by Madame Mallory (Helen Mirren).  The chateau is also currently being renovated and transformed into a Country Club and Spa for a new development of vernacular holiday homes on the estate, these holiday home are available for sale through Home Hunts.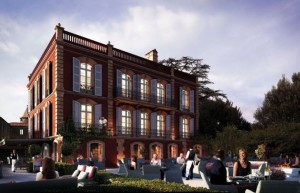 An uplifting and feel-good cultural feast full of Indian spices, French sophistication and British wit, The Hundred-Foot Journey is produced by Oprah Winfrey and Steven Spielberg.  Hassan Kadam (Manish Dayal) is a culinary ingénue with the gastronomic equivalent of perfect pitch. When Hassan and his family, led by Papa (Om Puri), move to a quaint village in the South of France with the grand plan of opening an Indian restaurant in the picturesque countryside, they are undeterred by the fact that only 100 feet opposite stands a Michelin starred classical French eatery.
However upon encountering the icy proprietress, Madame Mallory (Helen Mirren), the Kadam family realise they may have bitten off more than they can chew. Outraged by the new arrivals, Madame Mallory is determined to have their business shut down. As cultures clash and food flies, a heated battle escalates between the two establishments – until, that is, Hassan's passion and talent for French cuisine begin to enchant Madame Mallory and even she can't deny this young chef could have what it takes to garner even more acclaim for her beloved restaurant.
This, along with his new-found friendship with her beautiful sous chef Marguerite (Charlotte Le Bon), starts to weave a magic between the two cultures and, despite their different tastes, they discover an unlikely recipe for success that surprises them all.
The Tarn region is a credible setting for a film with its plot relating to top quality food, as the region has retained a strong connection to the land through farming and the local cuisine is renowned for its rich cassoulet, foie gras, Lautrec pink garlic and Toulouse sausage as well as its premier Gaillac wines.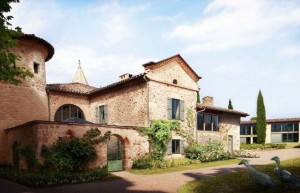 Jeanne Boden, Director of La Durantie has been a resident in The Tarn for seventeen years and agreed to the chateau being used for filming after receiving a phone call in July 2013 from a location scout.  She says: "The scout was searching for a period property in an area of the south of France which is relatively undiscovered rather than the places visited by the masses and the Artistic Director was quick to appreciate its charm and cast La Durantie as home to Madame Mallory's Michelin starred restaurant.  It was eye-opening to work as an 'extra' on set here and see the chateau come to life once again.  The local community is delighted the esteemed actress, Helen Mirren will star as the French restauranteur and the exposure should bring more international visitors."
Lasse Hallström's entry in La Durantie's visitor's book says:
"What a beautiful place in the world. A very special place and thanks for allowing us to film in it."
The Tarn is a quintessentially French rural region which is not as well-known as nearby Provence, but is much loved by a number of British expats who have stumbled upon it and then never left!  The elegant belle époque chateau is one of the region's prized architectural possessions; it lies just 50 minutes north of Toulouse and close to the village of Castelnau-de-Montmiral in a landscape of rolling hills, vineyards and ancient hill-top towns.  It has seen several owners throughout its lifetime but significantly, the Schwarzkopf family, famed for perfumes and beauty products, bought the chateau in the 1980's and held lively parties whilst farming the 800 acre plot. In the interwar period the vineyard estate was run by nuns and their peaceful influence can still be sensed when entering the chateau gates today.
Jeanne Boden says: "There has always been energy and dynamism linked to the chateau relating to women and the two sisters that built the chateau had a lot of success in economic farming and were the owners of the first car in the town.  Later, the resident nuns brought calmness to the building and now it seems apt that such a renowned actress should play the role of an aristocratic lady running a top-notch restaurant here."
To look at an example of some of the wonderful holiday homes which are to be developed in the grounds of this property, click here or here