A selection of Prime Properties in Montpellier to discover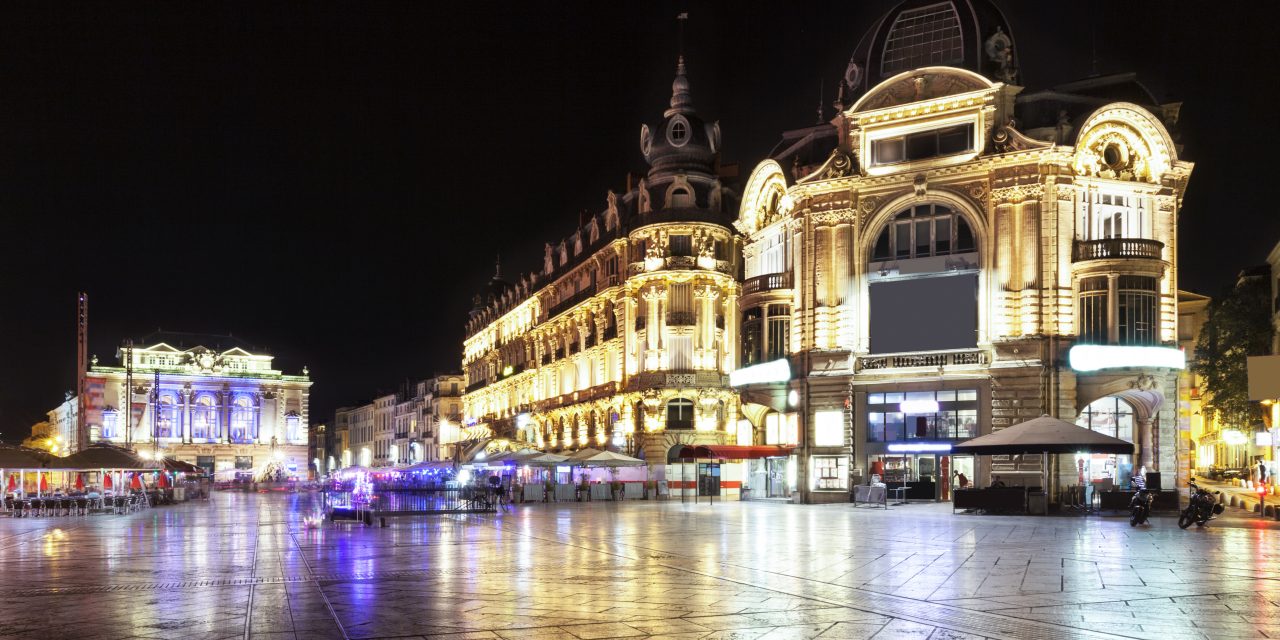 Steeped in history and strategically located in Southern France, we take you to the marvellous city of Montpellier to discover some of the regions most admired properties, enticing a large number of luxury property buyers globally.
The region around Montpellier has attracted a lot of attention recently from international property buyers. We are not surprised because this destination in Languedoc Roussillon is a stylish metropolis filled with elegant buildings, grand private mansions and spacious boulevards. There are also and gorgeous white-sand beaches not far from the busy, vibrant centre where the famous Place de la Comédie is situated. Not to be missed also is the neighborhood of Antigone, east of the city centre which is best known for its architectural design by Ricardo Bofill. Founded in the 10th century by the counts of Toulouse, Montpellier later became a prosperous trading port and now a top area for the best luxury properties that can serve as a great primary residence or holiday home.
We rounded up some of the esteemed properties in and around this wonderful city to showcase to all who are entertaining the option of being based in beautiful Montpellier!
Magic and mystery envelopes this 17th century Chateau (HH-11414740), protected by ancient trees and located in a wonderful setting steeped in history, in the lush countryside outside of Montpellier.
This is the first Folie or Maison des Champs in the vicinity of Montpellier designed in 1692, accompanying the building of the Arc de Triomphe in the city of Montpellier designed by the architect of Louis XIV, Charles-Augustin D'AVILER.
Set in its romantic landscaped grounds, the castle and its terraces are located along a main axis, oriented north-west-south-east, facing the rising sun of the winter solstice, in tribute to the Sun King! On the same level as the terrace with ponds, you will find an orangery gallery, under the steps of the upper floor and various vaulted rooms. In the center, the cold room is located, where a spring flows known as La Diana (spring of 1694) at the foot of the statue of the hunting goddess, whose water supplies the ponds.
On the ground floor the reception rooms of the castle are located, highlighted by the large central hall with floors lined with paving stones and marble cabochons, extended in double rows on both sides. The other area includes a grand dining room and the living rooms, decorated with parquet flooring. In the wings, on the rear facade, to the west, the kitchen-galley is situated with access to the service staircase which serves all four levels. These rooms, benefiting from more than 4-meter high ceilings, all with double exposure and in succession, open out via high French windows on to the courtyard and on to the south-eastern exterior set of steps and a platform offering a dominating and magnificent perspective of the park.
On the first floor, accessible by two staircases, which also have over 4 m high ceilings, a gallery along the main courtyard which serves 6 bedrooms and annex rooms (toilets, bathrooms, and services). The floors of two bedrooms to the east are parqueted and the rest is clad in large slabs of fine limestone. All rooms enjoy splendid views of the park and the surrounding wooded countryside down to the sea.
The second floor, accessible by the service staircase, also with more than 3-meter high ceilings, was reserved for the accommodation of the staff. All the floors are covered with fine limestone slabs.  Truly an incredible slice of history, it is priced at €2,000,000.
Classic and Elegant Villa Designed in Style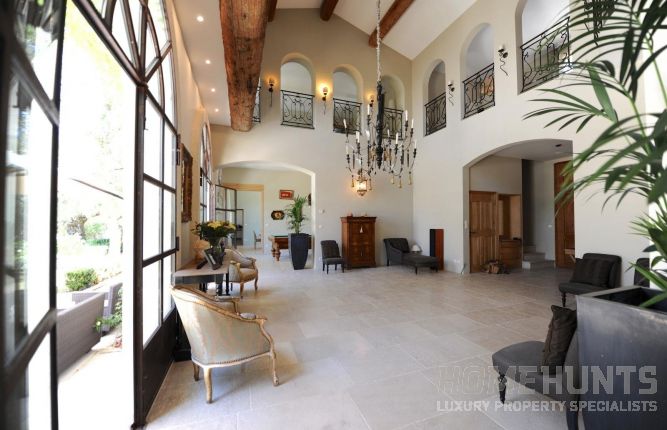 This gorgeous villa of 600 m2  (HH-11376249) is located at the heart of a beautiful of 6,000 m2 green park in a unique and quiet site. The main house consists of a large living room, a dining room, a billiard room, library, a large office, a music room, a games room, four suites with bathroom and dressing room, a large basement with gym, screening room and a garage.
The garden offers peace, serenity and charm of the old property, with its large pool of 8 x 16 meters, tennis courts, and a guest house of 100 m2 with three bedrooms, a bathroom, living room with kitchen with separate entrance. Its location is strategic as it is only 10 minutes from Montpellier Airport and the golf course plus schools are just 5 minutes away. For the price of €2,000,000 nothing beats its location and standing in the best part of Montpellier!
Who wouldn't be mesmerized by this splendid house located just 17 minutes from the beach? Located in a protected green zone, this property (HH-10904374) is entirely renovated in 2017 and comprises of 260 m2 habitable surface sat on 8,172 m2 of landscaped gardens.
At the ground floor, there is an entrance hall, cloakroom, sitting room with fireplace giving onto a covered terrace with summer kitchen. The dining room is well-located beside the kitchen and the master bedroom with bathroom is situated beside the terrace and swimming pool, which is a delight for anyone living here waking up in the morning and having a great view from the bed. On the first floor the mezzanine is located with a suite that includes a sitting room/bedroom, bathroom, and bedroom giving onto the roof top terrace.
The garage and car port is very spacious at 70 m2 which can fit many vehicles at the same time. As you step outside, green trees and a lovely pond greets you and gives a daily reminder that life indeed is beautiful. Priced at €998,000 the wonders of living in this superb house is offered to the lucky buyer.
Exceptional Mansion in beautiful grounds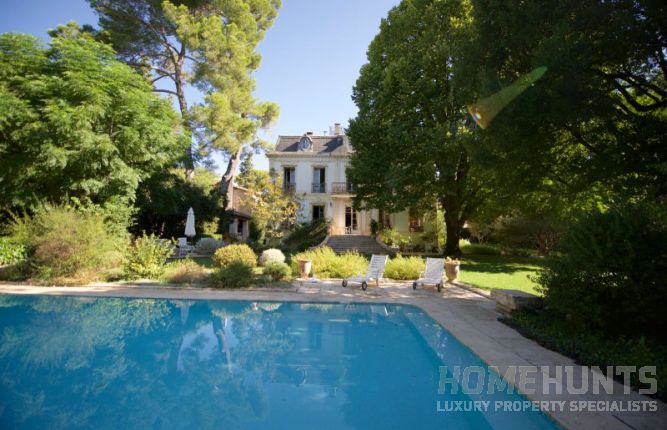 Nothing beats the location of this discreetly placed property in the heart of Montpellier (HH-10438461) which rarely comes on the market. Steeped in style and easily accessible, it takes only 20 minutes to walk towards the center to enjoy the vibrant activities happening and enjoy fine dining in luxury establishments that include Michelin-recommended restaurant 1979 out of a plethora of options.
An elegant building of 600 m2, this incredible residence offers a lot of space. On the ground floor, you will find an entrance hall, a large living room with fireplace, a dining room, a large kitchen, a spacious office, a TV area, and a shower room. On the first floor, there are 5 bedrooms, 3 bathrooms and on the top floor five other rooms are located. The park has mature beautiful trees making for a rare intimacy in Montpellier, with a pool and an orangery of 70 m2, a caretaker's house of 80 m2 on 2 levels, a large shed and a building with rental income that is behind the main house that remains well hidden.
The house is within a protected zone and thus the surrounding elegant houses cannot be rebuilt or constructed.  Priced at €2,300,000, this property is amazing for its unique setting close to everything without being visible.
 
Contemporary Villa Built in Luxury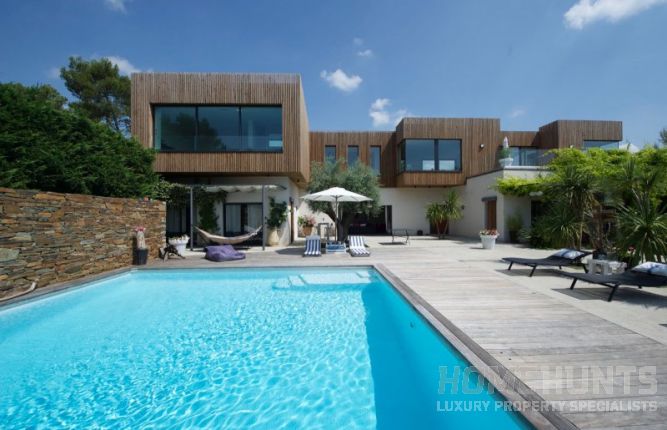 This truly outstanding contemporary villa (HH-10289133) is built to an exceptional standard with luxurious finishes and appliances, offering 480 m2 of beautifully presented interiors including a vast light filled lounge area, a gourmet kitchen, 6 luxury bedrooms and manicured exteriors. The exterior is splendid with a pool area and sun terraces with open views that is not overlooked by another property.
A real gem in Montpellier, it is priced at €1,980,000. Contact us for more details, this one will not hang around for long…
If you are looking to buy property in the region of Montpellier you can search through Home Hunts' portfolio at www.home-hunts.com.
 To discuss your specific needs and to find out more about locations offering the best investment opportunities, speak to a consultant directly on +33 (0)970 44 66 43