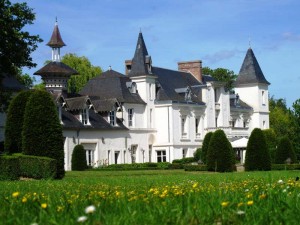 These days, the idea of buying an ancient château in France – with tall turrets, sweeping staircases and unrivalled views of awe-inspiring countryside – does not have to be reserved only for the things that dreams, or films, are made of. The luxury property market is changing and, with rising numbers of châteaux on the market, properties with famous owners, or that have been cherished by French families for generations, are becoming more and more accessible to high net worth investors.
As the leading agent for luxury property in France, Home Hunts is able to offer France's most exclusive and prestigious châteaux to its highly discerning clientele. "We have an absolutely stunning selection of prime châteaux property in our portfolio at the moment," said Tim Swannie, co-director of Home Hunts. "Medieval castles, exquisite manor houses and grand estates, all of our châteaux offer buyers the very best in French architecture and craftsmanship."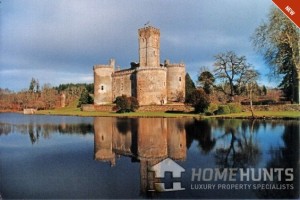 1.    Dordogne Dreaming
This striking feudal castle (HH-5063842) is set in the regional park of Périgord in the Dordogne and is steeped in history from the 12th to 15th centuries. Surrounded by 198 hectares of private land, which is a mixture of woodland, prairie and an eight-hole golf course, its interiors have been restored to reflect its historical background. However, while the decor is medieval, the rest of the property offers all modern comforts, such as underfloor heating, double glazing and high-speed internet with interconnected computers. This rare and outstanding property is on the market for €20 million, and with around 30 rooms and permission for a camp site, offers not only a picture-perfect private home, but also a potential commercial tourism opportunity.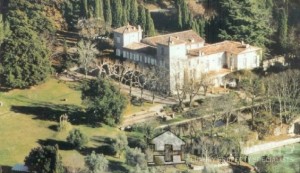 2.   Dior's Choice
An exceptionally beautiful château (HH-5327953) located in the Var, in the Provence-Alpes-Côte d'Azur region, this is the former home of French fashion designer Christian Dior. A chance own a property picked by one of the biggest names in haute couture are few and far between, so this 15th century masterpiece is anticipated to find a proud new owner in the not too distant future. With five hectares of parkland, which includes one-hundred-year-old trees, fountains, ponds, a tennis court and swimming pool, this property promises nothing but luxury for €12 million.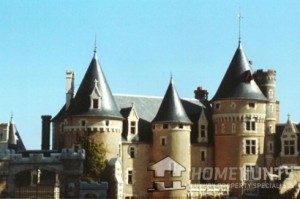 3.   Once Upon a Poitou
With classic fairy-tale turrets this exquisite 15th century château (HH-5401030) in Poitou resembles the famous Château de Chaumont-sur-Loire. The 15-bedroom property is offered with many outbuildings, including a caretaker's house, stables and a chapel, and is set over four floors. While original fireplaces and parquet floors make up a couple of the interior's highlights, outside there is a perfectly-maintained formal garden, tennis court and swimming pool. This magnificent property really is what dreams are made of.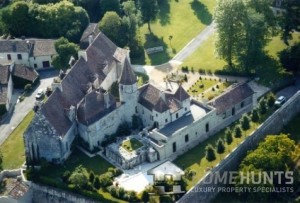 4.   Finding Lauzun
Set in the ever-popular region of Aquitaine, in the village of Lauzun, lies one of the most beautiful and architecturally outstanding château (HH-6201842) in France: the Château of Lauzun. A Grade I-listed building, it has seen more than 500 years of history, and is the result of efforts by the famous and highly-revered aristocratic Caumont family. The €6.3-million property comprises three main buildings from the 12th to 18th century, all renovated with comfort in mind, as well as a stone swimming pool, an imposing courtyard and beautiful garden.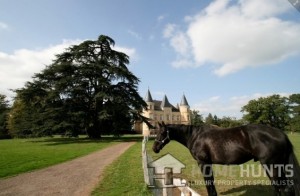 5.   Clockwork Orangerie
With so many stunning château in the Paris area, it is difficult to choose one for this top five list, but this spacious 12-bedroom, 19th-century Neo-Renaissance château (HH-7107264) in Laval steals the spot. Having been beautifully renovated to include a luxurious private cinema, exercise room and wine cellar, its ten-hectares of grounds includes landscaped gardens, a lake, woods, horse pastures and two areas zoned for a helipad. Originally constructed on the site of a moat in 1854, the asking price for this property is an incredible €1.9 million – and will no doubt provide one lucky buyer with a very happy ending.
To view more châteaux in Home Hunts' portfolio visit www.home-hunts.com, and to discuss these properties in more detail with a consultant, please call the French office directly on +33 (0)970 44 66 43.