Knight Frank's 2014 Wealth Report has confirmed that the number of ultra-high net worth individuals (UHNWIs) is rising and that around one-quarter of portfolios are made up from real estate investments. UHNWIs are classified as those with US$30m or more in net assets excluding their principle residence.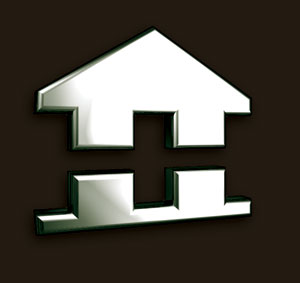 The report is one of the most highly anticipated sources of intelligence for the prime real estate market. It is the result of statistics and information drawn from a variety of sources, including Knight Frank's global research team, a wealth panel, data analysis and exclusive market research, which includes an Attitudes Survey. The respondents of this survey are private bankers and wealth advisers who communicate the attitudes of over 23,000 UHNWIs with a "combined wealth of US$1.5 trillion".
Prime property investment is increasing
"Property is not just a place to live; it is also a popular place to invest," says The Wealth Report, adding that property accounted for 24% of UHNWI portfolios. It also stated that "over 40% of survey respondents said their clients had increased their allocation to property last year, with 47% expecting it to rise further in 2014".
"Just over a fifth of UHNWIs, on average, are considering buying a new home in 2014, although the figure rises to almost a third of UHNWIs living in Russia and the CIS," says Liam Bailey, Global Head of Research at Knight Frank.
With the average number of properties cited as 2.4 houses per UHNWI, Home Hunts certainly found this to be the case with clients investing in super prime areas in 2013.
"Most of our clients investing in France's Saint-Jean-Cap-Ferrat, for example, which has the highest concentration of buyers (32%) in the over €15 million price bracket in France, already own two or three other properties around the world," says Tim Swannie, Director of Home Hunts.
Growing European and US markets
Just as Home Hunts has experienced an increasing number of enquiries and transactions in its European territories (France, Geneva and Monaco) during 2013, Knight Frank's research also states that many of the European property markets, which were "firmly off the radar two years ago", are now being seen as a "key opportunity for this year and next".
According to Knight Frank's Prime International Residential Index (PIRI), Madrid and Dublin have been noted as key markets in recovery with prices climbing by 5%. London, Monaco and Vienna also show positive signs of recovery in the prime second-home markets.
Home Hunts saw a marked increase in interest in its Alpine market, particularly in Annecy, Morzine and Chamonix in the French Alps throughout 2013. The PIRI saw prices in Chamonix, Verbier and Gstaad rising by 8%, 6% and 3% respectively, says the report.
Further afield in the US, Knight Frank says there was "double-digit growth through 2013 in Los Angeles, New York and San Francisco", and states that while Miami's price growth has slowed demand is still strong.
Home Hunts has just expanded its reach into Miami and now offers real estate in some of the city's most sought after areas, such as Coconut Grove and Miami Beach.
"Miami is a real growth area, hence the reason why we decided to include this city in our residential portfolio," says Tim. "We have found that enquiries are increasing and earlier this year the Miami Association of Realtors announced double-digit increases for sales."
With preconstruction purchase reservations and deposits currently being taken for the highly anticipated construction of the Jade Signature Sunny Isles Beach condominium on Miami Beach, Home Hunts is pleased to include a range of apartments in its Miami offering.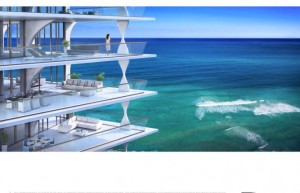 Properties such as this exclusive four-bedroom property (HH-7775573) with a sea-facing terrace are in high demand due to its enviable location and extras, such as private beach access and community swimming pools and spas. For more information visit the website, www.home-hunts.com or contact the US office on +1 (0)870 619 4114.
Where do UHNWIs live?
According to The Wealth Report, cities are the most preferred locations to live by UHNWIs and around three-quarters own a townhouse. However, rural retreats are owned by 30%, waterfront properties by 22% and ski chalets by 13%.
Just as Home Hunts recently noted in its south-west France insights article, Knight Frank acknowledges a "widely publicised" growth in demand for vineyards "particularly in France" by UHNWIs from China.
"Among respondents with Chinese clients, 45% said that interest in such properties was growing", says the report. This is also confirmed by Paddy Dring of Knight Frank's international residential sales network who says: "We are seeing growing interest in lifestyle properties from Asia, driven by people's interests – one of which is wine – as well as by the commercial opportunities they offer."
The cost of prime market property
Knight Frank's research shows that Monaco is in number one place for most expensive property with US$1 million buying 15 square metres. Hong Kong made second place with 20.6 square metres and London was third at 25.2 square metres. Geneva came in fifth at 34.7 square metres, New York sixth at 40.2 square metres and Sydney, with 41.2 square metres, just beat Paris which took the eighth spot at 41.7 square metres.
Home Hunts recently revealed that the 8th, 16th and 17 arrondissements in Paris proved to be the most popular during 2013. Hervé Lévy, Manager of Home Hunts' Paris office, confirmed that buyers "like to be within walking distance of the Champs Elysées" with 70% preferring the right bank of the Seine.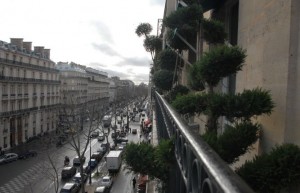 Avenue Kléber, a street in the 16th arrondissement positioned between the Trocadero and the Arc de Triomphe, was flagged by Hervé as a prime area that is growing in demand.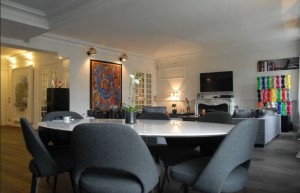 Located on the 4th floor on the top floor of a charming period building on Avenue Kléber, this contemporary three- to four-bedroom property (HH-7606075) is a good example of the type of property that is popular with UHNWIs in Paris. Priced at €2,990,000 highlights include a hammam and a balcony – for more details contact Home Hunts' French office on +33 (0)970 44 66 43.
Commercial property
With regard to commercial property, The Wealth Report says that "interest is focused more tightly on office space". UHNWIs are apparently becoming more interested in this sector "compared with 24% for retail space and 21% for hotels".
However, the report also flagged up variations which were dependent on region, such as hotels, which are reportedly growing in popularity with UHNWIs from Africa and Russia and the CIS (Commonwealth of Independent States) while student accommodation is on the rise in the UK.
Number of UHNWIs growing
The Wealth Report states that the number of UHNWIs increased by 3% last year despite the difficulty of the economic crisis and austerity measures playing out in the background. "This means that nearly 5,000 people joined the ranks of UHNWIs in 2013," the report says, adding that this takes the number of people with US$30m or more in net assets to over 167,000 worldwide.
Although Asian cities are expected to see the fastest growth during the next decade, it is London that remained the home to the most UHNWIs in 2013. Knight Frank predicts this will still be the case in 2023 as there will be almost 5,000 UHNWIs living in the UK's capital by then.
In fact, Dr Pippa Malmgren, a wealth panellists and founder of the DPRM Group – and former economic advisor to US President George Bush – said she would argue that the "UK has now emerged as the world's most attractive residence for non-domiciles".
In addition, the report notes that PricewaterhouseCoopers has forecast that the "UK economy will grow faster than any other European country's this year".