If you are looking to buy a property in the South Luberon, here are five of the most desirable villages in the area, as recommended by a Home Hunts' property expert
Many would say that the South Luberon is France at its best: luscious landscapes of olive groves, vineyards and lavender fields, and exquisitely beautiful hilltop villages, with spiralling streets, multi-coloured buildings and colourful, vibrant markets.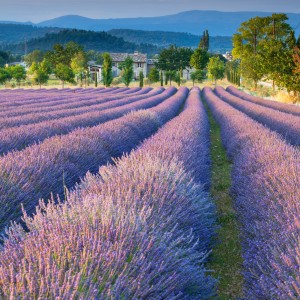 Breathtakingly beautiful, easily accessible and culturally connected are three ways to describe the South Luberon area. Most villages in this area are around half-an-hour from the bustling, beautiful town of Aix-en-Provence, which has theatre and music events in abundance, and Marseille, France's second largest city, is reachable in under an hour.
"The South Luberon is easily accessible to highways and the airport near Marseille, as well as the TGV in Aix-en-Provence," says Delana Nelson, Home Hunts' consultant for Provence. "Its huge advantage is that one can be nestled way in its bucolic beauty and still be close to cosmopolitan centres."
Five villages that Delana usually recommends her clients explore if they are looking for property in the south Luberon are: Lourmarin, Curcuron, Grambois, Ansouis and Lauris. Here is what she has to say about each.
Lively Lourmarin
"This village is one of the most popular in the South Luberon with a very large expatriate community," says Delana. "It's a lively town, sitting in the shadow of a large château that is well preserved with lots of shopping and cafe terraces."
Market days are on Friday and there are always plenty of events to enjoy, including concerts, exhibitions and fairs. "It's a great place to live, or live close to," adds Delana.
Property in Lourmarin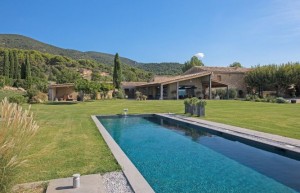 Just minutes from the centre of Lourmarin, this 17th century estate property (HH-9731421) has been entirely renovated and sits on 20 acres of beautiful grounds. Inside there are six bedrooms, and old vaulted stone ceilings blend majestically with tasteful contemporary tones and furnishings. Highlights include an orangery, outbuildings and a stylishly-designed swimming pool.
The charming village of Cucuron
Just east of Lourmarin, Cucuron is a charming little village sitting elevated against the north face of the Grand Luberon amidst the vines and olive trees.
"L'étang, a large quadrangular basin of water in the main square, is surrounded by ancient plane trees and is a gathering place for locals and tourists with the one-star Michelin restaurant, La Petite Maison de Cucuron, leading the pack," says Delana. "This restaurant is both lovely in the winter as the interior is warm and inviting, or the summer, when one can sit in dappled sunlight on the vine-covered terrace."
The village has all amenities, including a grocer's shop, baker's and school, and produces Côtes du Luberon AOP wines.
Property in Cucuron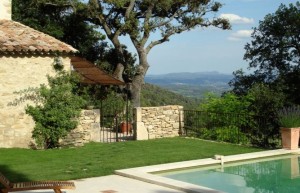 Situated on the heights of Cucuron and therefore offering spectacular views of the rolling hills, this intriguing stone farmhouse in Luberon (HH-9362211) has been fully renovated to a high standard. With original vaults that truly have the wow factor, this property has a look and feel to it that makes it quite unique. With a pretty infinity pool and an immaculate lawn, this property is on the market for €1,060,000.
Glorious Grambois
A beautiful perched village in the east of South Luberon, Grambois is positioned in an area with many forests and hills interspersed with vines. While it is not as large as some of the other local villages, it offers a baker's, butcher's and small grocery shop.
"The village café here serves as the town's meeting place and a restaurant that comes recommended is the Auberge des Tilleuls," says Delana, adding that Grambois sits between the lovely villages of La Tour-d'Aigues and Beaumont-de-Pertuis.
Property in Grambois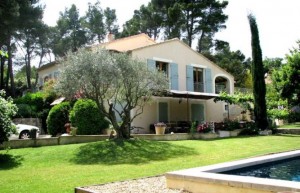 Located in a landscaped park, this blue-shuttered villa features five-bedrooms in Grambois, Luberon (HH-8765788) and also has a large office which could be converted into an independent guest house. The swimming pool forms part of a beautifully-presented, covered terrace, which offers a relaxing entertaining area that exudes that unforgettable Provençal ambiance. Priced at €698,000, this property will not be on the market for long.
The answer is Ansouis
Ansouis is a medieval perched village that is dominated by a commanding 11th century castle, overlooking the vines and hills that surround it. "The village is included on the list of the most beautiful villages in France," says Delana.
"It has all the amenities you need, as well as a few restaurants and a café," she says. "There is also a one-star Michelin restaurant here, called The Closerie, which is well worth a visit."
Property in Ansouis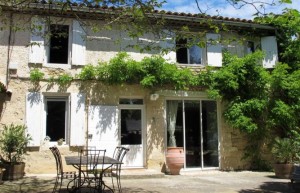 A charming stone mas from the 19th century (HH-6687235), this stunning property fuses old and new to offer stylish and sophisticated interiors. Having been fully renovated, it offers eight bedrooms – so is an interesting rental proposition – and a beautiful swimming pool that is surrounded by exceptional views of the countryside. It is on the market for €790,000.
The well-kept secret of Lauris
Lauris sits west of Lourmarin along the cliffs, overlooking the Durance river valley. While this is an authentic lively village with plenty of commerce, at its heart it is still medieval in style with narrow streets, fountains and charming stone doorways.
"My favourite restaurant here is the Lou Pèbre d'Aï, which is right on the main street of town," says Delana, adding that reserving in advance is necessary.
A well-kept secret, Lauris is a lively village offering residents and visitors a truly Provençal experience.
Property in Lauris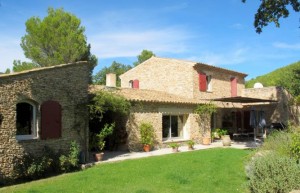 This three-bedroom property (HH-9754426) is surrounded by five-acres of mature, well-kept grounds in a pretty, quiet part of Lauris. Terraces and a large, modern square-shaped swimming pool make this property a must-see as it's on the market for €1,100,000.
To view properties for sale in these villages in the South Luberon, visit Home Hunts' website at www.home-hunts.com. But to speak to a consultant about your particular criteria for property in this area, call +33 (0)970 44 66 43