2012 has seen the launch of HHInvest, a service aimed at private and corporate property investors that will serve the ever-increasing demand for property investment.

This new service will focus on helping investment-savvy buyers from around the world to purchase properties in France, Monaco, London and Switzerland that are based on returns rather than just lifestyle requirements.

"Over the past year or two, we have worked with more and more private and corporate clients who have been looking at France, Monaco, Geneva and London specifically for investment properties, so to have a dedicated department that showcases properties with great investment potential was a logical step." said the founder of Home Hunts, Tim Swannie.

As HomeHunts are already working alongside investors, a specialist arm of the company to further support clients' needs and revenue requirements has been a natural progression. Whether investors are looking for a prestigious wine-producing vineyard, a prime-located hotel in London, a renovation project in the Alps or a luxury Riviera villa that has strong rental returns is required, HHInvest is set up to cater for any clients' needs.

The HHInvest concept has been developed by James Mulcare, Investment manager for Home Hunts who has an experienced career in real estate asset and fund management in London, working for companies such as Jones Lang La Salle, LaSalle Investment Management and London & Capital.

"We are seeing more and more clients seeking out safer havens for their money and wishing to invest in income-generating prime located property," said James. "We are also seeing an increase of cash rich investors looking for property investment opportunities created by the current economic situation and restricted finance available to other would-be buyers."
"With buyers wanting their properties to work harder for them and create strong income and or capital growth opportunities, it is essential to have expert advice on choosing the right investment properties in the right locations and at the best prices," said James

There is a dedicated section on the Home Hunts website under HHInvest with eight key categories: skiing, chateaux/estates, hotels/gites, new build/land, renovation/development, rental income, vineyards and commercial.
As a great opportunity, HHInvest are offering the following renovation development property for sale for hungry investment buyers:

A large chalet with 930m2 of inside floor space with planning permission for 9 large apartments. The site bakes in sunshine all day long & every apartment overlooks the Dranse Valley, Morzine & Montriond.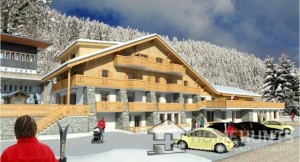 The solid masonary building structure is complete, with the chance still to make changes to the apartments layout or start the tradesmen straight away with the existing plans.
This is an opportunity to pick up a finished structure at the same price per m2 as for land alone. Re-sale value for finished project is approximately 4,000,000 Euros. Asking price for the property is 1,450,000 euros.
If you would like to discuss a specific investment opportunity, please do not hesitate to contact us on info@home-hunts.com