Do you dream of living in France? Here are some of the top profiles on Instagram to help to inspire you to move to one of the charming villages, towns or bustling cities of this beloved country…
Like Facebook and Twitter, Instagram has amassed millions of fans and followers worldwide, giving each their own space to showcase their best moments and images for all to view, like, comment on and share…
Other than the beautiful images and photos on our Instagram newsfeed, we stumble upon delightful discoveries of cool profiles that seem to inspire us to live where they are and experience the moments they are sharing.  From a steaming cup of coffee pictured in an old-style café in the Le Marais district in Paris to penthouse views with fresh shots of the famous Eiffel Tower, photos on Instagram really does make your day as you start and motivates you to go out and explore more of what the world offers.
For those who are looking for some inspirations and beautiful images, we start with giving you some of the top Instagram accounts that we have curated about living in France. We are glad to share them to all who may be entertaining the option of moving over to this world-famous destination and start la vie en rose. Or for those dreaming and planning your next vacation in the global capital of wine and cheese, do check them out to get some cool ideas on where to go, shop, eat, enjoy and live!
1 All Things French – Follow at https://www.instagram.com/allthingsfrench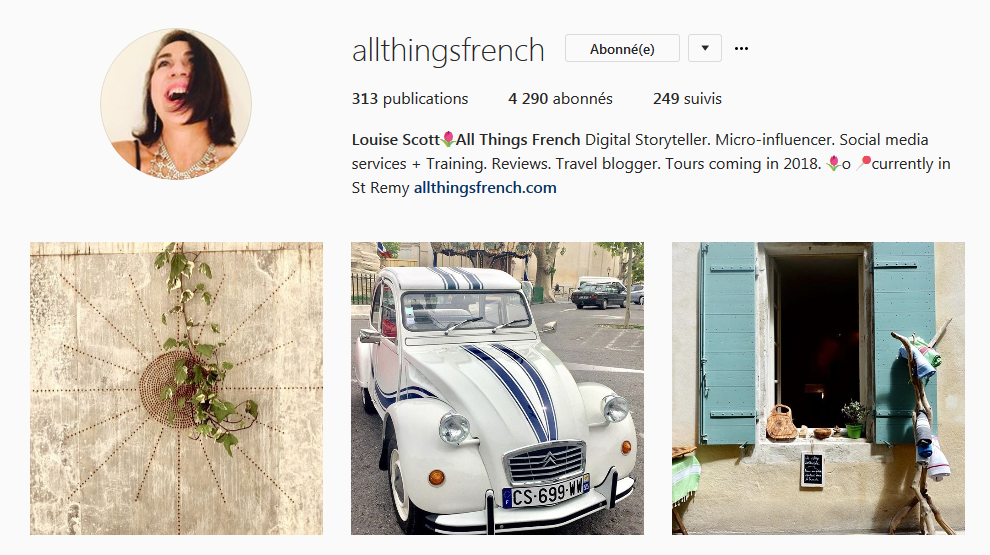 For starters, you would want to know all things French to get you acquainted with words, names and les petit choses (little things)! Louise Scott, founder of All Things French presents all the best stuff that you can discover on the streets, cafes, restaurants and many more in France. Based in Saint Remy in Provence, check out her website at www.allthingsfrench.com and have a peek into daily French living at her Instagram!
2 France Magazine – Follow at https://www.instagram.com/francemagazine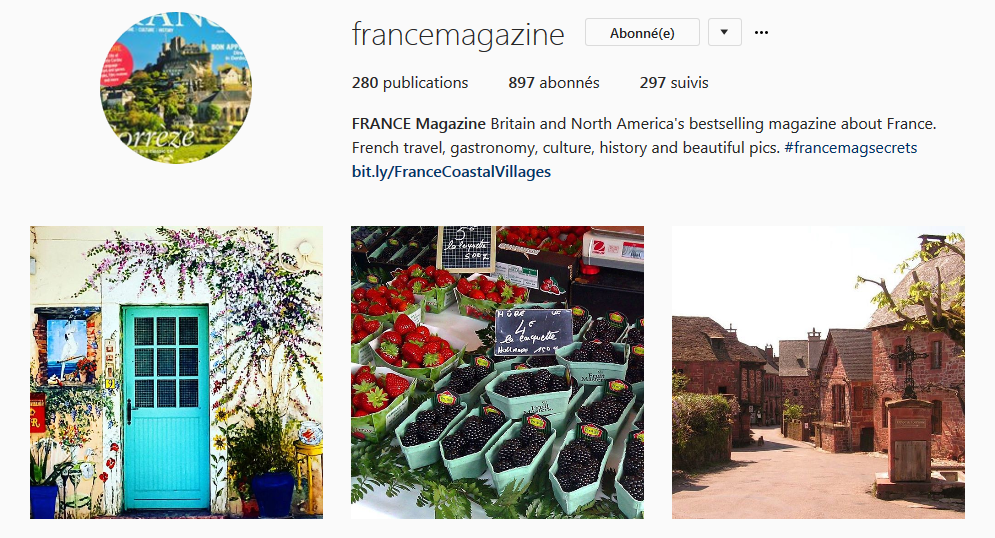 There are a lot of magazines and publications that feature top spots and places to go in France and we recommend to grab a copy or view the Instagram page of France Magazine if you want to be updated with the latest happenings, events, newly launched restaurants and places in France. They even showcase the top homes and properties in different areas, with some of our properties featured in their magazine and an interesting read on the recent win of Macron at the French polls last week, check it out at their website at Complete France.
3 Vicki Archer – Follow at https://www.instagram.com/vickiarcher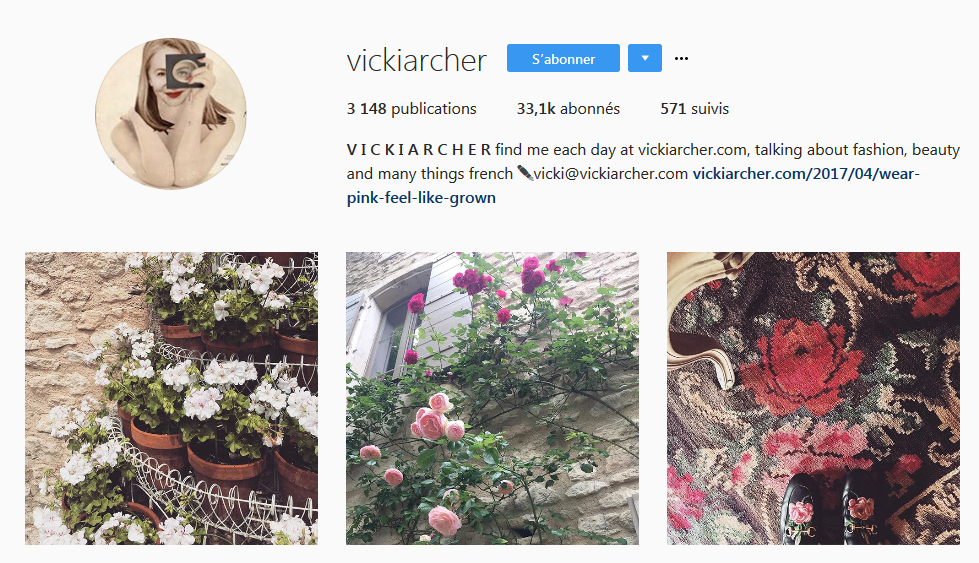 Based in between London and Saint Remy de Provence, Vicki Archer is living the good life and it's lovely that she takes us around and see the beautiful blooms in Provence or the best beauty and fashion tips for the ladies who are fans of all things French. Originally from Australia, we see the beauty of France through her lenses and her very informative website at www.vickiacher.com
4 Chez Loulou France – Follow at  https://www.instagram.com/chezlouloufrance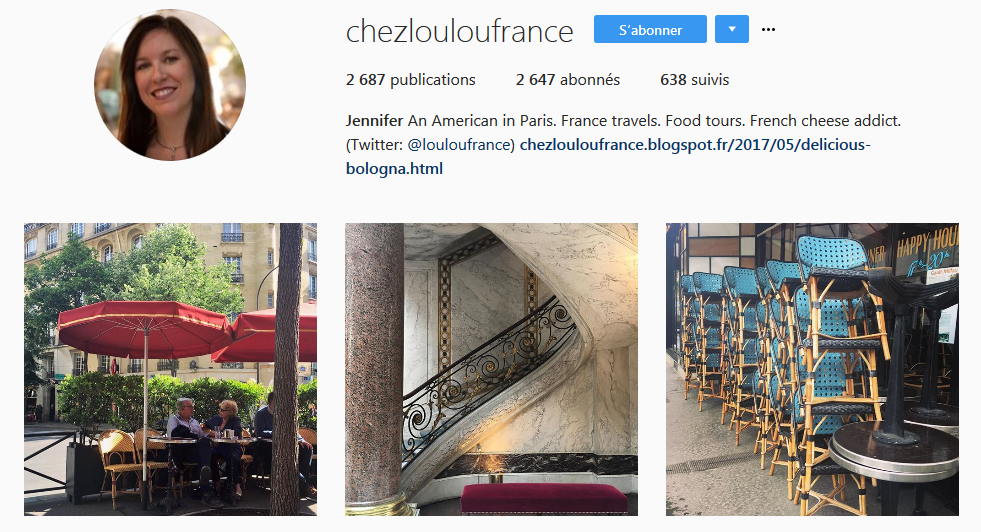 She had us at "Food tours" written on her bio profile in her Instagram and Jennifer of Chez Loulou France really had us inspired to go to one of the many outdoor markets in France and get the freshest vegetables, fruits  and cheese after seeing her Instagram account. Her blog is simple, direct and very informative for all who want to get more in-depth information about living in France – from getting permits, citizenship; cost of living, relocation and where to shop, she got it covered.
5 Blooming in Bordeaux – Follow at https://www.instagram.com/bloominginbordeaux 
Bordeaux in the southwest of France conjures up images of vineyards and grand castles that everyone all over the world wants to visit. Claire's Instagram account called Blooming in Bordeaux is a starter pack for all those who are planning to visit the south west of France one day and explore the beautiful region where Claire is based. On her Instagram, one can check daily inspiring posts that includes stunning landscapes and views from the southwest of France, and we are proud to have prime chateaux and vineyard properties on sale in this area for all to check out as well. 
6 Oui In France Follow at https://www.instagram.com/ouiinfrance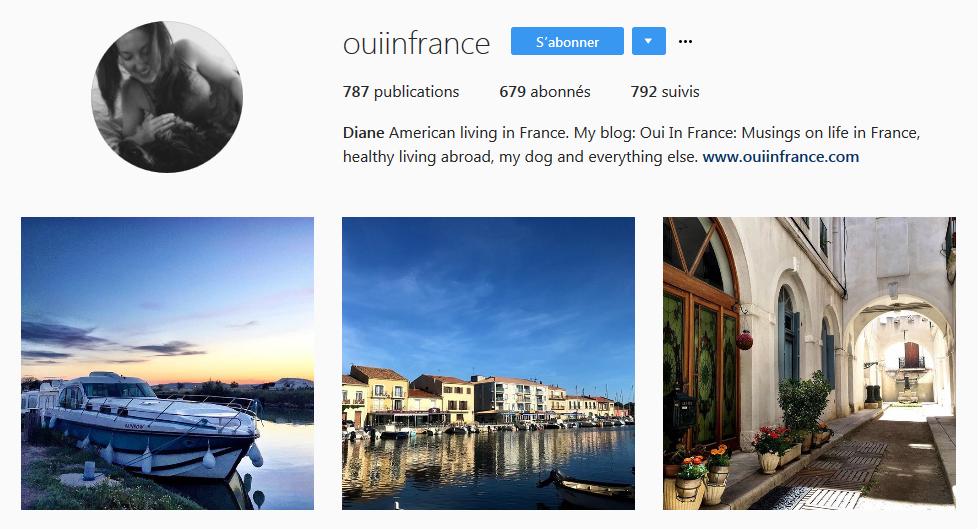 A big yes to Oui in France, created by Diane, an American living in the Loire Valley. Catch her superb photos of daily life in and around the region and some lovely pictures of her dog as she travels and gives all a taste of la vie en France (life in France) to make you say Oui oui in moving there!
7 Our French Oasis –  Follow at https://www.instagram.com/ourfrenchoasis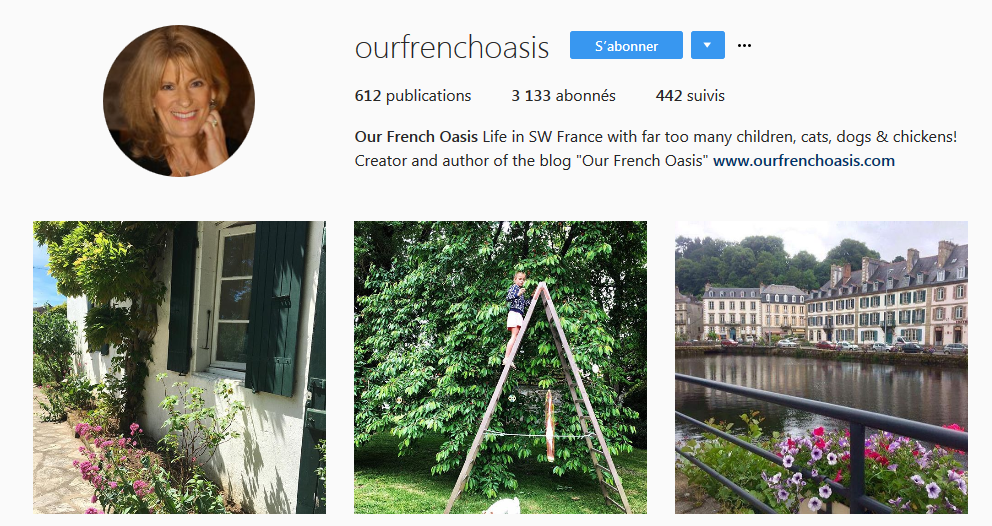 Living a French country life is a dream for some and Susan, the beauty behind the blog Our French Oasis lives a charmed life filled with too many children, cats, dogs and chickens…and she shares them all through her blog and her Instagram account. Based in the Department of Charente Maritime in France, we are just glad that she is there to give us a slice of life in her part of the world, with previews on daily French life, traditions, celebrations and grand moments!
8 Paris By Mouth – Follow at https://www.instagram.com/parisbymouth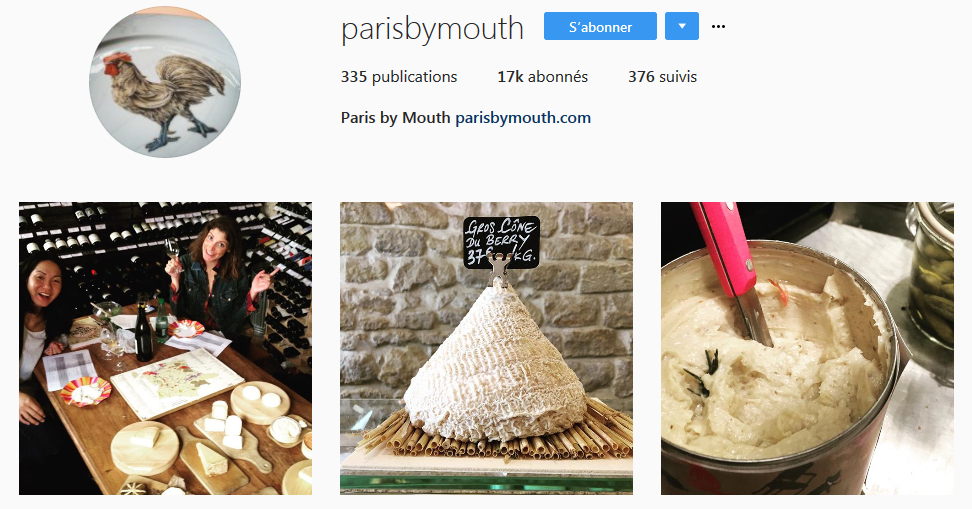 We sure do love to see cakes, pies and all things delicious and well presented on a dish on our Instagram feed and Paris By Mouth is hands down, one of the many accounts that make us want that soufflé or grab a macaron from the nearest patisserie available. When you have just arrived in Paris or flew in Nice and you need some food or dining advice, just check out their latest post and get an idea of where to eat in France!
9 David Lebovitz – Follow at https://www.instagram.com/davidlebovitz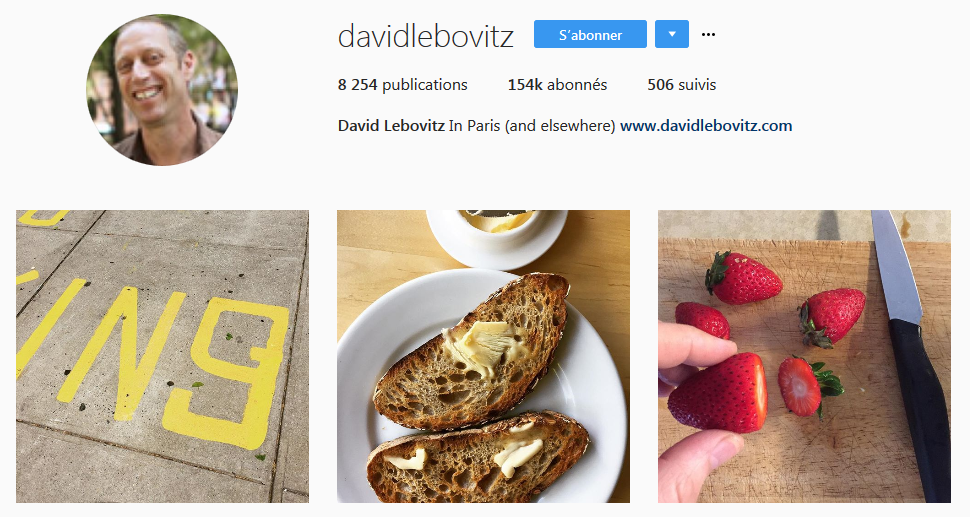 We turn our attention now to the final 2 in our list and it's time to call in the Monsieur. Meet David Lebovitz and his cool Instagram page about life in Paris, and as he travels around he features other destinations as well! What we love about David's Instagram account are the angle shots of food and baked goodies that he himself shares in his own website at www.davidlebovitz.com. His take on moments lived in Paris are so interesting, check out his recent post about visiting a copper factory for making cookware in Villedieu-les poêles.
10 Eye Prefer Paris Follow at https://www.instagram.com/eyepreferparis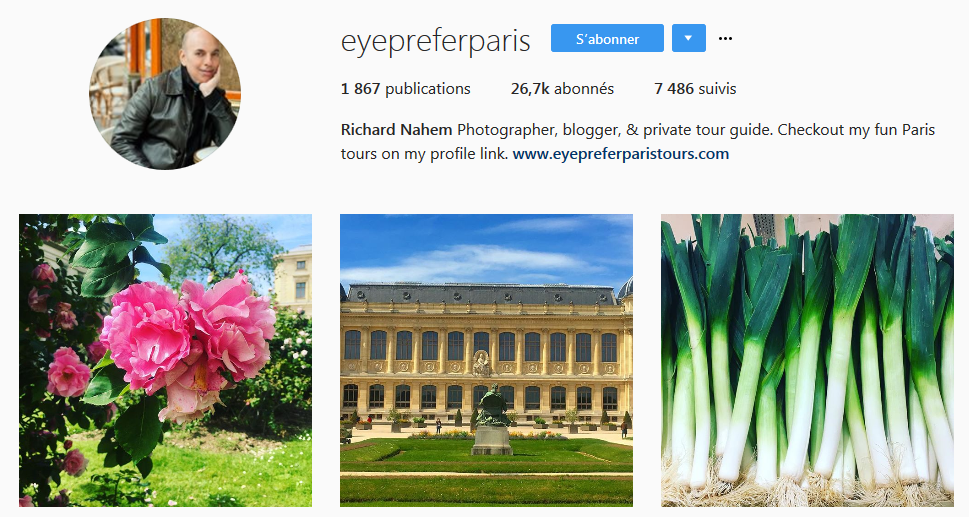 Last but not the least, Richard Nahem in on our top list with his Instagram account aptly called Eye Prefer Paris. Seeing the majestic statues, monuments, flora and fauna from his lens and posted on his Instagram feed really makes you start to grab your passport and hop on over the next flight to Paris and experience all that he shares. He has specialty tours for those interested and booking can be done through his website. We would love to try and see his Marais Tour and get to see the wonderful buildings and properties lined up there, apart from the top ones we have in Paris from in our portfolio
Do you have your favorite Instagram profile or Blog about living in France? Share them to us! We would love to hear about your discoveries and recommendations 🙂