From well-renowned interior design exposition Maison et Objet in Paris to the upcoming Salon Del Mobile in Milan this April, we are in the middle of two of the world's most sought after fairs in home design that showcases out the best innovations and the latest trends for 2017. We share to you what's up and coming in the world of home design to give you a head's up on what's hot and what's not.
You have in your property buying list the location of your next big home purchase and following this, the design and interiors come to mind in deciding for that perfect house for you. Luxury properties in Paris, French Riviera, Monaco, London or New York are very well-situated and Home Hunts has a big selection of properties in each district or location that caters to each and everyone's interior and design preferences.
When it comes to choosing your own residence, the latest trends in design and comfort comes to mind, giving you relative ease of moving into your new home without the need of further renovation. If you prefer to design your new quarters in your own style this year, here are some of the top trends in luxury home design that the team of Home Hunts have garnered from the best design fairs globally to give you some ideas on interior home designs ranging from Caesarstone textured quartz table tops for your kitchen and the latest collection of Kenneth Cobonpue and more.
Trending Colors and Shades for Interiors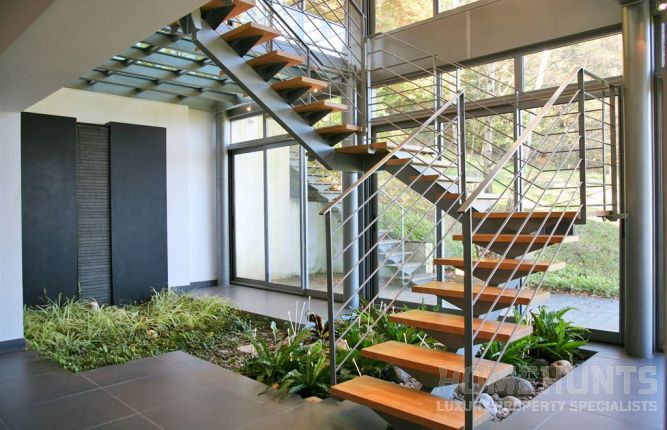 Nature and greenery in one of our top properties in Sevrier (HH-10953429) at the French Alps overlooking the lake
For industry color trend predictions, we go to Pantone, a company that is well-known for its color-matching system that fills in the pages of various design templates for interior design. For 2017, shades of green have been forecasted to hit the stands, bringing forth inspiration to include some nature-inspired prints and tiles in various homes worldwide. Other hot colors for the year include neutral earthy shades like Kale and Hazelnut against bold shades of Lapis Blue and vivid tones that include Flame which is akin to fiery orange.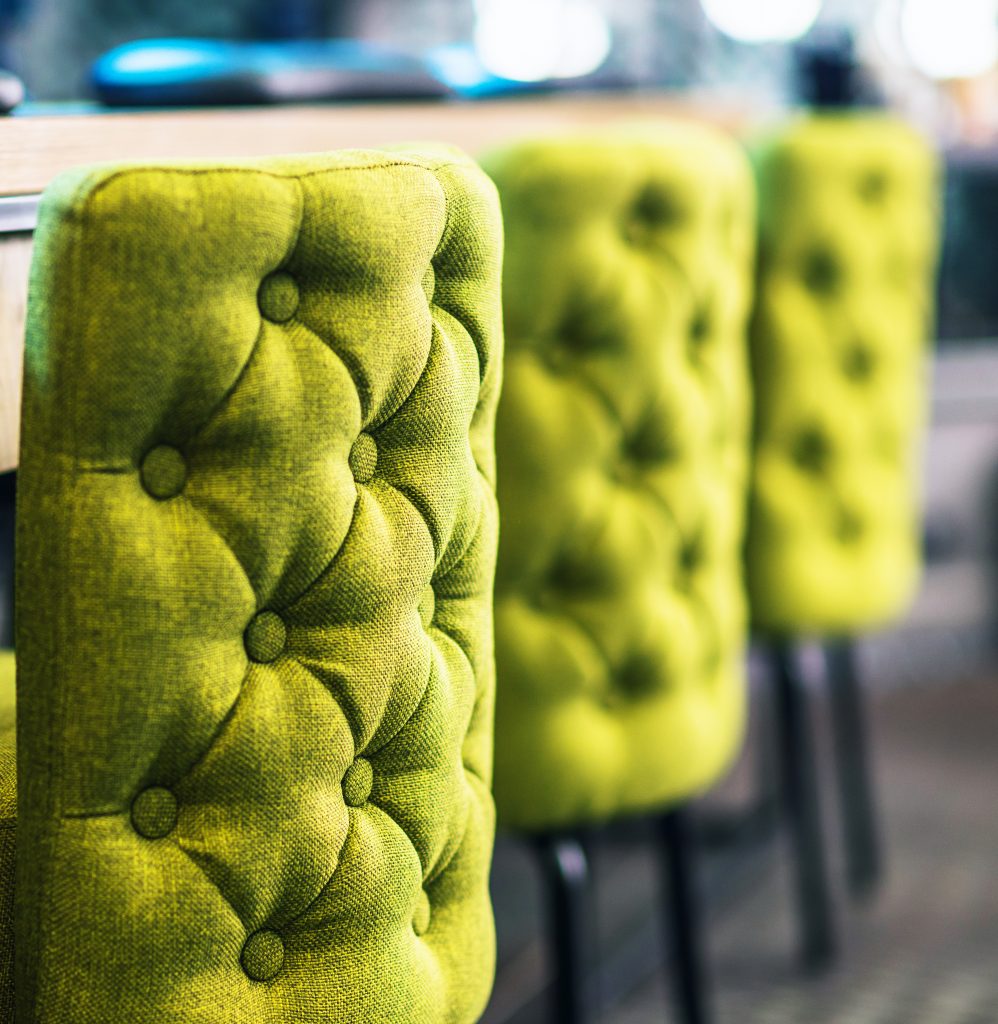 Green has been declared this year as the main color from Pantone, which does grab a lot of attention in any living space from glass vases dyed in hues of jade set against warm-toned interiors. Having earthy tones on walls create a beautiful treat for the eyes when interspersed with some green plants and lampadaires and we forecast cool colors such as greens and blues with dark grey undertones that will pop up in furniture pieces that include sofas and chairs in the living room or in the bedroom.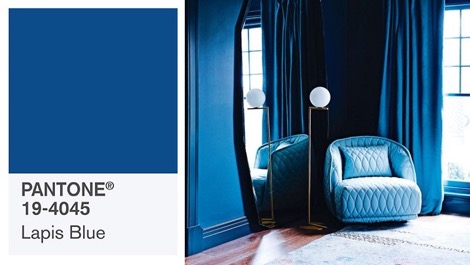 Lapis Blue is one of the hottest colors for 2017 according to Pantone
For vivid tones such as Flame and Lapis Blue, these colors would add a splash of magic in any luxury property with a vast panoramic sea view like the villas on the French Riviera. These colors can be applied to ceilings or to frames adorning each corner of a spacious white living room, reflecting the magnificent natural azure colors of the Mediterranean Sea. 
Modern and Minimalist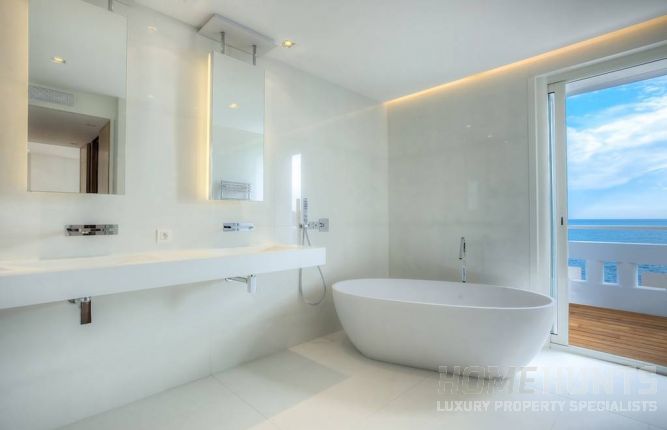 A bathroom in one of our featured properties (HH-7698157) in Cap D'Antibes in the French Riviera – prime example of minimalist design with its white-washed interiors, set on a vast blue seascape.
 Simple clean lines that outline a residence in and out is a trend that will be here to stay not only for 2017 but for many years to come. A lot of luxury properties in the market are slowly embracing minimalist design that showcases more space and the environment that surrounds it, be it a forest or a vast 360-degree ocean view.
Interiors of modern and contemporary villas will have more glass divisions and walls that seem to lead to more visibility and space that will benefit many home owners who are opting to go for properties that are more open and illuminated.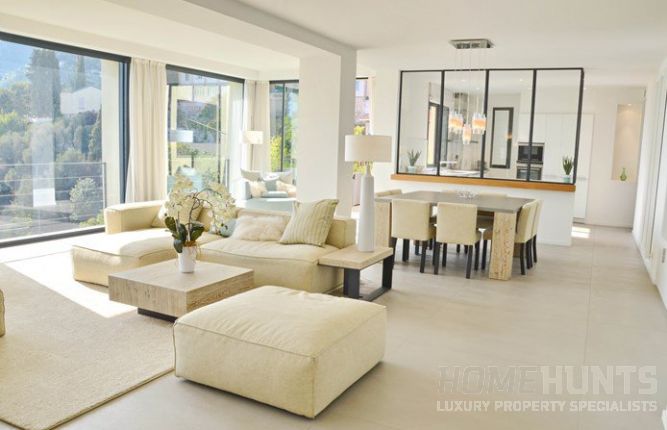 Glass wall divisions that lead to more space is a growing design trend among modern and minimalist homes as seen in this luxury property located in Roquebrune Cap Martin (HH-11108453)
Boutique-Style Living
A curation of the right bedding, collection, artworks, books and other decors that will make a home a beloved destination not only for its owners but for friends and family is something that we see in a lot of properties that mimic those of boutique style hotels. Making a property feel like a getaway sets a daily tone of relaxation and comfort that inspires guests and yourself to be in Zen mode.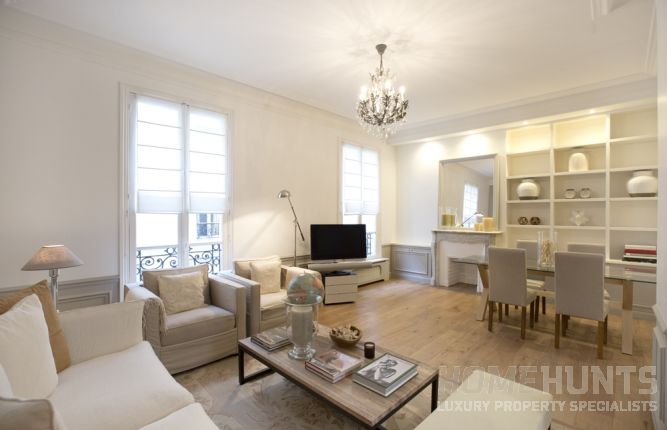 Like a boutique-style hotel, this luxury apartment in Paris (HH-11059653) welcomes all in a bright and comfortable space
Making your home more streamlined and free of clutter with the introduction of armoires and hidden closets and compartments makes the boutique-style experience better and choosing bedding and furniture that's universal and easy to clean makes daily living more pleasant and this is what a lot of luxury properties are showcasing now, whether it's for rent or for daily living.
Textures and Dimensions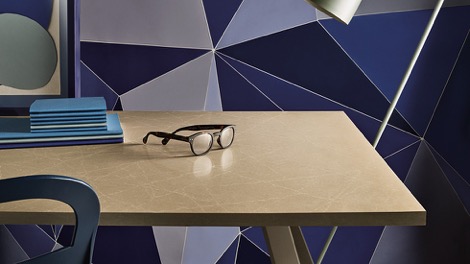 Caesarstone Urban Safari textured table Top set amidst a 3D wallpaper background In one of the study rooms
Table tops in various textures and walls in 3D print are one of the many delightful trends in home design this year and with brands such as Caesarstone and many more a lot of luxury property buyers have numerous options of textures and 3D prints to choose from to decorate kitchens, study rooms, bedrooms, living rooms and just about any other space including cellars and garages.
Natural and Earthy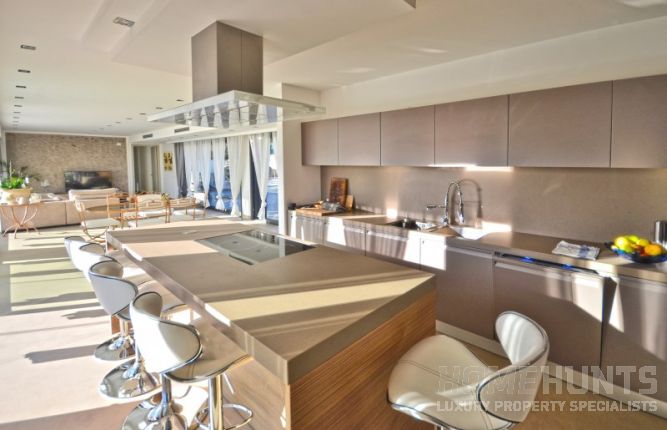 The living room and dining space of one our stunning villas in Cannes (HH-11051991) set in neutral and earthy tones
Neutral colors and tones that include terracotta being used in interiors is becoming more and more popular. Earthy tones in a natural and matte finish create a rustic and eclectic space, and it looks great on floor tiling, walls or on fireplace cladding.
Cork is another material that we will see filling up a lot of kitchen shelves, accents and tables as it is a unique material that creates a great accent wall which functions as a noise absorbent at the same time.
The combination of terracotta and cork in modern spaces will be big in 2017, in a sense that houses will have that earthy, tiki culture vibe, without going too tropical but more stylish and natural.
Furniture Meets Art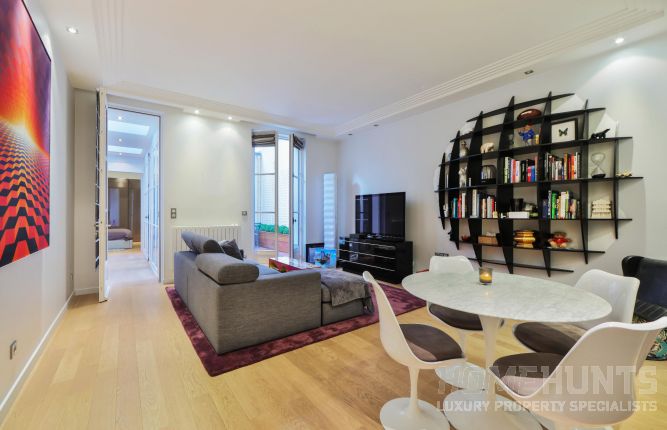 A bookshelf can become a work of art set on a white wall as seen in one of our properties (HH-11217054) in the 16th district in Paris
Furniture in houses that look like art adds interest to a space, be it a unique chair or a bookshelf. We see more of these in apartments in cities like Paris where we have numerous properties with beautifully designed interiors filled with chairs and tables that seem like sculptures out of a museum from Philippe Starck to Jamie Hayon occupying space and making it more enjoyable to look at and live in.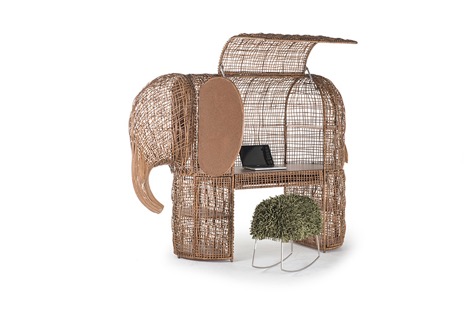 The "Babar" office table, one of the artistic creations of Kenneth Cobonpue, a true master in interior design
An office table for example can add dimension and life, like Kenneth Cobonpue's "Babar" which is a fun and whimsical take on the elephant cartoon character,  having it in one of your study rooms in your villa makes the space more interesting and fun to work in, while having a piece of signature furniture from a world-renowned interior designer like Cobonpue in your prime residence.
If you are looking to buy luxury property, you can search through Home Hunts' portfolio at www.home-hunts.com
To discuss your specific needs and to find out more about locations offering the best investment opportunities, speak to a consultant directly on +33 (0)970 44 66 43