The season to be merry is just around the corner, visiting some of the best Christmas markets in France is a great way to shop for gifts and get into that Christmas Spirit!
The countdown for Christmas has officially started as many cities in France start to open their respective Marchés de Noël this November through early January. Paris is up to a great start, with Christmas booths lined up at the world-famous Disneyland since the 11th of November. And if you feel like going to one of the oldest and most authentic Christmas markets in the world, a visit to the Marché de Noël in Strasbourg is truly recommended!
With Eurostar, Air France and the high-speed TGV train offering bargain tickets this holiday season, grab the chance to hop on a train or get on a plane and visit some of the best Christmas markets in France! Don't miss the booths offering some vin chaud (hot wine) and regional delights that will surely warm your hearts while shopping for some unique items and gifts for your loved ones this holiday season.
Here are some of the top Christmas markets in France and the dates of their duration so you can note them in your shopping checklist!
Bordeaux, 25 November to 26 December 2017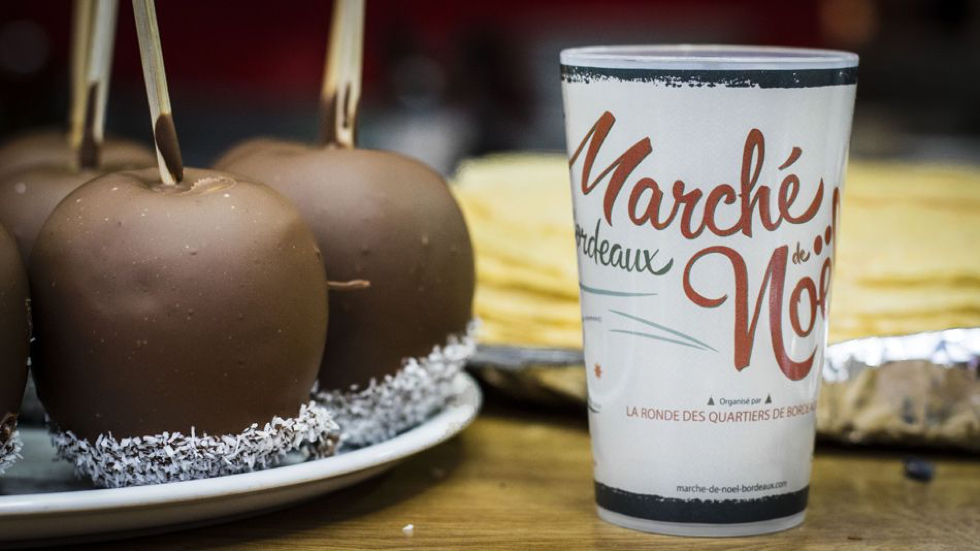 Have some vin chaud with apples dipped in chocolate in the market in Bordeaux
The 23rd edition of the Bordeaux Christmas Market, organized by the Ronde des Quartiers de Bordeaux, opens its doors to children, parents and anxious visitors in search of that perfect gift or holiday inspiration!
This year, the activities and events will be at the Ludi'Land where a ski simulator, The Betty Blues theater group and a snow-filled forest awaits all in this animated covered space!
 Lille – 17 of November to 27 December 2017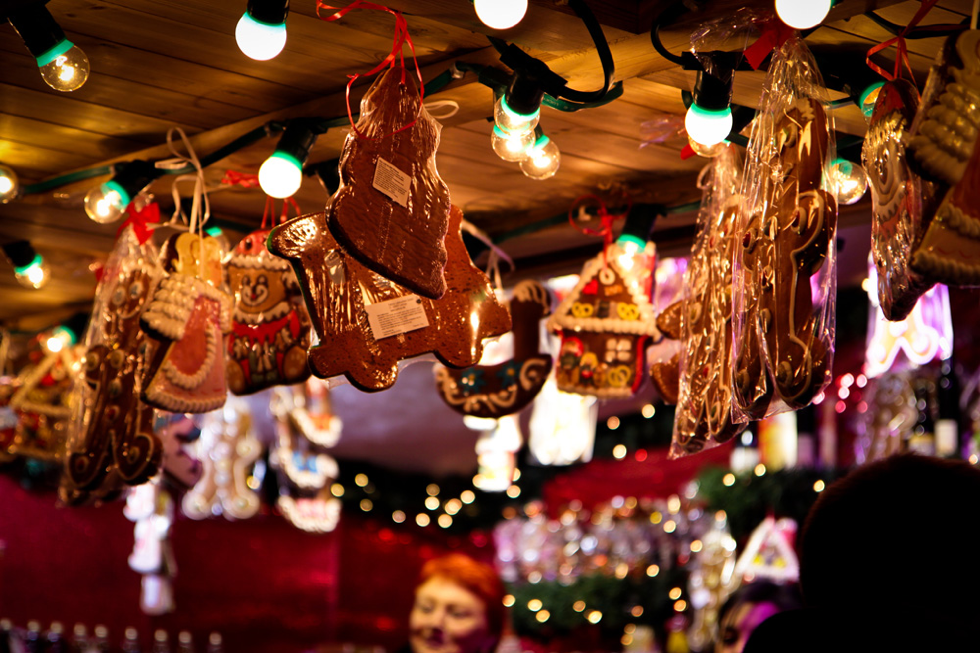 The Christmas Market at the Place Rihour
A festive event that has been going on for 27 years, the Lille Christmas Market organized by the Fédération Lilloise du Commerce, de l'Artisanat et des Services welcomes more than one million visitors at the Place Rihour.
This year, the Christmas Market is bigger and brighter with 90 cottages in a fairy village where different artisanal booths and craftsmen will showcase all their best Christmas and holiday offerings. From Russian crafts to costume jewellery and ceramics, the market is the perfect opportunity to find an original gift for every budget. Your senses will be awakened during a walk through the market with the sweet smell of cinnamon biscuits and roasted chestnuts in the air!
Toulouse – 24 November to 26 December 2017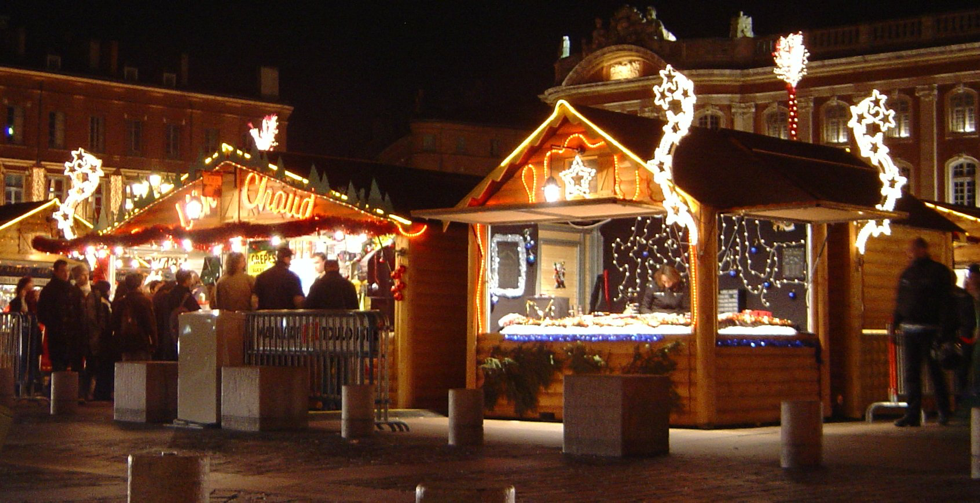 The lights are bright at Place du Capitole in Toulouse
The market at the Place du Capitole in the heart of Toulouse will take you into the magical world of Christmas and will make you travel through its beautiful illuminated village. You can walk through the illuminated alleys lined with pristine white chalets, brimming with gift ideas that include decorations, jewels, unique artisanal pieces, toys and clothing.
There will also be traditional Christmas delights such as churros, mulled wine, aligot and many other sweets that will delight a wide audience. A delightful treat in the center of the market is Santa's cottage that will welcome children and the young at heart!
Montpellier – 30 November to 30 December

Official Poster of the Marche de Noel in Montpellier
Les Hivernales 2017 will take place on the Esplanade Charles de Gaulle and it will surely be a hit to all those living in Montpellier and to all tourists and visitors who will have the chance to visit this beautiful grand ville in the south of France!
Every day from morning until late at night, there are a lot of scheduled animations, concerts, food and wine tasting at the market so be sure to check out the daily schedule at the official website of the Mairie of Montpellier.
Marché de Noël at Paris Notre Dame – 15 until 24 December 2017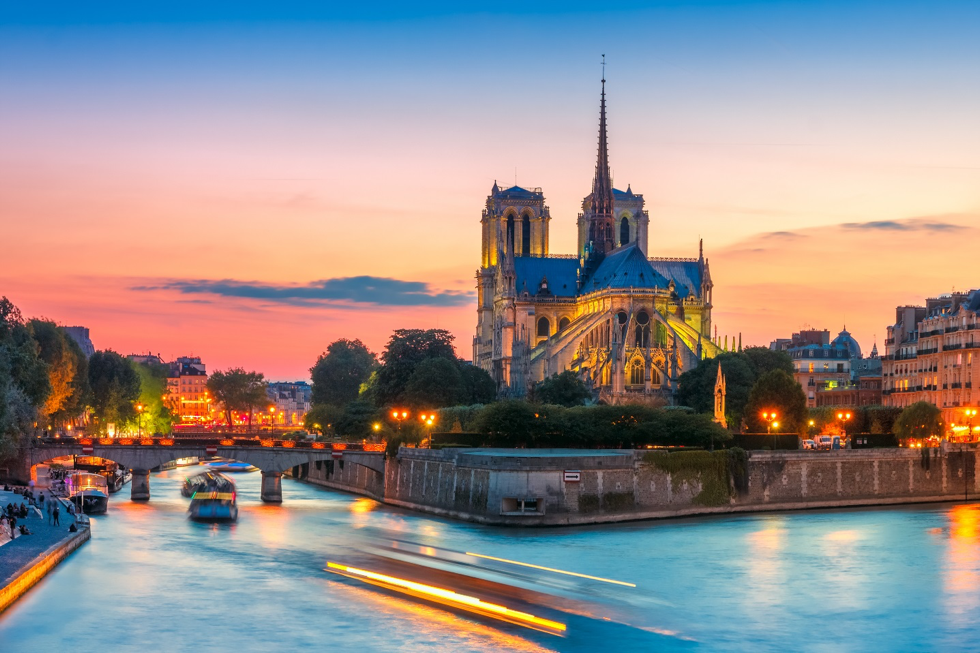 A beautiful view of the Notre-Dame in Paris
Artisans from quartiers in and around the famous Notre Dame Cathedral will come together to showcase their products in this intimate Christmas market that rings a bell when it comes to its strategic location in the very heart of the capital. Set in the lovely Square René Viviani, the market will feature all kinds of handmade gifts and a choice selection of some regional products like foie gras, macaroons, chocolates and many more!
 Paris Disneyland – 11 November to 7 January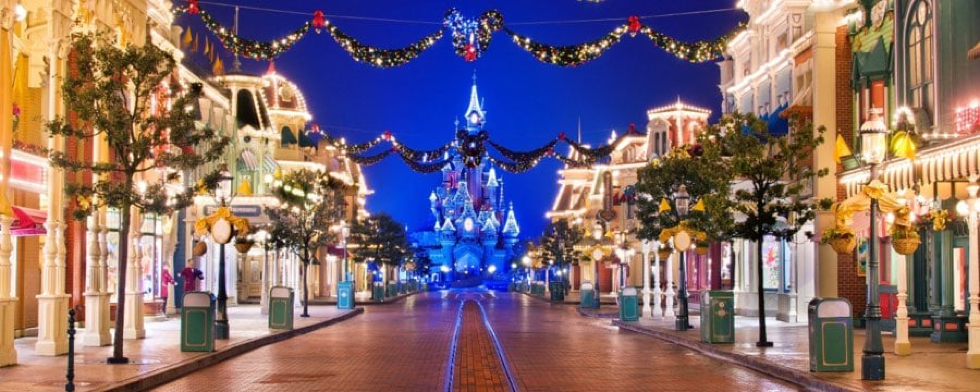 The roads are leading to Paris Disneyland's famous Fairy Tale Castle this Christmas
Christmas is truly dedicated to children and the young at heart who believe that all wishes can come true with the help of Santa Claus and a visit to the Fairy Tale Castle in the wonderful resort world of Disneyland in Paris. If you are living in London or in Paris, the Eurostar has daily trains that will have you transported in this magical destination in less than an hour!
Make your wishes come true and visit the Christmas market in Disneyland Paris and if you are lucky, you might even have Santa Claus give you a surprise gift if you have been very good this year!
Strasbourg – 24 November to 24 December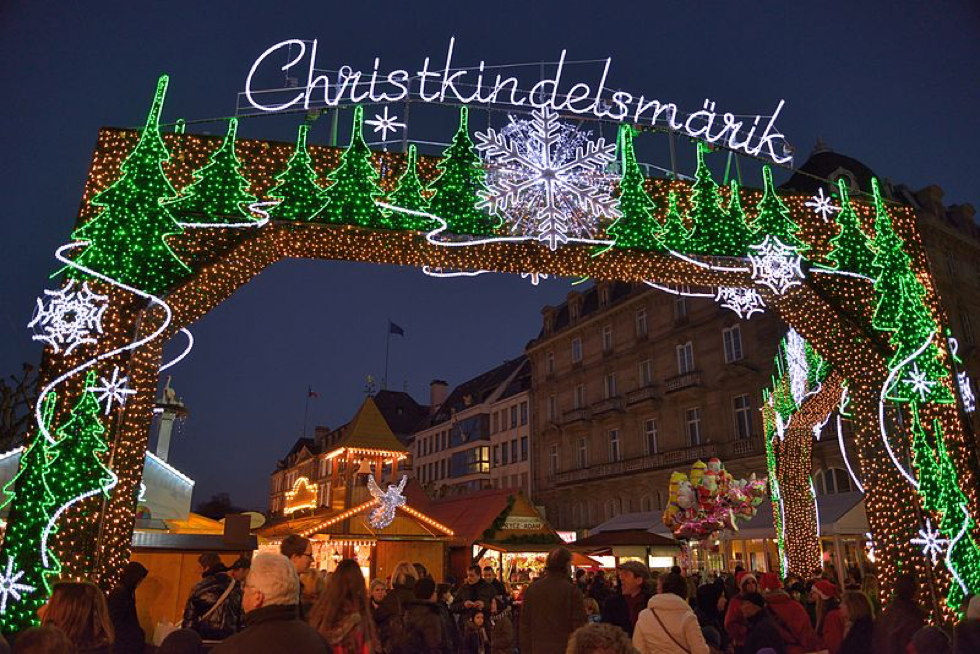 The Entrance to the Christmas Market in Strasbourg, Photo Courtesy of Wikimedia Commons, By Tristan Schmurr from Luxembourg
Touted as the Capital of Christmas in France, the Christmas Market of Strasbourg is one of the oldest and most visited markets in the world. Situated in the Alsace region, this market has a Teutonic influence due to its proximity to Germany. It is located at the heart of the city's Grand Ile quarter, a UNESCO World Heritage Site! Don't miss this world-famous market and book your train tickets to see all the bright lights and take part in all the festive activities lined up this December!
If you are visiting France this Christmas, we invite you to come to one of these holiday markets and take part in all the activities that each venue has on offer. Share to us your top Christmas Markets in France or in your own city or village via email or on our Official Facebook Page!
All photos courtesy of Pixabay, Creative Commons and the official websites Bordeaux, Toulouse, Lille and Montpellier.