With more than 300 days of sunshine, dozens of glamorous seaside resorts and 900km of breath-taking coastline, the French Riviera is one of the most popular destinations in the world – so much so that it attracts 34 million visitors each year. It is also a location where buyers looking for a second home in France can be sure to find properties with spectacular swimming pools.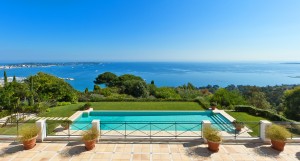 Home Hunts' Riviera property portfolio includes hundreds of sparkling, exquisitely-designed swimming pools. Here is a selection of five luxury private pools that bring exceptional beauty to each property, especially under the clear blue skies of the Côte d'Azur.
Eze – Overlooking Cap Ferrat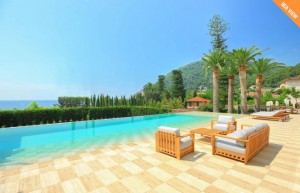 Just minutes from Monaco, the still turquoise waters of this sea-view swimming pool (HH-7663982) make up one of two pools on this large private domain, which also includes two villas. With ten bedrooms in total, a home cinema, gym and Hammam, the swimming pool isn't the only luxurious element that this glorious property has to offer.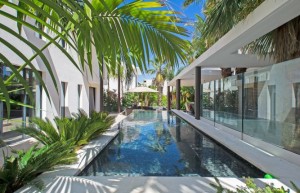 This newly-built designer property features a sumptuous dappled pool surrounded by exotic foliage (HH-6975092) that links its internal and external spaces. In walking distance of Cannes' Palm Beach and the port, this eight-bedroom property will easily be a "coup de coeur".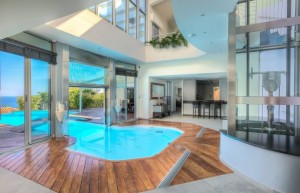 A simply stunning indoor and outdoor heated pool (HH-8108000) connects this property's immaculate terrace and panoramic sea views with its cool, modern interiors. A uniquely designed and highly desirable four-bedroom villa, with excellent access to Monaco, this light-filled sensation will not be on the market for long.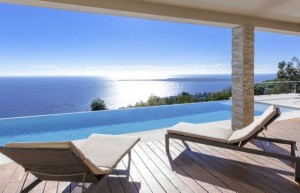 In what can only be described as a dream location up in the hills of Cannes, the incredible swimming pool of this luxurious villa (HH-7484319) provides a panoramic view over the Mediterranean Sea. With eight bedrooms and luminous rooms, this is a highly exclusive property that must be seen to be truly appreciated.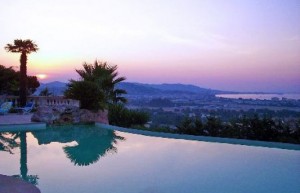 The spectacular overflow swimming pool (HH-5874661) of this villa overlooks panoramic sea views and creates a magical ambiance at sunset when purples and ambers are cast over its rippling waters. A special residence in Mandelieu with six bedrooms and a pretty exotic garden, a viewing is highly recommended.
To view more Riviera properties with extraordinary swimming pools visit www.home-hunts.com. But to speak with a consultant directly about your specific swimming pool needs, call the French office on +33 (0)970 44 66 43.